Affordable Chic Fashion
how to buy chic and stylish fashion with a budget (Online!)
In front of Prada store
Being a Fashion Enthusiast, it is easy to lay our eyes on pretty items. But those usually cost a bunch , especially if it is a luxury brand. This season we have Prada's basket bag, Chanel's mint co-ard etc. For me, I never buy from super luxury brand. Well if i had the money , i would . Because why not? Luxury brands usually are make up of marketing , promotion, fashion shows, celebrity endorsement , anything you can name of . But still, i see every piece they make is of their highest quality and artistic value. I certainly would love to own some one day.
So how to look stylish and fashionable when you cannot afford the big brands? In fact, for this picture, I'm just posing in front of the luxury brand - Prada. I own nothing from Prada. I haven't even gone into Prada. .. Simply because i'm too scared to go in with the pressure of the sales following you around and I personally feel bad if I don't end up buying something. But, i do love paying attention to what's on trend, and spotting reoccurring color and style on fashion shows, influencers or celebrities. That's how i turn into the great Internet. I love buying things online , it is the easiest way to get something on your mind, like exactly how you want .
You want a green puffy sleeve dress you saw on Instagram ? Check . You can simply google that and add filter to your search. You can even choose the price range! That's why i love getting things online and sometimes they offer bargain as well. Online shopping doesn't mean cheaper quality, you need to really search for the things you like and research about the brand. Most online brands are actually walking with fashion trend. Like Zara and H&M.
For this photoshoot i did for fun with a photographer one day, in fact , except the black tank top in this picture (see below) i got from a physical store of Mango, everything else i bought is from online. I enjoy online shopping as you can find the exact style and outfit you want and you know exactly how much it costs without the pressure to look at the price tags in a store.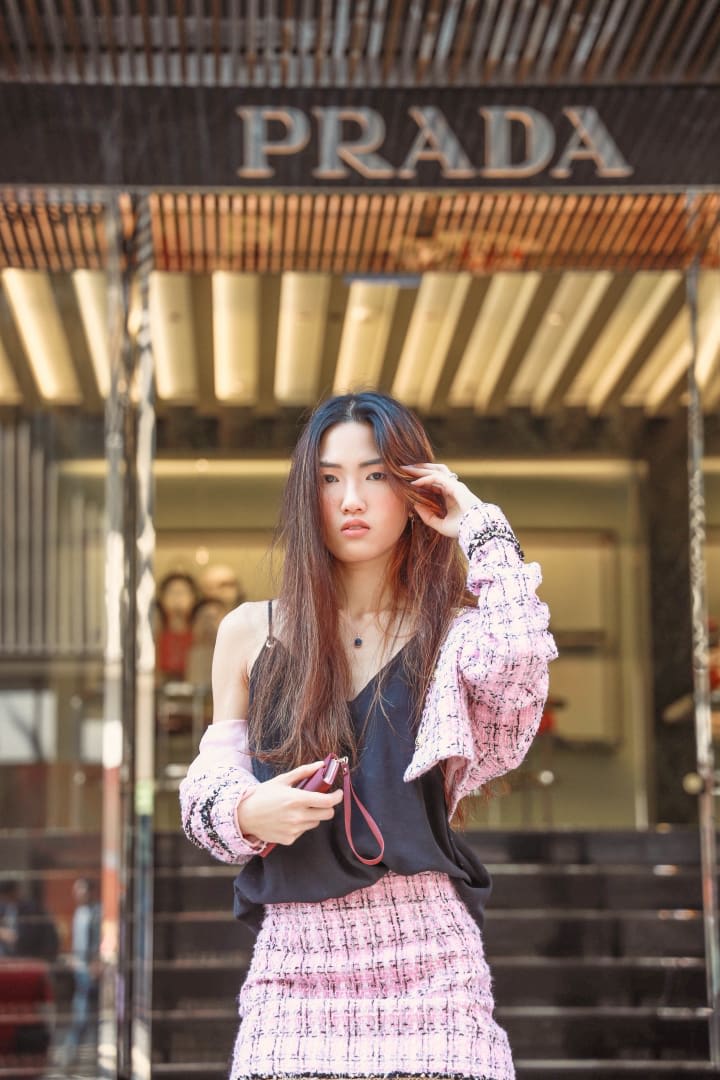 I know it can be weird sometimes, specially if the salesperson is right next to you and you are trying to sneak your hand into the clothes to find the tag. That process could take 10 seconds but can feel like forever and you feel the salesperson judging you .
For my outfit above, the pink co-ord set here is from a brand called Storets. They have amazing style outfits staying with the trend with affordable prices. Sometimes they do sales as well. I found out about this store from Instagram. All their outfits are preppy and chic which fits my style.
I got my set for around US $110 . That's when i pick my piece to my basket. The necklace was also from an online sale from Monica Vinader. A pretty renown high-fashion brand which the duchess Catherine in England is also a fan of their brand. The necklace was US $ 50 (half price than their normal price) during their annual year sale. I just love their gemstone pieces. They are just gorgeous. Also i love how gemstones hold certain meanings and that's what accessories are for right?
I also love to post my lifestyle and photos on my Instagram @loislaulife. Free feel to go there and check out more of my style. Do you like to online shop for stylish pieces? What is your favorite online store?
shopping
About the author
Writing background
Got myself a degree in Creative writing but never really use it.
Created my first 10000+ words "fiction" at 17
Interest / Talent
Singing - Youtube @loislaulife
Modelling - Instagram @loislaulife
Reader insights
Be the first to share your insights about this piece.
Add your insights