6 Unique Pieces of Engraved Jewelry for Men That Make Perfect Birthday Gifts
Engraved Jewelry for Men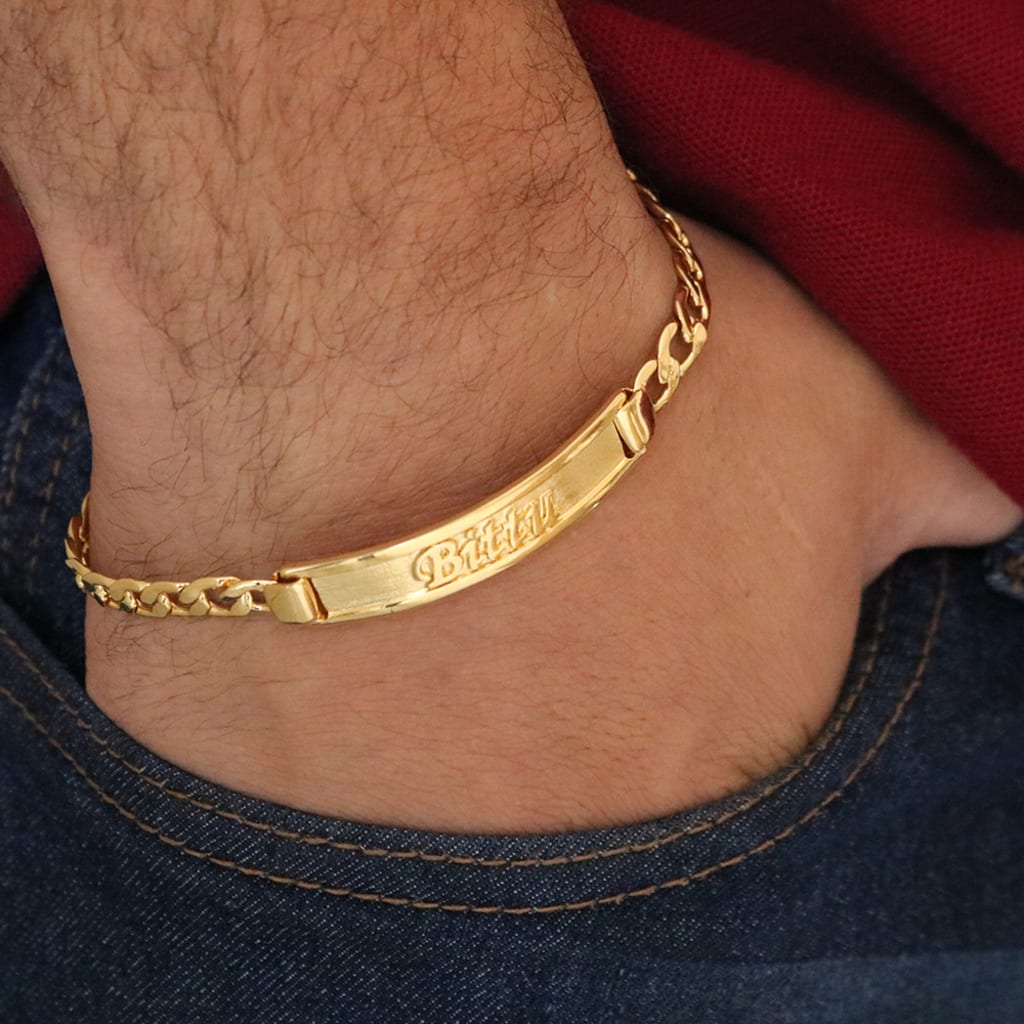 Searching for the ideal birthday present that will make an impression? Look no further than engraved jewelry for men! Gone are the days of generic presents; instead, opt for something personalized and unique. We've handpicked six exceptional pieces of engraved jewelry that are sure to delight any man on his special day. From stylish bracelets to sophisticated rings, each piece is meticulously crafted and customizable, making it a one-of-a-kind treasure. So get ready to surprise your loved one with a meaningful and sentimental gift that they'll cherish forever!
6 Options of Engraved Jewelry for Men to Celebrate Memorable Birthday
(1) Men's Engravable Necklace:
A men's engravable necklace is a timeless piece of jewelry that can hold special meaning for the wearer. These necklaces are typically made of high-quality materials like sterling silver, stainless steel, or even leather. The pendant can be engraved with a significant date, coordinates of a memorable place, or a meaningful quote. Here are a few reasons why a men's engravable necklace makes a remarkable birthday gift:
Personalized Touch: Engraving a necklace with a name, initials, or a message adds a personal touch that shows you've put thought into the gift.
Versatility: These necklaces are versatile and can be worn on various occasions, from casual to formal, making them an excellent addition to any man's jewelry collection.
Emotional Connection: The engraved message can evoke special memories or sentiments, creating a lasting emotional connection with the gift.
(2) Engraved Cufflinks:
For the stylish and dapper man, engraved cufflinks make an exceptional birthday gift. These small but significant accessories can be customized with initials or a meaningful date. Here's why they're a great choice:
Elegance and Sophistication: Cufflinks add a touch of elegance and sophistication to a man's attire. Engraving them with a personal touch elevates their significance.
Professional Appeal: If the recipient wears suits or formal attire frequently, engraved cufflinks can become a staple accessory that enhances their professional image while carrying a personal sentiment.
Lasting Impression: Cufflinks are often associated with special occasions, such as weddings and formal events. Giving engraved cufflinks as a birthday gift ensures that the recipient will have a lasting reminder of your thoughtful gesture for years to come.
(3) Name Bracelet for Men:
A name bracelet for men is a stylish and unique accessory that can be personalized with the recipient's name, initials, or a meaningful word. Here's why it's a great birthday gift:
Identity and Individuality: A name bracelet is not just a piece of jewelry; it's a statement of identity. It allows the wearer to proudly display their name or a word that holds significance, making it a meaningful and personal accessory.
Fashion Forward: Name bracelets come in various styles, from leather bands to metal cuffs. This diversity means you can find one that perfectly matches the recipient's style, whether it's classic, rugged, or contemporary.
Celebrating Milestones: You can choose to engrave a significant date or event on the bracelet, making it a perfect way to celebrate milestones or achievements in the recipient's life.
(4) Engraved Rings for Men:
Engraved rings for men are a classic choice when it comes to personalized jewelry. These rings can be made from various materials, including precious metals like gold or silver, and can feature intricate designs or a simple, polished finish. Here's why engraved rings are a meaningful birthday gift:
Symbol of Commitment: An engraved ring can symbolize commitment, whether it's a promise ring, a friendship ring, or a romantic gesture.
Timeless Design:

Engraved rings for men

have been a symbol of significance throughout history, making them a timeless choice for an engraved gift.
Daily Reminder: Every time the recipient looks at their hand, they'll be reminded of the special bond they share with you.
(5) Custom Dog Tag Necklace:
A custom dog tag necklace is a rugged and masculine piece of jewelry that can hold sentimental value. These necklaces are reminiscent of military dog tags and can be engraved with personal information, a special date, or a heartfelt message. Here's why a custom dog tag necklace can be an exceptional birthday gift:
Masculine Appeal: The rugged design of a dog tag necklace appeals to men who appreciate a more robust style.
Sentimental Connection: The engraving can symbolize a significant moment or memory shared with the recipient.
Versatile Accessory: Custom dog tag necklaces can be worn casually or layered with other necklaces for a unique look.
(6) Engraved Keychains:
Keychains are practical items that we use every day, and when they are engraved, they become meaningful keepsakes. Here's why an engraved keychain is a thoughtful birthday gift for a man:
Everyday Utility:

Engraved keychains

are a practical accessory that we use daily to carry our keys. By engraving a message or name on it, you're ensuring that the recipient carries your sentiment with them wherever they go.
Customization Options: Keychains come in various materials, including metal, leather, and wood, providing numerous customization options. You can choose the material and design that best suits the recipient's style.
Symbol of Connection: Giving someone an engraved keychain is like handing them a symbol of connection. Every time they use their keys, they'll be reminded of your bond and the special occasion.
Conclusion
Engraved jewelry for men is a thoughtful and timeless gift choice for birthdays and other special occasions. It not only showcases your love and appreciation but also allows you to add a personal touch that makes the gift truly unique. So, when his next birthday rolls around, consider one of these unique engraved jewelry pieces to show him just how much he means to you.
Read Also: Personalize Your Style: How Custom Keychains Reflect Your Unique Identity
Unraveling the Mysteries
(1) What makes engraved jewelry for men a unique birthday gift choice?
Answer:- Engraved jewelry adds a personal and sentimental touch to a gift, making it a unique and meaningful way to celebrate a birthday.
(2) What types of jewelry can be engraved for men's birthdays?
Answer:- Men's birthdays can be celebrated with engraved jewelry items such as cufflinks, watches, or bracelets, adding a personalized touch to their style.
About the Creator
Kaash Customs gives you a huge variety of customized jewelry. A beautiful jewel shows not only its brilliance but also your appearance and charm. Custom Jewelry has always been about being noticed.
visit now: https://www.kaashcustoms.com/
Reader insights
Be the first to share your insights about this piece.
Add your insights