2023 UEFA CHAMPIONS LEAGUE FINAL
Why Inter Milan does not stand a chance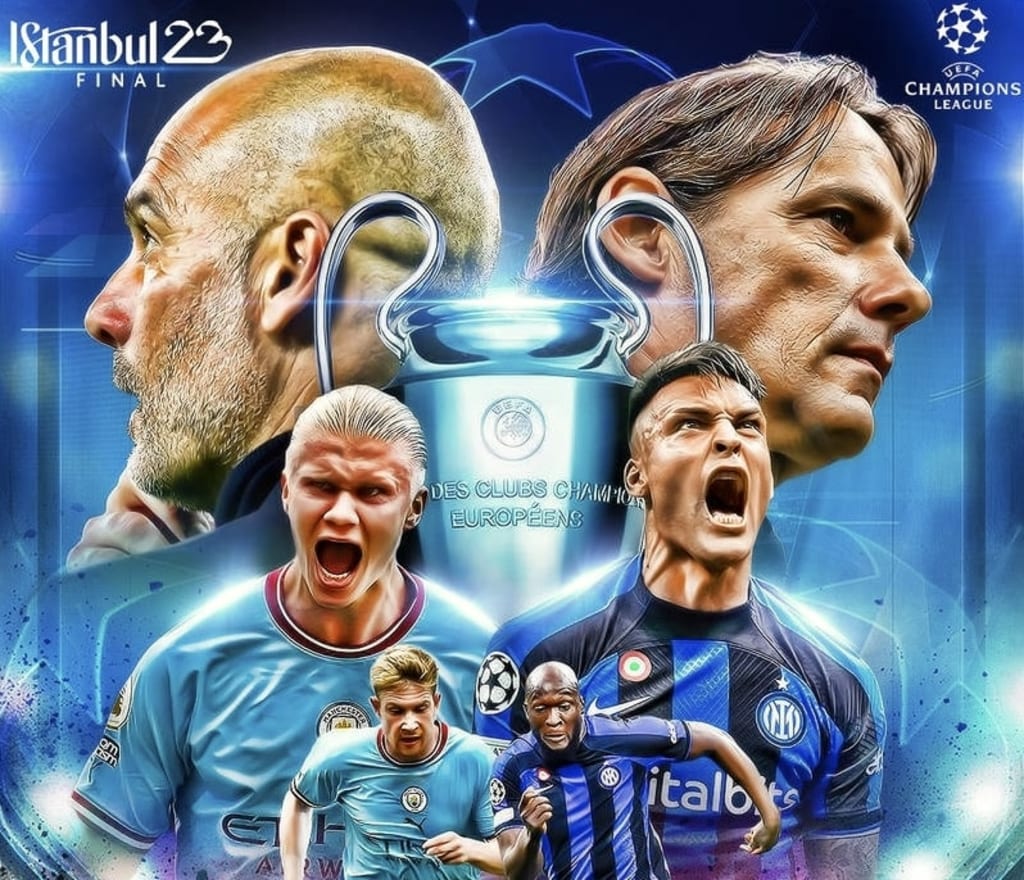 As we all anticipate the kick-off of UEFA's most prestigious club competition between two teams who have not had a roller coaster ride all season in Manchester City of England and Inter Milan of Italy, i bring you reasons why i think the Italian team stands no chance at all.
1. Manchester City's Recent Successes: Manchester City has been highly successful in recent years, both domestically and in European competitions. Their consistent performances and title-winning campaigns in the Premier League demonstrate their quality and ability to compete at the highest level. They lost in the final of this competition to Chelsea in 2021 and were eliminate in the semi-final by Real Madrid in 2022. They fact that they've been able to sustain the push for glory in this competition says a lot. This success can provide them with a psychological advantage and a winning mentality heading into the final.
2. Squad Depth and Quality: Manchester City boasts a deep squad with talented players in every position. They have the ability to rotate players without compromising the overall quality of the team. This depth has been particularly advantageous in a grueling Champions League campaign, allowing them to remain fresh and maintain a high level of performance throughout the tournament.
3. Offensive Prowess: Manchester City possesses a potent attacking force with players such as Kevin De Bruyne, Erling Haaland, Bernardo Silva, Jack Grealish, Riyad Mahrez, and others. Kevin De Bruyne and Bernardo Silva both put up tremendous performances in the semi-final second leg tie against Madrid at the Etihad while Erling Haaland has been very instrumental in the progress of Man City so far scoring 12 goals in 10 games this season in the Champions League. Their attacking prowess, coupled with their fluid playing style and creative movements, can create significant challenges for any opposing defense, including Inter Milan's.
4. Defensive Stability: Manchester City's defensive record has improved significantly in recent seasons. Their well-drilled defensive unit, including goalkeeper Ederson and center-backs like Rúben Dias and John Stones, has shown great resilience and solidity. Ake and Akanji have also performed well above expectations this season which has resulted in the formation of a formidable defensive backline. They have the ability to limit the opposition's scoring opportunities, making it difficult for Inter Milan's attacking players to find openings.
5. Midfield Control: Manchester City often dominates the midfield battle, controlling possession and dictating the tempo of the game. Their midfielders, such as Ilkay Gündogan and Rodri, excel in maintaining possession, distributing the ball effectively, and transitioning from defense to attack seamlessly. This control of the midfield can limit Inter Milan's ability to establish their own rhythm and disrupt their game plan.
6. Tactical Flexibility: Manchester City and their manager Pep Guardiola are known for their tactical versatility. Guardiola often adapts the team's playing style and formation based on the opponent's strengths and weaknesses. This ability to tailor their approach to exploit the weaknesses of Inter Milan would give Manchester City an advantage in the final.
7. Jack Grealish: His ability to hold unto the ball and find a way to get past players especially in a one versus one situation could be a lot to handle for Inter Milan's Denzel Dumfries. Jack Grealish is able to draw fouls from opposing players and this could create goal scoring chances for Man City who have a number of players very good in set piece taking like Ilkay Gundogan and Kevin De Bruyne.
Despite these points, it's important to remember that football matches can be highly unpredictable. Inter Milan, as a strong team in their own right, can certainly pose a challenge to Manchester City and have the potential to find success in a final. Football outcomes are influenced by numerous factors, including individual performances, team dynamics, motivation, and even luck on the day of the match.
Reader insights
Be the first to share your insights about this piece.
Add your insights