10 Awesome Suede Jackets You Will Love to Wear
With the awesome suede jackets out there, you can absolutely find the perfect one for your style.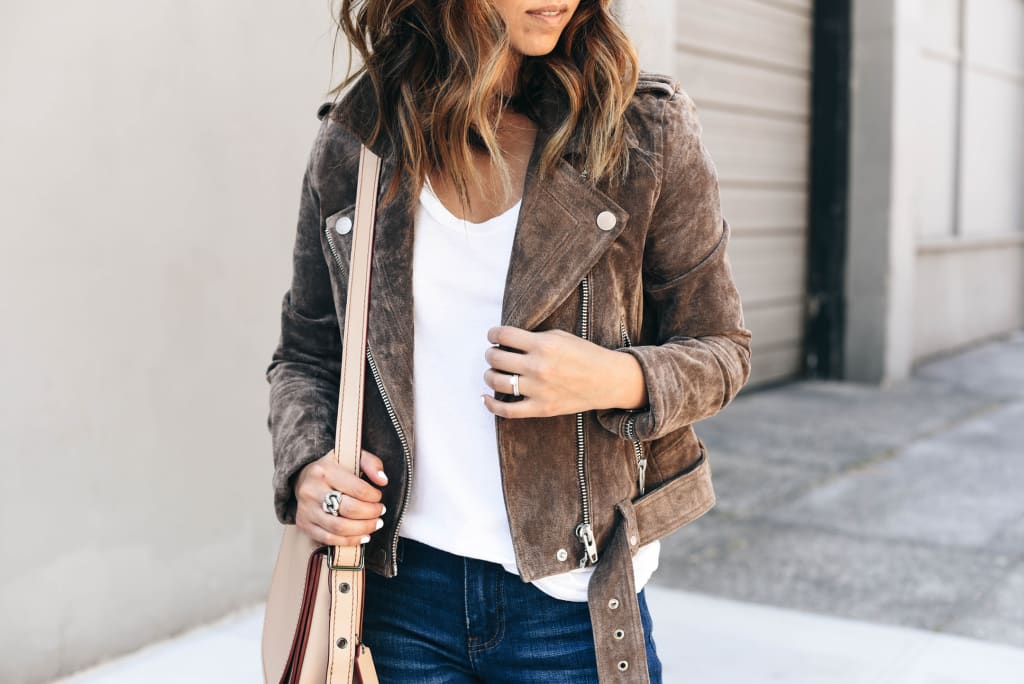 No wardrobe is complete without any of the number of awesome suede jackets on the market. Genuine suede jackets and high quality faux suede pieces are absolute classics of the fashion world, and look great in any context. Whether you're looking for a tough-looking moto jacket, one of Steve McQueen's bomber jackets, or a sweet-looking open jacket to wear to work, you can find what you need in high quality suede. So spice up your wardrobe, and add a long lasting fashion staple to your daily wear, workflow, date night, and wherever/whenever clothing options that just might need a super cool jacket.
The moto jacket is one of the most classic looks of the last several decades, making its way into every corner of fashion from men's and women's casual wear and evening jackets. This suede version of the classic moto style offers a slightly softer, different look than the traditional rough leather, making it a more subtle fashion statement that simply can't go wrong. Available in eight different colors and made of the most supple suede, it's comfortable for cool evenings, spring or fall days, and simply makes a subtle fashion statement wherever you go, no matter the occasion.
This open front, asymmetrical hanging piece is one of the most awesome suede jackets around, combining the chic classic style of a gentle suede with the unique twist of channel stitching and an asymmetrical cut and collar. The softer look of genuine suede combines sweetly with the gentle color of this jacket, giving you a whole new range of options for high quality leather jackets with a totally different vibe. This jacket can go over a dress for an evening out, date night, or a fancier event, or be worn with jeans on the weekend or slacks to work. There are few places and situations where this classic, subtle piece could look out of place, but those are so few and far between that you need not ever worry about having this in your closet.
The best suede jackets you can get are the ones that will make you stand out in a crowd—and that's exactly what this beautiful black suede jacket will do. This genuine suede jacket is tailored to help lengthen your body, and draws emphasis to your chest with delightfully retro suede fringe details. Anyone who loves the retro-modern look or is looking to add to their stylish outfits to inspire your wardrobe this season will want to have this investment piece in their closets.
Bagatelle's subtle "rockabilly" inspired studded suede jacket hits the mark right on. The studded design gives this awesome suede jacket a bit of an edge, but the simple cropped design and plaint silver-on-black coloring work to not overwhelm your look, so you can make a statement without accidentally saying too much. This is a wonderful alternative style of the leather jacket that you won't see on every other person on the street, and its high quality leather is sure to last you for years to come, making it a valuable investment and addition to your wardrobe staples.
A good suede jacket doesn't have to be a dark color to look amazing; it just has to have that effortlessly badass appeal that people adore. Fashion design darling Blank NYC made an adorable suedette jacket that is proof of this fact. This biker jacket is tailored to flatter, comes in a beautiful dusty pink, and feels buttery soft to the touch. It's modern, posh, and works wonderfully with just about any outfit you could try.
The olive-toned Leather Mechanic jacket is one of the best awesome suede jackets out there today. This stylish piece will give any outfit an instant street-chic vibe, walking the lines between street and designer, tough and subtle, classic and edgy just perfectly. The genuine suede is of the highest quality, so you're guaranteed to have this lovely little jacket for a long time—with proper care, of course. This jacket has a short cut, two chest pockets, and a front button-down closure. The sleeves can be rolled up to a three quarter style, or down to your length of preference.
Free People's take on the suede moto jacket is just what you might want and expect from the popular brand. The classically cut awesome suede jacket comes in four different colors, from a classic black moto jacket to natural nude tones, which offer a new and more naturalistic take on the moto jacket that is perfect for a more subtle wardrobe. It can be worn open, in the classic moto jacket style, or closed with an attached front belt clasp. However, this jacket does run a little small, so you may want to consider sizing up to make sure you're comfortable in this cozy jacket perfect for fall.
The navy colored Aries Suede Jacket is the perfectly simple, high quality suede leather jacket to add to your wardrobe. It's extremely stylish in its simplicity, with a basic cut and front zipper closure, two slanted pockets, and a stand collar that accentuates the neck and looks flattering with just about any top. This REISS jacket is simple and subtle enough to be a part of the easiest outfits anyone can pull off, but that doesn't mean it isn't also a head-turning fashion statement that has a flattering cut and complementary color, giving any outfit an added hint of chic.
Eileen Fisher is a designer that's known for clean lines, flattering forms, and using the best possible materials in designs. This super soft, touchable jacket is a perfect accompaniment for any office outfit, or just for a night on the town. Dress it up, dress it down—there's no right or wrong way to make it work for you.
Awesome suede jackets don't have to have wild cuts, unexpected designs, or any other accoutrement. This simple studded jacket from Neiman Marcus is beautiful in its simplicity. Made with high quality suede finished leather, it's sure to last a long time, and be useful for a lot of wear—which is exactly what you'll get out of it. Because of the relatively simple cut and bold coloring of this piece, it can become a staple of your wardrobe. It can be easily dressed up with a dress and heels, or dressed down with jeans for a more casual look. Wherever you need to go, you don't need to worry about looking casual in a jacket meant to stand out.