Tour in Iraq
Duties while in Iraq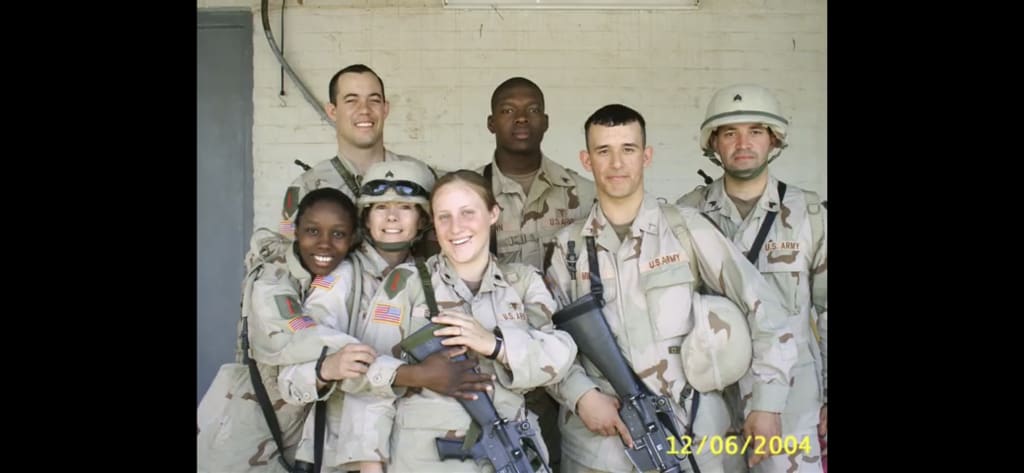 I joinined the military again at age 38, I had to go through basic training again because it had just been under 10 years since I was in. I went through the combat medic course which is a lot tougher then a lot of the other MOS s. Because you have to be able to carry a soldier off the battle furies if their hurt.
Anyway I joinined because he government was putting a cap on how much they would pay patients going into nursing facilities cutting out the therapy, so they were laying people off and I decided to join the military again.
I went through the medics course at fort Sam Houston and got high honors. It wasn't long after I completed my course that I got ordered for Germany.
Now I was a single mother but becided to marry my exhusband again so I wouldn't lose custody.
I went to Germany first and about a month later they joined me, now let me tell you it was exactly one month before 9/11 and I don't know if I had a premonition of what was about to happen but I was a nervous wreck, crying and I had no idea as to why. Well they arrived 11 Aug2001. I was so happy to see them.
Well I was doing training that day of Sept 11 , when I came home in time to see the first plane hit the building, I thought I was dreaming and then the second plane hit, I couldn't believe this. While I was still thinking n a state a shock I got a phone call telling me that The Fob was on lockdown until further notice.
Once things settled down or so I thought, I went to sergeants Primarary development course and I wa suppose to get out that next year 2004, well I got caught in a stop loss which means if there's a war going on your not getting out.
Well I got orders to go to Iraq, I was horrified because I've never been away from my daughter for that long of a time where ch would have been about a year. Well we said our good buys and I know she would be in good hands, the small community of our FOB.
We drove in from Kuwait into Iraq, it was quite a site we had wats called marching orders where vehicles have to be in a certain order, we were armed with are m16 and had jets flying over us. It felt good knowing you had all that power behind you. Once we got to our FOB we started setting up our aid station, of course we still had training to do. We had bunkers set out throughout the Fob because we had incoming missiles almost daily.
One day I had just pulled a 24 hour shift and I was suppose to have the day to sleep. I went to my bunk and I was just falling off to sleep when I heard a fait explosion, I thought I was dreaming until I heard banging on my door"Sgt Kennedy, there's been an explosion outside the gate. I quickly got my gear on and headed out the gate, there was a massive explosion a few yards from our gate. I looked over and over a fence there hung a perfectly intact spine. We could feel the heat from the fire ball but we had to get out and look for the living and transport them to the tarmac wher we had an aid station prepared to take this trauma. We made at least 5/6 trips and then started triage.