The History behind the Purple Heart
The Creation of Purple Heart Day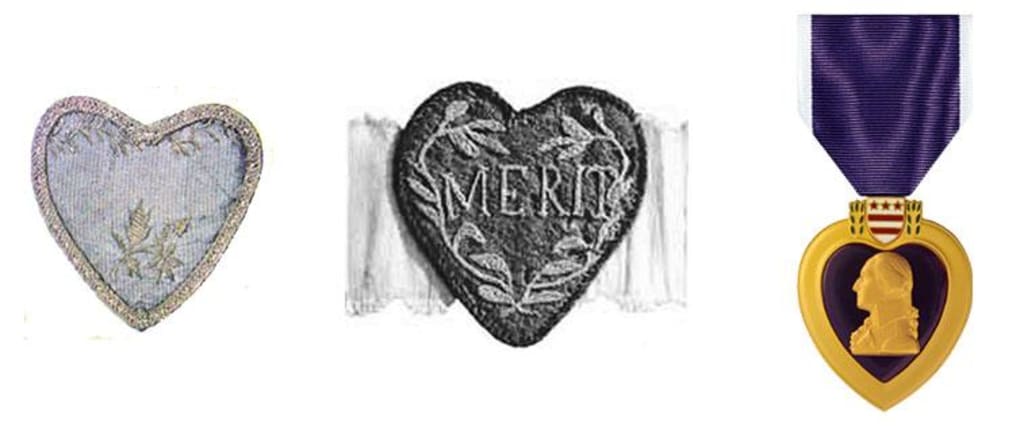 Purple Heart through the ages.
In the US Armed Forces, the Purple Heart is second only to the Medal of Honor in terms of recognition. Furthermore, it is the oldest military award in the United States- but where did it originate?
During his time as commander of the Continental Army, George Washington created the award on August 7, 1782, at his headquarters in Newburgh, New York. In fact, General Washington created two distinct badges - the Good Conduct Medal and the Badge of Military Merit.
Those who had completed three years of military service "with bravery, loyalty, and good conduct" were awarded a chevron shape badge worn on the left sleeve of their uniform coats. Despite its age, this award is still achieved and worn in a similar manner. 
His design of the Badge of Military Merit originally resembled a purple heart edged with lace or binding and awarded for "offering not only uncommon gallantry in battle, but also extraordinary fidelity and essential service in any way." If awarded, the recipient was allowed to bypass guards and sentinels without consequence and has his name and regiment engraved in a "Book of Merit."
The General ever desirous to cherish a virtuous ambition in his soldiers, as well as to foster and encourage every species of Military Merit, directs that whenever any singularly meritorious action is performed, the author of it shall be permitted to wear…over his left breast, the figure of a heart in purple cloth…Not only instances of unusual gallantry but also of extraordinary fidelity and essential service…shall be met with a due award.

General George Washington- 7 Aug 1782
The most astonishing aspect of this award is that it was intended for noncommissioned officers and privates, the first ever award to recognize the 'common soldier.' A concept like this was rarely seen because in European countries at that time, only officers were awarded for their units' victories.   
Revolutionary War-
For the Revolutionary War, only three were awarded:
Sergeant Elijah Churchill, a 32-year-old carpenter from Connecticut, enlisted on July 7, 1775, as a private. During the war, he reenlisted as a corporal in the 2d Continental Light Dragoon Regiment and later served as a sergeant in the 2d Legionary Corps. The citation was issued for gallantry actions at Fort St. George and in Tarrytown, New York in 1780 and 1781, respectively.  
Sergent Willian Brown- enlisted in the 5th Connecticut Regiment as a corporal on May 23, 1775, and then in the 8th Connecticut Regiment as a private on April 9, 1777. He was promoted to sergeant on August 1, 1780 and served with the 5th Connecticut and the 2nd Connecticut due to unit consolidations. Despite not having a record of the citation, military.com suggests it was awarded for his actions during the assault on Redoubt No. 10 during the siege of Yorktown.    
Sergeant Daniel Bissell-
Bissell, from East Windsor, enlisted on July 7, 1775, as a fifer in the 8th Connecticut Regiment, and on April 1, 1775, signed on for the duration as a corporal in the 5th Connecticut. He became a sergeant on September 1, 1777, and ended the war with the 2d Connecticut. Under Washington's direct orders he posed as a deserter in the city of New York from August 14, 1781, to September 29, 1782, relaying valuable information to the Continental command.

U.S. Army Center of Military History
Side Note- While I understand that Sergeant Bissell's dates are off, I have found many conflicting dates on his enlistment, promotions, and time served. Having emailed the Army Center of Military History about the typo, I am waiting for a response. He was indeed a spy for General Washington, based on my research.   
World War I-
It remained hidden in history books for 150 years. During World War I, the Medal of Honor was the only American decoration available for wartime achievements among high-ranking officers and enlisted men. Service members were aware that the other Allied Forces had numerous awards they could use to reward their members, which made this a questionable practice for the U.S. War Department.    
Congress passed the legislation that created the Distinguished Service Cross and Distinguished Service Medal in 1918, alleviating this embarrassment. As the 1920s approached, the War Department conducted further research into heroism awards. A bill for the revival of General Washington's Badge of Military Merit was drafted by the Army Chief of Staff, General Charles P. Summerall, and sent to Congress in October 1927. The bill, however, seems to have been withdrawn, and all materials were filed away for future use by the Adjutant General's Office.  
General Douglas MacArthur steps in-
General Douglas MacArthur, then Army Chief of Staff, wrote a letter to Charle Moore, chairman of the Commission of Fine Arts, in 1930 informing him that the War Department intended to revive General Washington's Badge of Military Merit in celebration of his bicentennial.   
On February 22, 1932- the Army announced General Order No. 3:
WHEREAS General George Washington, at Newburg-on-the-Hudson, on August 7, 1782, during the War of the Revolution, issued an Order establishing the Honorary Badge of Distinction, otherwise known as the Badge of Military Merit or Decoration of the Purple Heart; andWHEREAS the award of that decoration ceased with the closing of the War of the Revolution and was revived on February 22, 1932, out of respect to the memory and military achievements of General George Washington, by War Department General Orders No. 3:NOW, THEREFORE, by virtue of the authority vested in me as President of the United States and as Commander in Chief of the armed forces of the United States, it is ordered as follows:1. The Secretary of a military department, or the Secretary of Transportation with regard to the Coast Guard when not operating as a service in the Navy, shall, in the name of the President of the United States, award the Purple Heart, with suitable ribbons and appurtenances, to any member of an armed force under the jurisdiction of that department and any civilian national of the United States who, while serving under competent authority in any capacity with an armed force of that department, has been, or may hereafter be, woundedExecutive Order 11016--Authorizing award of the Purple Heart Click here to read the full announcement.
On the 200th anniversary of Geroge Washington's birth, President Herbert Hoover officially revived the Badge of Military Merita as the Purple Heart. General MacArthur was awarded Purple Heart #1.
It is estimated that over 78,000 Purple Hearts were awarded to veterans and active-duty soldiers between 1932 and the beginning of World War II. Most of these awards were given to those who served during 1917-1918, but some were awarded to those who served during the Civil War, Indian Wars, and Spanish-American War.
Side Note- Originally, the redesigned Badge of Military Merit to the Purple Heart was viewed as an 'Army' award, hence the use of soldier instead of service member. While the Department of Navy's use of the award had no legal basis at that time, a small number of marines and sailors who served with the American Expeditionary Forces under General 'Black Jack' Pershing were allowed to receive the Purple Heart for their injuries and were authorized to display it on their uniforms. 
It is also noteworthy that it was NOT awarded posthumously at the time. General MacArthur explained that it was:
not intended…to commemorate the dead, but to animate and inspire the living...To make it a symbol of death, with its corollary depressive influences.

General MacArthur 1938
World War II-
On April 28, 1942- the War Department reversed General MacArthur's policy due to the death of thousands of soldiers in Hawaii and the Philippines after America entered into World War II. It stated:
Members of the military service who are killed…or who died as a result of a wound received in action…on or after December 7, 1941.M
September 5, 1942, another change to the Purple Heart restricted it to combat wounds only. This was not in malice; in 1942, the Legion of Merit was created for exceptionally meritorious conduct in the performance of outstanding services and achievements. This is one of only two U.S. military decorations to be awarded as a neck order (the other is the Medal of Honor). Two awards for the same thing were not considered necessary.
Side Note- Approximately 270 Purple Hearts were awarded for achievement or service (not wounds) before September 5, 1942, making them extremely rare.
President Franklin D. Roosevelt made the final major change to the Purple Heart on December 3, 1942, when he signed an executive order giving the Secretary of the Navy the authority to award any sailor, marine, or Coast Guard member who was wounded or killed in action after December 7, 1942.
Purple Heart awarded in other circumstances-
As with anything, there will be gray areas.
Vietnam War- The Department of Defense realized that the Purple Heart was worded in a way that did not allow it to be awarded to anyone serving in the Vietnam War. Technically, the U.S. was only acting in an advisory capacity during the battle between the South Vietnamese and Viet Cong. On April 25, 1962- President John F. Kennedy signed an executive order that permitted the Purple Heart to be awarded to
any person wounded or killed "while serving with friendly foreign forces" or "as a result of action by a hostile foreign force.
In February 1984, President Reagan signed Executive Order 12464, which authorized the Purple Heart to be awarded to those who served in peacekeeping missions.
the Purple Heart should be awarded to individuals killed or wounded "outside the territory of the United States" while serving "as part of a peacekeeping mission...or an international terrorist attack against the United States.
The most recent changes were brought about by the Iraq and Afghanistan wars. Symptoms of brain injuries don't always manifest immediately after impact, and they can develop over time, so it was deemed that-
 if a "medical officer" or "medical professional" makes a "diagnosis" that an individual suffered a "concussive injury" and the "extent of the wound was such that it required treatment by a medical officer," this is sufficient for the award of the Purple Heart.
Sadly, this change did not include many service members with PTSD (Post Traumatic Stress Disorder). According to the Department of Defense, PTSD is not the result of an enemy wound but rather the result of witnessing or experiencing a trauma.
Who has received the Purple Heart?
According to the National Purple Heart Hall of Honor, more than 1.8 million men and women have been awarded the Purple Heart since 1932.
Since 1932, thousands of Purple Hearts have been awarded for actions before it was created.
It is estimated that over a million servicemen were awarded the Purple Heart during WWII, including Audie L. Murphy, who was awarded three.
Over 100,000 awards were presented to service members who served in Korea between 1950-1953.
More than 350,000 medals were awarded during the Vietnam War. President JFK is the only president to have received one for his actions while serving during WW2 as a commander a of a series of motorized torpedo boats. He retired as a Lieutenant in 1945.
Since Vietnam, thousands of Purple Hearts have been awarded because of wounds received in Afghanistan, Bosnia-Herzegovina, France, Germany, Haiti, Korea, Iraq, Panama, Serbia, Somalia, and the United States.  
More than 30,000 medals have been awarded to soldiers for wounds received in combat since 2001.
Purple Heart Day- celebrated on 7 August, was first observed in 2014.
Over 1.8 million service members since 1932. Over 1.8 million Purple Heart Recipients. Over 1.8 million men and women bled or died for the United States. On this very special of days, remember to offer a thank you to those who did it willingly or hopefully to help create a better world.
As always, my friends, I invite you to do more research or reading on this topic and learn about some of the stories behind these brave men and women- it will be worth your time!
And remember...Be Great at something you are Good at!
About the Creator
One does not simply become a famous writer! It takes many hours before the sun comes up and even more when the sun sets. I am never sure what world I am living in, the one that I am writing about or reality.