The 10 Best Military Biographies of All Time
The surge of pride you will feel from reading the best military biographies ever written is sure to remind you just what service members do for civilians on a daily basis.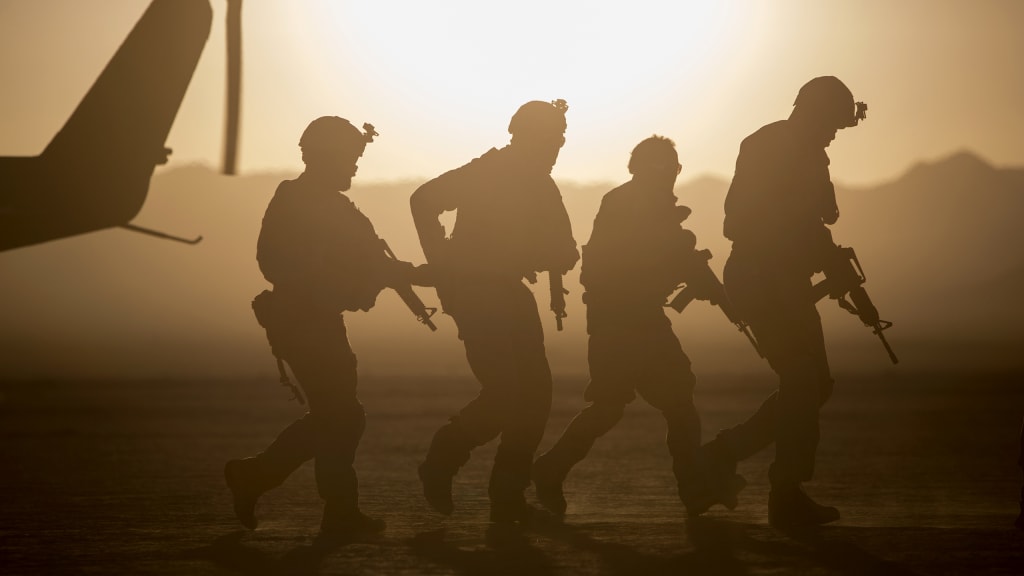 War is hell; there is no denying the atrocities committed during a time of such insurmountable strife. Unfortunately though, war is a reality that people have had to face as long as this species has walked the Earth. Generals, Marines, Sailors, Airmen, and Army foot soldiers alike have been writing down their experiences with war all this time, to give the civilian population a look at war is really like, as well as teach future leaders the skills they need to learn if they are to find success on and off the battlefields. Many of these military biographies are true stories about brave service members and their unmatched heroism and experiences, but the best military biographies to have ever been published are a step above the rest.
This is the story of John Chapman and his heroic sacrifice to save his fellow squadron. Being one of the first airman to be awarded the Medal of Honor in over 50 years, he also shed a light on one of the military's best kept secrets: the US Air Force Combat Controllers.
Alone at Dawn will show you a behind-the-scenes look at this special breed, and the amazing members, like Chapman, that comprise it.
Donovan Campbell had just graduated from Princeton University and wanted to serve his country. He joined the Marine Corps and became a Marine officer. The war in the Middle East began, and he only had a few months to prepare his 40 man infantry platoon into a deadly fighting force.
This is the story of the the platoon's fight in Ramadi, their pledge to protect the innocent, and the battles they brought back home with them. Thrilling and emotional, Joker One is one of the best military biographies ever written.
World War II brought about a lot of famous military units, but none more than Easy Company of the 506th Regiment and 101st Airborne. These men are renowned for their courage, strength, and ability to continue fighting on in the face of death. The men of Easy Company will be remembered forever, and the experiences they had while on the battlefield can be fully appreciated in one of the best military biographies composed of to date.
With hours of interviews, hundreds of journals and letters, and years of research, New York Times bestselling author Steven Ambrose tells the harrowing stories of one of the most famous units' actions during the second World War, and makes sure that the honor and recognition they deserve is never forgotten.
Sparing absolutely no detail, James Kirschke tells the story of his Marine platoon located southwest of DaNang during the Vietnam War. First Lieutenant Kirschke was a Marine officer in charge of a rifle platoon that experienced some of the worst fighting in the entire war. Their supplies were stretched very thin, but their spirits and moral were high thanks to their platoon leader.
Marines are proud of their brotherhood and history. First Lieutenant Kirschke is a testament to the Marine Corps' long history of great leaders that fought with valor against what seemed like impossible odds, making this a must read book written by a veteran, as well as one of the best military biographies ever penned.
Only four men have ever been promoted to the rank of five star Admiral, Admiral of the Fleet: Chester Nimitz, William Halsey, William Leahy, and Ernest King. They created the most powerful navy in the world, and helped lead the US to victory in World War II.
Follow these four men on their different journeys to becoming the best and most powerful naval officers in history. Beginning in their hometowns, follow them through the Naval Academy and into both world wars. You'll go deep into their personal lives and discover that even five star admirals have flaws.
This is one of the best military biographies ever written about the history of the US Navy, and how it became a world super power times over.
The Marine Corps is known for its long history of heroes. One such hero is Hiram Bearss, a legendary Marine that was awarded the Medal of Honor in the Philippines-American War, as well as the Distinguished Service Cross during World War I.
This book about WWI that will make you think begins with Bearss's ancestry, and covers his youth in Indiana, all the way through to his involvement in the US Marine Corps. You'll learn about all the campaigns he was involved in before commanding the 102nd Infantry and 56th Brigade during WWI. The book ends with Bearss retirement and unfortunate death during an automobile accident.
Horse Soldiers is the almost unbelievable story of a small group of US Special Forces soldiers who were tasked with entering Afghanistan shortly after 9/11, and hunting down enemies across the mountainous Afghani terrain.
Once the soldiers captured Mazar-I-Sharif, a strategic military stronghold, things took a turn for the worst when 600 would-be POWs turned on the Horse Soldiers, forcing them to fight for their lives in the city's giant fortress.
Very well researched and incredibly written, Horse Soldiers is another New York Times bestseller. It shows that ancient war-fighting techniques can be integrated with 21st century techniques, and that winning over peoples' hearts and minds is the most important step towards winning the War on Terror.
General George Patton is probably the most iconic American general in known history. He is best known for his commanding of the US Seventh Army in the Mediterranean theater, and the Third Army in Normandy during World War II, making for compelling reading when matched up against the other must read military leader biographies printed.
Follow Patton's life through both world wars and see how he developed his one-of-a-kind leadership style that is still talked about to this day. Comprised of high quality articles, this is a must read book for any students of military history or anyone looking to read the best military biographies available to them.
He was known for his barrel chest, gruff voice, and as the prime example of what all Marine Corps combat officers should strive to be like. One of the greatest American heroes to ever live, Chesty is the story of one of the larger-than-life Marine officers whose military assignments and missions made him a master in many aspects of combat, from small unit tactics to guerilla warfare.
With personal letters and documents, Jon Hoffman gives readers an unprecedented look at the life and career of "Chesty" Puller.
Lieutenant Phillip J. Caputo was a Marine officer that was among the first American troops to land in Danang and fight in Vietnam. After serving for 16 months at the front of the line, he returned home, uninjured on the outside but devastated on the inside. He tells the story of "simply war, the things men do in war and the things war does to them."
A Rumor of War changed the way an entire generation viewed service members, how and why they are sent into battle, and how we take care of them when they return home, making this one of the most realistic and best military biographies ever written.