Starting Afresh
At the Veterans Community Hub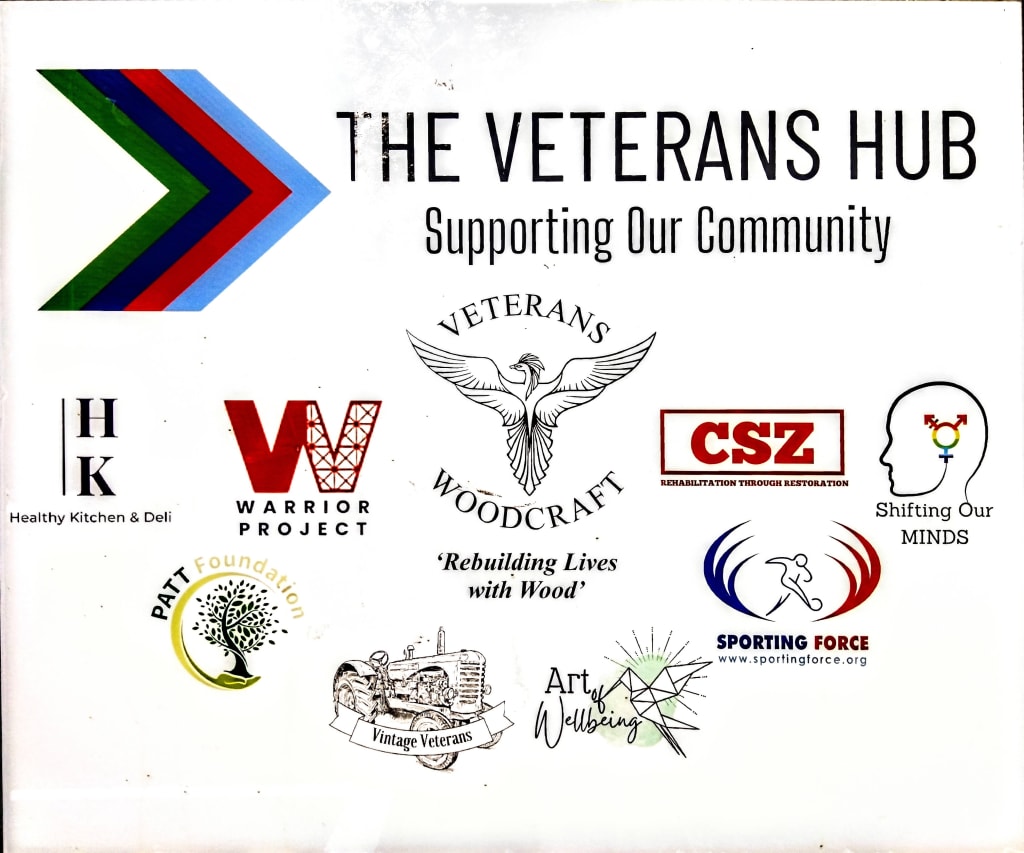 I'm sat at a table in the reception area of The Veterans Community Hub (https://theveteranscommunityhub.co.uk) in Newton Aycliffe, UK, feeling anxious as hell about everything and wondering whether the massive leap my family and I have taken is the right choice.
My wife, son and I moved here in late November 2021 after living in Peterborough for 8 years and struggling on pretty much all levels including finances, lack of any social life, work treating us badly and with poor mental health that lead to a mental breakdown for both of us.
During my breakdown I started writing about my experiences of coming to grips with Borderline Personality Disorder, mental health in general and my time in the Territorial Army including going to Iraq in 2008.
At the time, the combination of a Dialectical Behaviour Therapy course (DBT) and writing about the process and how I felt, helped me to climb out of the hole I'd been sitting in for years, feeling terrified to start living again.
I felt happy, excited for the future and was genuinely looking forward to what life might bring. During this time I met Phil through an Instagram post and over the course of some video calls plus a visit to The Hub, I was offered an amazing opportunity to be part of a new project.
Whilst all this was happening I'd started taking Zopiclone (sleeping tablets) for chronic insomnia, something I've suffered from since my early teens. I should have only taken 2-3 per week but I took one every night and kept putting in the prescription request to my doctors surgery every couple of weeks and the surgery kept issuing me a new prescription for about 6 months.
Eventually I realised with the help of my wife that my headspace had shifted drastically downhill again and I'd sunk back into depression, anxiety, suicidal thoughts and being scared to go out and about again. Everything I'd fought so hard to battle against had come crashing back with a vengeance, partly due to side effects from the Zopiclone and partly because I'd exhausted myself trying to do too much too soon and had burnt myself out.
I came off the tablets 2 weeks before we moved house to County Durham, white knuckling my way through each and every day, absolutely terrified about everything and barely able to function. Each day was spent in a fog that was almost impenetrable at times and I felt exactly the same as I did during the worst days of the breakdown, thoughts of suicide running through my mind just in front of the crushing guilt and shame I experienced at putting my wife through it all again on top of having to organise a house move at the same time.
I was back to a very dark headspace, one that isn't a new experience as I've suffered poor mental health for as long as I can remember but this time seemed so much harder. Part of that I think is side effects from the medication but a huge part of it is the pressure I'd heaped on myself and when I took that massive downturn it all came crashing down over me.
I have to remind myself that relapses are completely normal when dealing with mental health conditions and whilst it feels as though the darkness is here to stay, there's a process to follow and there are definitely people who want to help. It's just bloody hard when all you want to do is huddle in your pit at home and the last thing you want is to have to interact with others or go out into the world, whether that's a trip to the shops or taking the dog for a walk, hyper vigilant to perceived threats and feeling weak and defenceless.
It's been 2 months since we moved home and it's been a massive change which has added to the fightback. We now live in a small terrace house built in the 1920's that feels empty and echoing even with all of our things in it, rooms with high ceilings that take their time to warm up and still feel cold to me even then. A bathroom that just fits a bath, toilet and sink with barely enough space to turn around in and a little concrete courtyard at the back that leads onto a cobbled alley, home to bins and junk that people have thrown there.
It's safe to say that I'm not enamored by our new home and town yet but it's cheap to rent and part of this new start is about facing the facts of our life, one of the biggest of which is our financial situation. We're in an Individual Voluntary Arrangement (IVA) due to our debts and will be for another 3 years yet and my wife and I are both currently on benefits so money is tight. Living where we do is affordable and a short drive to The Hub which was the whole point and in time as finances improve then we can look to live somewhere we feel more at home.
Until then I need to learn to accept the things that I can't do anything about, whilst at the same time using the services that The Hub offers in order to build my confidence back up and start feeling part of a tribe again. So far I've only used the services of Shifting Our Minds (https://shiftingourminds.org.uk), having a weekly therapy session with Donna but my wife and I have also registered with Sporting Force (https://www.sportingforce.org/) which has a gym that's free to veterans and veteran adult family members as well as a host of other services. Once we've completed our gym inductions later this week then we'll start using it.
There's a lot more to discover at The Veterans Community Hub, too much to write about in one go, so as I progress, grow in confidence again and discover everything on offer I'll write about it and bring you along on my journey and although I said at the beginning of this that I wondered whether we had made the right choice coming here, I also realise that in my current state of mind I'm doubting everything so of course it'll feel like that to start with. I just need to look around at the others who have been through the same process and remember that they walked through the doors here for the first time too.
Justin Haywood
January 2022
Reader insights
Be the first to share your insights about this piece.
Add your insights