PROTECTION LEVELS OF BULLETPROOF VESTS
Let's explore them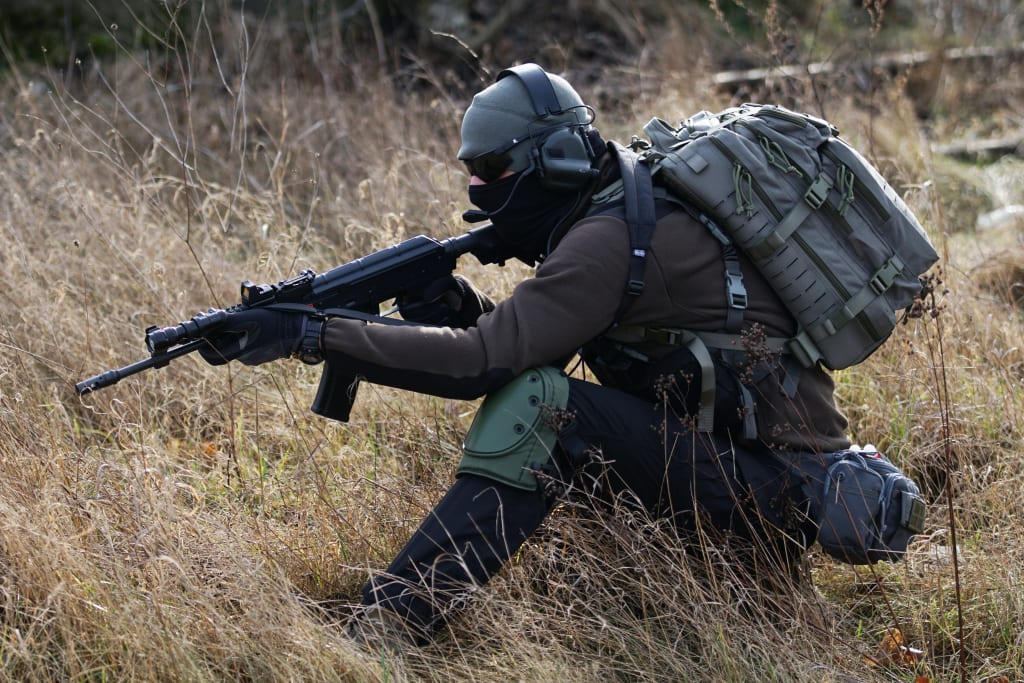 NIJ STANDARDS
Body armor vests and accessories for armed professionals provide substantial protection against certain types of ammunition. Therefore, operators must be aware of the level of protection of their bulletproof vests.
There is no definitive bulletproof vest; professionals looking for a personal bulletproof vest often have difficulty evaluating the most appropriate option for their needs. Factors such as the threat level, the accumulation of heat, comfort, restriction of movements and concealment, are together with the cost, determining elements of the possible choice.
NIJ, US NATIONAL INSTITUTE OF JUSTICE.
The National Institute of Justice of the United States (National Institute of Justice, NIJ) established since 1972 some standards known and accepted internationally to determine the level of protection for body armor; so that users are aware of it and its degree of protection against a specific threat.
The standards are updated from time to time, being in July 2008 the last to be published by the Office of Law Enforcement Standards of the National Institute of Standards and Technology called NIJ Standard-0101.06 and which updates the previous one published in 2000.
PROTECTION LEVELS OF BULLETPROOF VESTS
The NIJ standard establishes minimum requirements for protection against different cartridges and the speed with which their bullets can hit. The same cartridge can offer another ballistic performance depending on the barrel length of the weapon with which it is fired, marking a ballistic test protocol. In this way, it is determined which is the minimum number of layers of armor that a vest must-have for its level of protection to be certified.
The NIJ's levels of protection are NIJ II, NIJ III, and NIJ IV, although there are sublevels to mention more below.
Level I protection corresponds to bulletproof vests that protect only 22lr and .38Spl very common cartridges although considered marginal for personal defense.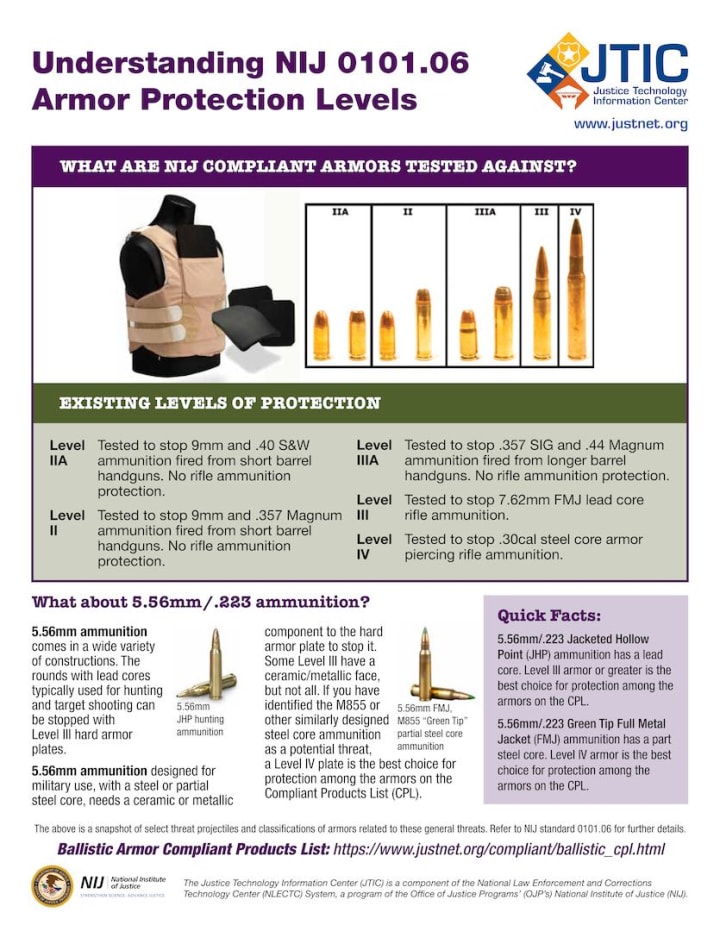 BULLETPROOF VESTS NIJ IIA LEVEL
The IIA level is the first level of protection by the NIJ.
Protects from impacts of 9 mm FMJ RN cartridges weighing 124 grains at impact speeds of up to 373 m/s.
It also protects against .40S & W caliber FMJ cartridges that impact at speeds equal to or less than 355 m/s.
Bear in mind that FMJ bullets of both calibers offer the most penetration to ensure protection against bullets with greater expansive capacity.
BULLETPROOF VESTS NIJ LEVEL II
Level II vests provide the same level of protection as the previous ones but withstand impacts at higher speeds, that is, more powerful ammunition or fired at a shorter distance with impact speeds of up to 398 m / s in the case of the 9mm.
Additionally, they can withstand impacts from 357 magnum cartridges with 158-grain JSP tips.
BULLETPROOF VESTS LEVEL NIJ II IA
Protection Level IIIA covers previous levels and improves the impact support of the 0.357 SIG tip FMJ FN 125 grains at speeds up to 448m / s, as well as the powerful 44 magnums tipped SJHP of no less than 240 grains impact and or at speeds of up to 436 m / s.
The Level IIIA + bulletproof vests offered by some firms should protect the wearer from shotgun impacts, although Level IIIA + is not an NIJ-certified level.
BULLETPROOF VESTS NIJ III LEVEL
The NIJ III is the first level that protects against rifle ammunition. This protection generally consists of hard metal ballistic plates placed on the usual soft Kevlar panels, although they can also appear made of polyethylene or ceramic materials.
The ballistic plate and soft panel assembly must withstand six 147- grain 7.62 × 51 NATO (FMJ) shots striking at 847 m/s. These inserts must be appropriately labeled, indicating that they are used in conjunction with soft panels.
However, most modern boards ballistics Stand Alone must resist if alone impacts without placing them on the soft panel.
Plates identified as Level III + should protect the user of this ammunition with higher velocity impacts, but Level III + is not certified by the NIJ either.
BULLETPROOF VESTS NIJ LEVEL IV
Level IV ballistic plates make up the highest-rated hard armor and are designed to withstand an impact from 7.62 calibers AP ( Armor Piercing) bullets, precisely 166-grain tips at 878 m / s.
The fact that they must withstand a single impact as opposed to the 6 that Level III plates must withstand, implies that a Level IV plate is not always better than a Level III plate.
Reader insights
Be the first to share your insights about this piece.
Add your insights