Marine Corps Stories: Flag Waving
Three majors discuss the Commandant's decision to halt the showing of Confederate flags on Marine Corps bases.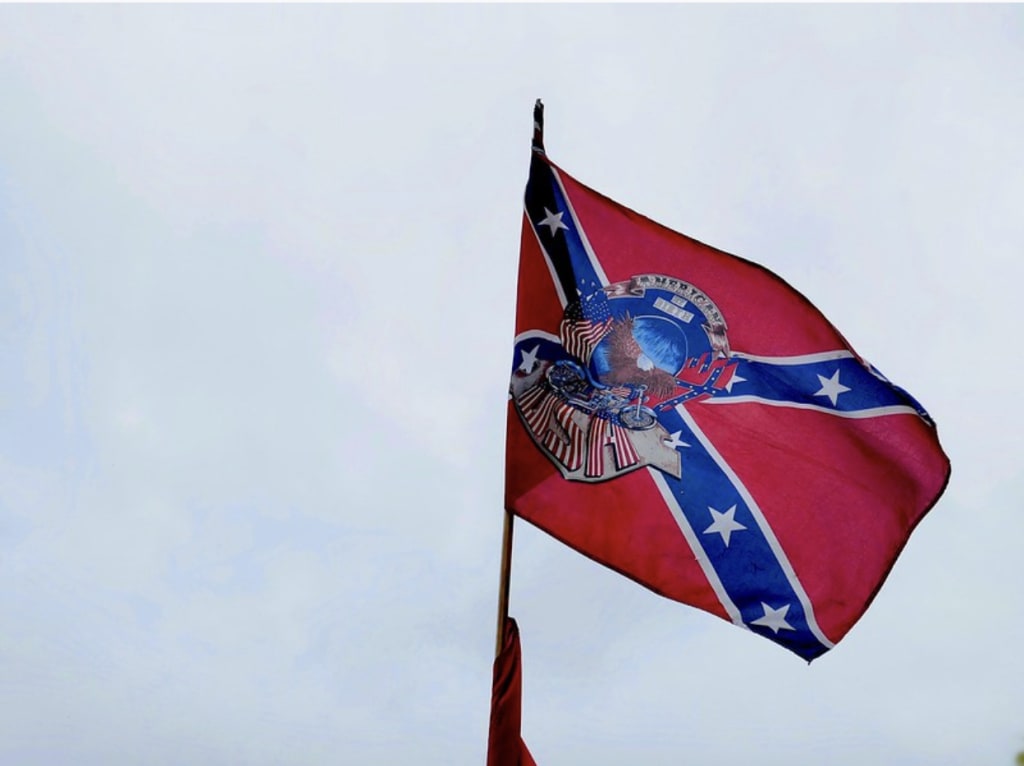 Major Aldo Regio flew three flags: The Italian, the Pan-African, and American.
Major Manolo Reese flew the Mexican and American flags. Major Russell Pell waved the Confederate flag.
"The Commandant says no to the Confederate flag, Pell," Regio said.
"You don't say?"
Absolutely," said Reese.
"Goddamnit. I just bought this flag."
The three majors all convened at the SNCO and Officer's Lounge at the Yuma Marine Corps Air Station in Arizona. They all stood about six feet tall. Combined, they had about thirty years experience in the Corps.
"So, I'm supposed to take my flag down right now?"
"Right after this round of beers," Reese said.
"I mean I put the flag on the roof of my garage in Delaware. I have it right there."
"Why?"
"Because I want to keep n—s from going onto my property," Pell said.
Regio and Rees laughed.
"Man, Pell, do you hear yourself?"
They all took a sip of the brew.
"We're mutts and you're full blooded. How the hell do you even bother to put up that flag?"
Pell swallowed the golden carbonated liquid. "I could be mixed."
"Now is this a revelation or what?" Major Reese asked.
"It's a way for you both to better understand what I'm saying. I live in a rural section of the state. I don't need anyone coming up to my manor with a bunch of 'my brother' and 'peace black man' all on my lawn. And certain white people, too." Pell said.
Regio spoke up then. "That's cold, man. I'm Italian and African American and I represent both flags. The Commandant didn't say I had to stop flying the Italian flag or the Pan-African one, though."
"I can fly the Mexican flag. My father's brown skin and my mother was white. Irish? German? Polish? I wouldn't know. No one in my family ever told me, but I know I've got blue eyes and height and tan skin."
"The Commandant is just going to have to understand," Pell said, swallowing more beer.
The two other Marine officers laughed.
"No, you are going to have to understand." They said in unison.
Pell nodded his head. "Yes. I know, I won't be able to box with that high up at the top."
"Look at us, we're all minorities with shiny stuff on our collars. We made it through the toughest officer training, and we're here enjoying drinks with time served, commands, all of that. But this guy (pointing to Pell) thinks he can keep the 'flag of division,' as the Commandant calls it. It is already astounding that he puts up the Confederate flag of all flags. It's surprising, but how he puts it, this makes sense to him."
"You're goddamn right. Keep these blacks away from me," Pell said.
"What the hell, Pell?" Reese asked.
"I'm saying I don't want to deal with the wrong ones. They're okay to deal with in the street, but I don't want people at my house. I especially don't want to have to deal with them in any capacity on my property."
"Where you're flying your flag is at your house on this base, though," Regio said.
"Yes, I'm fully aware of that. So I'll take down the flag. I should get some sergeants to ceremonially remove the flag from my house. I would love to see the faces of the passersby in the BAH as they see that standard get retired. I'm going to have a lump in my throat. That flag contributed to my growth. It allowed me to look at the hatred of the black man and the white man. The nature of the flag certainly shows how the hatred of both sides can boil over. That's why I won't resist the Commandant's order, not just because I have no choice, but because I respect the decision," Pell sipped the last of his beer and headed towards the exit.
marine corps
I am a forever young, ego-driven, radical hipster from Delaware. Investor. Objectivist for life. Instagram: @skylerized
Twitter: @SKYLERIZED