Marine Corps Stories: And Another One
One Marine sergeant recounts some tales from Down Under.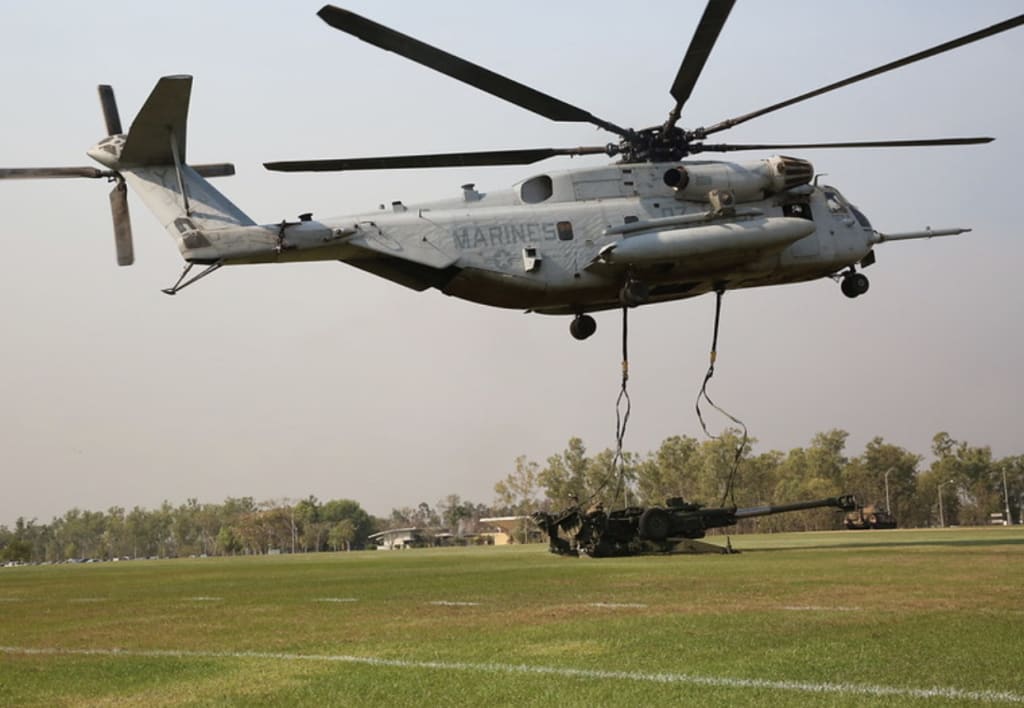 The Marines in Australia came back with tans, fresh accents, lingo, and stories to tell. Twenty-eight-year-old Sergeant Martin Chatham was one of those Devil Dogs. He had a glint in his eye, and a smile as broad as an expansion bridge. He had just arrived back at the Naval Medical Center in San Diego, California to fulfil his role as a liaison helping young Marines transition from the Corps back to the civilian world.
He sat down with four Marines ready to get out of their cammies and into a suit, a flight suit, but most likely fast food attire. Either way, Chatham eased the process. PFC Sean Camp, twenty, Lance Corporal Marcel Hall, twenty-two, Lance Corporal Ahmad Roe, and twenty-three-year-old Corporal Jesse Birney, sat before him, his captive audience. He began with a tale from his Australian adventures.
"I'm telling you the women go for anything down there."
"You mean you down there?" Camp motioned to his crotch.
"I'm speaking geographically, Camp," Chatham said.
"Yes, Sergeant."
"Anyway, we're like rock stars down there. All you have to say is 'g'day' and 'no worries, mate' and the woman fall all over you."
"I'm sorry Sergeant, I'm really glad for you and your trip to Aussieland, but when are we going to get our TAP booklets?"
"Soon. I promise, right after this story. So, I'm down there on this helicopter exercise, and these girls were at the gate, because it was a restricted area. They were just waiting outside the gates with 'USA' signs, chanting and going on. So after we finished exercises, I just fell into their arms. It was like pretty much every day."
"That's great and all, Sergeant, but I'd really like to know when I'm going to get my rating," Hall said.
"Right, but first let me tell you this story about this whorehose. They had prostitutes, but they call them 'sexworkers,' so it was a sexworkers house. Anyway, another Marine and I, a Staff Sergeant, we said we weren't paying for any sex, and we tried to get the girls to go all the way with us, and we didn't drop a dime. The only thing was, they kept their clothes on the entire time and didn't touch us. I'm not shitting you."
"Yes, that's all fine and good Sergeant, but what about the different housing programs?"
"Can I tell one more? Just one more? Alright. It was Staff Sergeant Dale and I, and we had just scooped up two girls each. We got them back to the rooms and they were like, 'do you have a franger?' and we said 'No!' So we said we could improvise. The whole time we didn't need to drop trou' or even take off our shirts. We just danced for them. I'm not shitting you."
"Sergeant," Birney sighed, "Will we ever be able to use the proper tools to facilitate our re-entry into the civilian world?"
"Just one more story and we can get into all of that. Now, we were on the beach and it was a nude beach. Some buddies and I pulled like six chicks. We talked about going to the hotel for a party. But once they put their bikinis back on, they didn't want to party. So, my buddies and I just took an Uber back to Robertson barracks with crazy blue balls."
"You got no action?" Hall asked with a hand in his cheek, elbow resting on knee.
"Not that time, but we were shipping off the next day so we didn't get a chance to sample the rest of Australia."
"I'm just putting this out there, but your excursion to the nude beach doesn't pan out. There isn't one for thousands of miles from the barracks."
"So I stretched the data a bit. I bet you were all captivated."
The four Marines shook their heads negatively.
"Ah, get out of here. You're dismissed!"