Launch on Warning: A Novella (Pt 3)
Near Miss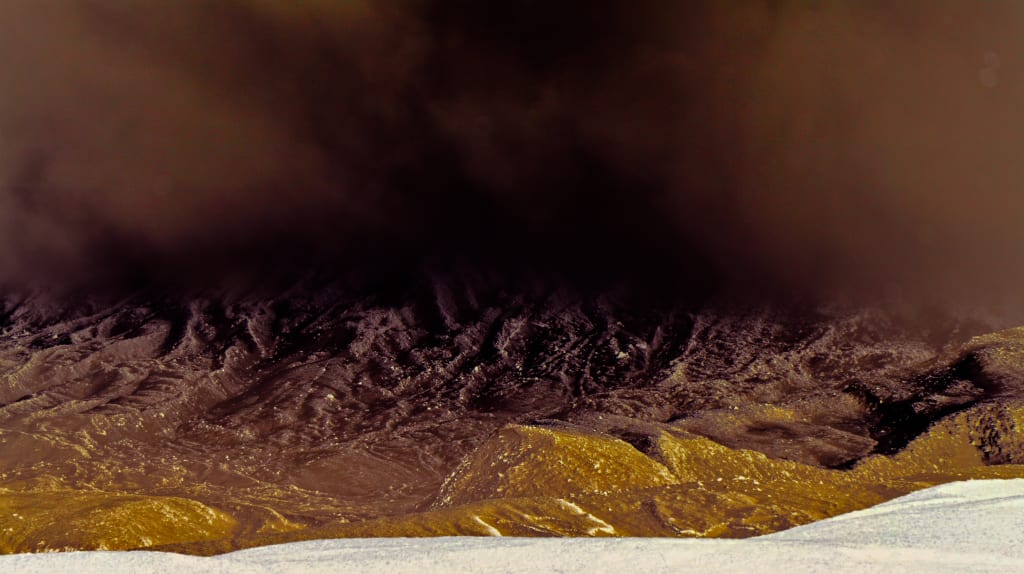 48.24.57 N 101.21.29 W
1211 HOURS LOCAL
1811 HOURS ZULU
Most people living in and around Minot AFB heard the sirens. Some more attentive and knowledgeable residents, like the off-duty crews, might have seen the B-52s and KC-135s doing emergency starts off the alert pads with black, smoky roars, and firing into the air, headed for Russia. If not, they heard the Emergency Broadcast System cut off their TV program with its high-pitched wail of doom. But there was no time to do a damned thing about it.
Many of them died looking up at the strange bright streaks in the stratosphere, like Larkin did.
But unlike Larkin, many of them did not know what they were looking at. Most of them did not know that those streaks were the most deadly things they had ever seen. Most of them died, open-mouthed, staring out their windows as the prairie ignited with a hundred small suns.
OSCAR-01
1736 HOURS LOCAL
2356 HOURS ZULU
"Ugh. Oh God. Ahhhh…" Howe emerged from a dark dream, holding his head. He lay on a cot next to the galley. The room was dark, illuminated only by a bouncing flashlight. He coughed on dust and airborne dirt. "Arne? Arne?" He felt his head. It was swaddled in bandages. Blood leaked down his temple onto his eyelid. "Arne!"
"It's okay, Fred. I'm here." The flashlight beam shone in his eyes. "Lay still. You cracked your head pretty good."
"What… what happened?"
"Well, we blew up the world, listened to Larkin get vaporized, then we took a near miss, from the looks of things. Still trying to get the emergency generator up."
"Ugh," Howe laid back on the cot, his temples thumping. "So I didn't just dream it."
"Fraid not." Olerud's flashlight focused on the generator panel.
Grover is funny. Howe began to cry silently in the darkness, feeling a misery that was bottomless and irredeemable. "Sorry. Sorry."
The flashlight moved back to him. "Don't be. I had a good long cry too, Fred. That's what humans do."
"Two humans who just killed twenty million people." Howe wiped his eyes and his nose, determined not to think of them. Sheree. Dotty. Dad. The twenty million.
"You don't know that. And it doesn't matter now. The war's over."
"You sure?"
"Heard a few shakes an hour after we launched. Since then, nothing. Either there's been a ceasefire, or everything just died out. Maybe we both blew our loads. Hard to say, the radios are all dead."
"Nothing from upstairs?"
"No, thank God."
"What do you mean?"
"Would you really want to hear them outside, scraping on the blast door, moaning for help?"
Howe was quiet for a moment in the terror dark. "No."
"They got it quick I bet. Like I said, near miss." Olerud went back to the generator panel.
"Let me help you." Howe pulled himself up slowly.
"Captain, you're hurt. Lie down."
"Fuck this, I have to do something, Arne." He felt for his glasses. "You seen my glasses?"
"All smashed up. Sorry."
"Shit." He sat up slowly, suppressed a wave of nausea, "Radiation?"
"Counts are pretty close to normal, a little elevated. Looks like the shielding held. Bet it's glowing up top, though."
"No doubt. You go to the other side?" The generator hardware was on the other side of the LCC blast door, behind another door of its own.
"I was hoping to put that off. Kind of afraid to do it on my own, Fred."
Howe reached out for Olerud, felt the big man's shoulder. "You don't have to, partner. Let's get the lights on, hey?"
OSCAR-01
2210 HOURS LOCAL
0410 HOURS ZULU
"Goddamn it!" Howe's temples flared up again as he tried to splice wire with trembling and sliced fingers.
"Let me," Olerud took the wires and spliced them masterfully.
"Glad I'm down here with you. Beck was just as useless as I am without a maintenance crew."
"I grew up on a farm. One more thing to try, and…" Olerud flicked a switch. Slowly, low wattage, red-tinted lights came on in the capsule. The room began to cool as ventilation vans came up to speed.
"Hallelujah!" Howe relished the small moment of hope. The chugging diesel generators were only faintly audible behind two blast doors.
"Sure glad they had that auxiliary unit from the 60s back there. All the new stuff was fried by EMP." The flashlight sputtered and died as if on cue. "Good timing. Not sure I could have found those batteries. I'm beat." Olerud slumped against the galley.
"Been a hell of a shift, for sure." Howe looked up at the row of clocks. "All stopped at zero hour." Eleven minutes after noon. When we blew up the world.
"No power for them. Doesn't matter anymore. Just like Hiroshima."
"Huh?"
"Remember? How all the clocks and watches were stopped at the instant of the blast?"
"Yeah." Howe looked over at the cot. "I gotta lie down again, Arne. I'm beat."
"Get some sleep. I'm gonna try and put the survival radio and fallout meter together, now that the lights are up."
"Negative. Get some sleep."
"But, sir?"
"Take a trank if you have to, there's a bottle in the first aid kit. But you need your rest."
"It's just that…"
"I know what you are thinking, Arne. Let me be clear, just so we're on the same page, okay?" Howe stopped as a white-hot wave of pain passed behind his eyes. Time for a trank for him, too.
Olerud regarded him seriously. "Yes, Captain?"
"Even if you get that antenna and that Geiger counter ready to deploy tonight, there is no way either one of us is fit to open that tunnel and deal with all the sand, right?" The emergency escape tunnel was a long, thin tube with its inner hatch next to the Commander's console, and its outer hatch in the forecourt of the LCF, at ground level. It was half-filled with sand to provide shielding.
"Yeah, okay. I guess we could use some rest."
"Plus, there is no way in hell we are poking our heads outside until at least 24 hours have passed. Remember your training: local fallout is intense, especially where the detonations are groundbursts, for up to 48 hours post-attack."
"It just seems wrong, that's all." Olerud looked down in his lap, miserable.
"What does? The whole situation is wrong. We just had a nuclear fucking war, Arne."
"And here we are, safe. Up there, our families…"
"Will not be any safer if we get radsick and die by moving before it's safe. I'm afraid I'm gonna have to be a dick on that one, Arne. Get some sleep."
"Yes, sir."
Howe laid on his back, a blanket over his face. Sleep was slow in coming, his exhaustion countered by Arne's argument. Up there, our families…
When he finally drifted off, it was into a dream. He had taken in his family out on a boat. The storm came and washed them out of his grasp and over the side.
NOVEMBER 10
OSCAR-01
0724 HOURS LOCAL
1324 HOURS ZULU
Howe's eyes adjusted to the weird, submarine lighting as he came awake. His guts rumbled distressingly, and he pulled himself urgently out of the cot, barely making it to the little toilet in time. A horrid wave of liquid shit poured out of him.
"You okay, sir?" Arne called out.
"No. Got the shits. Sorry about the smell, partner."
"Don't worry, I prepped it for you last night. I got the same problem."
"You check the rad levels?" Diarrhea was often an early sign of radiation sickness.
"Every few hours. They picked up a little last night, but still nothing close to trouble. If you're like me, you're just literally worried sick, is all."
"Yeah." He thought back on his agonizing dreams from last night. His first post-nuclear sleep.
"There's some Lomotil in the kit."
"Thanks." Howe finished the paperwork and flushed, reminding himself to check the sewage tank levels. Clark and Skellings were supposed to have drained the tanks into the lagoon the night before… before the war? It felt so strange to call it that.
I fought in a war. A fifteen-minute war.
Howe wiped his hands with a wet nap and exited the cramped toilet. Olerud was on the floor, the radio antenna spread out in front of him. He looked up and frowned.
"Sorry."
"Take the pills."
Howe walked on rubbery legs to the first aid kit and popped two Lomotil out of a blister pack. He found a cup of cold coffee to wash them down with. He paused as he looked at it.
WORLD'S GREATEST DAD
Howe frowned. World's Greatest Dad who wants to hide out safe and sound while you might be running from a firestorm or a fallout cloud. Great Dad, right there.
"Let's get to work on that antenna."
"Hey, Fred, something just occurred to me."
"What's that?"
"Shouldn't we leave this for our relief? Our shift's almost over." Olerud smiled at his own little joke.
OSCAR-01
1056 HOURS LOCAL
1656 HOURS ZULU
They had used up most of the morning assembling the spindly little antenna, then hooking it up to the hardened shortwave radio and checking the battery. The radiation alarm was basically a little Geiger counter on a long pole, with a long cord attached to a readout, which could be kept safely in the capsule.
"No reason it shouldn't work. Batteries are good, electronics aren't fried. Antenna's grounded. We've just gotta get it up there, that's all." Olerud scratched his chin. Maybe it's time for a break."
"Good idea."
Howe tried to forget that Sheree had made the ham sandwich he now ate. The worst part was the note.
WE LOVE YOU, DADDY
XOXOXO DOTTY AND MOMMY
A little cylinder with too many legs and what looked like whiskers must have been Dotty's attempt at drawing Ringo, their cat. God, she loved that cat.
He smoothed out the note and put it in his breast pocket, wiping his eyes with a napkin. His dad had told him after mom had died, "The worst part isn't that they're gone. The worst part is all the little reminders of them."
But were they really gone? If he was right about the way things were going up top, part of him very much wished they were. No root cellar was going to protect you from that. How many warheads did the Soviets have aimed at Minot, at just the base alone? One LCC, they could miss. A huge, sprawling city of a base? Never.
And the Howe residence was five-hundred yards from the front gate. Better to think that they were gone.
But he knew he would have to find out. Or it would bother him for however much time he had left. Olerud was right. And he wasn't. It was complicated.
One thing was for sure: He sure as hell didn't want to be crazy old Jason Robards at the end of The Day After. "This is my house!" Jesus.
It was probably an academic argument anyway. Protective clothing or not, he figured odds were ten-to-one against them even making it to Minot alive. Even if they waited the full two weeks for their supplies to run out.
And he knew neither one of them would wait that long. Especially not Arne.
"Ready to get at that tunnel, sir?"
"Well, I guess our shift is over. Time to go up top."
Olerud rubbed his hands together, almost giddy.
OSCAR-01
1207 HOURS LOCAL
1807 HOURS ZULU
It had taken them almost an hour to get into their "Poopies," the thick, rubberized NBC suits with respirators. The eyepieces immediately fogged over, of course, so now the two of them bumped into everything and each other.
Before they'd put their respirators on, they'd carefully stacked their equipment out of the way of the sandfall, but close enough to easily move it up the tunnel to the surface.
The key was to do it quickly. Howe remembered his radiological protection training clearly now. Time+Intensity=Lethality. He'd guessed that the levels of radioactivity up top, 24 hours post-attack, would still be enough to cause a lethal dose if they dawdled.
Olerud had insisted on going up top. "It's my gear. I know how to put it in place, and where to put it. I'll do it. I promise I'll be quick."
"Good. Cause I ain't cleaning up after you if you get sick." Howe had smiled at him just before they pulled their respirators on.
The emergency escape tunnel was angled at 45 degrees to the surface, so it was possible to rest with equipment on the way up. But first, they had to get the sand out. They'd figure out what to do if it was radioactive later. They had accumulated buckets from the cleaning closet to shuttle it over to the equipment wing if it became necessary.
"Ready?" Olerud's voice was muffled.
"Ready!" Howe held two thumbs up. Olerud tugged on the hatch dogs. It was a fight to release them, and Howe had to join in, his temples screaming with pain again, the tight rubber straps of the respirator not helping. Finally, the hatch dropped open. Grey sand poured out of the tunnel, over their boots and onto the floor.
"Christ!" Howe shouted. The two men waited as the tunnel emptied, eyepieces fogged, sweat coating their bodies. Howe's suit was comically loose on his body, Olerud's ridiculously tight on his.
Laurel and Hardy Face the Apocalypse. Howe laughed out loud.
"Huh?" Olerud shrugged. Howe waved a hand.
"Nothing. Better check that sand with the Geiger."
Olerud poked the sensor of the Geiger into the pile. It clicked steadily. As more sand dropped from closer to the surface, it began to click more rapidly. "We'll need to move at least the top stuff later!"
Howe nodded and pointed up. They both peered inside. The tunnel was drained. A weak red emergency light illuminated the top hatch. "Looks like it held."
Olerud nodded. "Let me get in. Then hand me the stuff."
"Okay." He leaned over and let Olerud use him as a stepladder. The big man struggled into the mouth of the tunnel, then dragged himself up a few rungs. "Dosimeter?"
Olerud patted a cylinder hanging from his suit zipper. "Let's do it."
Howe carefully handed the two poles, one with antenna, one with radiation alarm, to Olerud, playing out the cables behind them. Olerud pointed to the notches in the lower hatch the cables could run through, which they'd seal off with duct tape later. Then, slowly, ponderously, Olerud started up the tunnel to the surface, the poles scraping and grinding against the corrugated metal of the tunnel's sides.
Finally, his suited body illuminated in strange red light, Olerud reached the outer hatch. "Stand clear!" He motioned at Howe, whose torso was halfway in the tunnel as he craned to see the first glimpse of the top. Howe shook his head vigorously. No fucking way. I have to see.
Olerud shrugged and began to open the hatch. He struggled. Howe wondered if debris had pinned it shut. If so, they were doomed, unless anybody came to get them, or unless the elevator shaft was miraculously passable.
Finally, light flooded the tunnel. Olerud heaved the hatch open with a loud, echoing clang. "Watch out!"
"Huh?" Black dust and pebbles pelted against Howe's mask and suit. The Geiger counter began ticking wildly. He brushed himself off. "Hurry up!"
Olerud held up a hand, then pulled himself up, standing halfway out of the hatch. He stayed that way until Howe yelled at him again. "Limit your exposure! Hurry the fuck up, Arne!"
Olerud seemed to snap out of it, pulling up first the antenna, then the counter alarm, and securing them with brackets and tape to the outside of the hatch cover. His job done, he pulled the hatch closed and dogged it again. The light dimmed. "Get down! Quick!"
When Olerud reached the bottom of the stairs, he collapsed onto the floor. "Arne? Arne!"
Olerud weakly held up an "OK" sign. Howe passed the Geiger over him. The suit was singing. He pulled the dosimeter off of the front of Olerud's suit. He struggled to read it through fogged lenses.
"24 Rems. I read it on the way down."
"Wrong, dummy. 26. You got two more on the way back. Get away from that sand and get out of that suit."
OSCAR-01
1302 HOURS LOCAL
1902 HOURS ZULU
They sat crowded together at Olerud's console, the radioactive sand and suits having made Howe's console dicey territory for now. At least readings in here were bearable. For now.
Olerud fiddled with the dials on the shortwave, and kept an intermittent eye on the radiation alarm monitor. Howe had his Texas Instruments calculator out and was figuring what their likely exposure on the surface would be, based on Olerud's dosimeter.
"You were in that tunnel for six minutes total, including surface time. Count two rems each way in the tunnel, so say four minutes at 22 rems, the time you were out of the hatch, right?"
"Mmm-hmm." Olerud seemed more interested in the radio.
"So, sixty minutes at 5.5 rems a minute equals… Jesus. 330 rems an hour. We'd barely get to the first silo before we got a lethal dose, and that's if we don't run into any hotter spots. Which is unlikely!" Howe tossed his pencil across the room.
"They must've used some big, dirty bombs," Olerud mused.
"Almost all groundbursts. To take out the hardened targets. Lotta local fallout that way."
"But that should drop off quickly, right?"
"So they say. I don't think anywhere's ever been this nuked before, though."
"Looked pretty bad, too." Olerud stopped fiddling with the radio and was silent.
"Arne? What did you see up there? Arne?"
"Uhh, well… pretty unrecognizable from the way it was before. Ground was all black around the craters, grey everywhere else. Sky was grey."
"Craters?"
"Four different ones I could make out, three east and one south. Big, black… glassy. Like the dings you get in your windshield on a gravel road, you know?"
"Anything left of the LCF?"
"Couple twisted antenna mounts. Couple burned out and tossed around pickups. All the building is gone, down to the foundation, like it just got swept away. Fences vanished too, vaporized. And, ah, one… ah…"
"Arne?"
"One charred skeleton in the forecourt. By where the VHF antenna mount used to be. Couldn't say who."
Howe was quiet for a moment, thinking of Royer and his cheerful dedication. Wondering if he was that skeleton. "Anything else, Arne?"
"Couldn't see shit to the north or west. Big storm fronts, like dustbowl stuff. Probably hot as hell. And in the south, well, uh…"
"Arne?" The South. Minot.
"Lots of black smoke. Looks like Minot is on fire, Fred."
OSCAR-01
1437 HOURS LOCAL
2037 HOURS ZULU
The news of the Minot firestorm had drained Howe's enthusiasm for Olerud's radio tinkering. He had decided to do the only thing he typically turned to in a crisis when he didn't know what else to do.
He made coffee. Howe realized he hadn't had a coffee since before they'd gone to DEFCON-TWO, the cold dregs he'd had this morning being his last pre-war coffee ever. Sitting in the cup, ignored, while they had launched their missiles and ridden out the attack. Now, he sipped at the piping hot brew. It reminded him of so much, he wasn't sure how he was going to feel.
Amazingly, he still felt safer. "Want some, Arne?"
Olerud held up a hand. For an hour-and-a-half, static. Howe had openly worried that the antenna was fucked, but Olerud had stayed optimistic. "Interference from fallout clouds. All that hot, short half-life stuff. They looked like they were moving pretty fast. Once they pass over…"
As if on cue, a rattling noise from the emergency tunnel announced the clouds passing overhead. Howe set down his coffee, and cautiously walked towards his console. He picked up the counter. The counts held steady, then began to pick up a little as the storm gathered in fury. Little drips of water seeped out from around the grooves holding the cables in place. Howe moved the counter towards them. The counts picked up, furiously. He picked up a shovel, and, as gently as he could, spread some of the sand underneath the hatch cover. Then he retreated to the other room.
Howe listened nervously to the storm sounds, and the steady ticking of the Geiger counter as Olerud continued to fuss over the radio. Finally, the rattling stopped. The counter went quiet again.
"Got something!"
"What?"
"Listen! It's EBS!"
The transmission was staticky and hard to hear. But it was unmistakably official.
THIS IS THE EMERGENCY BROADCAST SYSTEM. DURING THE PERIOD OF NATIONAL CRISIS, ALL REGULAR PROGRAMMING ON THIS STATION IS SUSPENDED, SO THAT WE MAY BRING YOU BULLETINS AND INFORMATION OF AN URGENT NATURE. WE URGE ALL THOSE LISTENING TO REMAIN CALM, AND COOPERATE WITH LOCAL, STATE, AND FEDERAL AUTHORITIES TO MITIGATE THE EFFECTS OF THIS DEVASTATING ATTACK, AND TO RESTORE ORDER. LISTENERS ARE REMINDED THAT THE PRESIDENT HAS DECLARED MARTIAL LAW THROUGHOUT THE UNITED STATES, AND AUTHORITIES ARE AUTHORIZED TO USE SUMMARY MEASURES TO RESTORE ORDER. PLEASE STANDBY FOR A MESSAGE FROM THE PRESIDENT OF THE UNITED STATES OF AMERICA.
"He made it." Howe was surprised. "The old fox."
"Could be just a recording." Olerud was skeptical.
THIS IS A MESSAGE FROM THE PRESIDENT OF THE UNITED STATES:
They waited tensely to hear Reagan's familiar voice.
MY FELLOW AMERICANS:
I AM SPEAKING TO YOU TODAY FROM A SECURE LOCATION, FROM WHERE I AM IN CONTACT WITH THE CIVIL AND MILITARY AUTHORITIES OF OUR NATION AND THOSE OF OUR ALLIES.
LET ME ASSURE YOU, THESE FORCES REMAIN STRONG. ALTHOUGH THE ENEMY'S DEVIOUS SNEAK ATTACK LEFT US GRIEVOUSLY WOUNDED, WE HAVE INFLICTED FAR GREATER DAMAGE ON HIM. WE STAND READY TO MEET ANY THREATS SHOULD THEY ARISE.
I CAN TELL YOU THAT, AS OF FOUR FIFTEEN IN THE AFTERNOON WASHINGTON TIME YESTERDAY, I HAVE NEGOTIATED A CEASEFIRE WITH ACTING GENERAL SECRETARY GORBACHEV OF THE SOVIET UNION. ALL MISSILE SILO DOORS HAVE BEEN CLOSED. ALL BOMBERS AND SUBMARINES HAVE EITHER RETURNED TO BASE OR BEEN ORDERED TO MAKE CONTACT WITH THEIR NATIONAL COMMAND AUTHORITY. ALL WARSAW PACT FORCES HAVE WITHDRAWN ACROSS THE INTER-GERMAN BORDER.
THE UNITED NATIONS, IN SPECIAL SESSION IN GENEVA AFTER THE DESTRUCTION OF NEW YORK, HAS PASSED A RESOLUTION CALLING ON ALL SIDES TO REFRAIN FROM FURTHER MILITARY ACTION. I CAN ASSURE YOU, AS LONG THE UNITED STATES AND HER ALLIES ARE NOT SUBJECT TO FURTHER AGGRESSION, I WILL DIRECT OUR GOVERNMENT TO ABIDE BY THIS RESOLUTION.
THE WAR IS OVER.
NOW, WE MUST TAKE STOCK OF OUR LOSSES, AND BEGIN TO REBUILD. IT WILL NOT BE EASY.
EXTENSIVE DAMAGE HAS OCCURRED IN THE GREAT PLAINS, FOCUSED MOSTLY ON MILITARY TARGETS. HONOLULU, SEATTLE, SAN DIEGO, SAN ANTONIO, DENVER, ALBUQUERQUE, RICHMOND, NORFOLK, WASHINGTON DC, AND NEW YORK, HAVE ALL EITHER BEEN DESTROYED OR SEVERELY DAMAGED. THE DEATH TOLL IS NOT YET KNOWN, BUT IT WILL CERTAINLY BE MUCH HIGHER THAN WE CAN BEAR.
I CALL ON ALL CITIZENS TO DO THE FOLLOWING:
IF YOU CAN, STAY IN PLACE. MOVING ONLY EXPOSES YOU TO UNKNOWN HAZARDS, AND PUTS NEW BURDENS ON NEIGHBOURING TOWNS AND CITIES. HELP WILL COME TO YOU.
ASSIST THE CIVIL AND MILITARY AUTHORITIES IN ANY WAY REQUIRED. YOU HAVE THE RIGHT TO DEFEND YOUR PERSONS AND PROPERTY, BUT PLEASE DO NOT FALL INTO VIGILANTISM. THE RULE OF LAW MUST BE UPHELD.
LOOK AFTER YOUR NEIGHBOURS. OFFICIAL HELP MAY BE SOME TIME IN COMING, SO DO WHAT YOU CAN FOR EACH OTHER.
DO NOT GIVE UP HOPE! TRUST IN ALMIGHTY GOD, OUR CREATOR, TO SEE US THROUGH THESE TRIALS, AS HE HAS ASSISTED OUR GREAT NATION ON SO MANY OTHER OCCASIONS. THESE ARE DARK DAYS, BUT THE UNITED STATES OF AMERICA WILL EMERGE STRONGER THAN EVER.
GOD BLESS YOU, AND GOOD LUCK.
THAT WAS THE PRESIDENT OF THE UNITED STATES, RONALD REAGAN.
"Wow." Olerud was shaking his head. "All those places. Gone."
"Who the hell is Gorbachev?"
"Guess there was a coup. I'd like to know what we did to the Russians."
"Help is coming, he says. But not soon, I bet."
Olerud rubbed his eyes. "No. Sure of that. Sounds like we really got thrashed."
Howe looked at the counter. After a spike during the storm, the readings were falling off.
"What are ya thinking, Fred?"
"You said that Reagan could just be a recording, right?"
"Yeah, well, pretty obvious it isn't now. How could he know all that?"
"Sure, I agree. But how do you know it's really Reagan? How do we know there's really a ceasefire?"
Olerud looked at him like he'd gone nuts. "Are you serious? Who gives a shit, Fred? What are we gonna throw at Gorbadev, or whatever his name is, now? Spitballs? Our pistol's empty, Captain! We're stuck in a little hole and we can't leave, or we'll die puking and shitting ourselves! We won the war, and now we're gonna die in it!" He tossed a pen across the room. "Fuck!"
"Hmm." Howe regarded his partner with a jaundiced eye.
"What? Sir?" Olerud was red verging on purple now.
"And here I thought Reagan was supposed to be an inspiring speaker."
"Hah. Yeah, well, Reagan, or… whoever. What's your point, Fred?"
"My point is: We're still soldiers, missiles or no. And a voice on the radio isn't enough to tell me my war is over. I need an authenticated Emergency Action Message, you hear me?"
Olerud shrugged. "Guess you have a point. You think we can get those on here?"
Howe pulled a notepad from his breast pocket. "I know we can." The note from Sheree and Dotty landed on the counter. The things they leave behind. He quickly picked it up and put it away. "Ahem. Try this one first: 8992.0 MHz. Let's see if 'President Reagan' is on the up and up."
OSCAR-01
1710 HOURS LOCAL
2310 HOURS ZULU
Howe's throbbing head had forced him back onto the cot while Olerud had tinkered with the finicky old radio. He'd committed the previously unpardonable sin of giving Olerud his combination for the code locker and had crashed on the cot.
Now he blinked in the red light, recovering from another horrible, guilty dream. He looked at his revolver, sitting on a galley chair. So easy.
Olerud was reading in the dim light. He looked over at Howe. "Found the EAM. Want to read it?"
"Sure." Howe forgot about the gun. For now. Keeping busy would keep the thought at bay until it couldn't be kept at bay any more. He'd been raised to never give up, sired by a man to whom "surrender" might as well have been an Estonian word. He didn't understand it, and he'd raised his son not to understand it either.
But what would the Colonel do now, in this little tomb? Howe staggered over to Olerud's console. The Geiger counter aimed at the pile of sand next to his console ticked like an old clock, serene and unconcerned. The thought that that pile of sand alone had probably given him three times the recommended annual dose in less than a day was one better left unvisited. They had bigger problems waiting for them on the surface.
Howe struggled to focus on the message, in dim light, and minus his glasses. "Ceasefire. Return to DEFCON-TWO until further notice. Crews with weapon systems operational and unused await relief. All others secure facilities, burn codes, and exit when radiation levels permit."
"That's us." Olerud looked up from his book. "Just following orders." He smiled.
Howe shook his head. "Useless fucking orders, Arne! 'When radiation levels permit'? What does that mean?"
"I guess it's up to us."
"And where do we go? I guess that's their way of telling us nobody's coming."
"Guess we're not a priority, considering we're empty. They probably figure most of us are dead anyway."
"Most of us are dead. Bastards."
"Who are you mad at, Fred?"
Howe leaned back in Olerud's launch chair and rubbed his eyes. The man always left it open for his Commander. There was a certain grace and dignity about Olerud he couldn't express without seeming like a fruit. "Everybody, Arne. All of them. That exercise, remember, the one in the intel notes?"
"Yeah, the NATO thing?"
"That had to be it. We must've convinced the Russians we were gonna hit them, so they hit first. Fucking idiots."
"Why would they think we'd do that, Fred. We're not like that."
Howe laughed bitterly. "Aren't we? A lot of people wouldn't agree with that, Arne. My dad told me once that LeMay used to say openly that America should hit first, get rid of the Russians before they could hit back. Think that never got back to them?"
"He couldn't do that. Not without the President's say-so."
"It didn't used to be that hard. LeMay could've started a war all by himself in the fifties if he'd wanted to. And General Power, who took over SAC after him? He was even crazier."
"So why didn't he?"
"He was a soldier, Arne. So was Power. They both followed orders, even if they disagreed with them. The point is, the Russians didn't see a whole lot of difference between us and the Germans. That's how my dad used to explain it. We built up our defenses because we were worried about Pearl Harbor. They built up theirs because they were worried about Barbarossa."
"Barbarossa?"
"The invasion of the Soviet Union in 1941, Arne. Another sneak attack, which Stalin should've seen coming, but he was too busy kissing Hitler's ass. Pearl Harbor cost us, what, maybe 3,000 guys? Barbarossa cost them millions of dead. Maybe more than we killed yesterday. So if we gave them a reason to think that was coming again…"
Olerud shook his head. "Then they'd do what LeMay suggested. Hit first."
"This whole fucking war was an accident, Arne." The tears stung his cheeks. "An accident. A stupid, goddamn accident. Oh man…"
Olerud put his big hand on Howe's shoulder. "It's okay, Fred. We did what we had to do. We couldn't have stopped it."
"I know, but…" Howe's eyes focused on the book in Olerud's hand. "How can you be reading that again? Right now? Don't you want to read about anything but that?"
Olerud shrugged and dogeared the page. He set Hiroshima on the console. "I dunno. There's nothing else to read. I finished my other novel, which was shit. And there's nothing but Zane Greys back there."
"That dumbass, Clark."
Now Olerud looked to be on the verge of tears. "I know it sounds strange. But reading about these people… kind of makes me feel like I'm connected to Carol, Anna, Petey… I don't have anything else, Fred."
Howe consoled him weakly as Olerud hid his eyes. "It doesn't sound strange. Just don't dwell on it too much, okay?"
Olerud shook his head and stood up. "I'm hungry." He walked to the galley. Howe picked up the book.
"Minot State University Library. Hey, Arne, you better not get overdue charges now!"
Howe heard a reluctant chuckle behind him. "I guess I'll have to drop it off when we go."
"Drop it off where?"
"Guess I'll have to ask which crater to throw it in."
Howe turned to face Olerud. "You are a dark bastard. What's for dinner?"
airforce
Grant is a retired law enforcement officer and native of Vancouver, BC. He has also lived in Brazil. He has written fifteen books.
Receive stories by Grant Patterson in

your feed