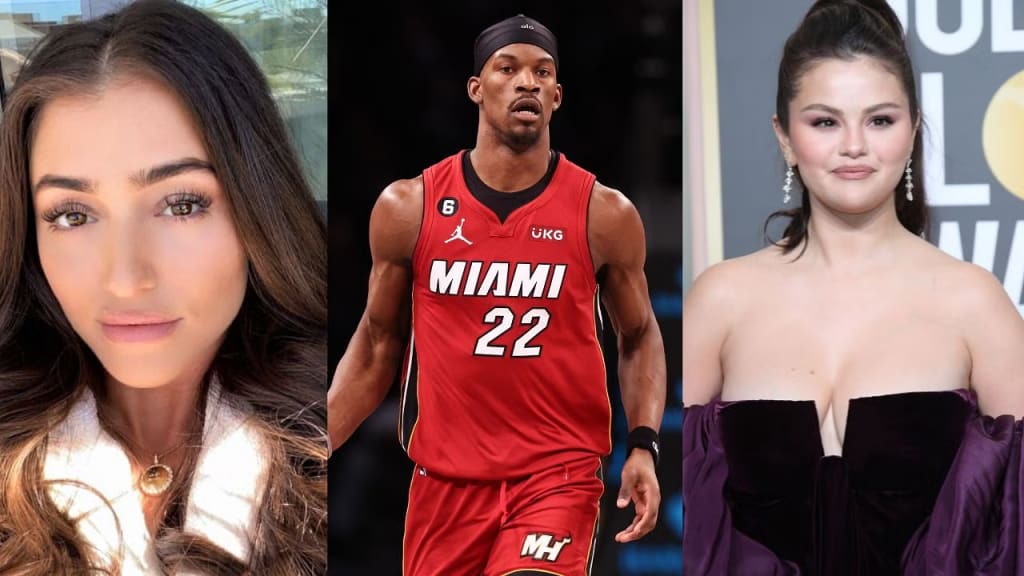 After leading the Miami Heat to a Finals appearance at the 2020 NBA Bubble, Jimmy Butler has taken the franchise once again on his shoulders with the Heat making a splash in the 2023 playoffs by knocking on another potential Finals appearance. But while Butler has been leading the Heat, beside him is a woman who supports his basketball career. Let's get to know more about Jimmy Butler's girlfriend Kaitlin Nowak.
Jimmy Butler's Girlfriend Kaitlin Nowak
It's unknown how Butler and Nowak met. However, dating rumors began in 2019.
Kaitlin Nowak was born on December 13, 1990, in Nebraska. She attended Omaha South High School. After completing her high school education, Kaitlin would enroll at the University of Nebraska. Here, she took up Advertising, Public Relations, and Applied Communications, according to sources.
Although she possesses a degree in communications, Nowak would instead opt to pursue a modeling career. Based on reports, Nowak has a net worth of around $600,000 with her earnings coming from her work as a lifestyle model and influencer. However, it's unknown if the Nebraska alum still works as a model. As of this writing, Nowak had set her Instagram and Twitter accounts to private. Nevertheless, Nowak still has 295 followers on Twitter and 5,422 followers on Instagram.
As a lifestyle influencer, Nowak made a notable appearance at the 2016 ESPY Awards. Here, she attended the event alongside fitness coach Ben Wilkinson.
Given that Butler and Nowak have done a great job on keeping their relationship away from the public's watchful eye. There are few details available about how the two met, the couple's current status, etc. However, we do know some information about the power couple. In 2020, Butler and Nowak were spotted together along with some of their friends as they both witnessed the Kansas City Chiefs' dominant 31-20 victory over the San Francisco 49ers at Super Bowl LIV. Furthermore, she has also been a fixture in Jimmy Butler's games in the NBA.
But more importantly, Butler and Nowak welcomed their first child together at the start of the 2019-20 NBA season. Missing the first three games of the season, Jimmy took the time off from work to welcome his daughter, whom the couple gave the name of Rylee. Since the birth of the couple's daughter, Butler found inspiration to reshape his perspectives in life.
In an interview with GQ magazine, the six-time All-Star shared his intentions of some of the many lessons he would like to impart to his young daughter by saying "I got to make sure that women are on the same level as men now because that's what I'm going to teach her. Anything a man can do, you can do. With my blood running through your veins, we're not intimidated by anybody, no matter what color their skin is, if they're male, female, how tall they are, how fast. We don't care. You're going to be the best."
The NBA All-Star was forced to take time away from his newborn daughter during the 2020 NBA Bubble. With the league imposing strict COVID-19 protocols, Butler entered the Florida bubble alone. This placed most of the parenting duties on the shoulders of Nowak. But as Nowak tended to Rylee's needs, Butler took care of business for the Heat, as they would go on to make an NBA Finals appearance before losing to LeBron James and the Los Angeles Lakers in six games.
Nowak and Butler hardly share any family-related information to the public. In fact, they don't even follow each other on their social media platforms. With the intention of allowing Rylee to live a normal life, both Butler and Nowak have agreed to avoid posting any photos of their daughter on their respective social media channels as much as possible. In fact, as a popular basketball player, Butler admits the challenges of juggling the two acts of being a professional basketball star and a good father.
tags :celtics
miami heat
celtics vs heat
boston celtics
heat vs celtics
heat
nba finals
miami vs boston
caleb martin
heat celtics
boston vs miami
derrick white
celtics heat
celtics game 7
nba finals schedule
tnt
caleb martin stats
miami heat vs celtics
al horford
blake griffin
heat vs celtics game 7
heat score
derrick white stats
game 7 celtics vs heat
celtics vs heat game 7
Reader insights
Be the first to share your insights about this piece.
Add your insights