From Voice Actor to eSports Ambassador: Eli Harris Partners with Veteran-Owned True Victory for a Noble Cause
Empowering Everyday Champions and Elevating Humanity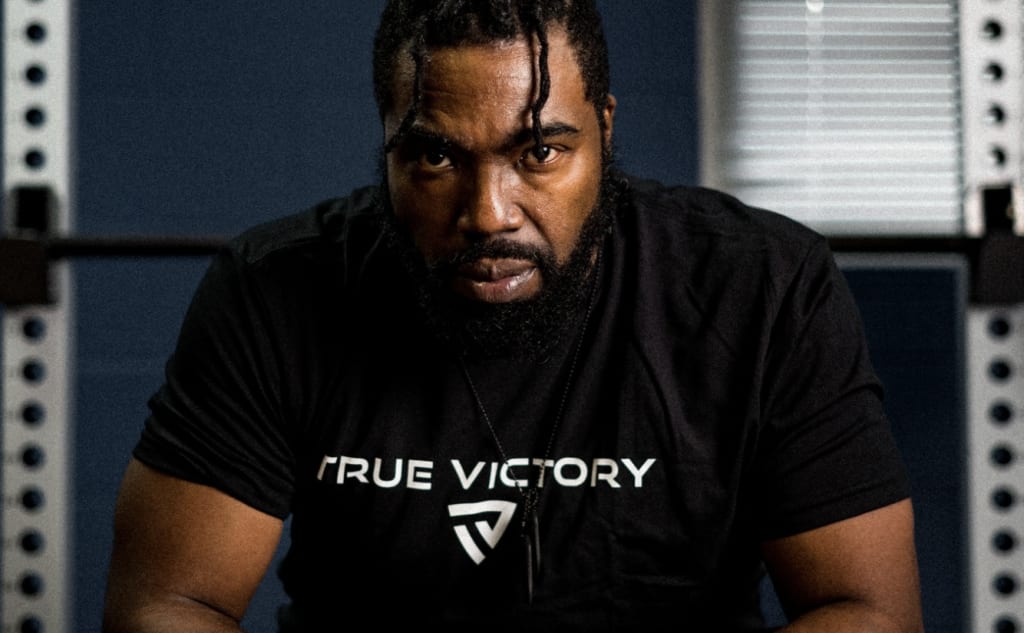 Photo by Jawansa Hall and Blackwater Branding
Eli Harris, award-winning actor and voice actor, recently joined forces with the True Victory clothing and lifestyle brand with the common goal of transforming lives and elevating humanity.
Launched in 2021 by U.S. military veterans, True Victory is a sportswear and streetwear brand dedicated to building everyday champions on and off the field. The company believes that there is power in uniting the world through sports, positive storytelling and serving others. It's about empowerment — telling the stories of the people who've overcome obstacles and the impact they've left behind.
According to its website, the company aims to become the world's most "trusted, inspirational, and generous brand," emphasizing, "We're dedicated to the game, the grind, and the globe. But most importantly, we're dedicated to you."
As an Army veteran, Harris has always aligned himself with brands that inspire, brands that entertain and brands that have a purpose.
In January, the founder of True Victory reached out to Harris to voice promotional content for his company. But once he became more acquainted with who Harris was as a person, the fact that he was a veteran and his involvement in the video game industry, the founder would begin exploring other avenues for the two to work together — instead of being a voice, Harris would become the voice, and the face, of eSports and gaming.
Honored to join forces with such an inspirational cause, Harris agreed to represent the brand in every way possible and has been seen rocking the latest True Victory gear during his latest interviews, industry conferences and panel discussions.
"Health, both mentally and physically, is important, and that's what we encourage at True Victory," states Harris in a recent social media post. "No matter if you're a celebrity ambassador or the everyday person, each individual is an important pixel that makes up the larger sprite, and that, in itself, is both an honor and a blessing."
True Victory is the "perfect brand for imperfect people."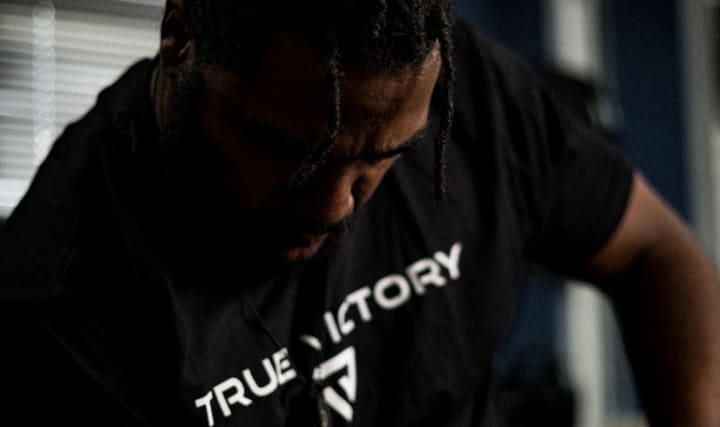 "If you aren't perfect, this is the perfect brand for you. If you've ever struggled, if you've ever failed, if you've ever been the underdog, if you've ever doubted yourself or been doubted by others, this is the perfect brand for you. If you want to get better, be better, and make our world better, this is the perfect brand for you."
Through this partnership, Harris hopes to help grow the brand in all aspects of his industry.
On why this collaboration truly hits home, his response was that "It's veteran founded. And I'm a veteran. I like to support any initiative that supports those who served this country. True Victory produces high-quality products, is authentic, and positively represents veterans, first responders, and their families — That's a mission and vision that I can definitely get behind!"
Other celebrity endorsements include Executive Coach and retired Chief Master Sargeant Manny Piñeiro, Pittsburgh Pirates Coach Tarrik Brock, Reggaeton artists Santiago y Casero, University of Central Florida (UCF) Baseball Catcher/First Baseman and NIL partner Cole Russo, Sports Illustrated Model Clarissa Bowers, who's also an aspiring medical doctor and a staunch advocate for the military, and Celebrity Chef and Military Veteran Andre Rush, who worked in the White House for four administrations and is a major advocate for suicide prevention — among many others.
In November 2022, True Victory made its national debut thanks to the Rosenhaus Sports Representation, one of the largest and most recognizable sports agencies in the world. The agency selected True Victory to become the featured sportswear brand in its holiday gift bundles, leading it to become a must-have by world-class athletes around the globe. The agency was initially drawn to the True Victor brand via social media and fell in love with the brand's presence and vision, as a veteran-owned business who supports athleticism for the "imperfect person."
Each year the Rosenhaus Sports Representation recognizes high character, high potential brands to partner with. As a featured apparel brand in its 2022 holiday gift basket, True Victory was introduced to more than 130 of the agency's top clients and athletes, including Miami Dolphins Wide Receiver Tyreek Hill, Carolina Panthers Wide Receiver D.J. Moore, Las Vegas Raiders Tight End Darren Waller, Green Bay Packers Running Back Aaron Jones, New Orleans Saints Wide Receiver Chris Olave, Los Angeles Chargers Corner Back J.C. Jackson, Buffalo Bills Safety Jordan Poyer and Philadelphia Eagles Cornerback Darius Slay — just to name a few.
According to the Rosenhaus Sports Representation's Director of Media and Public Relations Bari Wolfman, "True Victory was an absolute pleasure to work with — and by far one of the most professionally run and operated businesses we have encountered. They have an apparel brand that will be around for generations backed by their grit and integrity."
"As a military veteran and lifelong athlete, I'm honored to be a True Victory Brand Ambassador and spokesperson," states Harris. "This isn't just a partnership, it's a family. It is especially gratifying because I get to represent the company as the face and voice of the brand in gaming and eSports."
For Harris becoming a voice actor was only part of that mission, giving back was his ultimate decision.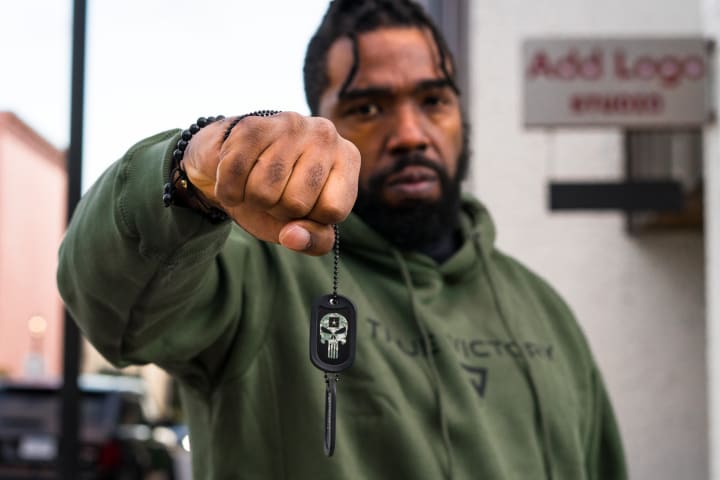 "I got into voiceover because I wanted to do video games and animation. Those were my ultimate goals, and I wasn't really considering commercial or promotional work at the time. However, I soon realized that breaking into video game and animation voiceover work was extremely difficult, and I had to start from the bottom, taking on low-paying jobs through pay-to-play platforms. So, I worked hard to build up my portfolio and began to establish genuine connections within the industry."
In doing so, his eyes were opened to new possibilities, and he realized what he could truly accomplish through the type of work he performs every single day. While he continues to make a name for himself in gaming and animation, he's honored to become the voice of many brands that represent the everyday American, the very same people he once vowed to protect.
He's been a part of various campaigns that highlight the achievements of everyday Americans, voicing promotional pieces for people like Jesse Ekene Iwuji, the first active duty officer to race in NASCAR and a Lieutenant Commander in the United States Navy, supporting causes like Girls Who Game and The Black In Gaming Foundation, and celebrating heroes by recapping the army versus navy events of Disney's Annual Warrior Games.
How His Own Personality Aligns With the Persona of True Victory as a Lifestyle Brand
Tough men can be sensitive, too. Harris recognizes the importance of not judging people by their external appearance or societal expectations. He has deep empathy for others and believes it's necessary to be open-minded and accepting of different perspectives.
This is a core belief shared by both Harris and the team at True Victory.
In fact, Harris describes himself as an "intensely passionate and caring individual who values both authenticity and compassion equally." He also describes his character types as having a "strong personality may come across as intense, but they balance this intensity with sensitivity and empathy towards others."
Harris values authenticity, ethic and hard work and believes wholeheartedly in being genuine while bringing one's true self to the forefront of every interaction. In this sense, he believes that what is meant for him will come and that destiny will lead the way.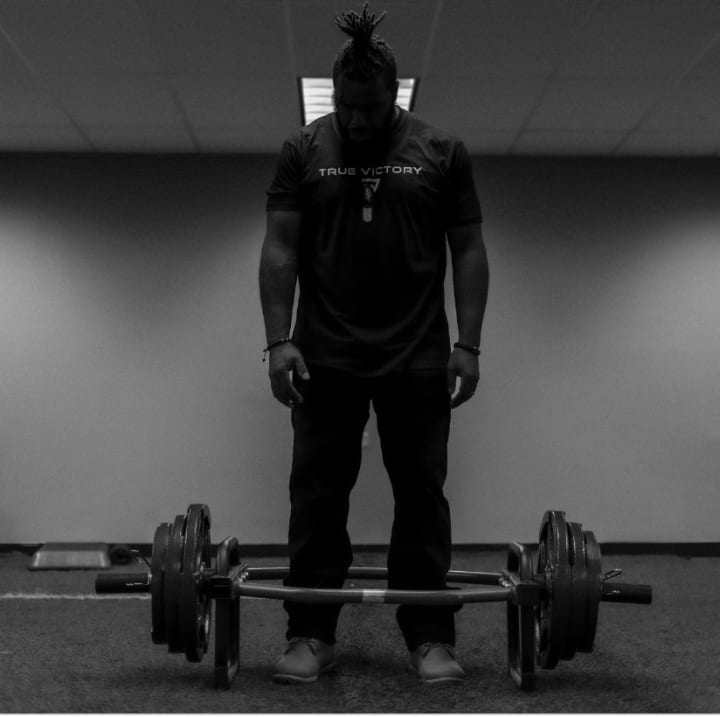 He values transparency in communication, a man of principle and good intention. While this type of thinking has taught him to be confident while speaking both directly and plainly, he goes out of his way to make sure his point is easily understood — but to the point it doesn't offend, recognizing that not everyone may be receptive to his straightforward style and approach.
Not much different from who he is at home, Harris is direct and straightforward, with the ability to deliver difficult messages or feedback without sugar-coating it — yet, he does so with a level of kindness and understanding, using his strong sense of intuition to pick up on the emotions of others.
A True Victory Watcher, he has a fire for friendly competition — but his ultimate strength is in his desire to protect. He saw these same elements in the True Victory brand — characteristics that are mirrored in the team that he works with and a significant contributor to why he's excited to enter into this partnership.
Being authentic means actually loving the product.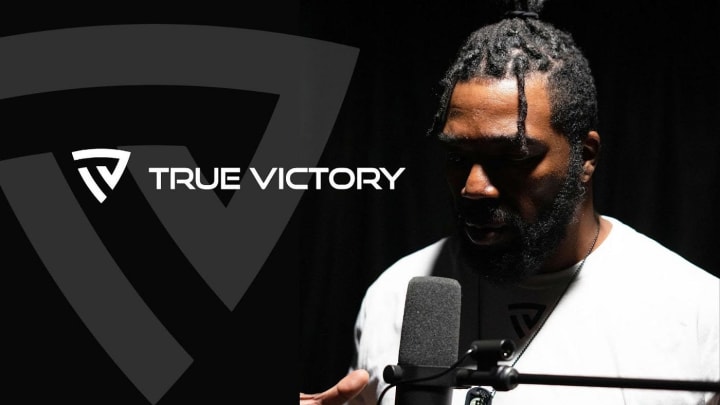 As Harris discusses why he loves what the brand stands for, it's really the brand itself that really appealed to him. He praises the company's merchandise as "high quality" gear, stating that it's not just because of his association with the brand that he got involved — he actually loves the material and how good it feels on his body. He explains how the clothing is actually comfortable, how it doesn't just look nice but it allows his body to breathe.
Frequenting conventions and conferences around the country, such as the CODE Bowl by Activision Blizzard, others have expressed their satisfaction with the quality of this merchandise, going so far as touching his hoodie! And as a deep and philosophical thinker, Harris connects the quality of the merchandise to a representation of veteran life. He explains that while the material feels soft, it's built for "war," expounding on what the brand represents and letting them know where they, too, can find it.
Not just in attendance, Harris regularly speaks at these conferences and panels, representing Voiceover in Gaming. He represented Superfuse, a game in which he was a consultant of, at the GDC2022 and a number of other big events last year. Next month, he'll speak at the Game Devs of Color Expo and a "really, really, really big event" he can't yet disclose, the East Coast Game Conference in April and an IndieGame Business Session in December.
As a Lynchburg native, Harris's military service and experiences have undoubtedly shaped his worldview and influenced his life path. His background in military engineering has likely contributed to his die-hard leadership, generosity and compassion for mankind.
Once stationed in Bamberg, Germany, Harris served in the U.S. Army, doing a tour in both Bosnia and Herzegovina before honorably discharged in 1998. And while he's no longer enlisted, Harris's service to his country and dedication to excellence continues to inspire those around him.
The voice behind several games, commercials and athletic events, Harris has worked with some of today's top brands in the world, including Superfuse (a long-awaited video game that provided fans with early access a few weeks back), Disney, both the UFC and the LFC, Chris Paul's Front Office on PlayersTV, EA Sports, the Bethesda Game Studios, Nickelodeon, Icy Hot, Manscapped, NASCAR, ABC, TMobile, Hudl, Adidas, Vistaprint, Xbox, ESPN, Nintendo and many, many more.
Harris's career spans over 20 years in film, gaming and television. In 2011, he won two "Best Actor" awards for Henry, a drama and short film he wrote and produced. And in 2021, he received the Gerald "Jerry" Lawson Performance Award, which is considered a highly esteemed award for those in the video game industry.
Over the years, Harris has lent his voice to numerous video game titles, including Elder Scrolls, Starship Troopers: Terran Command, as lead playing the part of Commander Hawthorne, and Need for Speed: Takedown, fulfilling the lifelong dream of lending his voice to an actual arcade game. He's also provided his voice for several Fortune 500 companies and brands around the globe, earning features in industry magazines such as Eurogamer and IGN — "the World's #1 destination for all video game news, expert reviews and walkthroughs."
Wrapping up his interview with NewsBreak, Harris leaves the audience with this: "Always be true, and you will always be victorious — no matter what you stand for whether it be a veteran, an athlete or gamer."
About the Creator
Jessica N. Abraham is a writer, designer and publicist with a background in public relations, social branding and digital marketing strategies. She specializes in Business, Technology and Career Development.
http://www.jessicanabraham.com
Reader insights
Be the first to share your insights about this piece.
Add your insights