D-Day Siblings Reunited 75 Years Later
As we commemorate the 75th anniversary of the historic D-Day landing this year, new stories are still being uncovered.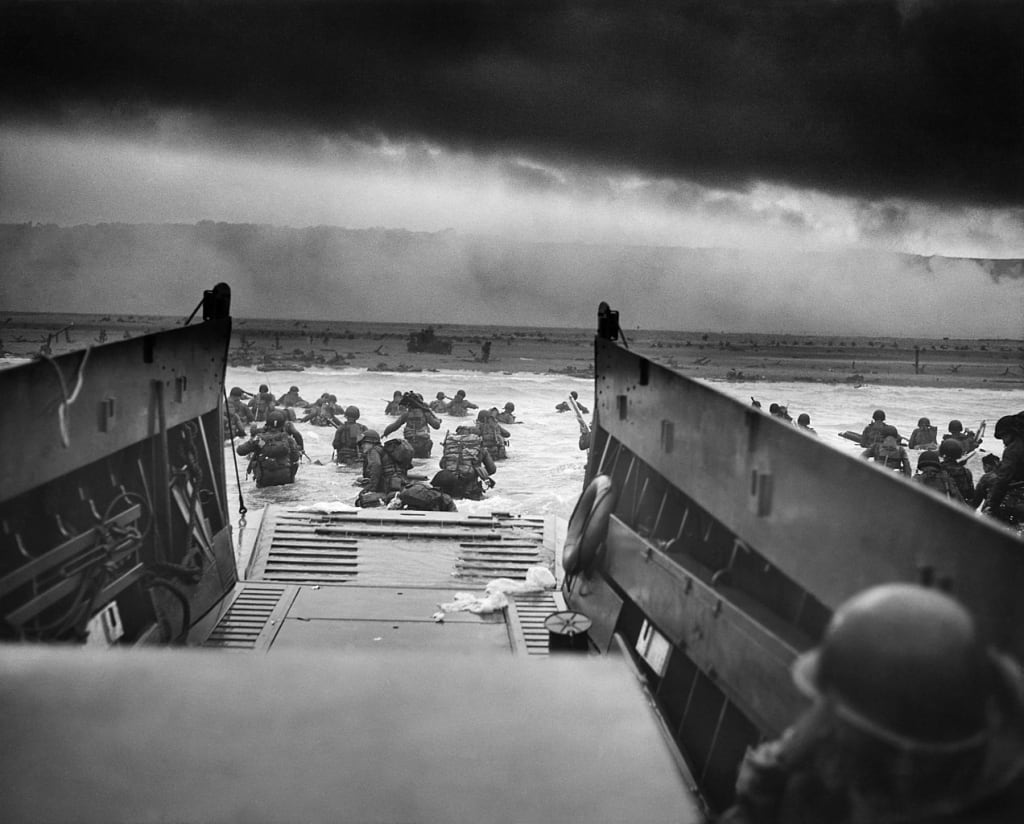 On 6th June, 1944, allied forces undertook what became the biggest seaborne invasion in history. In what was known at the time as "Operation Neptune," 160,000 American, British, Canadian, Australian, New Zealand and other allied soldiers stormed a 50 mile stretch of heavily-fortified coastline in Normandy, in Nazi-occupied France, landing in amphibious craft and immediately coming under heavy fire. The operation has been re-imagined in countless movies, TV shows and video games—perhaps most famously in Steven Spielberg's 1998 film Saving Private Ryan.
Although the Second World War didn't end until over a year later, the Normandy Landings are seen as a pivotal turning point in the conflict that helped secure the eventual allied victory.
Lost fathers
Retired French postal worker Andre Gantois grew up having never met his biological father, and knowing little about him—other than the fact he was a US serviceman who fought in and survived the D-Day landings. He later took a bullet to the skull while fighting across France and was nursed back to health in a military hospital by Andre's mother. He returned to the States shortly afterwards and was never heard from again.
Decades later, as a man in his 70s, Andre still had no answers and no peace.
In an interview with the Associated Press he explained: "Throughout my life, I lived with this open wound. I never accepted my situation, of not knowing my father and, most of all, knowing that he didn't know about me, didn't know of my existence."
Although historians have a detailed understanding of the 'big picture,' smaller stories surrounding D-Day like Andre's are still being uncovered. Soldiers on all sides of the conflict fathered children whom they never met, and perhaps never even knew about. Andre is just one of many WWII babies in search of answers.
Searching for the truth
Andre's mother and grandmother told him that his father's name was simply "Jack" and that he had died in France's war in Vietnam that broke out in 1946, the year Andre was born. As a trusting child, he couldn't have known that these were lies, nor did he get suspicious when neighbours referred to him as the "young American."
When Andre lost his mother when he was only 15, his grandmother finally confessed the truth—that his father was an American soldier who served in the Second World War.
Later, as a man in his 20s, he became determined to fill in the gaps in his family history. He was married and preparing to start a family of his own, and felt compelled to put a name and a face to his missing father.
Andre's wife Rosine described it as a "huge hole" in his life.
"He had no name, nothing to go on," she says. "He told me, 'I'll die without ever knowing who he was.'"
Visits to the US embassy in France were fruitless, as were other avenues. Without a name or even any basic details like his father's unit or hometown, it seemed impossible to track him down. Every investigation seemed to hit a dead end. Until last June.
Answers came from a DNA test
Urged by his daughter-in-law, Andre agreed to take a DNA test—the kind that compares your genes to a worldwide database and can be used to estimate your ancestral origins.
The results came back weeks later, with earth-shattering news.
Andre recalls the late night phone call from his daughter-in-law.
"'You have an American brother, a sister, a whole family,'" Andre recalls her telling him. "I didn't know what to say."
It turns out that Andre's father was Wilburn 'Bill' Henderson from Essex, Missouri. He had landed on Omaha beach just after D-Day, fought his way through occupied France and sustained a head wound in the closing months of the war. He was moved to a military hospital in Germany where he met Irene Gantois, Andre's mother.
Before returning to the States, Bill apparently visited Irene at her home in Eastern France, but never knew that she was carrying his child. He travelled home and eventually got married and started a new family, never knowing that he had a French son. He never even mentioned Irene Gantois to his family until shortly before his death in 1997.
The story would have ended there if Bill's son hadn't decided one day to take a DNA test—coincidentally with the same company as Andre.
Allen Henderson took the test on a whim because they were running a special offer and he thought it would be interesting.
After receiving the news, he shared his remarkable story on a public Facebook post:
"Last year I did a DNA test through MyHeritage, through Fox News, on kind of a whim just to see where I'm from. A couple of weeks ago I received an email from MyHeritage informing me that I had a DNA match that shows I have a brother in France and that he wanted to make contact.
My Dad was in WWII during 1944-1945. His young wife died in childbirth while he was in basic training. Immediately thereafter after he shipped out and landed on Omaha Beach as a 19 year old kid and was in battles from Normandy on up through Luxembourg and Germany over a year.
While he was there he met a young French girl who had joined the Americans as part of the French Resistance. In 1945, he came back to America leaving her behind, never knowing that she was carrying his son.
Throughout his lifetime, my Dad never knew he had a son in France. He passed away in 1997 not knowing. My Brother, Andre, only knew that his father was an American soldier. His mother died when he was 15 and never told him his father's name, only that he was an American soldier. He has been searching for his American family his whole life."
No longer in the fog
The two half-brothers both acknowledge how lucky they were to find each other all those years later. There are thousands of other people of a similar age who are still searching for lost family members.
"It is not easy to live like that," says Andre. "I've got closure. The whole issue of my father, that's it, it's done. I'm no longer in a fog."