Best Scholarships for Military Families
There are plenty of scholarships for military families that range in contracts, rewards, deadlines, and stipulations, but it all comes down to choosing the right one for you.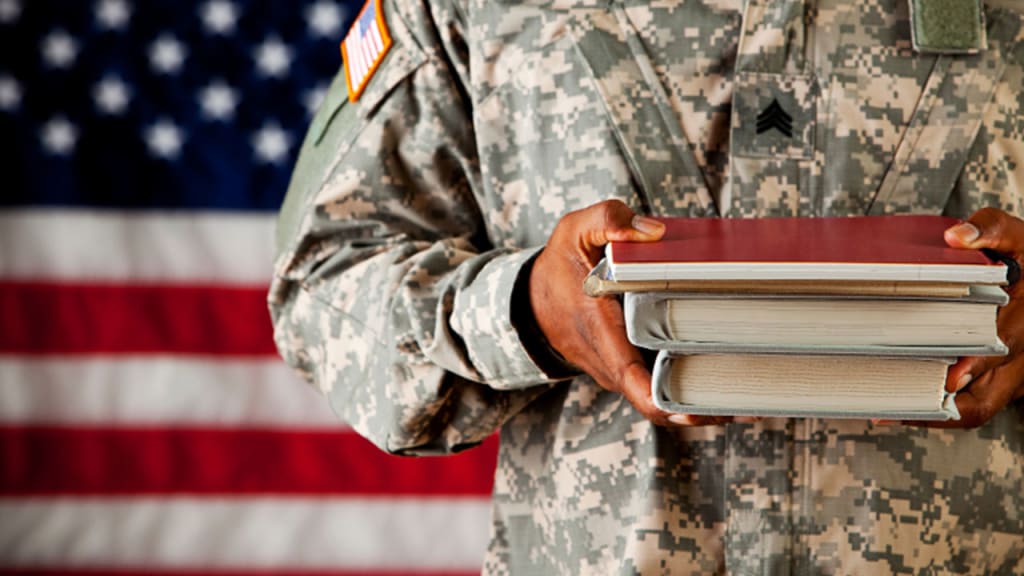 Education has and continues to grow increasingly more expensive as we progress into the future. A top notch education, whether it be at a college or university, can cost anywhere from $10,000 to $40,000 a year (often even per semester), plus that's not even factoring in books, supplies, or food. As you can see, this is no way to thank our military personnel's families for their own service in providing their loved ones as defense in the name of this great country. It's about time we begin adapting a better form of aid for our military and design a service of love.
To assist military families who have either experienced loss, or simply are in desperate need of financial assistance, the following titles are only some of the various scholarships and educational programs dedicated to making our country serviceable, in addition to simply bettering our educational system in totality. Read on to see if any of the following best scholarships for military families can be of assistance to you, and don't forget to ask your institution or program to see what other aid the school may itself provide. Most importantly, while he or she is off defending our country, let's defend you for once and make this country a far more financially stable democracy.
Wings Over America Foundation Scholarships
Families of all active duty, honorably discharged, retired, or even deceased US Navy personnel are qualified for up to $5,000 in college funding with Wings Over America Foundation Scholarships. It's among the best scholarships for military families, because it covers both dependent children and legal spouses.
They're annual recipients are chosen through financial necessity, scholastic merit, and community service involvement for all of those families of active and/or enlisted US Naval Air Forces. Their deadline varies, so you're not weighed down by time sensitivities and can be prepared before the date's even set!
Joanne Holbrook Patton Military Spouse Scholarships

On February 3rd each year, the deadline is set for the Joanne Holbrook Patton Military Spouse Scholarships, which is a degree program meant to encourage spouses with far better educational platforms. To be eligible for this particular financial aid, which can be up to $5,000, one must be a spouse of an active duty, national guard, or retired uniformed service member.
The military wife life is not particularly easy, nor is it any better when it comes to weighing finances. The scholarship programs assist certain spouses who are undergoing vocational training or are in the process of degree-seeking, no matter if it's undergraduate or graduate programs. Find out more information on the National Military Family Association's website.
Tailhook Educational Foundation Scholarships
Though it's only credible for high school graduates that are either step, natural born, adopted, or grandchildren, it carries a hefty sum of $22,000 annually, making it one of the best scholarships for military families. It's among the highest scholarship funding programs and can be a relief to needy military families everywhere.
Applicants must be related to a current or former Naval or Marine Corps Aviator, Air crewman, or Flight Officer who has served on board a US Navy Aircraft Carrier, demonstrate financial dependance, and have been accepted to an accredited US institution for proper eligibility. If you're in need of some serious financial aid and meet the above criteria, deadlines are annually set for March 15th, so make sure you apply well beforehand so you avoid missing this valuable degree program.
General George S. Brown Spouse Tuition Assistance Program
Thanks to the Air Force Aid Society, this one of a kind financial aid, often shortened to STAP, is intended to assist certain spouses of those in active duty overseas in service of the US Air Force. The deadline for the program is March 7th.
While it may be one of the best scholarships for military families, there are a few stipulations that spouses must meet in order to qualify. There can be no possibility of divorce, or separation of any kind, and recipients must be in high school as well as enrolled into an undergraduate program with a cumulative GPA of 2.0 or higher.
Huebner Scholarships
Lieutenant General Clarence L. Huebner, commander of the Big Red One in WWII, is remembered through the Huebner Scholarships. It's not only among the best scholarships for military families, one that boasts up to $10,000, but it also ensures servicemen in the 1st Infantry Division of the US Army's high school children or grandchildren are protected from the high costs of higher education.
To apply, one must submit a 200-word essay, proof of military service, their college acceptance letter, in addition to two recommendation letters. It's a perfect example of the most rewarding scholarships for military children.
Society of Daughters of the United States Army Scholarship
What it's like being the daughter of a military parent is especially hard when dealing with the woes of educational finances. Fortunately, there's the Society of Daughters of the United States Army Scholarship, a form of financial aid that's eligible to both daughters and granddaughters of US Army commissioned officer or career warrant officer.
There's also a few things you'll need in order to be a recipient, one of which includes maintaining a 3.0 GPA or higher, a personal statement of your own patriotism, and you must be enrolled in an accredited post-secondary US institution. The deadline is on March 31st, so if you intend on receiving $1,000 in scholarship funding, make sure you're prepared ahead of time.
Ladies Auxiliary of the Fleet Reserve Association Scholarships
Delivering $5,000 scholarships on an annual basis to sons, daughters, granddaughters, and grandsons of the FRA or LA FRA military members, the Ladies Auxiliary of the Fleet Reserved Association Scholarships are among the best scholarships for military families.
The deserving recipients must meet the eligibility guidelines of simply wanting to pursue their professional dreams through undergraduate or graduate degrees from an accredited US institution. You have a little time to meet the deadline, which is on April 15th, so if you're in need of funding, try the LA FRA.
Military Spouse FINRA Fellowship Program
This is among the best scholarships for military families, specifically spouses, who want to become Accredited Financial Counselor (AFC). Such inducted fellows will be able to learn a variety of concepts and knowledge surrounding marketable job skills, tools, and resources for overcoming financial struggles inherent in military life.
It's sponsored by FINRA, or the Financial Industry Regulatory Authority Investment Education Foundation, and will cover fees as well as provide a monthly stipend for military spouses wishing to participate in their AFC training program.
Fisher House Foundation Scholarships for Military Children
Defense Commissary Agency funds this edition of the best scholarships for military families, which provides up to $2,000 per every son and daughter of active, retired, or reserved military commissary customers. The recipient must be enrolled in full-time, four-year graduate degree program at an accredited US institution.
Also, another factor includes the eligibility of sons or daughters to be under 23 years of age and maintain a cumulative GPA of 3.0 or higher. When it comes to military service, you want to ensure your children are taken care of in the form of educational services, and the Fisher House Foundation is exactly that safeguarded protection.
Army Women's Foundation Legacy Scholarship
Despite the deadline having passed already on January 15th, knowing about the Army Women's Foundation Legacy Scholarship is one way of making sure not only you, but your children's education, are safely financed by one of the best scholarships for military families.
To receive this grant of up to $2,500, one must be a female graduate or undergraduate student and the daughter of a veteran from any line of the Army. Eligibility also requires that one has a 3.0 GPA or higher, on top of submitting an application form, essay, transcript, recommendations, and proof of your status as an enlisted military member, or family's veteran status.
Hope for the Warriors Spouse/Caregiver Scholarships
The Hope for the Warriors Spouse/Caregiver Scholarships is among the annual educational programs that intends to be a part of the best scholarships for military families by offering assistance for spouses and caregivers who are in need of financial assistance to continue their education.
It's not too difficult to be qualified, but there are a few things of note you should be prepared for before making your decision. In order to be considered as a recipient, one must submit an application, certification form, proof of military injury or death, two page questionnaire, and an essay on their academic achievements, as well as their own personal goals for success.
family
Politics may be a disgusting battlefield, but it is a necessary vice in our country, and a particular fancy of mine, like productivity and success. These are important facets in the modern world, and must be expounded upon.