A Love Letter to the Wild Women of World War Two
From a Ukrainian tank driver to the British spy who was the great-great-granddaughter of a sultan. These are the women you should have learned about in school.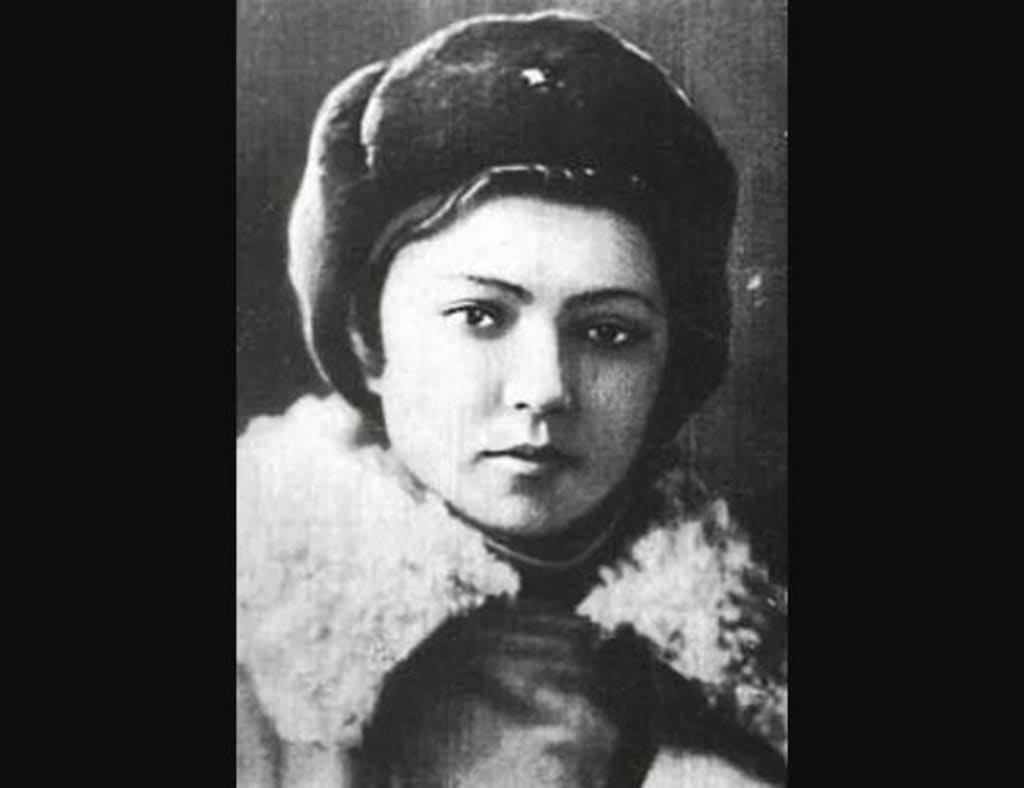 Mariya Oktyabrskaya - The Fighting Girlfriend
Mariya Vasilievna Oktyabrskaya - "The Fighting Girlfriend"
How would you avenge the death of your husband who was killed in action while fighting the Nazis in World War Two? Sell all of your possessions, buy a T-34 Tank, donate it to the war effort, and request that you drive it of course. This is exactly what Mariya Oktyabrskaya did once she learned of her husband's untimely death, two years after it happened. Once Mariya sold all of her possessions she still didn't have enough to buy a tank, so she took up embroidery to make up the last bit of change she needed for two months, totaling ₽50,000 rubles (Over $100,000 USD in today's money.) After collecting this money she sent a telegram to the Kremlin, addressed to Joseph Stalin himself. Of which Joseph Stalin actually replied to her: "Thank you Maria Vasilievna, for your concern for the armored forces of the Red Army. Your wish will be granted, please accept my greetings. Supreme Commander-in-Chief. Joseph Stalin."
Mariya enrolled in a 5-month tank driving training program and once completed in September 1943 she was posted to the 26th Guards Tank Brigade. She famously named her tank "The Fighting Girlfriend," or in some translations "Battle Girlfriend, and she went to war to avenge her husband's death.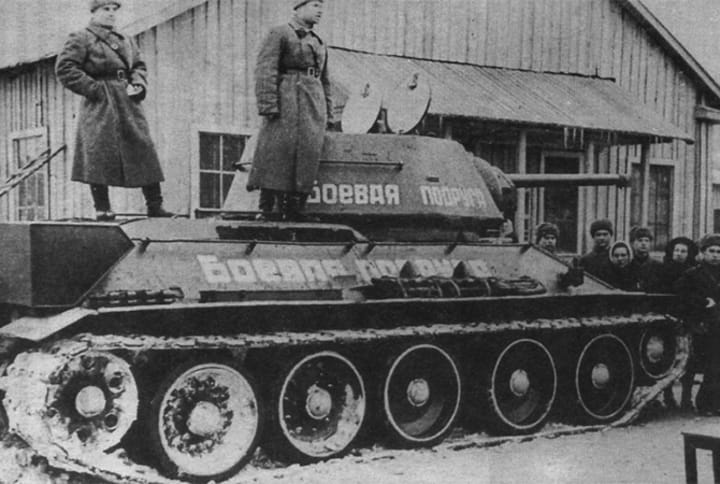 Women fighting in combat alongside men was a rare but not an uncommon occurrence, as The Soviet Union had faced heavy losses against the Third Reich near the end of WW2. Despite this Mariya was the subject of ridicule as many of the soldiers saw her as a publicity stunt or a joke. Their opinions swiftly changed once Mariya gave a daring speech at a front rally quoting, "I swear to you that the crew of the Fighting Girlfriend will not leave you. I will smash the fascists while my heart is beating." She solidified her place after the Fighting Girlfriend's first successful battle on the front line.
The Fighting Girlfriend made a name for itself in battle. Not only did they lead the attacks, but most notably Mariya's courageous and wild spirit led her to jump out of the safety of her tank to enact repairs upon the Fighting Girlfriend in the middle of battle. Her crew tried to stop her in fear that she would be hit by gunfire or explosive debris. Despite their concerns, Mariya did this multiple times on the battlefield to ensure the Fighting Girlfriend advanced forward.
During one such repair, Mariya leaped out of her burning tank with mines exploding around her. She began to work on the tracks when an explosion was triggered near her. She felt a sharp pain in her left eye and down the left side of her body before falling unconscious. For two months Mariya remained in a coma before awakening one last time before she died on March 15th, 1943. The Fighting Girlfriend's legacy lived on through Mariya's crew who carried the name forward through four new tanks until the end of the war.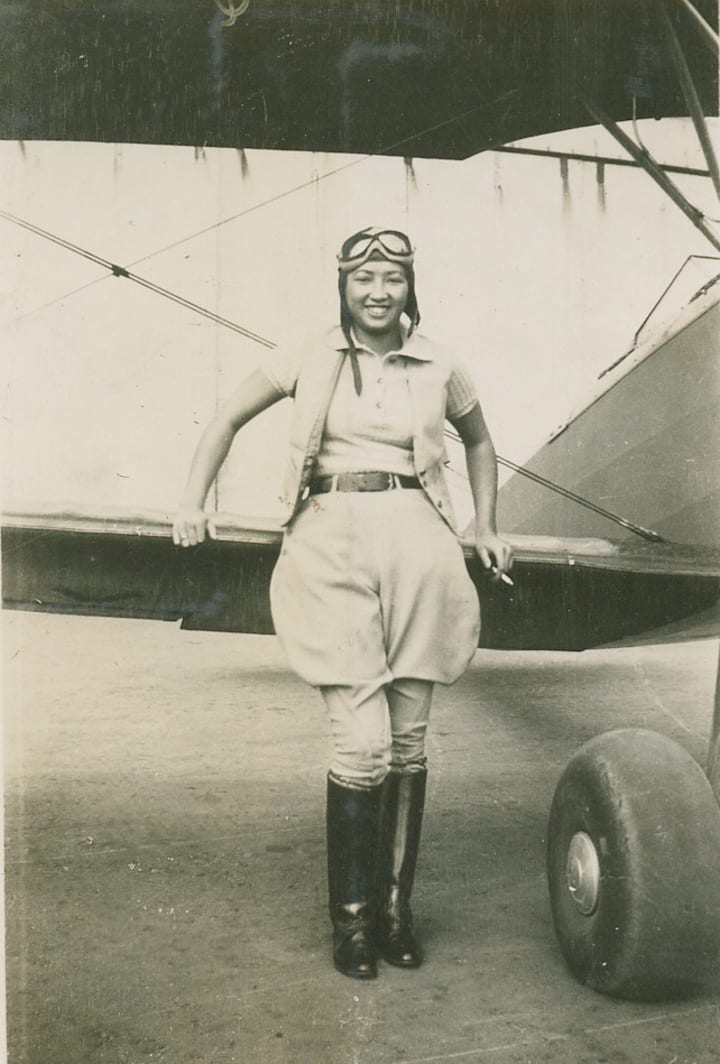 Hazel Ying Lee - The First Female Chinese American Pilot
While the Soviets allowed women to enter combat for the allied forces most women faced prejudice, not to mention the racism that already existed in American culture and the growing racism toward Asian Americans after the attack on Pearl Harbour. Hazel Ying Lee was one such woman, and after taking her first airplane ride in 1932 Hazel knew she was destined to fly despite the challenges that lay ahead of her. In late 1932 Hazel was the first Chinese American Woman to earn a pilot's license.
Prior to World War Two, Hazel and several other pilots ventured to China to aid the Chinese Air Force after the Japanese invasion of Manchuria. Unfortunately during her time there she was disposed to a desk job, occasionally flying for a commercial company. As the Japanese forces pushed further into China, Hazel returned to the US in 1938, where she was still grounded.
After the United States entered the second world war after Pearl Harbour, Hazel found her opportunity to finally serve when WASP, (Women Airforce Service Pilots) was created in 1943. Hazel became the first Chinese American woman to fly for the United States Military. During a training exercise, one of Hazel's instructors performed a loop without warning her, and Hazel fell out of the plane due to her seatbelt not being fastened correctly. Luckily Hazel was wearing a parachute. She landed in a field and walked back to the base dragging the parachute behind her.
Despite never seeing combat Female pilots were often assigned grueling missions, such as flying through winter conditions with open cockpits. Most of their missions included transporting aircraft from the manufacturers to where they would be shipped to the European and Pacific front lines. During one such mission, Hazel was required to make an emergency landing in a wheat field in Kansas. She was met by a farmer armed with a pitchfork that chased her around her aircraft as he shouted to his neighbors "the Japanese have invaded!" He stopped after finally listening to Hazel's demands.
On November 10th, 1944 Hazel flew a P-63 Kingcobra pursuit fighter to Great Falls, Montana, one of the many embarkment points for military aircraft to their soviet allies. Hazel was cleared for landing with a large number of Kingcobras approaching at the same time. Hazel's plane collided with another Kingcobra and the planes were engulfed in flames. She was pulled from her plane but two days later she succumbed to her injuries and died.
Three days later Hazel's family would come to learn about the death of her brother, Victor, on the front lines in France after serving with the U.S. Tank Corps. The family fought to have both siblings buried together on a sloping hill in the River View Cemetary in Portland, Oregon. They faced many challenges and were refused the spot they had chosen as the cemetery cited that it was their policy to not allow Asian Americans to be buried in "the white section." After fighting these policies the family was successful and awarded the plots to bury the siblings together.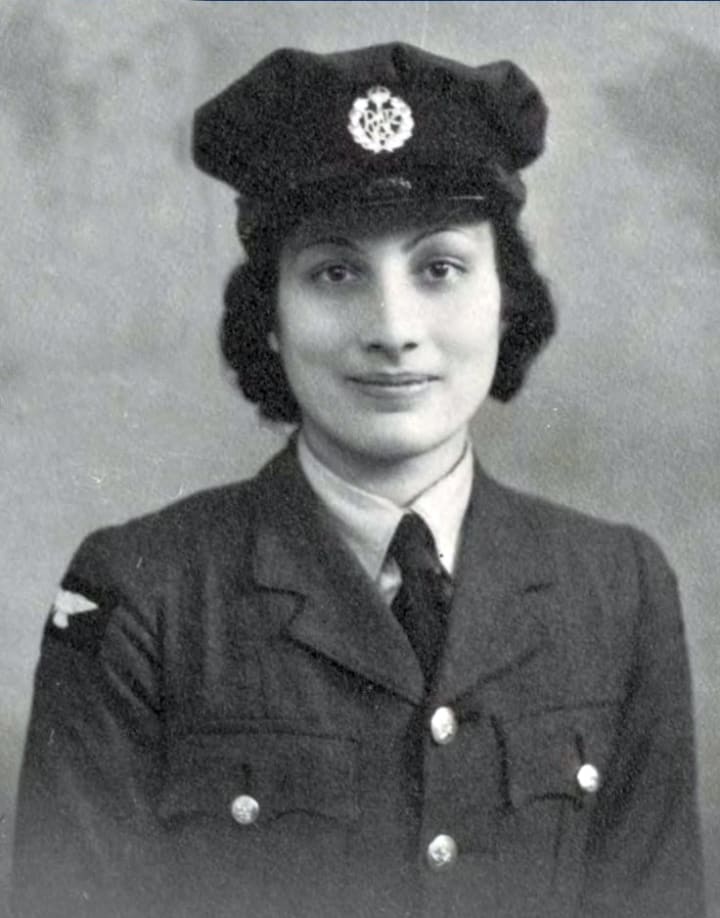 Noor Inayat Khan - The Indian Princess turned British Spy
Noor Inayat Khan was the descendent of Tipu Sultan, the ruler of the Kingdom of Mysore based in South India that later became Mysore State after its subsidiary alliance with British India. After being born in Moscow Noor's family fled Russia for London with the outbreak of World War One, and then after settling in France. Noor studied child psychology and began a career as a writer, publishing both poetry and children's stories. With the outbreak of World War Two, Noor and her family fled to England. A few months later in November 1940 Noor would join the Women's Auxiliary Air Force and go on to be trained as a wireless operator.
After her training, Noor was recruited by the Special Operations Executive and posted to the Directorate of Air Intelligence. From her upbringing in France, Noor was seen as the perfect candidate to operate beyond enemy lines, but there were reservations due to Noor's careless handling of secure information and what her superior office, Col. Frank Spooner coined as, "an unstable and temperamental personality." She did poorly in her training during a mock Gestapo interrogation, received poor athletic reports, and expressed reservations about the deception side of her work having been raised by a teacher of Sufism and led her life by a nonviolent philosophy. Despite this, the allies were short-handed and Noor's skill outmatched that of many of her colleagues.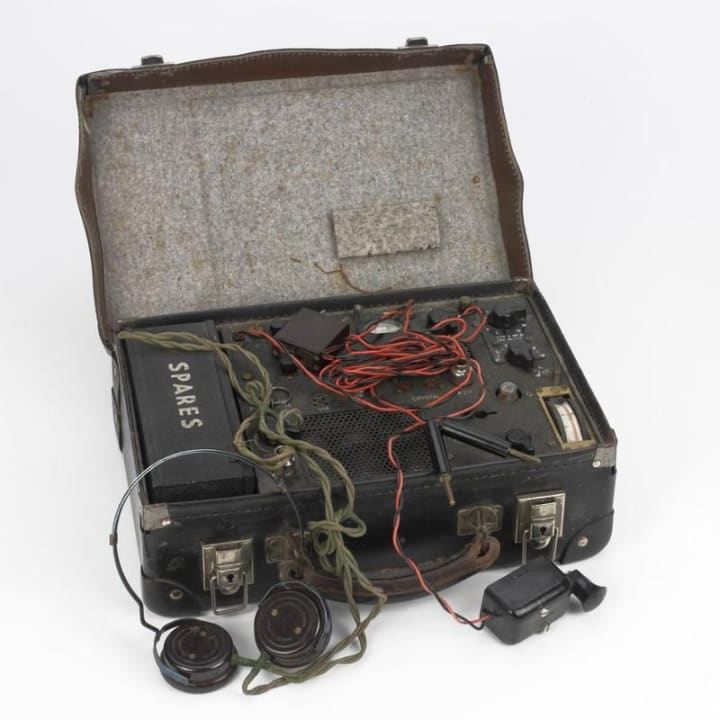 In June 1943 Noor was the first woman to be sent into occupied territory as a wireless operator and not just a courier. She left for France where she would maintain a link between London and the field to further the possibility for resistance strategy and sabotage missions under the alias Jeanne-Marie Regnier, codenamed Madeleine. In 1943 the life expectancy for a wireless operator was six weeks.
Within 10 days of her arrival, Noor was alone after all the other agents in her network were arrested. She was called to come back home but she refused and intended to rebuild the network on her own. For a period Noor was doing the work of six operators and became the only link between the Paris area and London. She outlasted the expected six weeks and was on the run from the Gestapo for months until she was betrayed to the Germans and captured on October 13th, 1943. During her imprisonment, she refused to give any pertinent information away. Unfortunately, the Sicherheitsdienst (SD, the intelligence operations of the SS and Nazi Party) were able to discern enough information from her codebooks and personal history that they impersonated her, sending false information to the allies that resulted in the deaths of seven other agents.
On November 25th, 1943 Noor attempted to escape imprisonment for the second time, but her plan was foiled when an air raid alert took place requiring a count of prisoners, alerting the Nazis to her escape. She was deemed highly dangerous and sent to Germany where she was imprisoned in solitary confinement with both her hands and feet shackled. She was condemned to be "Nacht und Nebel," known as the Night and Fog; to disappear without a trace. She spent ten months there, confined in chains, beaten, possibly sexually assaulted, and almost starved.
On September 12th, 1944, Noor arrived at Dachau Concentration Camp along with three other female agents to be executed. There are separate accounts of what the woman faced in Dachau, but unfortunately, most are known to be unreliable. In 1958 an anonymous former Dutch prisoner disclosed that Noor was cruelly beaten by an SS officer before being shot in the back of the head on September 13th, 1944. Their account exclaimed that Noor's famous last words were "Liberté."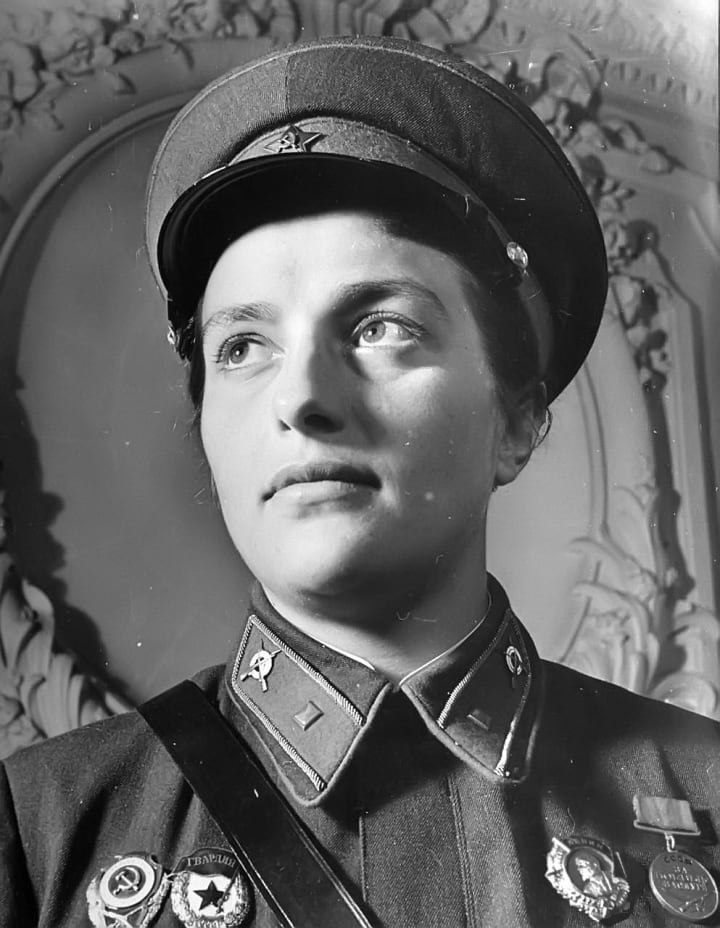 Lyudmila Pavlichenko - "Lady Death"
In 1941 the Russian-born Lyudmila was studying history at Kyiv University when the Nazi party invaded The Soviet Union and Russia was turned upside down. Lyudmila quickly left school and volunteered for action. Having been an amateur sharpshooter and taken a six-month military sniper course by the red army, Lyudmila wanted to pursue the 25th Rifle Division but was quickly deterred and encouraged to become a nurse instead. "They wouldn't take girls in the army, so I had to resort to all kinds of tricks to get in." After pleading Lyudmila was given an opportunity to prove her skill.
At the beginning of the Soviet Union's involvement in World War Two, there was a shortage of guns. Despite this Lyudmila and the division were sent to the front lines and instructed to instead dig trenches. She later wrote in her memoir, "It was very frustrating to have to observe the course of battle with just a single grenade in one's hand." Her chance came, and Lyudmila picked up a rifle from a fallen soldier and killed two enemy soldiers. The Red Army swiftly invited her into the 25th Rifle Division. She would go on to become the most successful female sniper in history with a total of 309 kills. The two kills from her first encounter were not included as this was considered a "test" of her skill.
Despite the success of her test Lyudmila was gripped by doubt, too afraid to even raise her weapon on the first day she officially entered battle as a sniper. It wasn't until the soldier next to her was hit by a German bullet and killed that Lyudmila found the courage to fight. Since that day Lyudmila broke records, making 187 confirmed kills in her first 75 days as a sniper, for an average of 2.5 kills a day. She would go on to face some of the deadliest snipers from Nazi Germany. Some of these duels would last three days as she held her position waiting for the enemy to make one fatal mistake.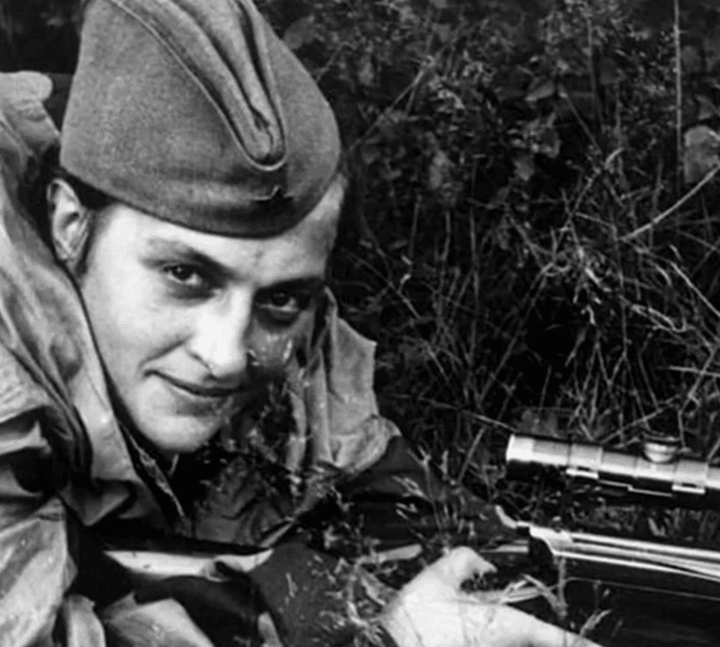 She was quickly coined "Lady Death" by the German forces and they even addressed her via radio broadcasts to convince her to renounce the Red Army and come to their side. They offered her a high-ranking officership, and even at one point chocolate! After it was clear that Lyudmila's loyalty lay with the Red Army the Germans threatened to tear her into 309 pieces, the number of her confirmed kills. Her response? Lyudmila was excited to find out that her confirmed kills were widely known.
In 1942, less than a year of service, Lyudmila was struck by shrapnel in the face and the Red Army withdrew her from combat. Her notoriety had surpassed her and the Red Army asked her to train novice snipers and participate in war propaganda rather than lose their famous, "Lady Death." Lyudmila would travel across Russia and even The United States to be interviewed by journalists and speak to crowds to encourage enlistment. Despite her notoriety, she was faced with immense sexism by American journalists who would ask her ridiculous questions such as: if she was allowed to wear makeup on the battlefield and commented that her uniform made her look fat. Lyudmila famously countered: "I am 25 years old and I have killed 309 fascist occupants by now. Don't you think, gentlemen, that you have been hiding behind my back for too long?"
Of all the women on this lost Lyudmila was the only one to survive her service.
. . .
To the women who bravely stepped forward when faced with the word "No." To the women who put their lives on the line for liberty and their people. To the women who marched forward to achieve their passions despite the sexist and racial divides. To the women who proved the phrase, "hell hath no fury, like a woman scorned." Your stories deserve to be told. Thank you for paving the way for us, for sacrificing yourselves for a better world, and for proving once again that wild women can achieve anything.
Sincerely,
Your Wild Sisters.

Kate Hart
Screenwriter, Film Producer and all around Camera Nerd with a BFA in Writing & Film Studies.
Find me on instagram @ashumanasiam
Rogue Raven Productions
See all posts by Kate Hart →