Tackling Spam and Inauthentic Behavior
Strengthening moderation, empowering users, and building trust.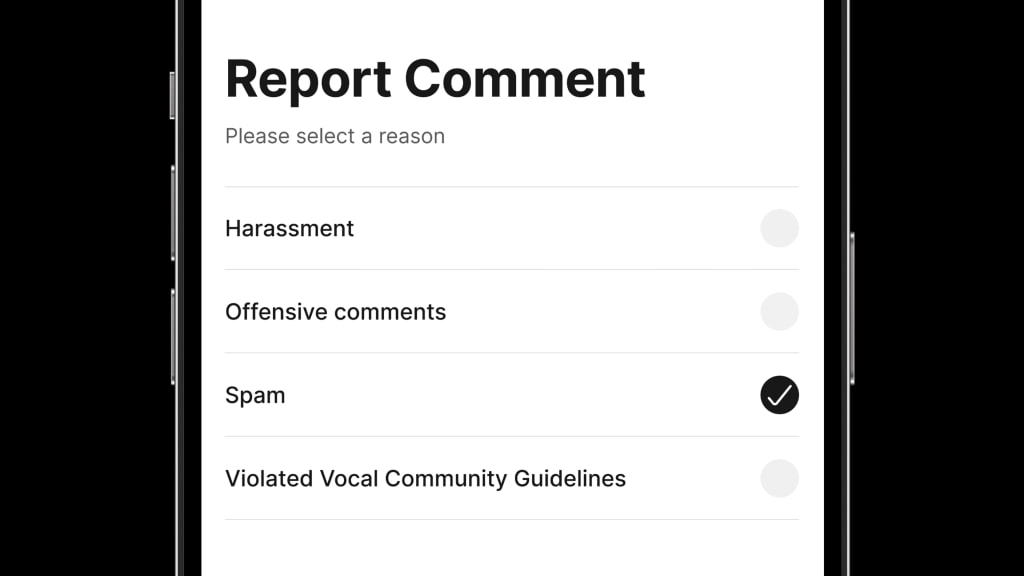 Some of you have shared your frustrations lately about link-bombing, spammers soliciting sketchy websites, and bot/AI-generated comments and stories on Vocal. We know how hard you all work to create stories and we want all creators to get support and feedback from real users.
This isn't a new problem for us, or any community-driven site that reaches scale. Within the first few months of launching Vocal, we saw bad actors creating spam and plagiarizing stories. At the time, our moderation team was small, and we all would literally spend every free minute moderating stories.
Over the years, we continued to invest in tools and methods to combat inauthentic behavior and scale moderation, but with the release of comments a few months back, in conjunction with large language model tools like ChatGTP being more accessible, the spam problem has become more dire.
Thankfully, we have a few more people and tools in place to mitigate this issue. We can't expose all of the techniques we use to detect and remove bad behavior, as doing so makes it easier for bad actors to exploit the system, but here are a few things we are working on behind the scenes that we would like to share in an effort to be more transparent .
Increasing moderation and curation
We're constantly building more automated tooling for moderation and curation, but sometimes there's no replacement for real people. That's why we are increasing our human moderation team to ensure bad actors are flagged and removed faster than ever.
Additionally, our engineering team has helped us create better tools for programmatic detection, which has dramatically improved our spam detection capabilities.
We're also going to be increasing the aggressiveness of our policies. Our moderation actions will continue to get more severe as necessary to ensure bad actors are penalized. Please do not be that creator whose stories and/or commenting privileges get banned due to shady tactics.
Community empowerment
A few months back, we introduced the Report link on stories and comments, but it has become more important in recent weeks as we've seen an increase in ChatGPT-created comments and stories. We've had a discussion internally about auto-detection of AI generated content, but at this time these models are still a work-in-progress. In the interim, we kindly ask that the community help us by reporting any bot-generated comments and stories you find on Vocal. You may even receive a Bonus for helping us tackle this issue.
Recently, we've introduced Vocal Creator Chat, Raise Your Voice, and Future Challenges threads. We're hoping these remain spam free and act as a framework to foster genuine community engagement.
Trust and verification
We've also added more significant focus on email verification, as well as surfacing the age of Vocal accounts on profile pages. We implemented Stripe Identity, which helps us confirm the identity of users to prevent fraud attacks for payments on Vocal.
We're also exploring different ways users can authenticate their identity directly on Vocal using connected social accounts. We'll keep you updated as this progresses.
Spam is a never-ending battle for any social platform online, but we're committed to keeping Vocal a safe, genuine platform where creators can thrive.
We appreciate your patience. Let us know your feedback and suggestions in the comments below or in the Vocal Creator Chat on Tuesday @ 12PM ET.
About the Creator
Founder of Vocal. COO/President of Creatd ($VOCL), the parent company of the Vocal platform.
Reader insights
Nice work
Very well written. Keep up the good work!
Top insight
Heartfelt and relatable

The story invoked strong personal emotions
Add your insights