Introducing the Vocal+ Fiction Awards
25 winners. $125,000 in prizes. And a lasting legacy that you can be a part of.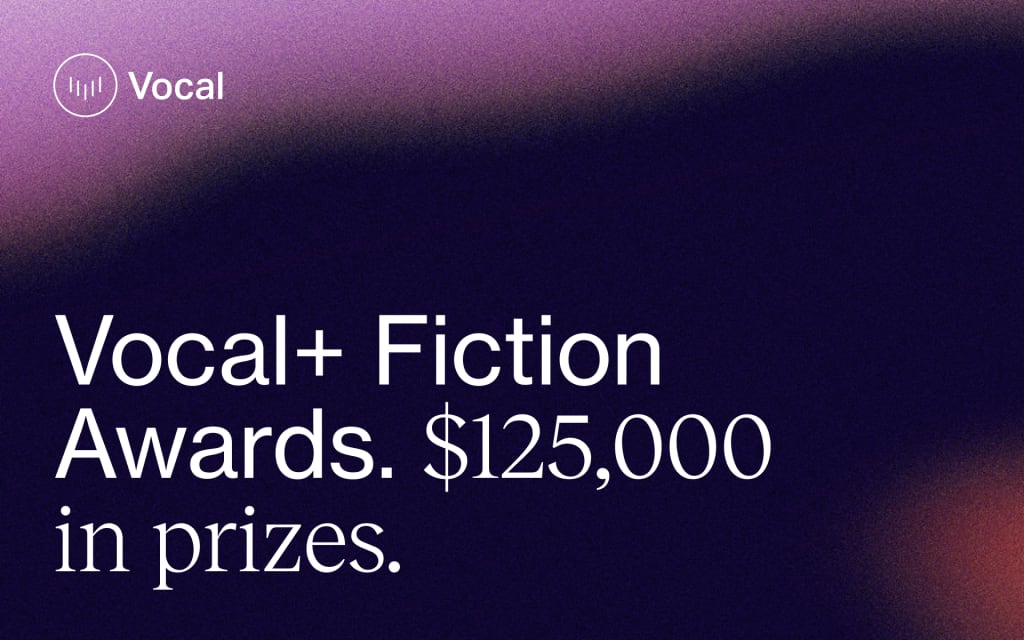 Since the launch of Challenges nearly two years ago, our mission has remained consistent: inspire great stories and put money directly into the hands of our most unique, innovative creators. Now, we're celebrating two huge milestones simultaneously. As of this week, over 100,000 stories have been entered into Challenges, and we have given away over $500,000 directly to our creators. That's one hundred thousand ways to inspire, and a half a million reasons to celebrate your creativity.
And we're doing so with our biggest Challenge to date: the Vocal+ Fiction Awards.
Here's how it works. Unlike previous Challenges, there is no prompt. There's no genre or theme you must stick to, or requirement your story must meet. We're asking for the best story you can create, on an even playing field, whatever it is you choose to write.
We're giving away $125,000 for these awards: 25 winners will be selected, and each receive $5,000, plus their stories will be published in Vocal's first ever book—a collection of short stories by Vocal creators, available for purchase, estimated for release in the spring of 2022.
But the awards aren't limited to just 25 grand prize winners. 1,000 runners up will be selected from the total pool of eligible entries. Each of the one thousand runner up winners will receive a free year of Vocal+. Along the way, everyone who enters will be eligible to win unlimited cash rewards, just for participating. Once you submit your entry, you can invite your friends to join you—and for each friend who becomes a Vocal+ member, you'll be rewarded $20 in your Wallet.
We're so excited to see what you can create when there are no limits to your stories.
We'll continue to update this article with FAQs as you continue to reach out to us with questions.
Here's what Erica Wagner, judge of the Vocal+ Fiction Awards and Vocal's Lead Editorial Innovator, has to say about what we're hoping to see in your entries.
Since we launched our Challenges here at Vocal, we've seen over 100,000 stories entered by Vocal+ members; we've given away over half a million dollars to our winners. But that's not the only way we champion storytellers: just four months ago, we launched our Fiction community — and already there are nearly 25,000 stories there, written by nearly 12,000 creators.

So this latest Challenge aims to truly celebrate our creators: after all, you're the folks who make Vocal what it is. What are we looking for in the winners of our Vocal+ Fiction Awards? Sure, it's hard to boil down what makes the perfect tale, but I can tell you a few things I'm always after. Our winning stories will be distinguished by great storytelling, first of all. How do you draw us in? What makes us want to read on? Strong voices, that's what. And then there's a sense of narrative commitment: raise your flag and your readers will follow along. Last but certainly not least, we're after a diversity of experience and style. At Vocal we believe that great stories come from everywhere and everyone: so let us know who you are.

I can't wait to read the entries as they start to roll in… happy writing!
FAQs
What are the requirements?
There are no content requirements, themes, or genres you must adhere to for this contest, aside from Vocal's standard Community Guidelines. The only requirements you must adhere to is that your story must be between 600 and 4,000 words. The word count requirement will be strictly enforced for this Challenge.
Full terms and conditions for the Challenge can be found here.
Does the book publication change my copyright?
Copyright for the content you enter into this Challenge will look slightly different than other stories you publish on Vocal. Generally, creators retain all ownership of everything published on Vocal, but in this case, by entering the Challenge, you're agreeing that Vocal can repurpose your story for publication if you're selected as a winner. You can find the full terms and conditions for the Challenge here.
If there are no content requirements, what are the judges looking for?
Our judges are experienced literary reviewers, and have a wide range of tastes and preferences. However, all judges at every level of the Challenge will be looking for stories that are original, display masterful use of language, evoke a response—whether that's humor, sadness, or joy—and show an understanding of good creative writing through character development, plot and theme. Our expectations can be distilled into four things, noted by Erica above: Great storytelling, strong voice, a commitment to your narrative, and diversity of experience and perspective.
Learn more about how Challenges are judged here.
When will the book be available?
The book will be available for purchase in early 2022, and preorders may be available prior to that. You can sign up here for updates and alerts about the book's release.
Will the winners receive a copy of the book?
Yes, the 25 winners will each receive a copy of the book.
When will winners be announced?
A list of 1,025 Vocal+ winners will be announced on January 25. Of these, 25 grand prize winners will be selected and announced on February 15.
How do I participate?
You must be a Vocal+ member to enter the Challenge. Once you're a member of the Vocal+ community, you can view and enter the Vocal+ Fiction Awards here. If there are any updates required for your story to be eligible, you'll receive an email once it's been reviewed by our team.
Reader insights
Be the first to share your insights about this piece.
Add your insights