How Creators Can Foster a Sense of Community During a Global Pandemic
Supporting Artists, Fans, and Your Local Community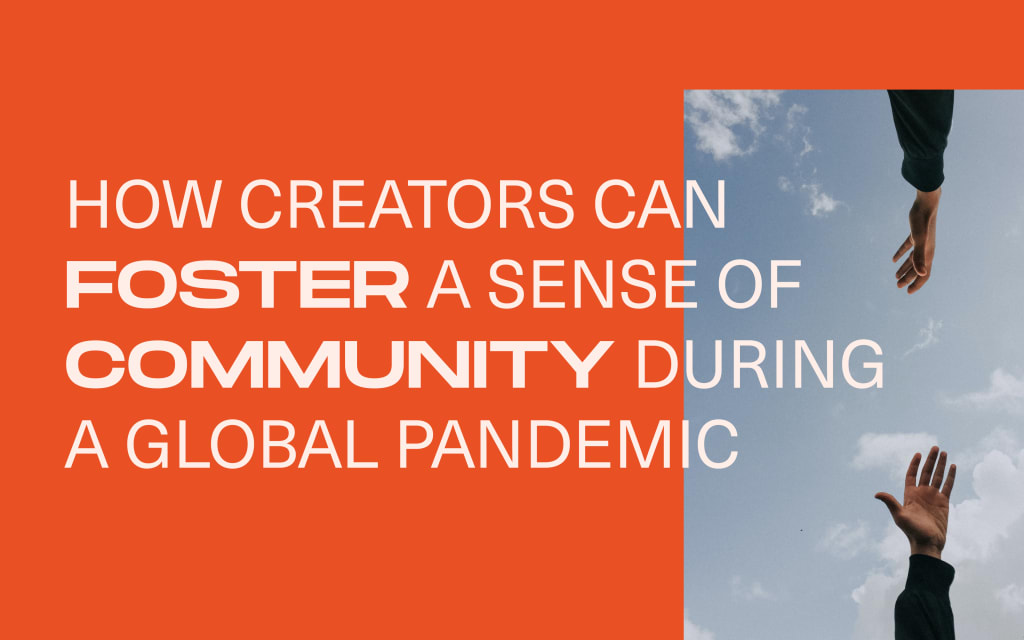 As a creator, there are so many ways you can foster a sense of community—even during a global pandemic full of sheltering in place and social distancing. Here's how you can support fellow artists, connect with fans, and help your local community online.
1. Leave reviews for other creators and local businesses.
When you make a purchase from a creator or local business, look for a chance to leave them a review. If you order a book, leave the author a review on Amazon. If you order takeout, leave the restaurant a review on Google.
In most cases, positive reviews will boost the visibility of products in an online marketplace and local businesses in online search results. The result? More revenue for your favorite artists and local businesses.
For local businesses, you'll want to start by leaving reviews on Google since Google search sends a lot of local traffic to businesses. If they ask for reviews on a particular network, like Yelp or Facebook, leave your reviews there too. They are likely working on their marketing strategy on those platforms and need to build their visibility with strong reviews.
In some cases, you may not have to actually buy from the businesses to leave them reviews. Maybe you have bought from them in the past or have another good reason to leave them a good review. The same goes for products you've bought from creators in the recently—if you can, still review them on Etsy, IndieMade, Redbubble, or similar networks.
If you can't buy from your favorite creators or businesses right now, here are some more ways to support them.
2. Follow your fellow creators and local businesses on social media.
One of the best ways to support your favorite artists and local businesses during the pandemic for free is to follow them on social media. Your engagement with their posts - likes and comments - will help those artists and businesses get more visibility in the social news feed.
Social networks like Facebook have an algorithm that favors pages that post popular content. This means that pages with smaller audiences will have a harder time reaching their fans in the news feed.
More visibility for these creators and small businesses will lead to more fans. So even if you can't spend any money with your favorite people now, others can. Help others find them by boosting their visibility in social media.
Another great way to boost visibility for your favorite creators and businesses?
3. Share content from your favorite creators.
Love the latest photo from your favorite photographer? Like the EP of an up and coming musician you've stumbled across? See a great delivery deal from a new restaurant in your area that opened right before the pandemic shut dining rooms down?
Share those posts with your followers.
In addition to helping out the creators and the businesses, you'll get more engagement from your own followers. They'll get to know you better based on what you share and have more reason to chat with you.
You can even grow your audiences by adding relevant hashtags and location tags on your shared posts. You can research hashtag popularity by looking them up on the social network prior to making a post. See the posts linked to that hashtag and if the posts seem relevant to yours, it's likely a good fit!
4. Post ice breakers and conversation starters.
If you want to really want to start a community within your own following, post conversation starters on a daily basis. Remember that everyone likes different social networks, so if you're not getting a lot of responses on one channel, try another. Keep in mind that it's important to link to all of these social channels in your Vocal bio, so that your readers can find and follow you in the first place.
You can use the following features on each network to boost your response rates from followers.
On Twitter: Ask a question or use the poll feature to formally get opinions from your followers.
On Facebook: Ask a question, ask for recommendations, run polls, or try live video on your profile, page, or in stories.
On Instagram: Use story stickers to ask questions, run polls, or try live video.
On YouTube/Vimeo: Ask questions on video, in the video description, or on your community tab (for YouTube channels with 1,000+ subscribers).
Also, keep an eye out for questions, requests for recommendations, polls, and live events by your favorite creators, local businesses, and biggest fans. When people post interactive content, they are looking for engagement. When everyone is stuck at home, it's the best time to get a chance to interact with anyone - even a celebrity you may have shared stories about!
5. Join in active social media groups.
A lot of artists and local businesses have groups for their fans and customers. Social media groups are some of the best places to find like-minded people who share your love of a particular artist or your local community.
If you are looking for casual groups, try Facebook. If you are looking for professional networking groups, try LinkedIn. Look for groups where people are actually sharing relevant posts and engaging in meaningful discussions.
You don't want to stay in a group where everyone just drops links and advertisements without discussion. While these groups tend to have high numbers, you won't necessarily find people who are looking to chat there.
6. Participate in creator challenges and contests.
Look for ways to come together with other creators to create new art and content. Vocal, for example, runs regular challenges for creators. The Pay It Forward challenge, in partnership with Vimeo, gives creators a chance to promote a small business they love for a chance to win $5,000, and win a $2,500 donation to the small business. Entering a Challenge like this, and sharing it on social with your local business, is a wonderful way to publicly support your local community.
Once you create something for a challenge, you'll want to promote it. During the promotion process, you'll interact with a lot of your fans and fellow creators. The result? A stronger bond with your audience and community.
If you're not ready to participate in a challenge, help your fellow creators out by sharing your favorite entries. Your support will likely gain you some new friends.
7. Create your own community.
Can't find the perfect tribe? Create your own. After you've followed your favorite creators and local businesses on multiple social networks, you'll learn a lot. You'll learn which networks you like most and least. Which features you like most and least.
In the end, you'll know where your favorite people are and how you like to engage with them most.
Maybe it's a close friends list on Instagram that you do live video with every week.
Maybe it's a private group on Facebook.
Maybe it's a Twitter chat with a hashtag unique to your community.
Maybe it's all of the above.
If you choose to manage a public page, social media group, or other community, you'll have to moderate it to a certain extent to keep the discussion engaging for all members. In other words, you may have to remove spam and members who are behaving badly from your community from time to time.
Just keep in mind that those things happen, and they shouldn't keep you from enjoying your tribe. Keep sharing great content from your favorite creators and local businesses, post conversation starters, and engage with your tribe. You'll foster the sense of community that people are missing right now, and they'll appreciate you for it!