Creator Spotlight: Kat King
"I am a surrealist at heart, and with ADHD, the world can be quite a topsy-turvy place anyway, so there are elements of magical realism or surrealism in my stories. I enjoy making people wonder what the hell is really going on. That nothing is ever as it seems."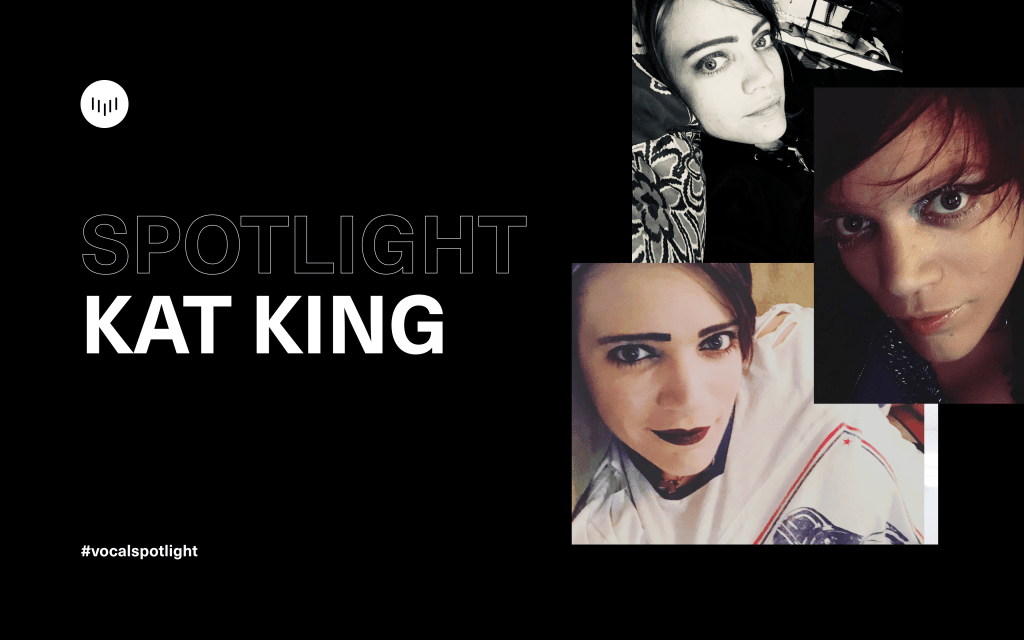 Hmm... How exactly can we describe Kat King? Well, she's a fantastic writer for starters; but, beyond that, Kat is thoughtful, open-minded and driven to make a difference. Whether that be through her unique style of storytelling, her years of service in the United States Military, or her humanitarian outlook on the world, we just consider ourselves lucky that Kat found a safe place to explore and document her work on Vocal.
Kat's stories challenge the way readers have learned to view the world--and in doing so, offer a fresh perspective in terms of morality and reality. If you have yet to read her work, no problem! We'll wait right here for you. Here's a link to her creator page. Take a look at all the stories she's published!
You're back?! You loved her work?! See, we told you so!
Having submitted to over 10 communities (and counting) Kat King is a creator who has something for everyone. For that reason (among many others), we've decided to highlight Kat in this week's edition of #VocalSpotlight.
On herself, her background, and the balance between spirituality and science fiction:
The best way to get to know me is to read my work and talk to me. Like many of the other Creators on Vocal, I harbour an ardent, compulsive love for writing, acting and art in all its glorious forms. I come from a mixed heritage English, German one one side, as well as Ashkenazi (Russian/Polish) Jews. On the other, we just confirmed we're Dutch and English today. My paternal grandfather came over by ship to Chicago from the Netherlands, but I never knew him because he abandoned the family. It's actually why my name is King and not Van Ginder. I'll save that for another Vocal Story.
If I were to die today, I hope those who speak of me would say they knew I was authentically purpose-driven. I would like to think they'd say I was selfless and kind, that I believed in love and that I lived what I believed in wholeheartedly. That I made a great many mistakes in my lifetime, but that I always tried to better myself. And, perhaps more than anything, I truly found love in my life and it was real. My fiancée, Rachael, is my soulmate.
I consider myself a futurist, humourist, satirist and even a bit of an absurdist at times. I spend a great deal of time dreaming up possible futures for Humanity and fleshing them out through my fiction series, and searching for longterm solutions. I was raised on Tolkien, Asimov and Stephen King. I'd like to think I take most of my inspiration from them, as well as many other great writers.
My parents homeschooled my sister and I until they divorced when we were still relatively young. My father had been a minister at one point, but by the time he met my mother, he was driving a bus for OCTA. But the psychological impact of that ugly, ugly divorce and the ongoing pain of its aftermath secretly devastated me for many, many years afterward.
Imagine growing up in Utopia, only to have it ripped away, suddenly and violently, like a catastrophic earthquake. Divorce is something we don't talk enough about as being traumatic for children, something commonplace in modern society that can have lifelong adverse effects on a person's neurobiological development. One moment, we were a family and we had everything we needed. We were not rich. But we were happy. And then suddenly, all Hell broke loose and we found out who our parents really were—disillusioned by the promise of the nurturing, love-filled Christian family hearth, I set myself about the task to pursue a deeper understanding of God's true nature.
I have spent the majority of my life reconciling my sexual orientation with my belief in God. It is a topic I have written extensively about as many others already have, but I found science fiction to be a great genre through which I could engage in dialogue about these puzzlements.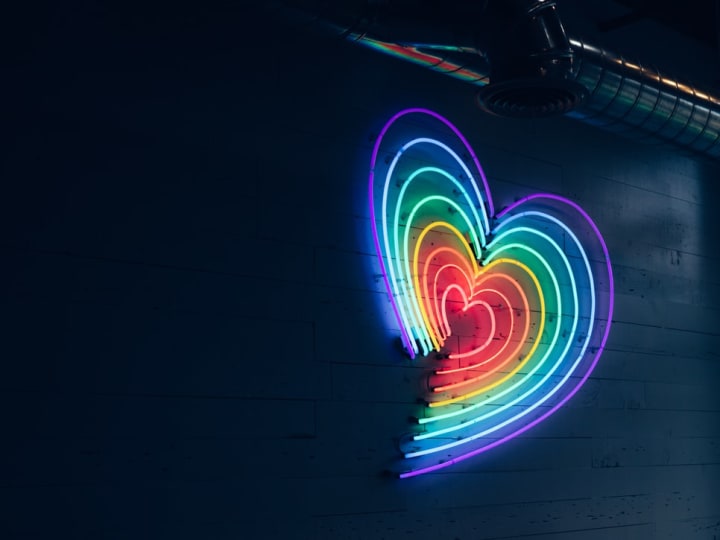 I wanted more than anything to be accepted, loved. I wanted to trust my mother loved me as her gay daughter, and that I was still a "goldenchild" in her eyes. Our relationship once seemed so simple. She was my mother and I was her daughter and she loved me. But as I grew up and the signs of my orientation became more visible to her (namely because of my obsession with Captain Janeway), she began to chastize my interests and put down my love of Star Trek. This is a subject I write extensively about as well.
To this day, I'll never understand why my mother would denigrate her daughter's passion for a franchise that promotes peace, humility, unity and teamwork when there were Britneys Spears fans running around in pigtails half-naked singing about sex.
It wasn't long before my mother was shuffling us around. She reconnected with her old high school sweetheart and for a time, we went horseback riding and fell in love with classic rock music. Up until public school, I'd never considered myself to be sheltered. But this was a whole new world, and it seemed fun. At first. Suddenly, I was allowed to like Harry Potter. But still, not Star Trek was frowned upon. Especially Voyager, and especially Janeway.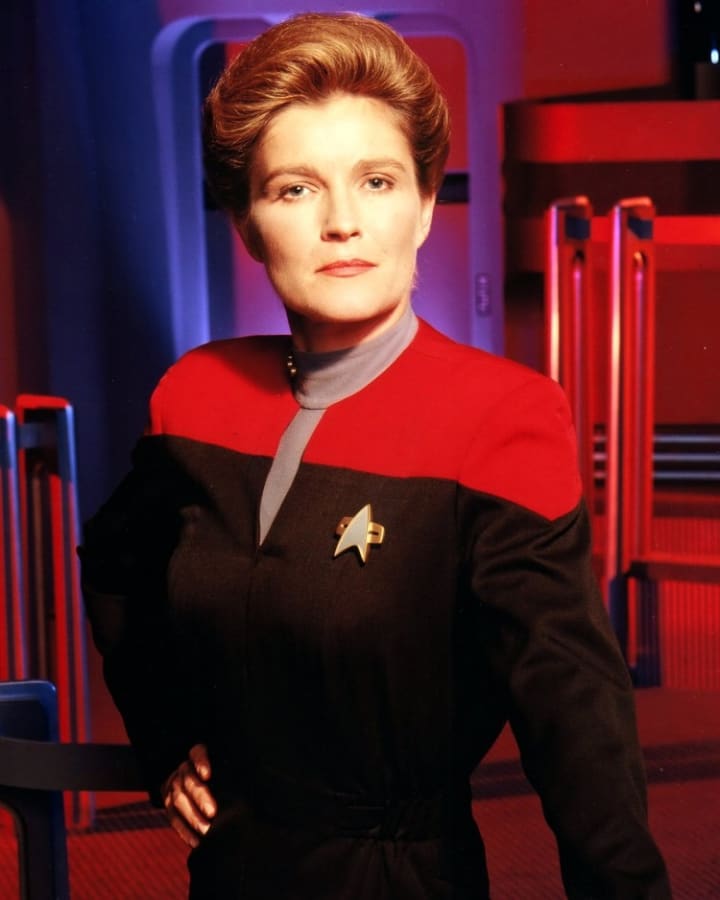 The experience of listening to Pink Floyd's " Dark Side of the Moon" during the Planetarium show at Griffith Observatory really inspired me to make music, even though my desire to learn how to play an instrument didn't really come to fruition until my twenties. I started on a keyboard and ended up with a guitar.
Looking back, I wouldn't have it any other way. I've survived countless tragedies, as well as several direct brushes with death, and learned a thing or two. It's my most fervent wish for Humanity to unite and advance toward a healthier, more equitable and just global society. I believe it is possible for such a thing to happen, and I even fully believe it can happen in our lifetime.
On what made her decide to start writing:
I never really decided. The famous writer Rainier Rilke once said: "If everyday when you wake up, the only thing you can think about is writing then you're a writer." Writing has always been a part of me, always something I have done. We were homeschooled and enjoyed learning, so by extension, we wrote a lot of research papers on animals and places around the world we wanted to visit someday.
Both of my parents are writers as well, so I suppose I was always meant to be one, too. Zora Neale Hurston said that there is no agony like bearing an untold story inside you, and I find that to be quite true.
On the things and people that inspire her to create:
[Writing is] simply a core aspect of my nature. The natural world itself inspires me, particularly in my science fiction works. I find everything about astronomy and the study of the cosmos absolutely mesmerizing, and I spend a great deal of time marvelling at each new wonder we continue to reveal as we explore further.
In terms of writers/playwrights who have inspired me, my list is long!
Right now, today: Flannery O'Connor, Isaac Asimov, Philip K Dick, Heinlein, Lovecraft, Shelley, and Thomas Paine. Actors: Katharine Hepburn, Kate Mulgrew & Pamela Rabe. Filmmakers/Directors: Ava Duvernay, Jordan Peele, Ridley Scott, David Lynch and many, many others!
But quite honestly, my fiancée is the most inspirational person to me. She's given me the freedom to simply create without anxiety or fear. She supports me completely, and I her. We are very fortunate to have found one another. I live in a perpetual state of awe and thanksgiving for this gift I call my soulmate.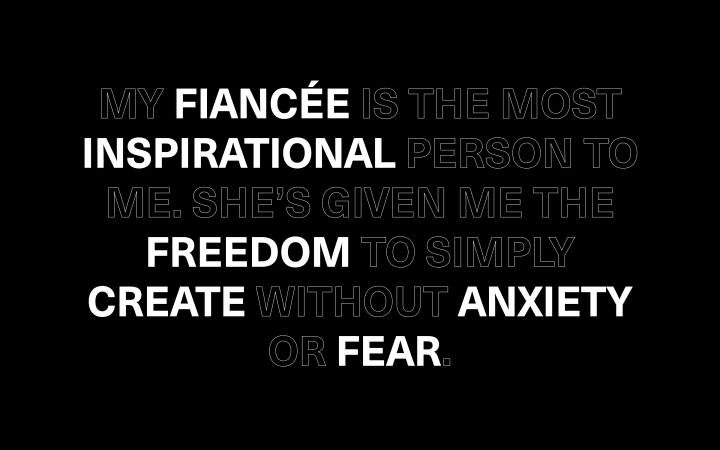 My parents' divorce influenced me quite strongly because it forced me to question all of my beliefs about family and especially Christianity. Serving in the US Army and my experiences during that relatively brief period helped shape the most core elements of my present identity. Enduring a 6 year long relationship fraught with alcohol-induced physical and psychological violence like something out of the movie "Gaslight" influences a lot of my psychological thriller stories.
While many of my stories are centered on sci-fi or sci-fi thrillers with paranormal bends, the type of horror I write is centered on human sociopathy and the degradation of secularism in society. If you were to make any comparison to another author, perhaps Margaret Atwood? But it's more subtle, taking influence from Rob Zombie and Flannery O'Connor, or perhaps Stephen King's Needful Things.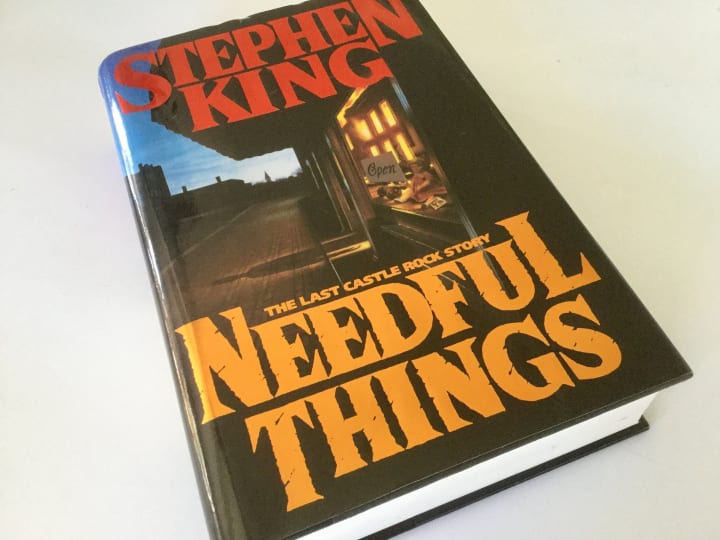 Being hospitalised more than half a dozen times, misdiagnosed with anything from BPD to full blown Schizophrenia and everything else in between impacts my views and creative pursuits tremendously. All if not most of my protagonists grapple with some form of mental illness, and we get to follow each one's journey explored in unique and multi-faceted ways.
I'll never forgive myself if I don't mention how my life in Australia shaped me tremendously, as well as my experiences working in the entertainment industry, particularly in and around the Star Trek franchise.
On her contributions to the the sci-fi genre:
My stories grapple with religiosity head on. They are about the duality of science and religion and the need for a more symbiotic relationship between the two.
The very fabric of science fiction rests on just that, science. I take a great deal of inspiration for this particular story from Isaac Asimov. However, Asimov was an Atheist, like Gene Roddenberry, so there was an inherent bias and a desire to exclude religion from the genre. Many visionaries, especially Roddenberry, believed religion to be like an evolutionary brain appendix. We don't need it but some part of our brain still thinks we do. They thought we would, as a species, evolve beyond it, so religion is often ignored by the genre entirely or treated with disdain.
There is an episode of "Star Trek: Voyager" called "Sacred Ground" and it's about how Captain Janeway must undergo a mysterious alien ritual in order to cure her crewmember after she sustains a shock that's left her in a coma. Janeway, a staunch scientist, believes the ritual is really just a dressed up means to a scientific, evidence-based cure but when her perception is challenged, she is left questioning her own beliefs.
My style of storytelling pushes the genre outside of its own comfort zone by placing religion and science side-by-side and examining what could be possible for Humanity if we were to simply work together. I wanted to present a different take on the privatisation of space exploration as well, one that is more realistic in terms of the sources of inspiration who already exist in the real world. I am a surrealist at heart, and with ADHD, the world can be quite a topsy-turvy place anyway, so there are elements of magical realism or surrealism in my stories. I enjoy making people wonder what the hell is really going on. That nothing is ever as it seems.
Women drive my stories, but there is great diversity in their development. Inspired by Gene Roddenberry's famous Vulcan concept, "Infinite Diversity in Infinite Combinations", the universe of "Glass Stars" includes many different expressions of the feminine. Androgyny plays a vital role in the underlying theme of the franchise as well.
One of the major themes of the story is that Humanity's imperfections can be redeemed through the metamorphosis of death. It posits that we must pierce the veil itself in order to seek Paradise in a world that lies far beyond the stars.
Glass Stars tells the other side of Humanity's story, of Earth's self-destruction, redemption and ultimate rebirth. My ode to Asimov, Milton and perhaps even Battlestar Galactica.
On which Vocal community she feels most at home in:
I don't have a "home", per se. But I do love Futurism! I shift from topic to topic because I have ADHD, but I definitely have a passion for niche writing about philosophy and how to make society more equitable, enjoyable and just overall. If I had all the money in the world, I'd probably be doing the same type of thing that Elon Musk is trying to achieve, which is to advance our technology as much as possible toward a more equitable future for all.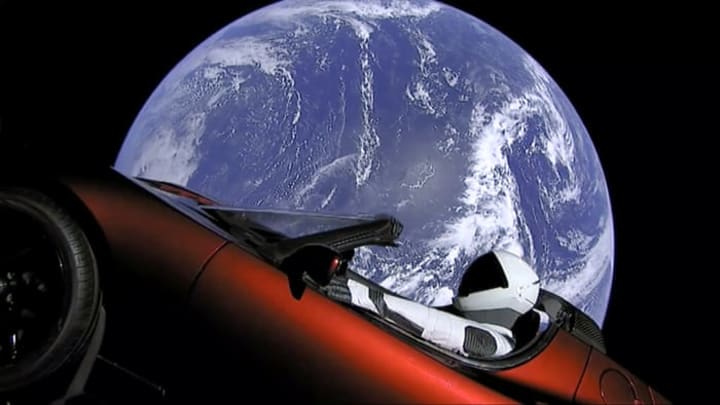 On "Leave Normal Behind" and what's keeping her sane in these crazy times:
Star Trek rewatches and creative pursuits! Music, writing and making fun TikTok videos with my fiancée top my list of things that keep me sane generally, but since I recovered from a nasty blend of Strep and COVID-19 symptoms, they've really become a source of positivity that's kept me going.
Just prior to the lockdown, as well as throughout the duration, I have continued to work on behalf of LNB to secure partners for our new podcast called Above Normal. We've got WNBA Legend & Olympic Gold Medalist Cappie Pondexter co-hosting this great new property alongside LNB Founder Rob Fajardo where we talk with our members as well as special celebrity guests from every industry, walk of life and perceived success level about everything from the definition of "stoicism" to attracting the right people to you.
Leave Normal Behind is on a mission to inspire 8 billion people to become the best version of themselves possible by creating conscious, educational and entertaining content that about giving back from a place of love and encouraging others to do the same within the framework of the LNB ideology can truly result in credible, visibly impactful real-world systemic change.
We're a Modern Day Renaissance movement that's tapping into what we already know to be true: there is a critical paradigm shift at work in the world right now, and we're here to inspire people to actually use this opportunity to make meaningful, long term positive changes to our society. We're artists, entrepreneurs, musicians, actors, homemakers, connectors, movers and shakers. We're transgenerational and we deeply cherish the diversity of our team.
As "postpartisan" humanists, we're not a political organisation and we as a whole don't belong to or ascribe to any one political party's platform or the other. We're altruists with a positive belief in Mankind's inherent potential to do and be better. We're simply here to do authentically good things and make people's lives better by connecting our members to much-needed support and resources, producing encouraging, thoughtful and conscious but entertaining media content and encouraging everyone to #leavenormalbehind with us!
Official IG Handle for Podcast: @abovenormalpodcast
Executive Producer (Me): @katharynrking
Co-Host & Producer: @rob_fajardo
Co-Host & Producer: @cappa23
Co-Host & Associate Producer: @thebiancabethune
On her favorite story she's published on Vocal:
One of my favourite stories is "WWJD: What Would Janeway Do?", followed closely by "Glass Stars".
Don't think about it—first thing that comes to mind:
What is one thing you couldn't live without?
Laughter
Cats or dogs?
Both!
Favorite travel destination?
Australia (home sweet home)
What's your go-to late night snack?
Meat n cheese rollup!
What are you currently binge watching?
Battlestar Galactica, Star Trek: Deep Space Nine and Dead To Me Season 2
If you could speak a new language, what would it be and why?
I'd like to learn Elvish because it sounds so beautiful!
Favorite story you read on Vocal by another creator?
"The Future of AI and Humanity in iHuman" by Nikoleta Morales
Closing Thoughts
If there's anything we can take away from Kat's work, it's this: we're not alone. We're not alone at our lowest points, we're not alone in times we feel misunderstood, and we're not alone in our abstract thoughts on the universe at large. There are never wrong answers in terms of reality--because reality is different for everyone.
Exploring the segmentation of our learned perspectives is Kat's bread and butter (or meat n cheese rollup). Through this exploration, she continues to make reality-challenging observations. Of which, she concludes that no matter the walk of life, no matter the universe, we (those who experience life) are all so thankfully similar.
Thank you Kat for taking the time to help us share your story! It was a pleasure getting to learn more about you. We'll be sure to keep our eyes peeled for your future posts!