Creator Spotlight: Eva Smite
"Creating helps you listen to yourself, find out who you really are below the surface, and learn to separate what is truly yours and what is conditioned by outside influences." —Eva Smite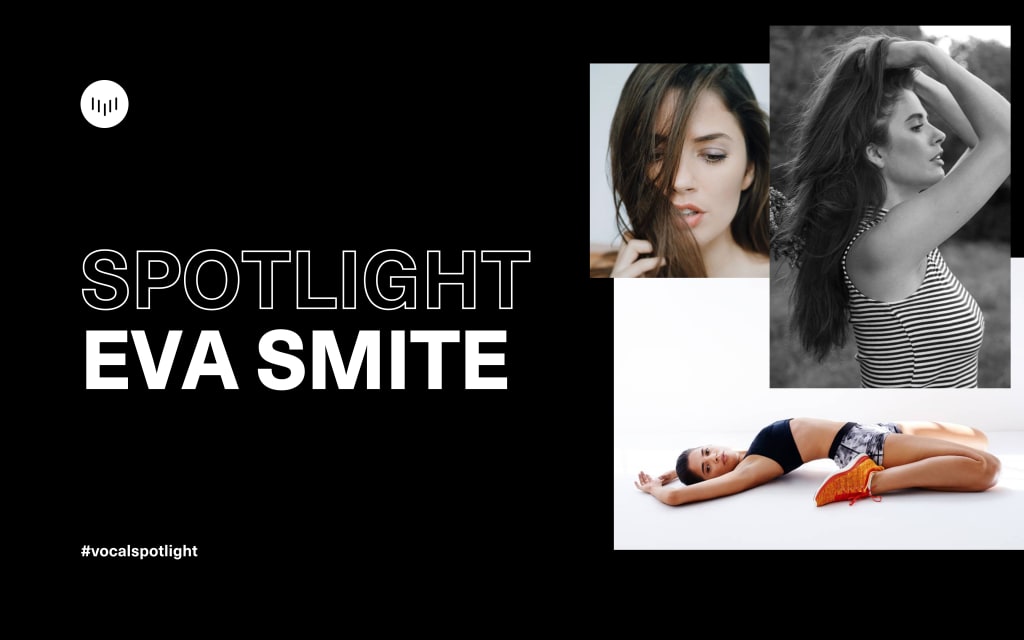 Writer, model, and girl boss Eva Smite is on a mission: celebrate and empower others through her storytelling. She's been creating on Vocal for just over a year, and focuses on self love, body positivity, and being unequivocally kind in her stories. Eva founded Mindful Models in 2018 to bring consciousness to the modeling industry in a way that highlights respect and acceptance. We sat down with Eva to get to know her a little better, and here's what she had to say.
On how Eva got started:
I started modeling by chance, even though I don't really believe in coincidence anymore. I was working in a nightclub as a bartender at the time, which was my very first job. Coming from a single parent family with limited funds, I had to prioritise work as opposed to going to uni. That club hired female bartenders only; I think they were trying to recreate a Coyote Ugly theme, which was a very fun environment to be in. This is where I was approached by a modelling scout one night.
I doubt I even knew what I wanted to be back then. I feel like only now, in my thirties, have I started to realise who I am and what I want. My early years were not the most conducive to finding that out, partially because I never felt accepted, which can be quite traumatising for a child. Being a late bloomer, I was bullied for being the shortest and skinniest in the class and being flat chested for longer than most. There was definitely some ugly duckling syndrome going on, and while it was only part of the story, it was significant enough to affect my choices.
Looking back I can see I was always intellectually gifted, whether it was maths, literature, languages, history, or something more creative, like acting. I also read an enormous amount of books as a child, so the love for the written word was always present. It seems like at some point none of that mattered to me anymore as I simply didn't feel good enough. That deep insecurity definitely played a huge role in me becoming a model, because it confirmed that I was beautiful after all. Now I can see clearly how limiting this constant overemphasis on one's appearance is to human potential and how much unnecessary insecurity it breeds, especially in women; sometimes it even prevents them from developing their intellectual and creative gifts. I don't regret anything though, and I'm very grateful as modeling certainly opened many doors for me at the time, and with my country joining the EU I was able to relocate and live in the UK, which further added to my growth.
On what inspires Eva:
I've never analysed what exactly inspires me to write. I guess it's certain events, whether in my own life or in the lives of other people—I find it inspirational when people overcome obstacles and barriers, whether external or internal, and then empower others who are going through similar experiences.
I also find it inspirational when people don't conform to society's norms in one way or another—people who have a certain level of individuality and freedom in their choices and ways of thinking, not buying into herd mentality. It's something that resonates with me; after feeling like an outsider since my early years, at some point I gave up trying to fit in and by now I'm relieved that I did.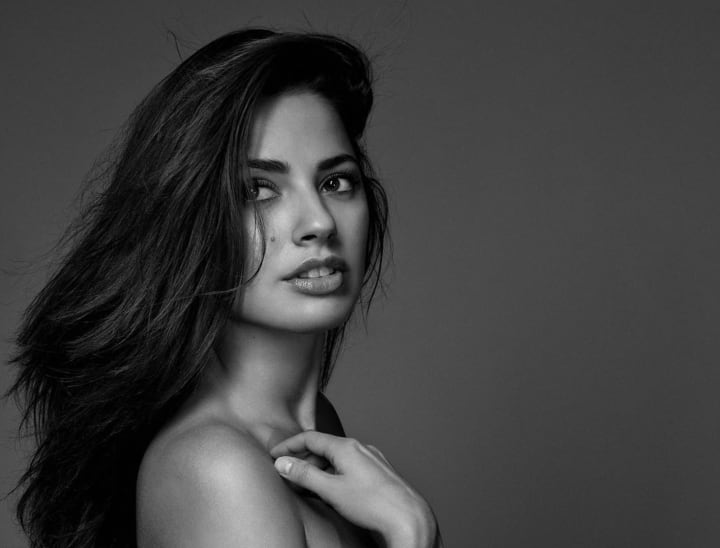 I think we're all capable of greatness. I am inspired and heavily influenced by quite a few people. In the past, I was into spiritual teachers like Osho, Eckhart Tolle, and Neal Donald Walsh to name a few. Then there was a stage of studying philosophy, and my favourite philosopher was Baruch Spinoza.
Currently, I seem to be most inspired by certain women who are trying to make a change in the world, like Marianne Williamson who, after a successful career as a writer and spiritual teacher, is getting involved in politics; actress and activist Jameela Jamil, who empowers women all over the world and stands up to big corporations like Avon to be more mindful and considerate in their advertising approach. Then there's an amazing girl, Leanne Maskell, whom I know personally; she's also a model and she is doing so much for all of us. She has a law degree and educates models who are often clueless about the legal side of things; she starts petitions to change the legislation of the industry; she wrote a book called Model Manifesto that is coming out this spring. Then there are guys like actor Justin Baldoni, and artist Richard Williams (better known as Prince Ea), who both use social media to make a difference. And my favourite writer at the moment is Jeff Brown who, in my opinion, has a perfect balance of heart and intellect.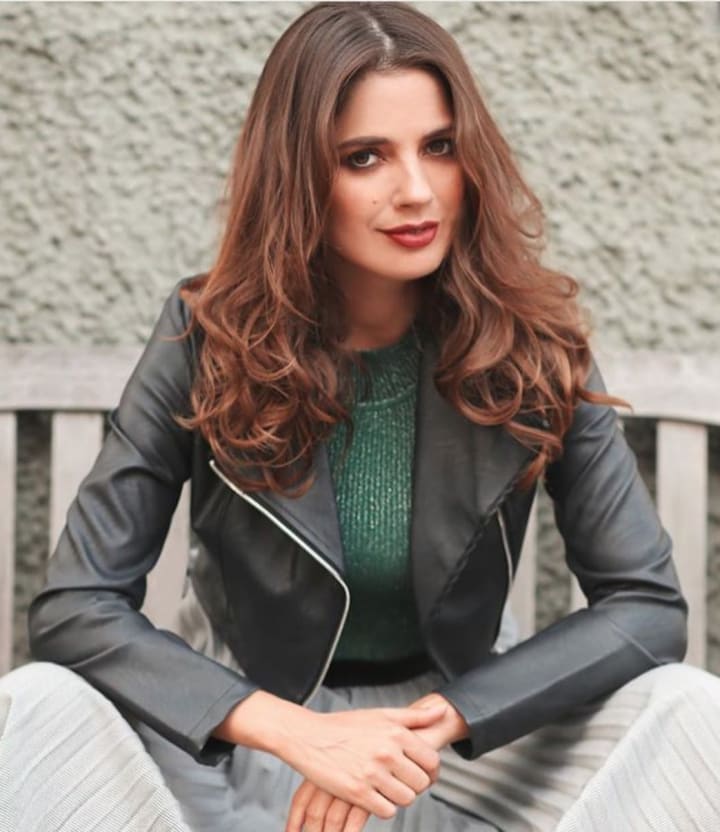 On self awareness:
I don't love the word "positivity," as it implies "always happy," which is hardly possible when it comes to real life. I prefer "self awareness." I know firsthand what it's like to suffer from depression and anxiety, and what it's like to feel misunderstood or to be considered weak or weird because of it, as it's largely stigmatised and misunderstood in our society. People fear what they cannot understand.
But if we look back in history, some of the greatest creative geniuses suffered with those issues, which hints that there is a connection between sensitivity or susceptibility to mental health issues and creativity. With greater awareness comes greater sensitivity, and it's sort of a double edged sword—a price to pay for feeling the good, the bad, and the ugly and being able to communicate it through art and other mediums.
And yet, sensitivity is still frowned upon and considered as a weakness, especially in men. However, we live in an incredible time when a lot of those limiting narratives are changing. With many celebrities and even members of royalty like Prince William speaking about mental health, a lot is shifting these days. I think it's important to focus on those who are speaking up and being vulnerable; those are the ones who will make a change and give a voice to others.
On creating a good story: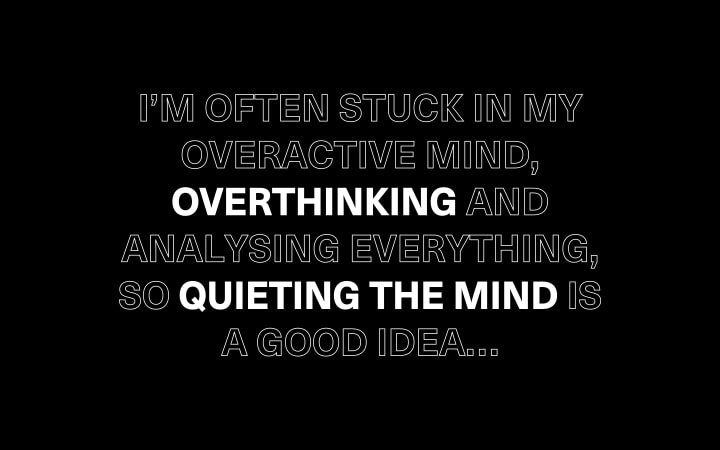 I'm not sure if inspiration is something we can control, as it seems to have a mind of its own... I suppose we can affect things to a degree by trying to create the right environment and by exposing ourselves to inspirational information. But above all, I think it's important to stay connected to yourself, to be aligned internally—mind/body/spirit. I'm often stuck in my overactive mind, overthinking and analysing everything, so quieting the mind is a good idea, whether it's going for a walk in the park, meditating, listening to music, etc. However, I also think if inspiration doesn't flow organically, there's no point trying to push it; the more we get in touch with who we really are, the more likely it will visit us when we least expect it.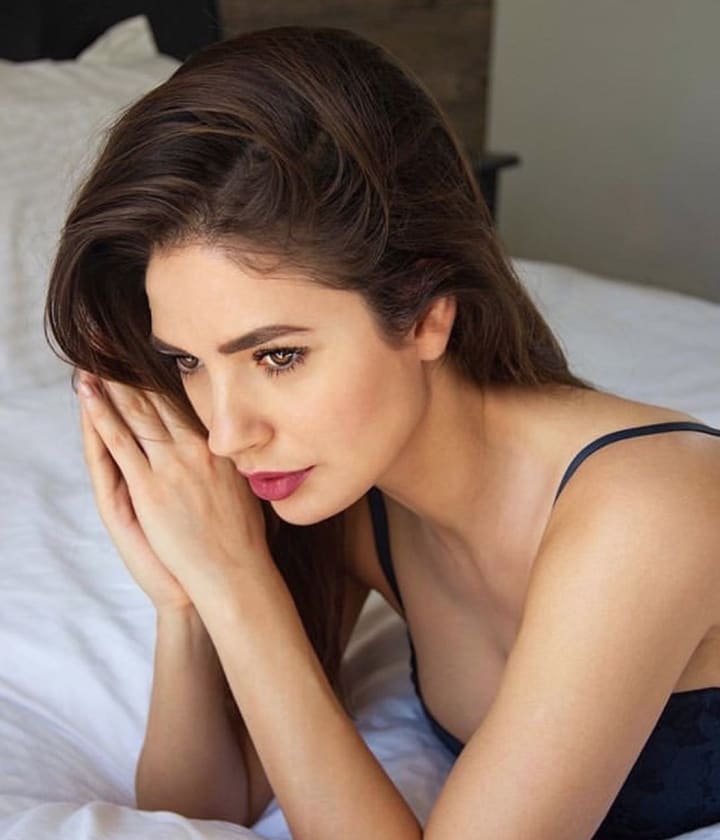 My most inspirational moments so far seemed to be totally out of my control; certain insights would just arrive and urge me to write them down. One thing that I certainly would recommend doing is when that happens, write those ideas down on your iPhone notes, as you can always develop that thought later on. It's something I learned from a creative friend of mine and it's something that works for both of us.
In terms of what I consume, I used to read a lot of books, but with the arrival of social media my attention span dropped significantly. I have to almost push myself to start and finish a book. I read a lot of online articles on subjects that are of interest. Recently, I discovered that I do enjoy podcasts, plus listening to them can be combined with other activities. There's this podcast called Ted Radio Hour that I absolutely love.
On the benefits of creating: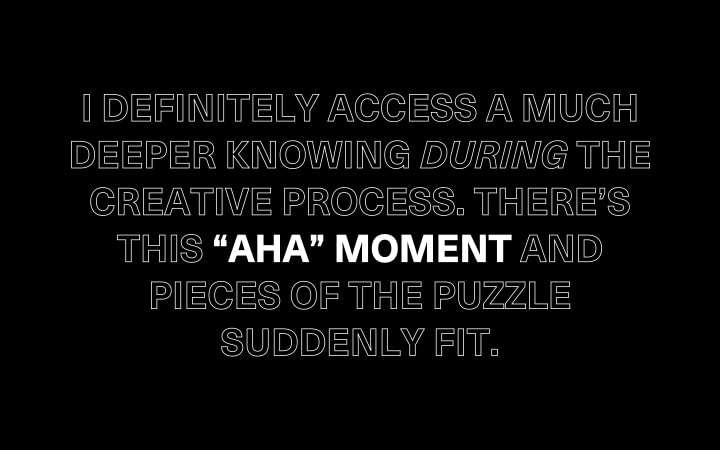 Creating helps you listen to yourself, find out who you really are below the surface, and learn to separate what is truly yours and what's conditioned by outside influences. It might take some solitude and self reflection, but it's so worth it. We all have so much stuff we picked up from others and never questioned whether it even belongs to us. Creativity is not valued as highly in our society as productivity in other areas, but we are all creators in a way, no matter the industry.
There's definitely a lot of growth and expansion going on when it comes to exercising the muscle of creativity. I think it was Elisabeth Gilbert—one of the most celebrated authors of our generation—who said in her workshop that creativity belongs to a region of the brain that developed relatively recently compared to, let's say, the region that deals with fear and is the most ancient. So could it be the case that to create means to evolve? To sort of transcend the fear-based thinking of our animal part and access higher ways of understanding? I definitely access a much deeper knowing during the creative process. There's this "aha" moment and pieces of the puzzle suddenly fit.
On what she's loving right now:
Cats or dogs? Cats.
How do you like your eggs? Soft boiled.
All time favorite movie? Midnight in Paris.
Favorite character from Friends? Tough one. I love them all! But if I had to pick one, it's either Chandler or Phoebe. They're the funniest in my opinion. I've always had a bit of a crush on Chandler, and Phoebe is the most unconventional/spiritual one of the group, so maybe that's why. :)
If you could go anywhere for vacation right now, where would you go? The beach, anywhere tropical. I'm a summer baby, after all.
If you could speak a new language, what would it be and why? Portuguese is very sexy.
Favorite local bar, coffee shop, or restaurant?Whole Foods.
Best thing to do in your city on a rainy day?Netflix and Deliveroo.
What's your favorite Spotify playlist at the moment? I'm a big fan of 80's and 90's music, so anything to do with that.
You can read Eva's latest story here, and keep up with Mindful Models on Instagram.
spotlight
About the author
Vocal Spotlight aims to highlight standout creators who are changing the world one story at a time. We're getting to know the storytellers who inspire us the most, and we can't wait for you to meet them.
Reader insights
Outstanding
Excellent work. Looking forward to reading more!
Top insight
On-point and relevant

Writing reflected the title & theme
Add your insights