Wine... What's it All About?
Wining around the world.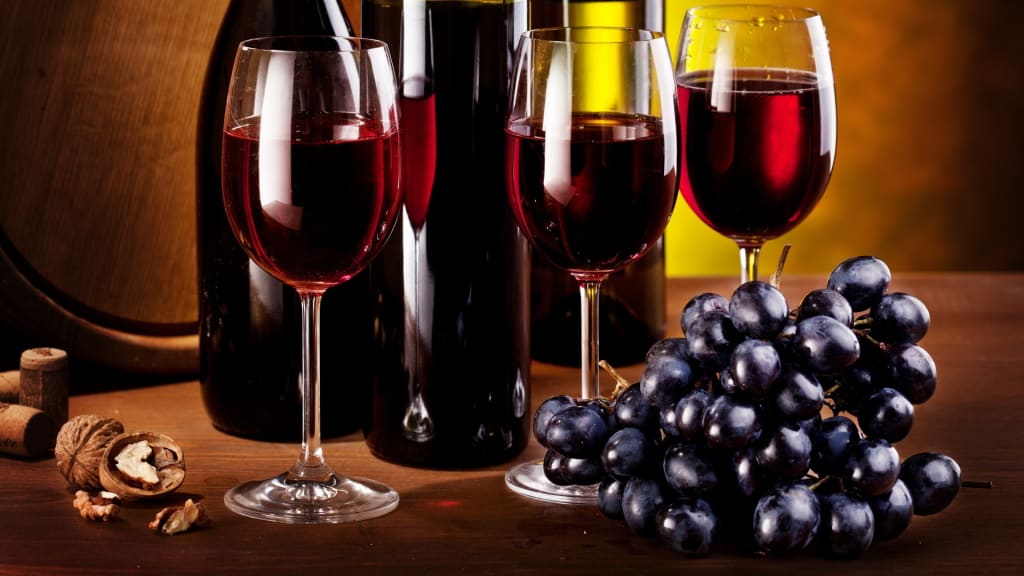 The state of wine globally
Here is an interesting little factoid about worldwide wine consumption. According to the World Wine Institute, in 2009, France topped the list with 12.40% of the world's consumption. U.S. consumption of the world's wine was a close second with 11.70%, followed by Italy, and China taking the third and fourth spots respectively. The rest of the worlds' wine consuming countries split up the balance.
Conversely, the worlds' top producers of wines is a bit different. France does top the list again, with 17.56%, but Italy takes the next spot at 17.38%, followed by Spain with 14.20%, and the U.S. rounds out fourth place with 10.38%. Again the rest of the world's countries split up the balance.
What does this all mean? Well, the U.S may not be the biggest producer of wine in the world, but next to France, we consume the most.
Wine is the only beverage that evolves from the moment you open the bottle.
So when I say "evolves," let me qualify that. When you read this article, what I would like you to take away from it, is a better understanding of the liquid in your glass, and its impact on our modern society.
As soon as you pop the cork or screw the cap off, the wine you have one moment will not be the one you have ten minutes later, three hours later or three days later (if you have any left that is). Pair it with a great dish, and it will impact the food as the food will impact your wine. You can't say that about soda, iced tea, lemonade, or even water.
Wine is "alive" it goes through a sort of "metamorphosis" from the vine, to the oak barrels, from fermentation, to the bottle, and then to your glass.
Many things affect it, change it, in order for you to drink what you appreciate when sitting amongst friends, or with a great meal.
So why is this the case? Well, let's take it from the bottom up. First things first, the type of grape varietal that you drink will determine the type of taste you like. Next, the region of the world the grape is grown in, soil, climate, terroir, also play a big part in the evolution of your wine.
How it is fermented and aged, what type of oak or stainless steel for some white wines it sits in, how long it does. How long it is bottle aged. All these things play a part in what you drink and how it tastes.
Then, of course, the company you are with when you drink it, what mood you are in, all play into the total experience that is "Wine."
What is amazing is that you can go your whole life, trying different wines and varietals, and never drink the same two wines twice. There are so many different types and varietals. That is the beauty of wine, it is an adventure in every bottle. It's the journey of trying them, that makes it so unique a beverage.
Another interesting thing about wine in recent years has been social media's effect on it with the "Millenials" and "Legal to 40 "crowd. Because of smartphones, we, as consumers, have the ability to take a picture of a new wine we've tried and tweet, email, or text it to our friends. An instantaneous decision is made as to whether we like it or dislike it. No focus group, marketing meeting, mailer, or telemarketing campaign can compete with that.
Wine consumers are now shaping the way wine is marketed to them on a daily basis. The wine makers who are listening, and being proactive in using social media to promote their wines, are winning coveted retail shelf space. The ones that are not, well, are quickly being replaced on those shelves, and in our glasses.
Some top wine varietals that are being consumed are Cabernet Sauvignon, Pinot Noir, Malbecs, and Italian Blends for reds, and Chardonnay, Sauvignon Blanc, Pinot Grigio and Moscato for whites.
If it has an odd looking label design or unusual name, consumers are buying those wines up, first. Names like; Cannonball Cabernet, Ménage au Trois red blend, Mommy's Time Out Pinot Grigio, Plungerhead Zinfandel, are just a small example of creativity from wine makers who have attempted to, capture our palates as well as empty our wallets.
Where do we go to enjoy wine? With the advent of Wine Bars opening up in many towns across the U.S., along with a Wine Festival or fair cropping up in all the little hamlets and cities, we don't have to travel too far to enjoy it.
From the South Beach Wine & Food Festival to the Buffalo NY Wine Festival, pick any month out of the year, travel anywhere nationally, and you will have a wine festival, fair or tasting to go to.
Wine can be made just about anywhere, but not grown anywhere. Because of the type of soil and climate needed for grapes to grow and thrive in, many places in the US and Worldwide, are not suitable to grow grapes. Anyone can make wine, with the right equipment, but not everyone can make wine, well!
Wine has been produced in America for over 300 years.
California makes up about 89%, though wine has been produced in many states, like Virginia for instance.
Thomas Jefferson, one of our founding fathers, wrote about and was a connoisseur of wine. A bottle of his 1787 Chateau La Fite, owned by Jefferson, and passed down to one of his descendants, at a 1985 Christies auction, fetched a whopping $160,000 dollars. At that time, it was the most expensive bottle of wine ever sold, according to The Guinness Book of World Records.
You can drive from Texas in the Midwest to Arizona's desert, and you will inevitably find vineyards to stop in and sip wine at. What is truly amazing is that we have become a wine culture over a relatively short span of time.
France essentially put wine on the world map for consumers, and the U.S. took the reigns about 40 years ago, with California wines, and created a whole new market. That is not to say that in my humble opinion, that California wine is better than French. It is only to say look at how far we have come as consumers and marketers in only 40 years in comparison to how long wine has been around.
Choosing a wine at a restaurant or at a retailer has become much easier over the years, where it used to be a challenge. We, as consumers, educated ourselves as to what is the right vintage, wine for the meal we are enjoying, temperature it should be at, etc.. I have to say from my observation, over the past 17years I have been in the wine business, we as US consumers, are truly into this whole wine sipping experience.
Wine and cheese parties, In-home wine tastings, wine clubs, wine excursions on cruise lines, wine bars, these are just some of the places we are enjoying the experience of wine.
Let me end this article on this note. Think of this when you are going out to purchase your next bottle of wine or sip on it at your favorite restaurant. As the most important thing in Real Estate is "Location, location, location" with wine it is "Taste, taste, taste." Never find yourself saying, "I only drink (your varietal here)." Find yourself saying, "If it's wine, I'll, try it."
To find out more about wine, listen to my radio show "Wine Talk with Stu The Wine Guru" here.
Or subscribe to my ITUNES account to download for free, any or all 135 podcasts.
Go to YouTube, put Stu Nudelman in the search bar, and watch all my TV appearances on NBC, CNBC, PBS networks, and other web shows as well.
Email me any if you wine questions at [email protected]
As I always say, "If it's time to pour the wine, it's time for Stu The Wine Guru. Drink up!"
wine
vineyard
About the author
WSET Level 2 Certified Sommelier
Traveled the world for wine
Interviewed; celebrities, wine makers, sports legends, top chefs
TV: NBC, CNBC , PBS
Wine Judge: American Fine Wine Competition.
Twitter: @stuthewineguru
Instagram: @stuthewineguru
Reader insights
Be the first to share your insights about this piece.
Add your insights