Top 25 Kosher Red Wines
Mazal tov! Kosher red wines are here to help you celebrate most any occasion.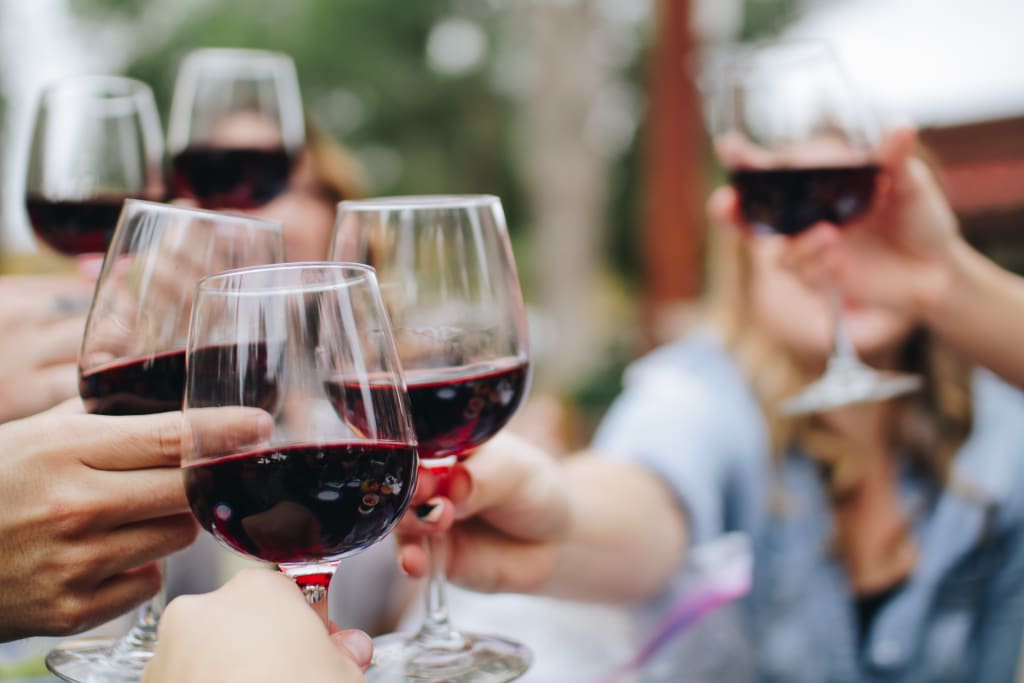 For the past several years, my family and I have invited my Jewish college roommate over for Easter. My mother looks at this as an opportunity to share the wealth, so to speak, while my friend and I use it as an opportunity to rip on him for how poorly he follows his own doctrines. My entire family has found it to be an endearing practice, and a good way to keep in touch since he's moved to the other side of the state after joining the Air Force.
The first year we practiced this little experiment of ours, we sat around the living room shooting the breeze, waiting until my mother pulled the ham and the lasagna out of the oven. When we were summoned to the table, my grandfather, after drinking an undetermined number of Miller Genuine Drafts, pointed at the wine my mother was pouring my dear friend Sam and asked, "Is that kosher?" Sam, always in good spirits, almost fell back in his chair. While we all sat and conversation returned to normal (read: I was stuffing my face while everyone was talking amongst themselves) I began to start thinking that we weren't doing enough for my friend. That's why this year, I'll be bringing a few kosher red wines to the table so that we can all feel a little more connected, if not just by laughter alone.
Everybody likes to get the party started, right? And when you're at a day-drinking event like Easter or Purim, there's no reason not to savor something sweet. That's where Rashi's Joyvin Red Blend comes in. The partially fermented grapes make for a sweet kosher wine that is fruity, light, and is an overall solid choice as an apéritif. Whether you want to serve this with raspberry vinaigrette or chocolate-covered strawberries, you can't go wrong so long as you serve it chilled (and if you're trained to think that serving wine chilled is exclusively for white wines, a guide for chilling red wines should alleviate all your concerns). And, as an extra added, this wine is Mevushal; perfect for any holiday.
Some people who have a sweet tooth prefer a more flavorful affair though, right? We all can't handle wines that taste like they're off the stem, plain and simple. Luckily, Weinstock's Red by W flirts with bolder flavors, smelling like blackberries and pomegranate, and filling your mouth the same way grenadine does. Because of its crisp finish, it pairs well with foods that are rich in flavor by themselves, but none more so than chocolate. Indulge and enjoy.
Despite humble beginnings, having only been establish in the year 2000, and after you read about the great lengths that this winery goes through to make the best possible kosher red wines, you'll certainly understand why this wine is perfect for most any occasion. Mixing together a Cabernet Sauvignon, a Merlot, and a Shiraz, Recanati created this red blend that works across different parts of the meal. Regardless of whether you're pairing it with your bubbe's spicy shakshuka or serving it with hummus as your guests walk through the door, this kosher wine will be sure to compliment anything you want to pair it with. Just pop the cork and let those wonderful, fruitful aromas breathe a little before your first sip.
Italy's Cantina Gabriele outdid themselves with this kosher Chianti, and I expect everyone at my house for Easter this year will find something they like about it. Velvety and balancing evenly on your palate, this ruby red wine is perfect to serve with the main course of your meal, regardless if it's chicken, beef, fish, or any other meat dish you can think of.
Straight from The Holy Land, Barkan created a Pinot Noir that is soft, sultry, and exquisite. Another one of the kosher red wines best served cool, its medium body compliments lighter red meats perfectly, while its strawberry, cherry, minty aroma will give you the crisp finish you'd want to compliment the veggies that go with your protein of choice.
With a name like Dakor in front of a Cabernet Sauvignon, you'd have to expect that this kosher wine is a drinking experience. Full-bodied, flavorful in its own right, and emerging out of South America, this Chilean wine might be better when you're done cleaning for the night; however, I'd be absolutely remiss if I didn't suggest you try this with dessert on your plate. It is one half of a whole of the tastiest wine and chocolate pairings you'll ever drink after all. The best recommendation I can give you about this kosher wine though is to take in a full breath of those deep red and black berries before you sip.
Though a Baron is a lower-level member of nobility, I very much doubt, after your first sip, you'll pass up on this kosher wine without giving it significant reverence. Defined as an "approachable" Cabernet Sauvignon, it's more important to note the fact that it is aged 18 months in stainless steel before being bottled, providing you, the humble drinker, the berry and plum profile that it is renowned for. The spices that characterize the drink make pairing the wine a breeze, complimenting every type of food with its slightly acidic nature.
Recanati has a number of well-established wineries practically along the coast of the Mediterranean, which means that a number of kosher red wines are available for your dining experience; just be careful though, this one is not Mevushal. The grapes for this particular Cab are cultivated during mid- to late-September in clusters, and are stored chilled for two days after they're crushed before moving on to the fermentation process in French and American oak barrels. The result? A ruby red, medium-bodied, delicately savory and spicy kosher wine.
Though not Mevushal, a great Bordeaux is not hard to find. That makes this French-hailing kosher wine one that you won't soon forget (lest you drink the whole bottle by yourself... no judgement here). Having grapes grown out of the clay and gravel soil of the region into a humid climate, cooled only by the wind coming off the Atlantic, there should be no surprise why the Bordeaux region is so highly regarded in the wine world. My best recommendation for pairing? Slow roast a lamb and enjoy.
Characteristically, a Pinot Noir is a well-balanced wine that serves itself well with any type of red meat meal you want to serve with it. However, this kosher red wine has the added bonus of complimenting savory desserts just as well. There's no need to take my word for it, though. Pour yourself one glass and revel in that aged, black cherry aroma. You'll be sure to have at least one of these bottles around for your next dinner party, just unfortunately not for the incredibly devout. You guessed it, another wine that is not Mevushal.
From the Galilee region in Israel, this red blend is something special (not Mevushal though). Made with Mourvedre and Syrah grapes, each one accentuates the other; combining to make a kosher wine that compliments food native to the region well. Regardless of whether you are going for a poultry or beef dish, or even something plant-based, this fruity wine will have you feeling fine.
It is unfortunate that, once again, this wine is not Mevushal, but the vineyard does boast roots grown in the Galilee Region of Israel, and is an experience to drink all its own. You'd think the deep, purple color of this Syrah would be enough to entice you to drink it, but with aromas of ripe cherries, black plums, and crème de cassis combined with the tinge of mint and tobacco, you'd be doing yourself a disservice by not having a glass. Since it is such a robust kosher wine, it best compliments something sweet.
I had to throw in a Mevushal wine from Isreal in at some point, right? And who more deserving than Mount Tabor's collection? Not a true Cab, the mix is 90 percent Cabernet Sauvignon and 10 percent Merlot; don't let that slight deviation from its name tag dissuade you though, as it provides a complexity to the wine's profile that you may not have otherwise expected. Of all the kosher red wines you've read about so far, have any smelled faintly of green pepper? It's really just a hint of it, but that small supplement to the main plum, cassis, and raspberry base aroma will have you craving a decadently prepared roast, whether it be lamb, goat, or bovine.
A pure Shiraz is something that can be likened to nectar; and with Dalton, you can be certain that you're getting yourself or your family members something they will truly enjoy with dessert. Though unfortunately not Mevushal, this Israel wine features a number of dark fruits, a little bit of licorice, and just a hint of pepper that will have you conveniently taking a breath of "fresh air" every time you raise your glass to your lips.
The only kosher wine hailing from Spain on this whole list will have you booking your next holiday to visit the wine country that is highly regarded as one of the best of the world. A "Best Value" wine by Wine Enthusiast and Wine Spectator magazines, this winery has a number of Mevushal wines available for consumption, as well as wine absolutely worth consuming alongside a roast and some veggies. Silky smooth and complex to taste, you'll be left looking for the wine key to open up another bottle sooner than you may expect.
Aged for five years after harvest in American and French oak casks, this 50/50 split between a Cab and a Merlot is unfortunately not Mevushal, but is something I'd recommend to everyone who is cooking up any kind of red meat. Defined by having cherry notes, orange blossom, cocoa, and spice, this Israeli wine is distinctive and robust, and completes any number of meals with ease.
We already discussed how the Galilee region of Israel is famous for its vineyards and kosher red wines, and after popping the top of this well-balanced wine, you'll be dreaming of warm days overlooking the water with some of the best cheeses to pair with wine at your side. What is most distinct about this wine in particular is the fact that the fruit went through the maceration process post fermentation, allowing the wine to meld with the oak from the American and French barrels as long as possible before being bottled and drank by you.
For those of you who strictly drink Mevushal wine and are yearning to drink something from the Bordeaux region of France, this one by Chateau Jaumard is the one for you. As a standalone kosher wine for when you have company, or served during the first course, this fruity, medium-boded blend of 70 percent Cabernet Sauvignon and 30 percent Merlot will have you wistful and satisfied well into your meal (and probably even afterwards).
Merlots are the most perfectly balanced red wines that are available for complimenting your meals, and this Reserve from Binyamina will definitely lead you toward understanding why. My main recommendation for this one is to let the wine breathe before drinking it, as the intense aromas coming from the bottle's neck will be enough to tempt you into jumping right into this dry wine as soon as you open it. Serve with any course of your meal! It's practically guaranteed to enhance any dining experience.
Okay, all right, I understand how this might seem like a cop out, but one conversation with a sommelier will surely reinforce the idea that a Reserve is distinctly different than the original batch, though still not Mevushal by composition. What makes this Recanati Reserve different from its more commonly available brethren is the fact that it is aged 18 months in new French oak, and is highlighted by hints of sage, eucalyptus, and clove, among a variety of ripe, dark fruits. You'll want to have red meat or flavorful desserts prepared for when you decide to open this kosher wine up.
This 100 percent Cabernet Franc is aged 12 months while tucked away in the Judean Hills of Israel where it is born and bred. With light tannins and earthy tones, you're going to want something salivating and sweet to compliment the all-encompassing, fruity profile this kosher wine from Psagot offers. Though advertised as a table wine, I'm sure you won't mind tucking this away, too, for a more intimate dining experience.
A wine from the West Coast of the United States, this red blend features a combination of Petite Sirah, Syrah, and Zinfandel grapes that come together for a fruity, silky, and lovable flavor profile. This kosher wine is never heated, and Covenant is notoriously known for not creating Mevushal wine; but so long as you're not breaking your faith by doing so, those factors shouldn't deter you from popping the cork for either appetizers of desserts. I've also heard rumors of this wine complimenting seared lamb chops, but that secret is up for you to uncover.
Full-bodied, nuanced by the spices from the Earth and French Oak it matures in for 18 months, and characterized by the dark fruits that will make you swoon, this non-Mevushal Cab will take your main course to a whole new level. Sure, you could roast a lamb with this kosher wine, but the best suggestion I can give you is to smoke a goose and serve with herbs and mustard for a truly divine dining experience.
Trust me when I say, you will be savoring the lingering finish of this deep purple, kosher wine long after you've put down your glass and started in on your meal. With a complex palate profile, the subtle hints of herbs and spices, and the fresh, fruity aroma, this perfectly balanced wine is intense from start to finish. This Reserve goes just as well with red meat as it does with dessert, so if you're having company, there's no reason to hesitate to open up another bottle. Just don't rush around with it open, you don't want to need to look up the best ways to remove a red wine stain.
The perfect blend of spice and fruity flavor, this Cabernet Sauvignon is just as much a wine you can drink immediately as it is one you can store away for a rainy day. Hailing from Napa County in California, you can be sure of the quality, and though it would compliment all the things Cab's compliment well, a leaner red meat is the way to go when pairing this with food. Unfortunately, the last of the kosher red wines you'll read about today is non-Mevushal, but I hope that doesn't stop you from gifting it to a friend or family member for a dinner party, a birthday, Passover, Purim, or any other special occasion you can think of. Enjoy!