Three Super-Easy Halloween Drinks
Fun for people who barely know what to do with a cocktail shaker
I've always thought of Halloween as the true start of the autumn/winter party season. It's got the cutest decorations and the best outfits, for a start. It's got ancient Celtic traditions, like bobbing for apples, and cats in hats. What's not to love?
This year, though, the pandemic has made Halloween slightly less fabulous. I mean, parties are literally illegal for many of us. Governments are advising against trick-or-treating, and our costumes, if we were even optimistic enough to buy them, are gathering dust.
As an alternative celebration, I've turned to food and drink, one of the few things that can be just as good as ever when you're stuck at home. I've cut and peeled and scooped my way through three or four pumpkins, making pie, cheesecake, scones, curries and bread. I've made pumpkin-shaped rice krispie treats. My family will be more freaked out if they see another pumpkin dish than if they see a ghost!
In the last few days, I've turned to my other great love - booze. I've always been much more interested in drinking the stuff than in playing around with it, so I lack the expertise to make challenging cocktails, but I still wanted to drinking something interesting and seasonal. Each of these drinks can easily be made by someone who lacks both experience and a proper cocktail shaker, i.e., me. They also have the bonus of being lower in alcohol than an actual cocktail, so you can drink all of them and still have the co-ordination required to, say, put a hat on your cat.
I'd recommend carving the pumpkin first, though. We don't want any real severed digits bouncing around. :)
Pumpkin Spiked Latte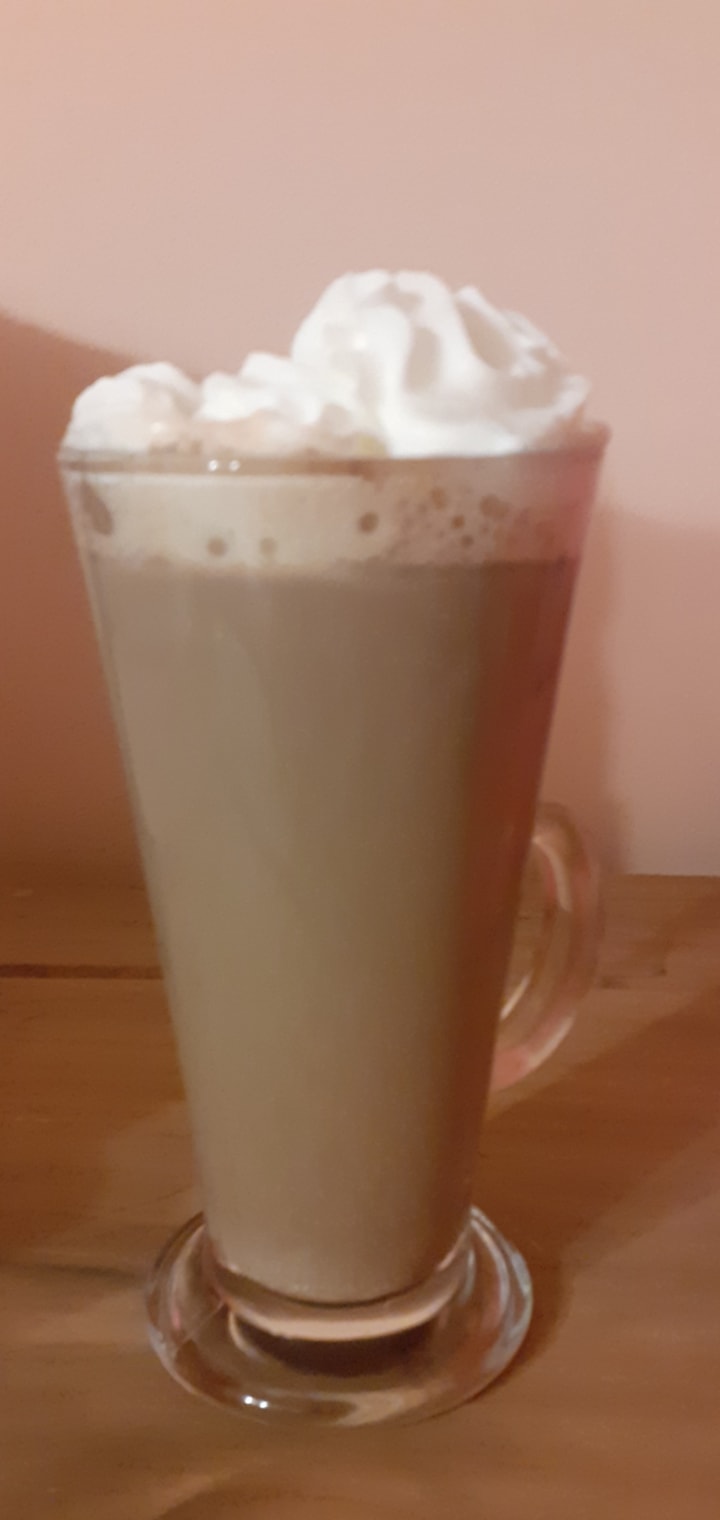 A comforting drink to see you snugly through any autumn evening. You can use the syrup to make regular pumpkin spiced lattes or milkshakes, too. I've never used shop-bought pumpkin spice syrup because this recipe is so quick and easy, but if you have one you like, I can't think of any reason not to use it.
For the syrup (enough for about 4 drinks):
75g golden caster sugar
1/2 tsp ground cinnamon
1/2 tsp ground cloves
1/2 tsp grated nutmeg
1 tsp vanilla essence
80ml water
Simply heat all the ingredients in a small pan until they're melted together. Be careful not to boil it, as it burns quite quickly.
As you're using it for a warm drink, you can go straight to the cocktail. Cool any remaining syrup and keep it in the fridge for up to 2 weeks.
For the drink (each):
1 tbsp pumpkin spice syrup
1 tsp quality instant coffee, or one espresso
150ml milk
50ml Irish cream liqueur or, for a more alcoholic version, 25ml whiskey or rum and 25ml cream liqueur
squirty cream - just for looks!
Heat the milk in a small pan or in the microwave.
Combine the syrup and coffee in a latte mug and top up with the milk.
Add the alcohol and mix thoroughly.
Squirt a good dollop of cream on top and enjoy.
Bitter and Bloody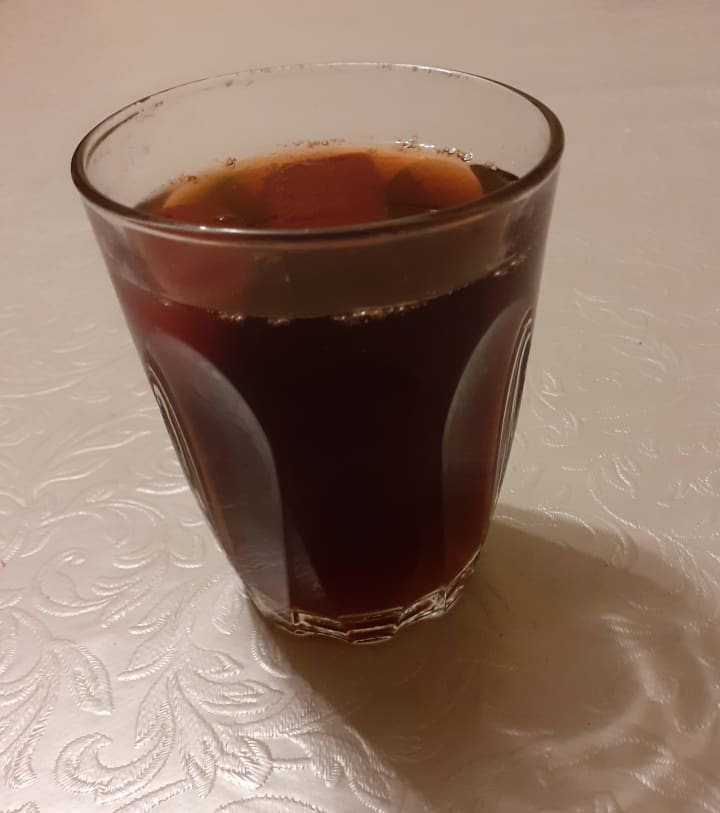 For about 6 'blood' ice cubes:
50ml orange juice, preferably with bits
red food colouring
Mix until you get a good colour, pour into an ice cube tray and freeze.
For the drink:
25-35ml orange flavour gin (you could use ordinary gin with a few drops of orange essence)
a few dashes of agnostura bitters
cola or black fanta
the bloody ice cubes
Mix the orange gin and bitters together and top up with cola or fanta to taste. Add a few bloody ice cubes and try to drink with your vampire teeth in. :)
Coconut Ghosts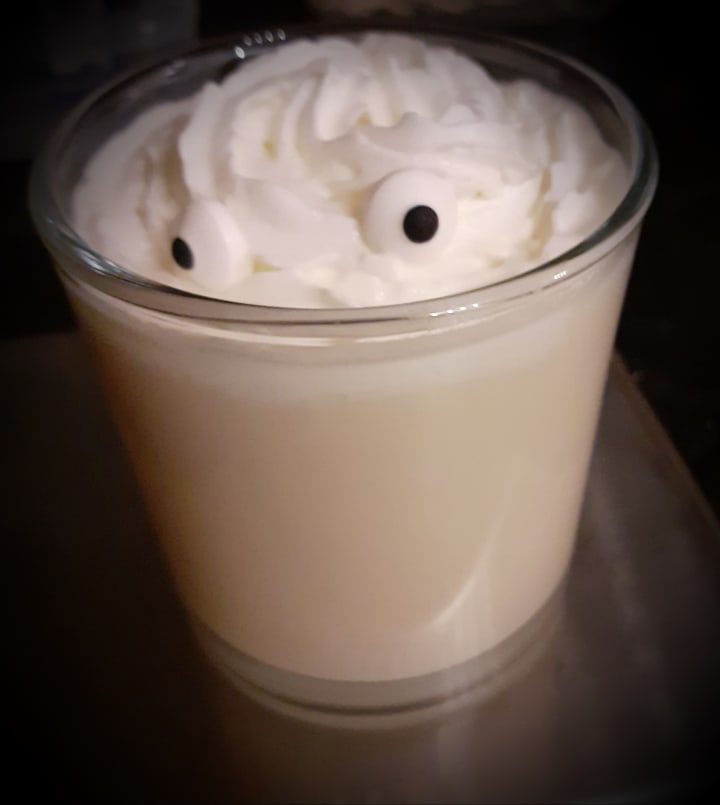 25ml Malibu
25ml Irish cream liqueur
100ml milk
squirty cream
edible eyes or chocolate chips
Combine the Malibu and Irish cream in a small glass; top up with the milk. Spray a generous amount of cream on the top and place edible eyes or chocolate chips on the side. Edible eyes will sink into the cream, so serve quickly while it's still spooky!
Happy Halloween!