The Sourtoe Cocktail Club
There are worse things to have in your mouth.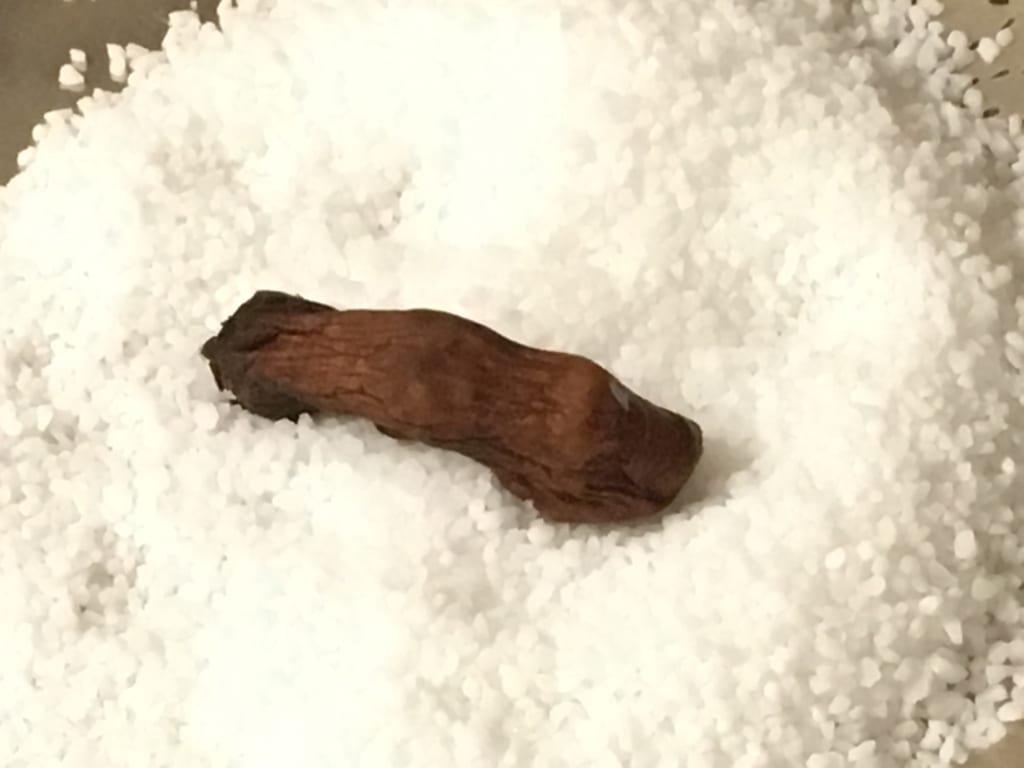 What if I told you that there was a drink, served in a certain hotel bar, the secret ingredient of which was a dismembered human toe?
In the heart of Dawson City, YT, Canada, is the Sourdough Saloon, a popular watering hole at the Downtown Hotel. Every night, from 9-11pm, people line up and put down a few dollars for a glass of liquor. Any liquor will do, but Canadian whiskey is a favorite. One by one, these people have their drinks garnished with a human toe. This toe is mummified, and preserved in salt when not in use. So garnished, each of the patrons then drinks. When that happens, they become members of a very exclusive fraternity called the Sourtoe Cocktail Club.
The club has a motto: You can drink it fast, you can drink it slow, but your lips must touch the toe.
Folks, I can honestly say without a shred of regret that the toe has rested upon these lips of mine.
You may find this nausea-inducing, but that didn't stop 73,000 people from doing it before me!
Before you ask, no, they have not been using the same toe all these years. Toes have been lost, they've been stolen, and some have even been swallowed. Deliberately. In such an event, people have donated their own amputated toes to replace them.
They've gone through at least ten in this way, and as of the time I write this, they've got four toes behind the counter, so they don't use the same one every night.
You might be wondering to yourself, how could such a thing be possible?
The origin of the Sourtoe Cocktail is a story for the ages.
Many years ago, during the Prohibition, a pair of trappers called Otto and Louie Liken were smuggling rum into Alaska. They were caught in a fierce blizzard, and poor Louie stepped in a puddle that froze his foot. Fearing the pursuit of the Mounties, they plowed on through the storm, so that Louie's big toe was lost to frostbite. The brothers promptly amputated the digit (using the plentiful rum as anesthetic), but instead of discarding it, they decided to keep it in a jar of alcohol. The jar was placed in their shed, and there it sat for a long time.
Then, in 1973, local Captain Dick Robinson bought the shed from Otto and found the toe. Fascinated with its story, he and his friends remembered a poem by Robert Service called "The Ballad of the Ice-Worm Cocktail." Inspired, the Sourtoe Cocktail was born. He offered the drink to folks around town, particularly the tour guides, and very gradually, word began to spread. Soon Captain Dick and his famous toe were in the newspapers and on TV. They toured around Canada, and everywhere they went people dared their friends to "do the toe."
Today people from all over the world flock to Dawson City to join, and the membership continues to grow.
If you'd like to join our little club, all are welcome, but bear in mind that Dawson City is not easily reached. A six-hour drive from Whitehorse, traveling to this place can be more challenging than taking the drink.
Knowing all this, you might also be wondering, why on earth would anyone want to drink this?
BECAUSE WE CAN! This tiny little town in the middle of the wilderness is the only place in the world that serves this kind of drink! Yes, it's bizarre, but that's what makes it so great. How much of our lives are spent in an endless tedium? How often do we disrupt the order by doing something bold, something crazy, something we've always dreamed of? I promise you, nothing rocks the boat of boredom like drinking the Sourtoe Cocktail.
As Captain Dick himself would say, "Dum vivemus vivemus.—While I live, let me live."