The Ginger Tea Reviews: Darjeeling and Pear Sangria
Refreshingly Fruity and Beautiful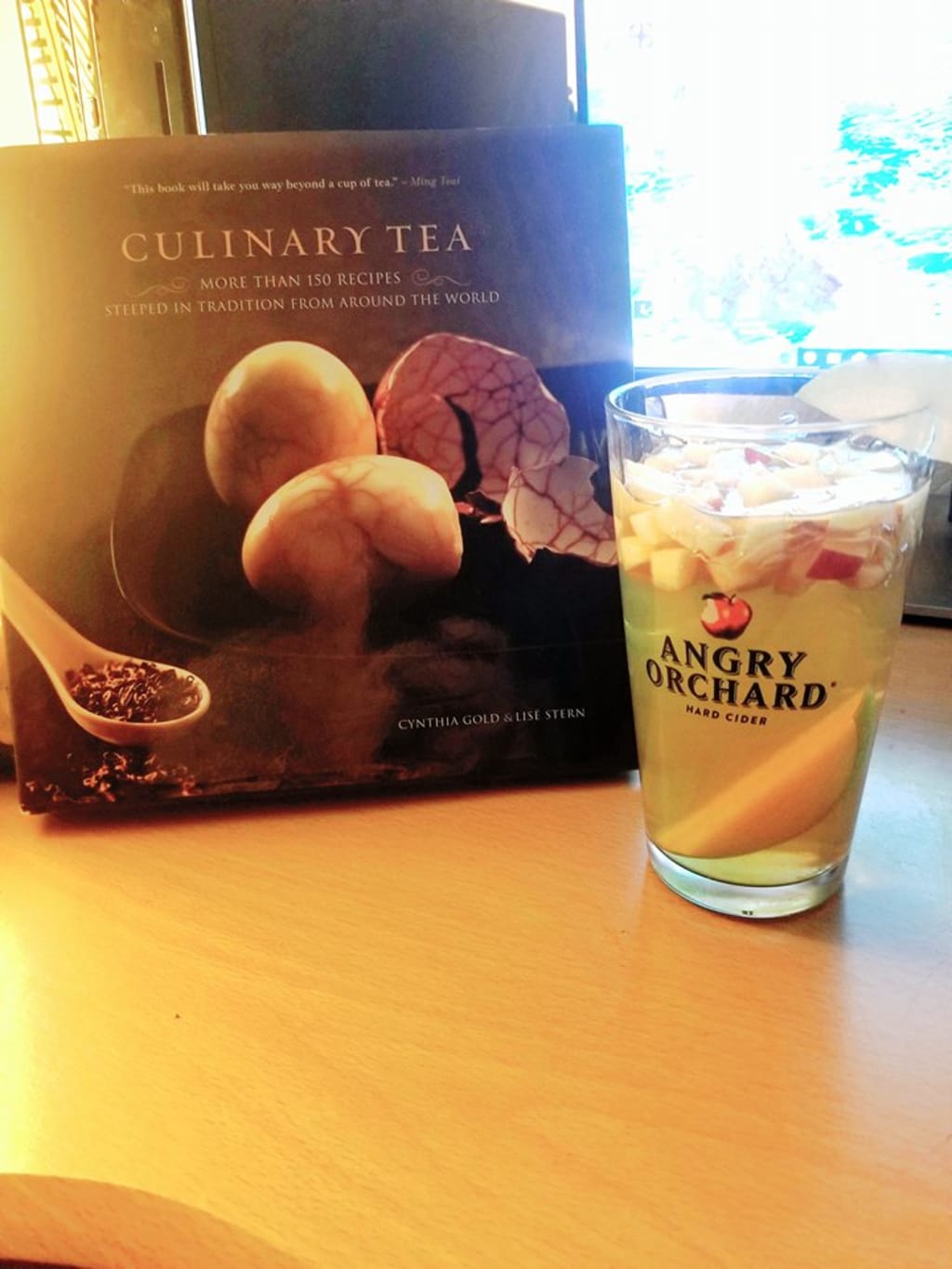 Note: There is no Angry Orchard in this Sangria. It is just a pretty glass.
Hello, and welcome back to another fruity edition of the Ginger Tea Reviews! Tea is my passion, and I am making it my goal to share my passion with the world! Today, we are going to be talking about a recipe from a great cook book, The Culinary Tea.
So sangrias are not normally my cup of tea (ha!). In my experience, the sangria is always too strong, or too sweet, or sometimes both. However, when a wonderful friend of mine asked about a tea sangria, I just knew I had to accept the challenge. That was when I remembered I have a really great book that has all kinds of tea recipes!
The Culinary Tea, is anabsolutely amazing book filled to the brim with all kinds of recipes using tea. I will absolutely tell you all more about it in a future review. For now, let's just get right into the deliciousness that is the Darjeeling and Pear Sangria! But before we do, I have to remind you all to drink responsibly! Thank you!
First, the Recipe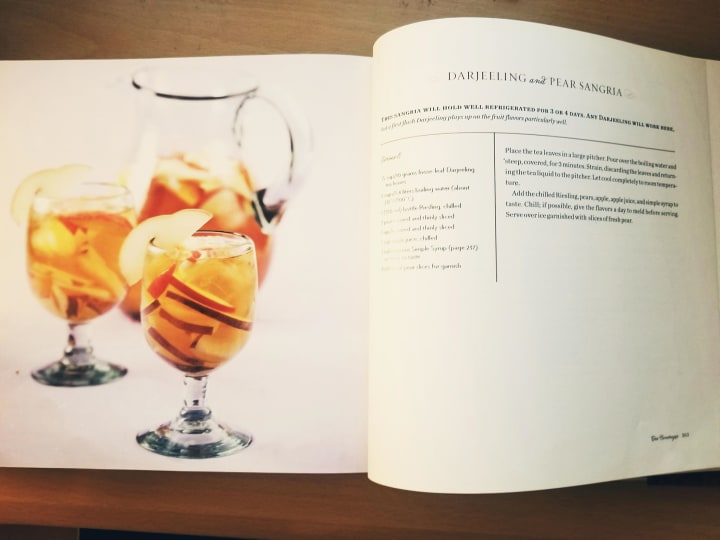 Darjeeling and Pear Sangria
The sangria can be refrigerated for 3-4 days. The book says any Darjeeling can be used, but a first flush Darjeeling works best.
1/4 Cup loose-leaf Darjeeling tea leaves
6 cups of hot water (between 195°-212° Fahrenheit)
1 bottle of chilled Riesling
2-3 pears, cored and thinly sliced (depending on the size of your pitcher)
1 apple, cored and thinly sliced
1 cup of Apple Juice
2 tablespoons of Simple Syrup
Add an additional pear slice for garnish.
Brew your tea leaves in the largest pitcher you have. Pour your hot (or boiling) water over the tea, and steep covered for three minutes. Strain and return the liquid tea back to the pitcher. Cool until it is room temperature. Add the rest of your ingredients and chill. According to the book, it is best to let it chill for a day, so that the flavors meld together. Garnish with a pear slice and serve over ice, if you want.
Let's talk about that tea...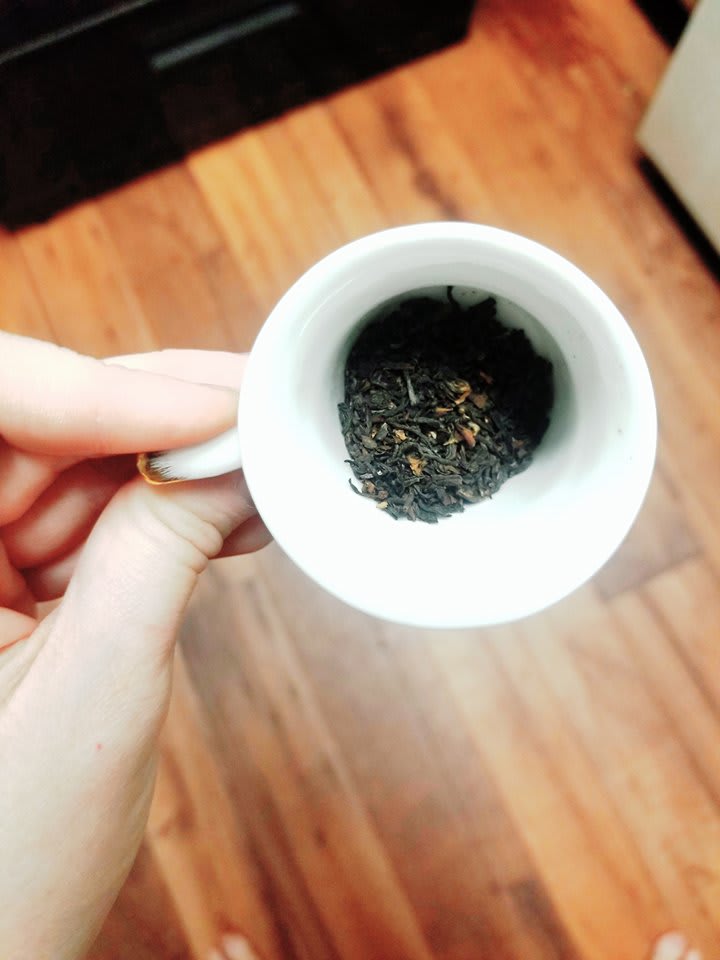 So, this recipe calls for Darjeeling (obviously). Darjeeling is a black tea from India. When brewed correctly, it has a light color, and a beautiful, clear and floral flavor.
The reason I included two different temperatures above, in the recipe, is because the temperature you brew it at is a matter of preference.
In my experience with Darjeeling, 212° Fahrenheit is usually too hot, and the tea yields a stronger, slightly bitter flavor. Some people like this, and in this sangria, it would work just fine.
I brewed my Darjeeling at 195° because it gives me that light, clear, floral flavor that I adore, without the bitterness. Again, this is a matter of preference. Neither temperatures are wrong, so if you enjoy a stronger, slightly more bitter flavor, go right ahead. Black tea leaves are not nearly as sensitive as white or green tea leaves. Either way, Darjeeling is a perfect cup of tea, no matter how you brew it.
When paired with the rest of the ingredients in this recipe, the Darjeeling really meshes well with the rest of the flavors. The floral notes from the tea only enhance the fruit from the sangria, and from the apples and pears.
Does the type of apples or pears matter?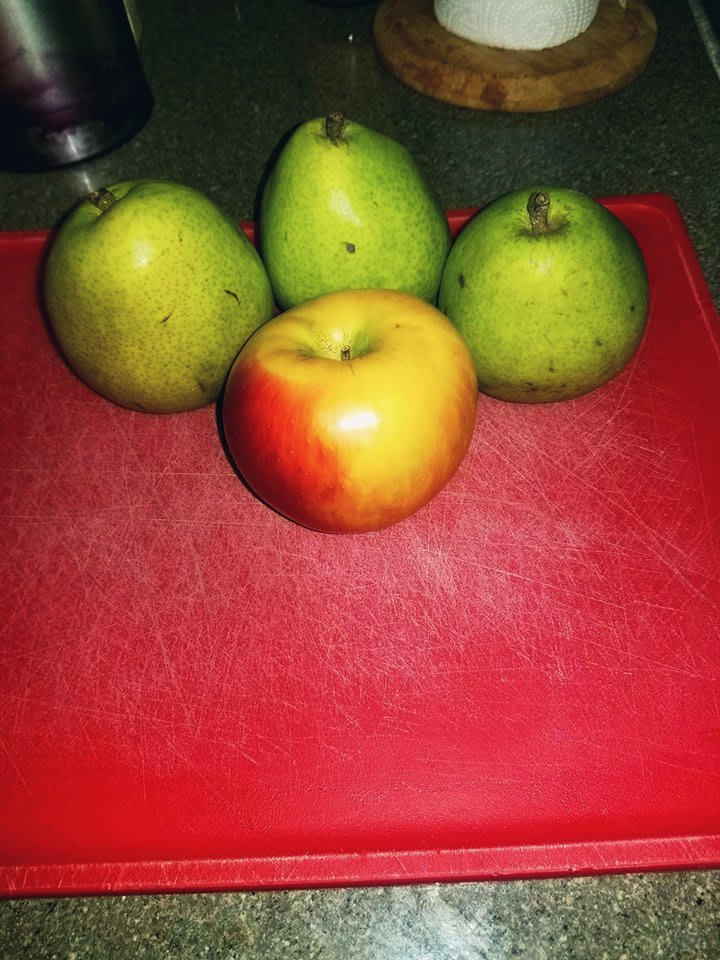 Absolutely not. In my case, I have sensitive gums. I love apples, but they have a tendency of burning my mouth, and the skins can cut up my gums. So, in my case, I used Honeycrisp apples.
Honeycrisp apples are the best because they are sweet, and the acidity in them is not as strong as, say, a Granny Smith.
Again, this is a matter of preference. If you like a more sour apple, or if you like the classic Granny Smith apple, you should definitely use it. The Honeycrisp apples, I think, just taste better, and I can actually eat them without hurting my mouth.
The pears are Anjou Pears, but I didn't chose these for the same reason I chose the Honeycrisp apples. I chose these pears because, when I think of a pear, this is what they look like. It is, again, a matter of preference. Find yourself your favorite brand of apples and pears, then use them in your sangria.
All of the Ingredients...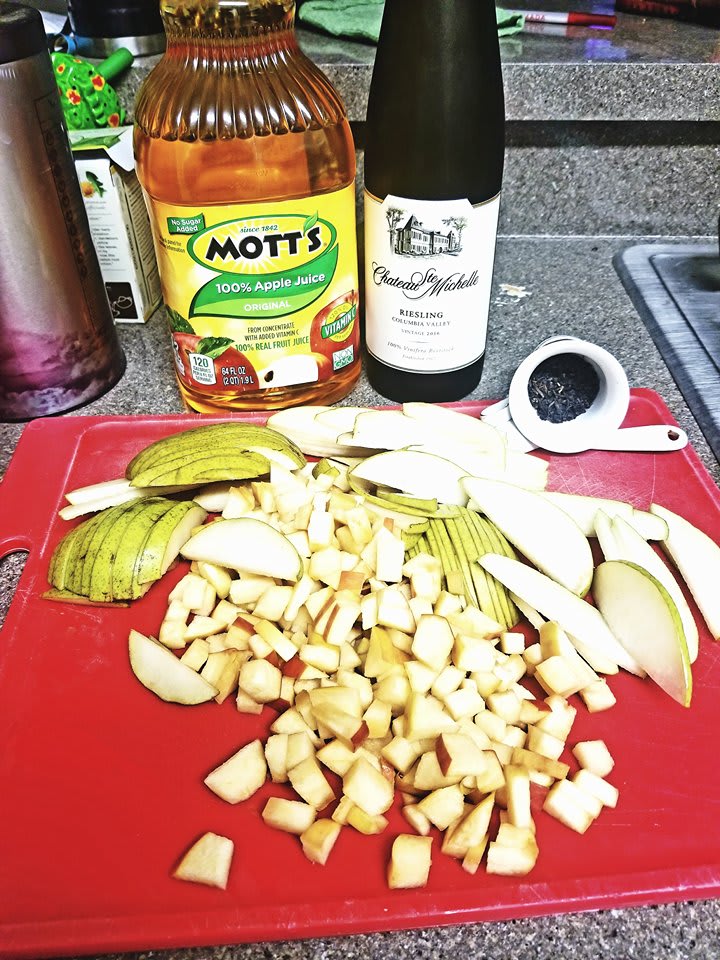 In this sangria, I used Mott's Apple Juice. I would have preferred Welsh's Apple Juice, personally, but the store I went to didn't have any Welsh's. The Mott's works just fine, though; it is still apple juice.
The Riesling is a Chateau Ste. Michelle. This is a wine from the Columbia Valley, and it has a medium sweetness that was just perfect for this sangria.
As I mentioned earlier, I'm not much of a sangria person, so when I was looking for Riesling, I really was not sure what I was looking for. This Chateau Ste. Michelle Riesling was not only cost efficient, but the subtle peach and lime undertones paired perfectly with the tea, apples and pears.
The Finished Product
This sangria really surprised me. It is lightly sweet, but incredibly fruity and bright in flavors.
There is a nice tartness from the wine, and the Darjeeling really brings the whole drink together into one gorgeous blend of flavor.
Plus, the apples and pears in the sangria create an enjoyably, boozy snack the longer it sits in the Riesling. The apples and pears soak up the flavors from the apple juice, Darjeeling, and Riesling.
All in all, this drink is a perfectly refreshing drink for a hot day. If you are a sangria fan, I recommend this blend highly. It is not an expensive drink to make, it isn't too sweet or too strong, and it is so refreshing it will surely be a hit at your next social gathering!
Closing Thoughts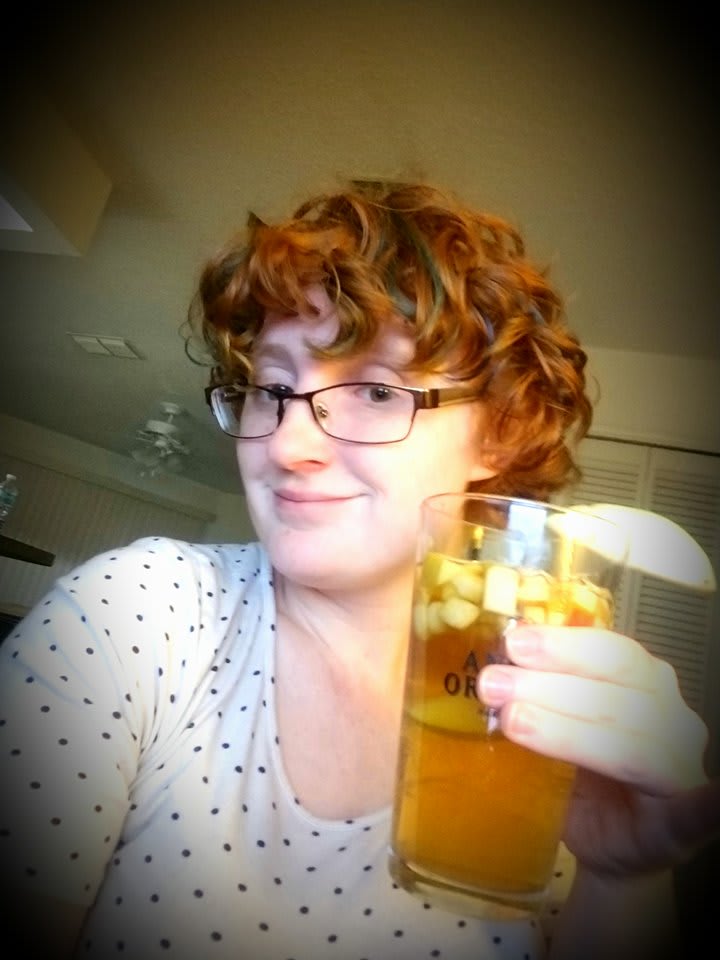 So as far as sangrias go, I have to give this one a 10/10. It is so vibrantly fruity and refreshing, it honestly changes my mind about sangrias all together.
I can't guarantee I will love every sangria I find, but if it is something like this one, I am sure to love it! I know I will definitely be making this blend for my next, big social event! Keep an eye out, because I may have to do another tea sangria in the future!
If, for whatever reason, you cannot get your hands on any Darjeeling tea leaves, I would recommend any type of floral peach tea, or a straight green or white tea. Anything with a light, floral taste. It won't make the exact same flavor, but it will create something unique and beautiful all it's own. I challenge all of you to make your own tea sangrias, and share your recipes far and wide!
Thank you for reading! Stay tuned for another fun and exciting installment of the Ginger Tea Reviews! And remember, there is a great big world of tea out there, and together we can explore every last inch of it!
- Ginger
PS.
Like what you read? Support my blog by sharing with your friends and family! Share far and wide! Drop a gift down below if you're feeling particularly helpful.
Have a suggestion for a review, hit me up! I love to hear from you all! Follow me on my Facebook page, or on my Instagram, or on my Twitter page!
I appreciate your unending support! Thanks, guys!
About the Creator
I am a writer, tea enthusiast, and a massive nerd. But at least I'm cute! Follow me for fun and educational posts!
Reader insights
Be the first to share your insights about this piece.
Add your insights