The Ginger Tea Reviews: Boozy Matcha Shamrock Shake
Yes, you read that right.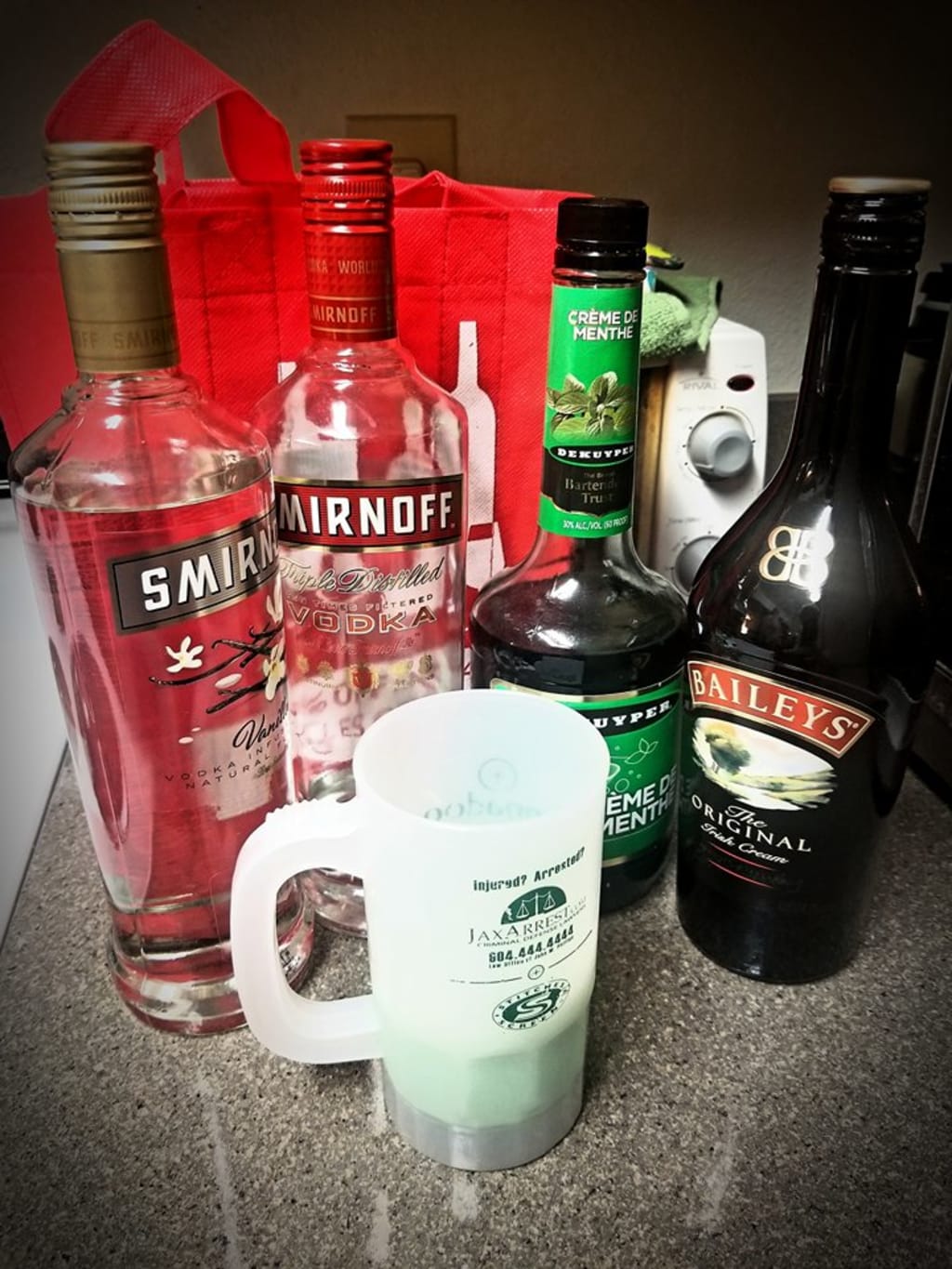 So much booze...
Hello, and welcome again to another boozy edition of the Ginger Tea Reviews. Tea is my passion, and I am making it my goal to share my passion with the world!
I apologize that this article is a day late. It was St. Patrick's Day, and of course there was a lot of booze. Thankfully, I have some hangover cure close by!
Because it was St. Patrick's day, I decided to do a play on the famous McDonald's Shamrock Shake using matcha and a whole lot of booze. Trust me, I have multiple pictures for this article, plus some rather hilarious and embarrassing videos. Joining me in my review today, is one of my good friends, the Beerd Guy!
But quickly, before we get into the review and recipe, please remember to drink responsibly, and always make sure you have some hangover cure on hand. After drinking this shake, you're probably going to need it. Trust me, this drink is strong.
First, the recipe...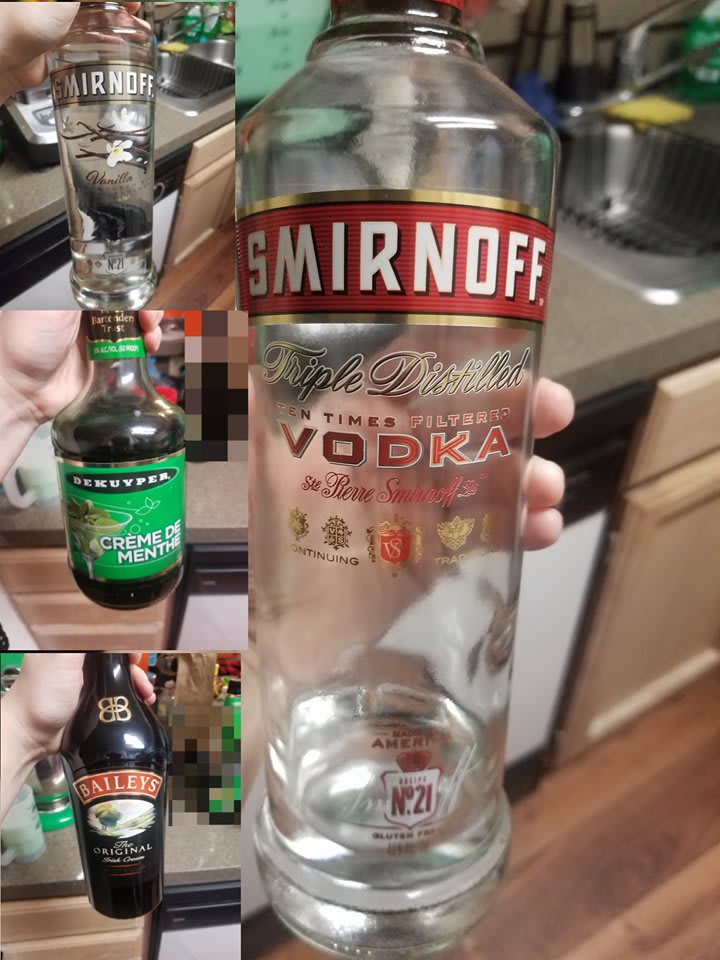 So, first and foremost, let me show you the recipe.
Boozy Matcha Shamrock Shake
Prepares up to 9 cups
6 scoops of Vanilla Ice Cream
1 cup of pre-made, chilled (or ideally frozen into cubes) matcha green tea
1/2 cup of Creme de Menthe (the dark kind, as it adds to the green color along with a mint flavor)
1/3 cup of Smirnoff Vanilla
1/3 Cup of Smirnoff original vodka
1/3 cup of Bailey's Irish Cream
Instructions
Prepare your matcha green tea, and be sure that it is chilled or, ideally, frozen into cubes before use. Combine all ingredients into a blender and blend until smooth. If you want to be extra, add whipped cream and a cherry on top, or line your cup with chocolate syrup.
So this drink, if you didn't notice, has a lot of booze in it. This drink is a strong one, boys and girls. However, the sweet smoothness of the beverage masks a lot of that kick, making this drink dangerously delicious. Matcha contributes different health benefits, but the flavor disappears into the drink. So if you're not much of a drinker, you can lighten this up and add more matcha all you'd like.
I've never really been much for the McDonald's Shamrock Shake, personally. I always thought it was too sweet. However, this boozy remix is sweet and smooth in all the right ways. My recommendation, however, is to not drink too much of these. As I mentioned before, this drink is a dangerously delicious one. I don't remember a lot of last night, but I do know that the cream-based shake did not agree with my stomach later.
That being said, it made the perfect addition to this St. Patrick's day bash.
Pardon any language in the above video. We can get rambunctious when we drink. The biggest issue I had was getting the right smoothness, what with the frozen matcha cubes. It was an incredibly easy drink to prepare. There are definitely some fun ways to make this drink better.
One of my friends suggested crunching up some thin mints and blending them with the drink. You could also try this with Oreos, as well. Feel free to get extra with it!
Thoughts and Opinions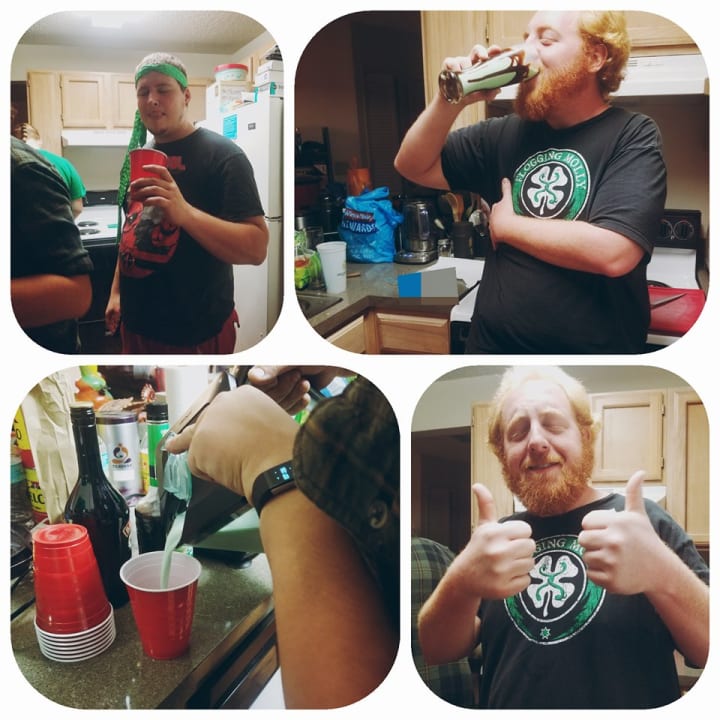 So, considering that I'm not much of a drinker, myself, I'd say the drink was a big success. The matcha, I feel, compliments the mint and vanilla flavors beautifully in this drink.
The vanilla ice cream and Baileys made the drink so creamy and delicious, and the Creme de Menthe added just the right amount of mint to the drink. Everything about this drink just worked.
All my friends enjoyed the drink, and together we all had a couple cups each (except for me; they were too good, so I kept drinking them).
However, if you are not much of a drinker, like I am, you can add more matcha and trade out some of the booze for thin mints, cookies, or mint ice cream. Or, if you don't like mint, just make a boozy matcha milkshake. With Spring being right around the corner, and Summer following quickly, the icy milkshake will surely add to your day, with or without the booze.
Conclusion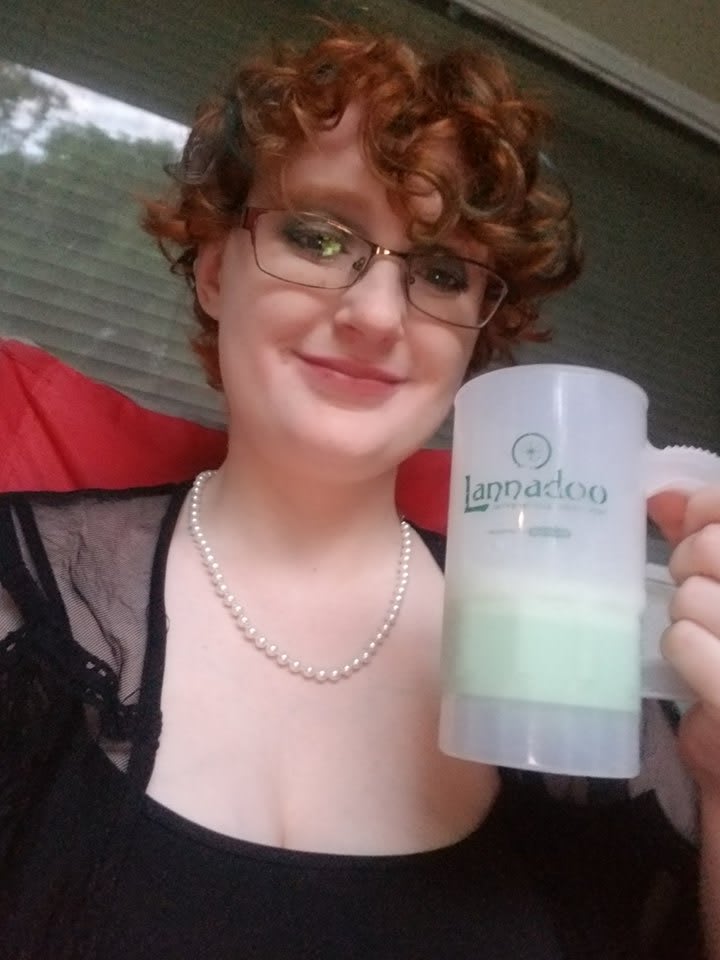 All in all, I'm likely to make this beverage again, especially for next St. Patrick's Day.
However, definitely heed my warning; it is strong, so take it slow. Drink water in between and make sure you have food in your belly.
St. Patrick's Day is always a fun, booze-filled holiday. I know me and my crew definitely had a blast. I hope everyone else enjoyed their St. Patty's Day, whether you spent it partying or just hanging out at home.
I do have a challenge for you all, though! I challenge you to make your own Boozy Matcha Shamrock Milkshakes, and share them with me on any of my social media sites! March is for Matcha Madness, after all, and I want to see what kind of crazy twists you guys put on your shakes!
Anyway, that's all for now, guys! Stay tuned for another fun boozy review! In my next boozy review, we're going to be playing with Sangria, so stick around!
Remember, there is a great wide world of tea out there, and together we can explore every last inch of it!!
- Ginger
P.S.
Like what you read? Support my blog by sharing with your friends and family! Share far and wide! Or, if you wanna be extra nice, help me keep my blog going by dropping a gift down below. Have a suggestion for a review? Hit me up on my FB page, or my Instagram, or my Twitter! I love hearing from you all! Be sure to follow me as well! :D
Also, check out my buddy Beerd Guy's Instagram! He explores the wide world of beer, which is always fun!
I greatly appreciate your unending support! Thanks, guys! <3