The Best Cocktails Ever Made on 'You Deserve a Drink'
Who do we think most deserves a drink this week? Mamrie Hart, of course.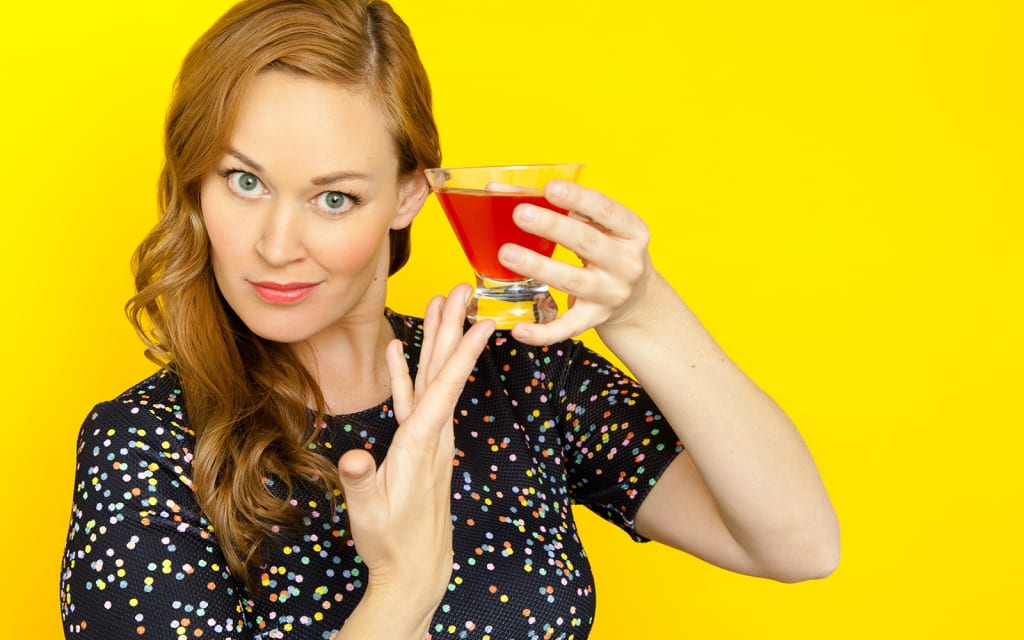 Anybody who knows anything about YouTube probably knows Mamrie Hart. The writer/comedian/bartender has been making cocktails on her YouTube channel You Deserve A Drink since 2011. Along with her best friends Hannah Hart (no relation) and Grace Helbig, known lovingly by the YouTube community as the "Holy Trinity," Hart has conquered the Internet, published a hilarious best-selling book (aptly titled You Deserve A Drink: Boozy Misadventures and Tales of Debauchery), and has written two full-length movies, Camp Takota and Dirty 30, both starring her and her besties.
All that big-time Hollywood success aside, Mamrie will always be known best for her quick wit (the woman can pump out a genius pun at the drop of a hat!) and of course, her amazing cocktails. On her YouTube channel, Hart toasts to a celebrity, new movie, or even an upcoming holiday, with a drink created specially in their honor. And we're not talking simple cocktails here either. Homegirl is a trained mixologist, and she knows her shit. She'll pull out some balsamic vinegar and rosemary simple syrup and turn it into a refreshing treat, even though it sounds like a summer salad. While we're attracted by the booze (or maybe that's just my functional alcoholism), we stay for the hilarity. She's like the drunk aunt we all wish we had, instead of that one drunk uncle who gets trashed and kinda racist at Christmas dinner. No? Just me? Well then, moving on....
While her output has slowed down in recent months, no doubt because of her crazy schedule (girlfriend is a big shot now), Mamrie has an archive of boozy and punny videos with an endless list of cocktails for us to enjoy. We thought we would take a look back at some of the best drinks Mamrie has skillfully concocted over the years, so mix yourself a cocktail, check out our list, and drink every time Mamrie makes a teeeeerrible drinking pun!
This is probably one of Mamrie's best concoctions over the years. Not only is it deliciously white trash—rimming the glass in Funfetti frosting and sprinkles? Genius!—but it's also so simple! All you need is food coloring, champagne—or sparkling wine, because I'm sure I speak for all of us when I say we're cheap bitches—and cake vodka. Like Mamrie said, "this shit is simple because she is an idiot." While the Amanda Bynes jokes stopped being funny once her mental health continued to decline, this drink is still one we're dying to make at home.
This drink takes inspiration from the "I'm Doing Just Byne" but this time, the glasses are rimmed with CHOCOLATE FROSTING! I'll give you a sec to wipe that drool off your face. To celebrate the release of their movie Camp Takota, the Holy Trinity got together to make a drink inspired by the campfire favorites, s'mores. And it's just as simple as the Amanda Bynes drink; just mix marshmallow vodka and Irish cream in a glass garnished with chocolate frosting and, wait for it, graham crackers! You'll feel like a kid again, except for, y'know, all that alcohol.
Have you been looking for the perfect drink for when you have a party at 11, but a dirt biking competition at 10? Mamrie took Gaga's nickname for her fans, Little Monsters, literally when she made this cocktail with a Monster energy drink. That might turn some people off, but when you mix it with some Welch's grape juice, lemon vodka, and Pop Rocks, how can you resist? It'll be delicious, get you pumped up, and bring back some beloved childhood memories... from the Pop Rocks, not the vodka, I hope.
Some YDADs are quick and easy, just like Mamrie herself! Hey-oooo! This shot once again pairs the joys of childhood with the perks of being of legal drinking age. Mamrie, being the genius that she is, made a shot out of Frangelico hazelnut liqueur and Grape Pucker in hopes to recreate the taste of a peanut butter and jelly sandwich for her and her best friends, and she aced it! Even Mamrie herself is shocked by how good it tastes, despite looking like swamp water.
There is nothing better than watching the shock, disgust, and confusion on the faces of Mamrie's guests when she fires out her endless barrage of sexual innuendos, and this is one of the best examples of that. YouTube musician Chester looks terrified, in the best way. This is also one of Mamrie's more adventurous mixes, with star fruit, lime juice, habanero-infused tequila (as if a regular tequila hangover wasn't painful enough), ginger liqueur, guava nectar, and spicy chili salt around the rim. This proves that Mamrie is a real pro, and there's no Funfetti icing in sight!
Here's another one of Mametown's more daring experiments. Dedicated to the douchey antics of Kanye West, Mamrie made a drink with citrus vodka, lemon simple syrup, club soda, strawberries, and... aged balsamic vinegar, because most douches are made of vinegar! That Mamrie Hart is too clever for her own good. It sounds like a summer salad, but according to Mamrie, it's "f**king delicious." It definitely sounds like a drink for those of you with a more refined palate!
For some reason I will never understand, people are seriously obsessed with creamsicles. Like, I can't even count the number of times someone has told me "Oh my god, it's so good it tastes like a creamsicle!" I personally don't get the hype, but if you're one of those people obsessed with this flavor, you are in for a treat. Trust Mamrie, and mix together vanilla vodka and orange soda, topped with Grand Marnier and whipped cream for the perfect creamsicle cocktail. I guarantee you, even if you drink it until you barf, you'll still be excitedly yelling "Oh my gaaaawd, it tastes like a creamsicle!"
social media
About the author
Marco is a writer, an avid TV watcher, and a lifelong lover of pop music. He unapologetically adores Britney Spears and won't hesitate to put you in your place if you try and come for her.
Reader insights
Be the first to share your insights about this piece.
Add your insights