"One Beer"
As rapped by the living legend, MF DOOM, in '04 on his classic "Mm...Food" album.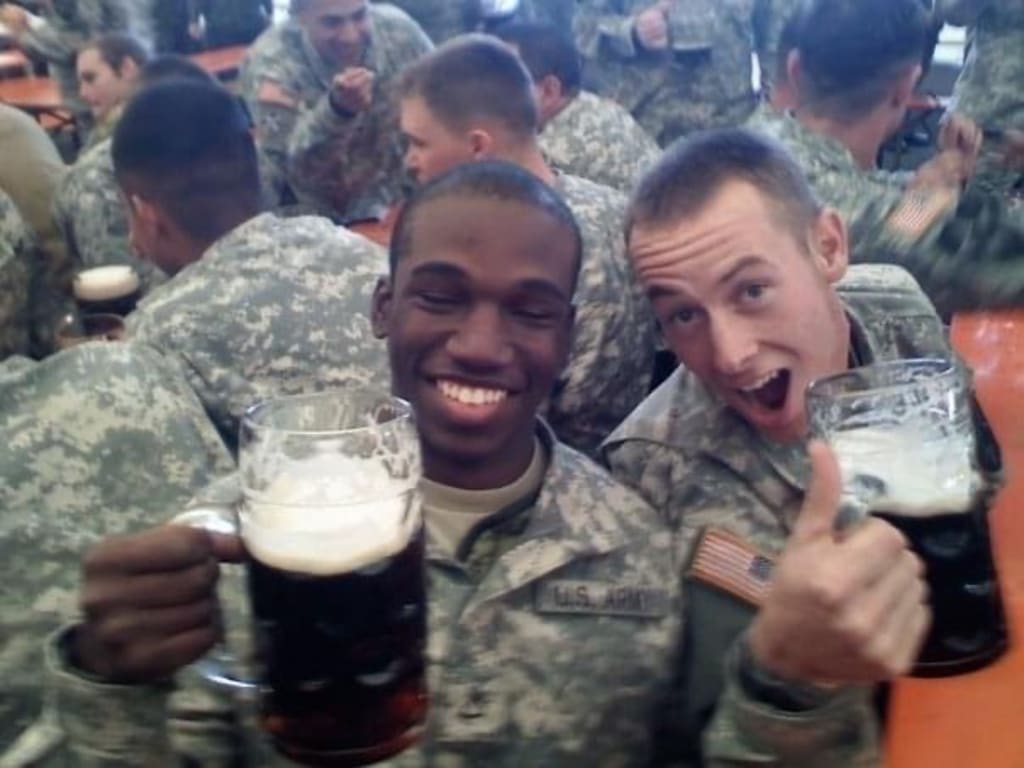 Oktoberfest '08 w/ my Battle.
25DEC2020; 2110, FRI
As I sit in my living room sipping sparkling cider, counting my blessings with a "disinformation-friendly outlet" (OANN) playing in the background, I can't help but reminisce on the "drunk nights [that] get remembered more than the sober ones"- Common's intro, and eponymous track off his 6th album, "Be" (24MAY2005). I figure that it's been a New York minute since my last list and I've yet to do a post for the "Proof" community, why not kill two birds with one stone?
As an aside, and simply because of my extreme vitriol at the ridiculously high drinking age requirement in The Good Old US of A, I must admit that I find it odious that myself, as well as many servicemen and women, are old enough to go to war; tho, ineligible for purchasing certain, mundane and average firearms and/or alcohol. I digress. In any event, without further ado:
1.) I'm not proud of it; tho, I had my first drink sometime around senior year. I'm firmly of the opinion that if America had a much more laissez-faire (that's French for "laid back", or "allow to do") approach like much of Europe, I might could have a few less scars and such that I genuinely don't remember. The poison of choice was some random flavor of Alize, in case you're wondering.
2.) Another questionable call that took place right after my graduation from Basic (Training), while I was still 18 years old— I skipped the family's annual New Years party to watch the ball drop in The Big Apple, with a fav cousin and my former BFF (I know, I know). Leave it to me at the time to get separated from the guys, while in uniform(?), and to get a cup of a random drink from some strangers that I had barely struck up a convo with while chillaxin' in someone's uber packed McDonald's.
3.) Not long after that incident, but prior to me trying out for the recon platoon, I was invited to a random dinner by my team leader, squad leader, and platoon sergeant ("Hehe! I'm in danger!."- Ralph Wiggum of The Simpsons fame). Long story short, I woke up in someone else's pjs, hurt ribs, and a scar on my left eyelid, all while wondering what the heck actually happened the previous night and who took my fav pocket knife that was almost always glued to my hip when out and about. Fun times.
4.) Then there was the time that a random, tho seasoned Battle (Buddy) from recon invited me and a couple of my fellow noobs over to drink one night while we were in the build up to my first and only deployment. Word to the wise—do NOT drink beer or wine, or even less potent liquor before making the transition to something stronger. You may or may not see video of yourself in compromising situations that you can't seem to remember for the life of you!
5.) Another civvy story—I once got kicked out of a 24 hour gas station in my hometown region of The DMV (DC, MD, VA area) for public drunkenness. Thankfully, I didn't get booked and processed that evening; but I also could have easily been assaulted by a more handsome hooligan than myself while on my way back to my truck, as I waited for the rest of my crew to return. I def wasn't behind the wheel in any way, shape, or form during the shenanigans of that random night.
6.) Last, tho certainly not least—I once got so turnt at a random Halloween party with that BFF again, and his then girlfriend, that I ended up "showing tattoos" and completely misplacing half of my fav pair of gov't issued gloves. Actually, that might have been my fav pair of all time, which of course is impossible for me to relocate for purchase anywhere. "A loss ain't a loss; it's a lesson."- Jay-Z ('17).
***
Tl;dr- "Liquor before beer, you're in the clear. Beer before liquor, never been sicker!" Stay tuned for more foolish but true stories of random drunkenness and such. Also, don't be like me, you "Padawans" and young Jedi knights out there! Peace for now.
beer
About the author
I'm a Grunt who's been stuck in traffic for the past few decades or so. From DC to Seattle & Iraq, to back in "The Swamp". Also, I Love my Progeny more than life. Born Day: 4/20. Lastly, my apparel brand, War 'N' Tees is live! One Love.
***
Reader insights
Be the first to share your insights about this piece.
Add your insights