My Own Cocktails
Recipes for My Favorite Drinks for the Non-Drinker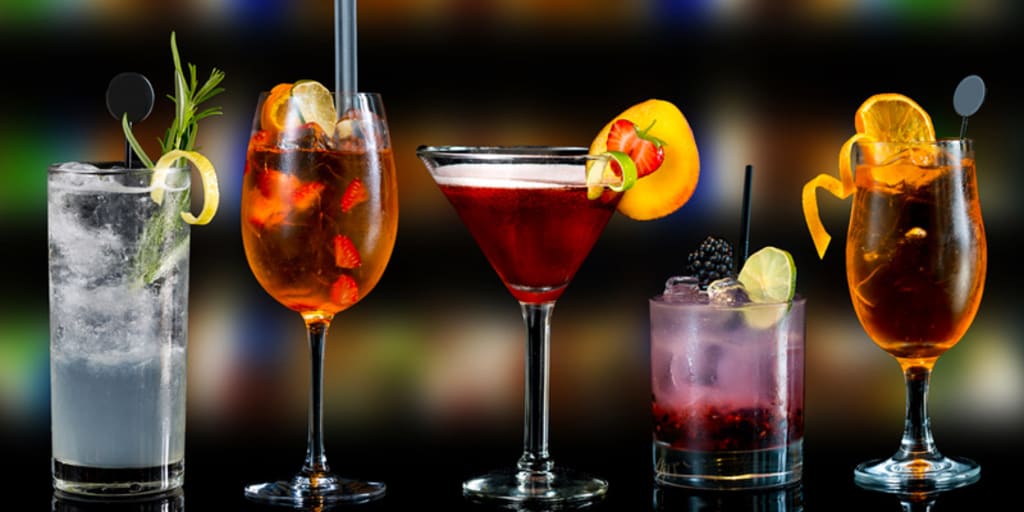 These are alcoholic drinks
If you are in university then you know you will be having a drink or two. However, you have a problem: you don't like the taste of most alcohol but you still want to fit in with your cool drink. So, I am offering you some non-alcoholic drinks and some with alcohol, but you can't taste as much.
1. Roy Rogers
It's coke and red grenadine. You pour coke in your glass and you take red grenadine and you pour very little of it in your glass and there you go: your first non-alcoholic drink.
2. Shirley Temple
You need red grenadine, orange juice, and Sprite or 7-Up. I like to take 3/4 of a cup of orange juice and the rest with 7-Up (7-Up has more lime flavor in it). Then you take grenadine and lightly pour it on the top and there is: the famous Shirley temple.
3. Mountain Orange Mojito
You will need sparkling water or soda water, orange juice, lime juice, and mint leaves. Mix 3/4 cups of orange juice the rest being soda water and then pour lightly lime juice on the surface and then add mint leaves in it and let it soak for about half an hour just so you can taste the mint more.
4. Lavender Lemonade
This is for those people that have weird taste buds and like flowers. Have two freshly squeezed lemons, add sugar and water to your own preference, then take dried lavender and crush it in a mortar. Put it in a pot and once the water starts to boil, take it off the stove and mix all ingredients then put it in the fridge for about 2 hours.
5. Ginger Peach Soda
Boil ginger and water to dissolve the ginger then add sugar once the water is boiling. Then once it is in a syrupy consistency, take it off the heat and pour it through a sieve and discard the extra little bits that did not make it through. Pour some peach juice in each glass or freeze peach juice beforehand and put them in as ice cubes.
6. Wild Cocktail or Mocktail
You need blueberries, sparkling water, sugar, and lemon that is juiced. You can also replace the sparkling water with Sprite and add less sugar to your drink. As an option, you can freeze grape juice and pop them into your drink.
7. Virgin Paloma
You need lime juice, grapefruit juice, agave syrup, and sea salt. You want more grapefruit juice for this one, but it depends on your taste buds. I like to make it 3/4 grapefruit juice and the rest lime juice with sugar already in it. Add sea salt for a better taste.
8. Blueberry Lemonade
You can use fresh or frozen blueberries mix the blueberries with boiling water and stir until you are happy with the color and now you can blend the blueberries. Squeeze fresh lemons (I used three last time) then add one cup of sugar or more depending on the taste. Put the blueberry mixture through a sieve and make sure you get as much as you can out of it and discard the little bits and put the blueberry juice into the lemonade and put water in the blender to not waste the juice that was left in there and then pour it into the jug or glass with the rest of the mixture.
9. Virgin Caesar
Easiest thing ever. Clamato juice with a few dashes of Worcestershire sauce and a few dashes of hot sauce. Then top it with salt and pepper for more flavor and if you would like salt the rim with celery salt or you can put some right in your drink.
Okay, now these ones do have alcohol in these, so do not give it to your children.
1. Raspberry Rum and Sprite
This is a very sweet drink. It is one shot of raspberry rum and the rest is Sprite. Very easy to make, however not all places have raspberry rum.
2. Fuzzy Navel
Orange juice and peach schnapps. Very sugary drink.
3. Seasonal Eggnog
Bailey's and eggnog is the perfect combination. One or less shot of Bailey's with eggnog is usually my go-to drink.
4. White Wine Spritzer
This is a very popular one. You can use your favorite Moscato for this one and then dilute it with sprite or ginger ale. I have seen both and they are equally good.
5. Screwdriver
Orange juice and vodka. It does not get simpler than that.
6. Sex on the Beach
This one has a higher alcohol level, but it contains peach schnapps, vodka, and orange juice. One shot for each of the alcohol and I am guessing you know what to do with the orange juice.
7. Porn Star
This is my favorite alcoholic beverage mostly because you can't taste the alcohol and it is mostly sugar. They have half shots of Blue Curacao liqueur, Sourpuss raspberry liqueur, and sprite or lemon-lime soda. So it does not contain that much alcohol and it's a fun drink.
8. Bottlecap
This one contains rootbeer schnapps, raspberry schnapps, and finally Sprite or lemon and lime soda. So again, very high in sugar content.