Pairings
Ice Wine and Food Pairing Guide
Introduce your palate to savory and sweet synergies by trying some combinations in our ice wine and food pairing guide.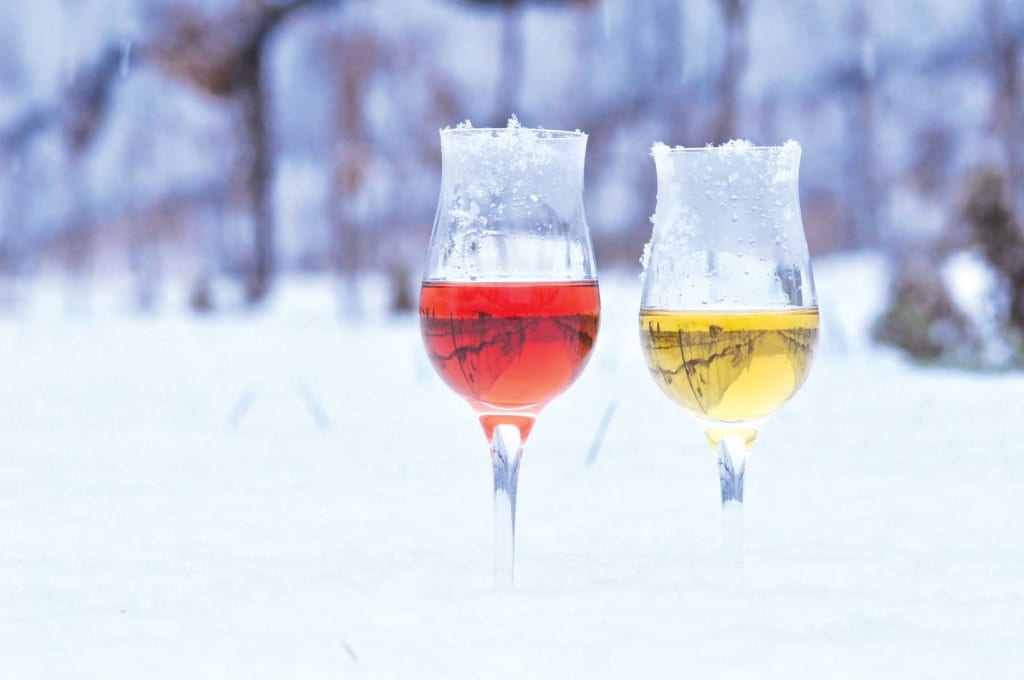 Ice wines can be be made from red or white grapes. 
The term "ice wine" is an anglicized form of the German word "eiswein." It is a rich and sweet dessert wine made from the juice of grapes frozen on the vine. Water crystals are still in the juice when it is pressed so the sugar content is higher in these wines. Canada, along the Niagara Peninsula outside of Toronto, is probably the most famous place it is produced. However these sweet, ice wines are also made in Austria, Luxemburg and Oregon on the West Coast of the United States.
While these wines are often a dessert in themselves they can be paired with a variety of cheeses, fruits and desserts. You could even try them with a very rich, fatty dish like foie gras. Its natural acidity and mineral notes make it work well with a variety of foods. Most Canadian ice wines are made from Vidal, Riesling or Cabernet Franc grapes.
Ice wine grapes freeze on the vine before they are harvested.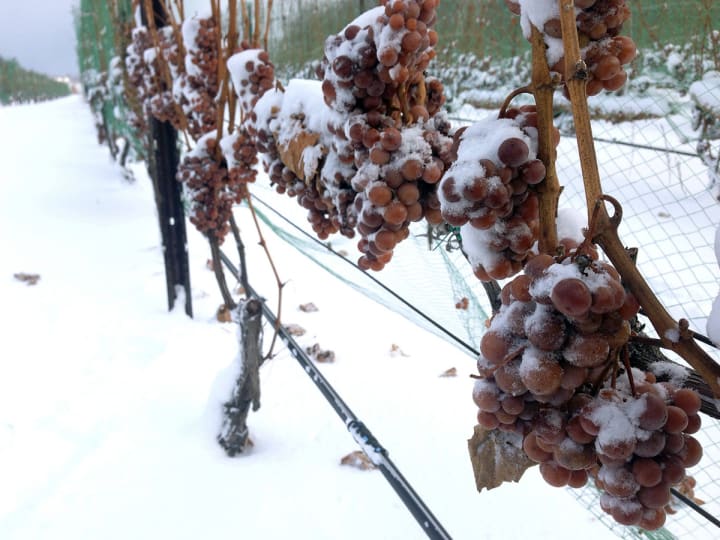 Key Ice Wine and Food Pairings
Richer, more intense cheeses such as blues like Gorgonzola and Roquefort are splendid partners for these wines. Aged, hard cheeses—such as Parmigiano Reggiano—are also good picks. These types of cheeses have a balance of protein and fat—accompanied by ribbons of salt—that makes them go well with all types of dessert wines. Milder cheeses will simply be blown away by the intense flavors of a pairing with ice wines.
Nuts and anchovy-infused dishes also work well when creating ice wine and food pairings. They are great appetizers to start an evening off with, perhaps with a platter of sliced meats. You want to keep the protein and fat ratio in balance here.
Rich dishes that are liver based, such as foie gras, or pates will also be complex enough to stand up to the flavors of ice wines. In terms of consistency, they also have the same weight as many ice wines do on the palate.
A Close Up of Grapes on the Vine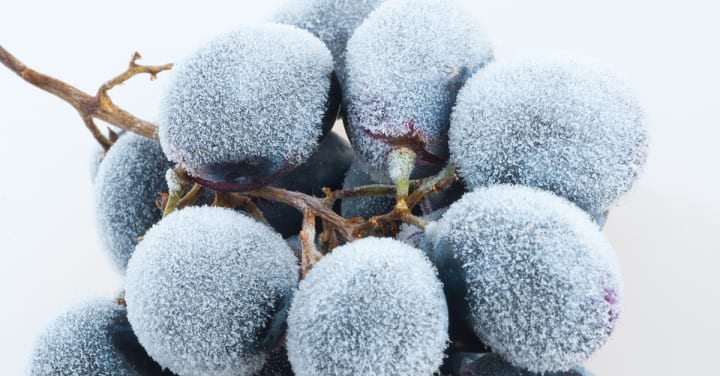 Non-Western Ice Wine and Food Pairings
Way too many consumers are convinced that beer is always the right choice with spicy dishes such as Indian or Thai food. Sweet wines, such as ice wines from the Niagara Peninsula, are also good choices as the sugar level can take on the heat in chilies and other spices.
The right type of fatty fish, such as some cuts of sashimi, can also make for a great pairing. Try an ice wine with a piece of grilled eel and you should be happily surprised. Cajun spices can also work well with these wines.
Sweet Finishes and Getting There
Custards, creams and certain fruits are lovely with ice wines. Custard tarts or crème brulees are always a good choice and cold melon soups are ideal choices, as well. Stone fruits such as peaches and nectarines are also a good fit. The Cabernet Franc-based wines, being red and bigger in structure, can also work well with lots of chocolate-based dishes. These could include everything from pies and cakes to custards.
The Niagara Peninsula and town of Niagara-on-the-Lake is about an hour's drive outside of Toronto and is close to the Canadian side of Niagara Falls. It's especially inviting in spring and summer when many wineries have outdoor restaurants and picnic spaces open. It, along with the Western region the Okanagan Valley, is considered one of Canada's top wine producing regions.
Inniskillin has been in business since 1975 and is considered the granddaddy of the ice wine business. The Jackson-Triggs Niagara Estate is home to a summer concert series in its regal amphitheater. The region also makes a range of great dry wines, many of which are easily available in the state liquor stores throughout Canada. It is a great full day or overnight visit to add to a trip to Toronto.