Sit tight! Your taste buds are about to illuminate. Your mouth and mind will be topped up with flavour and endless taste you can't escape.
I will introduce you to three amazing cheeses, buddied up with three amazing wines.
Cheese is my favourite thing! Yours too? Good, just to be clear, so we can move on. :-)
How I got to know the world of cheese, is more a journey than an actual event that happened.
I have smelled and tasted many cheeses throughout my life. Some made my nose wrinkle in repel, others in delight, when they tasted so good I couldn't get enough.
The same applies for wine. Oh my holy cheeses; the feeling when the liquid hits your tongue, when the aroma fills your mouth and at the same time your nose. The moment when you experience new memories or vivid memories come back to life!
Close your eyes, can you taste it too?
With wine, I connect relaxation, friendship, sitting on a cosy couch next to the fire place, sipping on my favourite glass of wine. I am feeling slightly warm, my cheeks are blushed and I am totally into a conversation with my partner or best friend, nibbling on some food.
As the first cheese I would like to introduce you to Boursault

This is a popular triple-cream cheese that is made from pasteurized cow's milk and has originated from the French region of Val-de-Marne. This cheese was initially invented in the 1950s by a man named Henri Boursault. Boursault Cheese contains a very high amount of fat, almost 75 percent which is what makes it one of those melt-in-the-mouth kinds of cheeses. It has a super-rich, creamy and moist consistency and a rich buttery taste. The ideal combination of the exotic taste and the jelly-soft texture makes it a favorite dessert cheese. This cheese goes through a period of maturation for about twelve days and is then properly wrapped; however, the maturation process still goes on for a month.
It is a amazing isn't it? Now imagine you could pair this wonderful cheese with a glass of wine?
The flavour of the cheese is buttery, citrusy, nutty and salty and the aroma quite earthy. Try pairing this cheese with grapes or pears and light fruity wines like a Chardonnay!
One of the Californian wines I recommend, is this outstanding Cline Cellars Chardonnay 2017. It is a delicious wine with notes of pineapple, citrus and smooth oaky vanilla finish.
As the next cheese I have chosen a blue cheese.
The best blue cheese I have ever tasted is the Rogue River Blue. It was crowned the winner in the annual World Cheese Awards, marking the first time and American product has won the prestigious title. It comes from Oregon, US.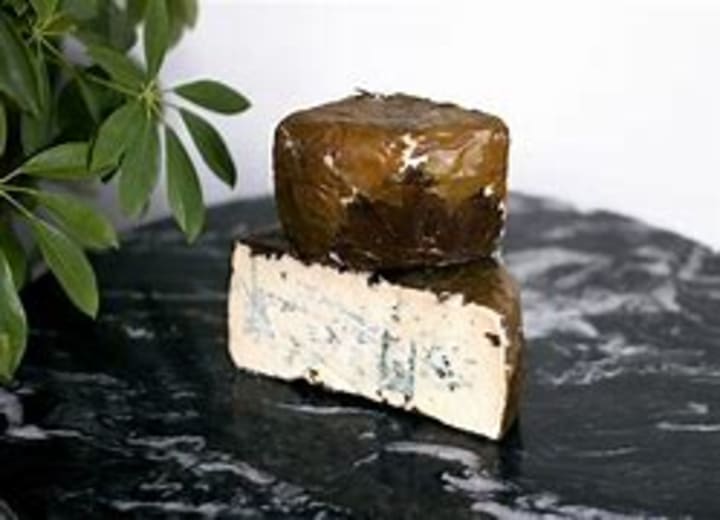 The cheese has a fairly rigorous maturation process: it is cave-aged for nine to 11 months before being wrapped in organic Syrah grape leaves that have been soaked in pear liqueur. It delivers balance, sweetness and spicy notes. You can compare the taste to pear brandy, vanilla, toffee, truffle and fig. Although Rogue River blue is perfectly capable of taking care of itself, we will try a pairing with that. To match these amazing tastes I'd rather choose wines of age and distinction.
We will go for a Gewürztraminer. I adore its intense floral scent and sweet-spice flavours, while detractors lament its low acidity and lack of subtlety. The best examples of Gewurztraminer are generally regarded as being from the grand cru vineyards of Alsace.
The primary aromatic descriptors used to define Gewürztraminer are typically lychee, rose petal, Turkish delight, tropical fruit and perfume. On the palate it is marked by its full texture, low acidity, stonefruit (mango, peach and apricot) and spicy (ginger and cinnamon) flavors.
One example to match our fantastic Rogue River Blue is a 2015 F E Trimbach Gewurztraminer Vendanges Tardives, Alsace, France. Enjoy!
Alrighty! Lets get on with the last holy cheese, touching our sacred tongues!
It is a goats cheese. Please keep reading! Goats cheese IS amazing!
For instance a really nice and memorable goats cheese is the "Crottin de Chavignol". It has its origin in Loire, Chavignol, France.
It is one of those rarest cheeses that can be eaten at various stages of its maturity. It is often eaten clothed in fine herbs when fresh from the cheese vat. At this stage of the maturing process, it has a creamy, nutty taste. After about six weeks, while its smell starts getting stronger, its pâté becomes dry and brittle. Moreover, a harder texture with a pronounced flavour starts to develop. Hereafter, the cheese continues to mature and the robust taste increases, but never gets sour. Its rind develops into a rough and hard layer over a period of time.
So this goats cheese needs a friend. We are going to pair it with a Malbec!
Malbec wines are dry, full-bodied, and exhibit rich, dark fruit nose and flavours like blackberry and red plum. They're juicy and jammy, with notes of vanilla, tobacco, dark chocolate, and oak. With medium acid and moderate levels of tannins, they pair well with cheese.
Why not try a Single Vineyard Mendoza Malbec, Pulenta?
These are my experiences with wine and cheese, but I am sure you will do your own. I always felt the urge to experiment with theses cheese and wine, so I would come to the perfect match one day. However I am far away from perfection, as there are (thankfully) too many cheeses and too many wines out there.
Every taste is individual, every wine is an adventure, a memory, a DARE even!
Now, before we run out of the door, into the big wide world, trying to find buddies for our cheeses, look at the below guide on how to taste a wine. It is highly recommended in order to experience the full adventure.
Look: Take a good look at the wine, examining the color and opacity through the glass.

Smell: Swirl your glass for 10 seconds and take a quick whiff. Then stick your nose into the wine glass for a deep inhale, taking in your first impressions of the wine.

Taste: Take a small sip and let it roll around your mouth. Note the acidity, sugar, tannins, and alcohol content when first tasting, then move on to tasting notes (berries, spice, wood) and finally the finish.
Thank you for reading. It was my pleasure to introduce you to the world of my holy cheeses.

Jess S.
Carer by day, writer and by night. It is all about visualisation. Visualize your dreams and you will achieve them.
FEAR
Forget Everything And Run
or
Face Everything And Rise
See all posts by Jess S. →