Distiller Extraordinaire Dave Pickerell
In One of His Final Interviews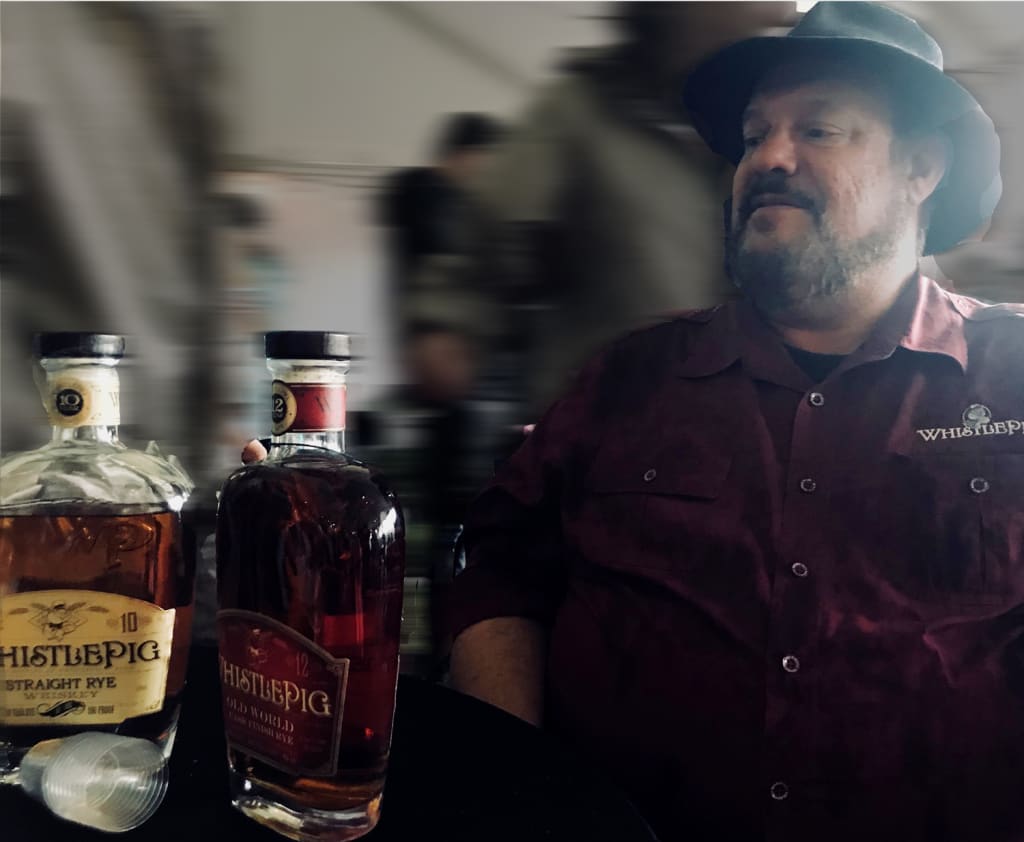 Dave Pickerell with his WhistlePig spirits. Photo by Brittany Lambright. 
When I sat down with Dave Pickerell at Bourbon and Beyond in Louisville, I had no idea it would be one of his final interviews. The 62-year-old had been frequently called the one of the founding fathers of craft distilling, partially for his involvement in recreating George Washington's whiskey, but mostly for his masterful skills with spirits.
Mount Vernon was the first places I had met Pickerell, who I saw again at Maker's Mark, where he was the Master Distiller. It always seemed as if he had his hands in all facets of whiskey, and he was well-respected for his talent and knowledge.
In more recent years, Dave Pickerell had been instrumental in the creation of the Hillrock Estate and WhistlePig distilleries, the latter of which he was working with until his untimely death.
One on One with Dave Pickerell
Marcia Frost: You've been involved in American whiskey for a long time. Tell me about your time at Maker's Mark.
David Pickerell: When I was at Maker's (Mark), I liken it to this: when I walked in the door, they said, 'there's the bullseye, don't move it.' Then they gave me a micrometer every once in a while, and you know, that's okay.
The problem was, when I started consulting for them, they were 75,000 cases a year. By the time I left, they were at 1.56 million. So, the challenge was how to go from A to B without moving the bullseye. That was a big chunk, learning what to scale up and what not to scale up, and how to do it.
I met all the challenges that I wanted to meet and needed to meet at Makers. It took like 14 years to get there because I'm a slow learner, but I became fascinated with rye in about 2001, once we started working on refurbishing and rebuilding George Washington's Distillery.
Marcia Frost: I remember when you just got started, and I went there with DISCUS, you just had a 10-gallon tank. And, when I went back for another story five years later, the whiskey and rye had been done, and they were starting on brandy.
David Pickerell: We tried to do everything they did back then (when George Washington had a distillery) and we made rye commercially. They never sold brandy commercially, but they made it on the plantation.
Marcia Frost: Did George Washington drink a lot?
David Pickerell: He was much considered a moderate in consumption, but even he drank a pint of Madeira a day. Maybe it was lower proof then, I don't know. I love Madeira, but I'm not drinking a pint a day!
That was considered moderate consumption. They serve punches and brandies at the house frequently and he was very hospitable. They entertained guests all the time.
I got tickled… there was one guy who just kind of moved in. They were so generous to him and let him stay and let him stay. In George Washington's notes, it says–whatever the guy's name was–'he left today, finally.'
Marcia Frost: Why did you leave that project?
David Pickerell: I fell in love with rye. When rye started coming back, I felt I've got to be involved, and I want to be on the front end of the resurgence of rye. I wanted to make the best rye whiskey that has ever been made and WhistlePig afforded me that opportunity.
Marcia Frost: Is WhistlePig your company?
David Pickerell: I'm the founder. I'm not the only founder, because I needed money. We put it together and were off to the races. We haven't looked back.
There are a couple fun things about us. One is we really do have the best rye whiskey in the world. Last year, we actually had the best whiskey in the world, according to San Francisco International (World Spirits Competition, 2017).
So, we're really proud of it, but the other thing is we cast a far larger shadow than we really are. People, everybody, knows Whistle and people assume we're far larger than we are, but that's part of the fun of the deal.
Marcia Frost: Where does the name come from?
David Pickerell: My partner is a little like Winnie the Pooh. He needs a thoughtful spot. For him, a thoughtful spot is a walk on a wooden lane. Back in 2007, he's doing some work in Vail, Colorado, and he just needed to get his head wrapped around a few of the details.
One morning he got up, and there were plenty of wooden trails, so off he goes. He's deep in thought, minding his own business and he hears the rattle of a mountain bike. He looks up and there's a guy peddling up the hill, with long gray hair, who looks like M Emmet Walsh, the Back to the Future guy, with no helmet. The guy's clearly distracted, looking in the woods, looking down the hill, and almost runs him over.
The guy falls and snaps in a deep French accent), 'Could it be? A whistle pig, whistle pig.' The guy looks at him and he's gone. He looks to the heavens and thinks, that was the most bizarre human interaction I've ever had and it must be a sign from the heavens that I need to do something with this. He goes home and names his farm, Whistle Pig Farm.
I don't even think he knows what a whistle pig was. It turns out, in Western Pennsylvania, that's what you call a groundhog. If you're in the Mountain West that's what you call a prairie dog. It's for the same reason: they're burrowing rodents, and when you whistle at them, they pop up and look at you.
So, when we're shaking hands and we're going to bring this rye whiskey to life, I asked, 'What's the deal with the name Whistle Pig Farm?' and he tells me the story.
We decided, since people don't know what it is anyway, we're going to say that a whistle pig is anybody that enjoys the finer things of life!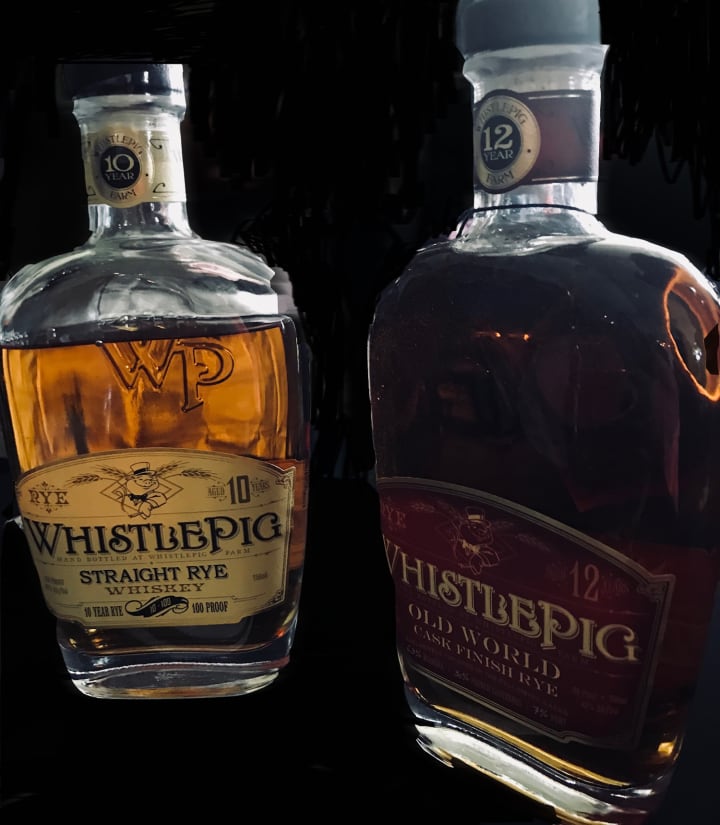 Marcia Frost: I'm ready to taste some.
David Pickerell: We're going to taste the 10-year-old first. This is our flagship. I can't say it's our regular because we don't have regular.
It's got a big bold spicy front at 100 percent Rye. It's very distinctive spices, because there's no corn to sweeten it up. So, you can pick out the allspice and the clove and the ginger and the anise.
Marcia Frost: I taste coriander.
David Pickerell: Yes. Just when you think it's going to get too big; it settles down to a caramel, butterscotch, and vanilla finish that's so long it needs its own zip code.
Marcia Frost: I like that.
David Pickerell: There's no back-panel bite. That's kind of a signature body. It's full-bodied, but no back-panel bite. The idea is to drink this anyway, you want. It's 100 proof? It doesn't taste 100, it tasted about 80. So, if you want to drink it neat, it's not going to be offensive. If you want to put a little water or ice with it, you're not going to over-dilute it.
Every bartender will tell you they prefer to build cocktails with this 100-proof spirit, because it doesn't get lost in the mixture. So, this is Mr. Versatile, drink it anyway you want.
The other one that we've got for you is our 12-year-old. And, this little fella, if the first one says, 'I want a cocktail and I'm Mr. Versatile, this one says, 'I want dessert.'
It's 12-years old, and then it's finished. Sixty-three percent goes into a Verdelho Madeira cask, 30 percent into a French Sauternes barrel, and 7 percent into a Port (barrel).
You mix those together, and, from the Sauternes, you are going to pick up some orange blossom and honey notes, and a little high residual sugar content to give you a better viscidity. The port is going to give you a dark chocolate and winter fruit, and the Madera is going to give you some grapefruit acidity, and it'll hold the spice in place, so you don't lose the spice in the presence of the sweetness from the other two.
Marcia Frost: There's a lot of flavor in that. Where did you come up with the idea to use that mixture?
David Pickerell: We want to be a detour sign. When people are leaving bourbon and saying, 'I want something more full body.' We want people to come to us instead of scotch, but that means you've got to pay attention to what's going on in Scotland.
My buddy, Dr. Bill Lumsden is over at Glenmorangie releasing Nectar D'Or and Quinta Ruban, releasing nectar to orange with all these marvelous finishes. So, if we just released a bunch of one-finishes, we're just being a bunch of copycats.
We don't want that to happen, so I said let's do something nobody's ever done up to this point. Let's create a marriage of at least three unique finishes, and it took us four and a half years to do it.
In the process, this rye whiskey was judged best whiskey in the world in San Francisco, and then, the marriage was selected as Rob Report's 2016 Spirit of the Year.
We've got a really good track record going here.
Marcia Frost: Definitely. It has a ton of flavor in there.
David Pickerell: Again, this isn't cocktail friendly. You could do a good old fashioned with it, but it's really designed just as a sipping whiskey.
Marcia Frost: I get a lot more sweetness with the water. I know water can bring it out. There is definitely much more of the flavors, like the wine, when you put water in it.
David Pickerell: It's just easy drinking, fun products. The good thing is that, every time we release something, somebody says it's the best in the world. When we released the 10-year-old, Wine Enthusiast gave us a 96. The 15-year-old comes out and Wine Enthusiast says, never mind that 96, this is a 97. Then, last year, we released the Boss Hog number four, and San Francisco said it was the best whiskey in the world.
Marcia Frost: So, the next question is, what's next?
David Pickerell: We have a new Boss Hog coming out, and it's called The Spirit of Mauve. It's in honor of our pet pig Mauve, who sadly passed away on Valentine's Day 2018.
She probably died of a broken heart, because she missed her buddy Mortimer so much. He died in 2014. They left one love child, Mortimer Jr., who carries on in their honor.
Mauve loved apples, so I thought it appropriate in her honor to release a Boss Hogg finished Calvados. It's so good. We didn't get it done in time to enter the competitions this year, but I truly believe that Mauve's Boss Hog is truly better than the Black Prince, that won best whiskey in the world.
Marcia Frost: I am definitely looking forward to trying that one.
interview
About the author
I am a well-published lifestyle journalist, who specializes in travel, food, and wine. I also wrote about music as a teen in the late 70s & early 80s. I'm back at it again, mostly writing about the same bands I covered decades ago!
Reader insights
Be the first to share your insights about this piece.
Add your insights