Brewery Music Venues to Visit in America
The ultimate list of the best brewery music venues to visit in America, and what makes each of them worthy of your next booze induced destination.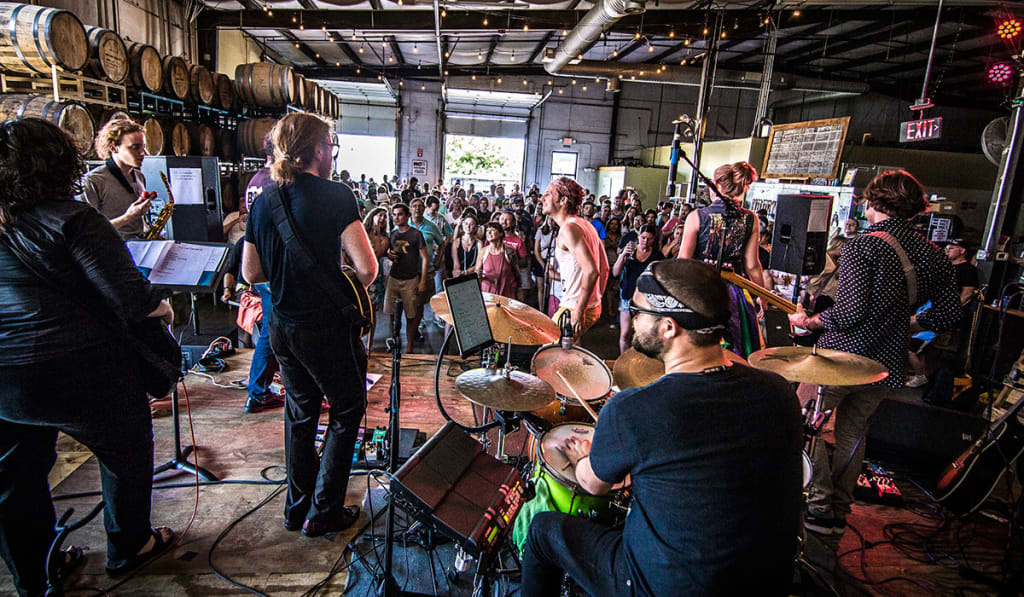 What better place to enjoy live music than a brewery? The two are the perfect match, and if you can find a location near you, it's more than worth it to take the trip. Enjoy music of all genres, locations of all style and sizes, and of course, some of the best beer in the country.
You might just find your next favorite evening activity. We have created the ultimate list of the best brewery music venues to visit in America, and what makes each of them worthy of your next booze induced destination.
Dogfish Head Brewery, Delaware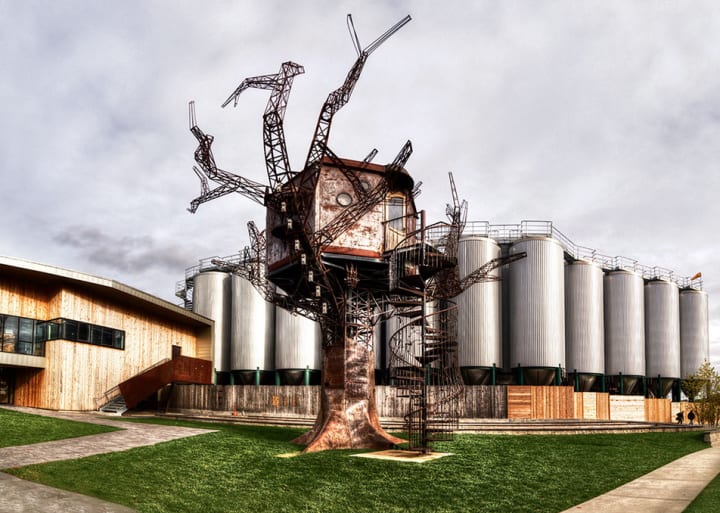 Just taking a quick look at Dogfish Head Brewery's website, you'll be overwhelmed by their "events" section. Filled with live music nights, beer fests, DJs, local music, and much more, it is apparent why Dogfish is one of the best brewery music venues in the country.
To start off our list, Delaware's famous brewery has been filled with tons of live acts, all worthwhile to have spent the night viewing. Some acts included Guided By Voices, Richard Lloyd, and tons of local music, perfect to indulge in comfort food, beer, and friends.
Highland Brewing Company, North Carolina
Located in the mountains of Asheville, North Carolina, Highland Brewing Company is one of the best brewery music venues in America because of its fun atmosphere, indoor and outdoor stages, and plenty of entertainment. The brewery is completed with a tasting room, and even features brewery tours.
But most importantly, the event calendar is one to get excited over. Featuring events every day of the year, besides holidays, there is an event for everyone. With locations to drink on the rooftop, a meadow, tasting room, outdoor stages, and indoor stages, this is a place that has something for pretty much everyone. Plus, the selection of beer is incredible, and will please anyone's palate.
AquaBrew, Texas
The AquaBrew Restaurant and Brewery is located in San Marcos, Texas, and is one of the best places for burgers, music, and great service. As both a beer garden and music venue, the location is perfect for that community feel and authentic live music, with San Marcos roots.
The beer garden is a beautiful place filled with open space, plenty of seating, outdoor benches with umbrellas, and even a rooftop bar. Filled with long tables perfect for a night out with a bunch of your closest friends, AquaBrew's entertainment is unbeatable and features live music from local artists to the occasional big name. They even do catering!
Brewery Ommegang, New York
Located in Cooperstown, New York, Brewery Ommegang is a one of a kind location. Though a bit out of the way, it is well worth the travel time to get there. From music festivals and concerts to tastings, the brewery is home to entertainment of all kinds. It specializes in Belgian-style ales and was founded in 1997 by Wendy Littlefield and Don Feinberg.
But the most important part of the location is their wide variety of beer, with quality to boot. Complete your night with some live music, a plate of fries, and to finish it off, some Belgian chocolate.
Lagunitas Brewing, California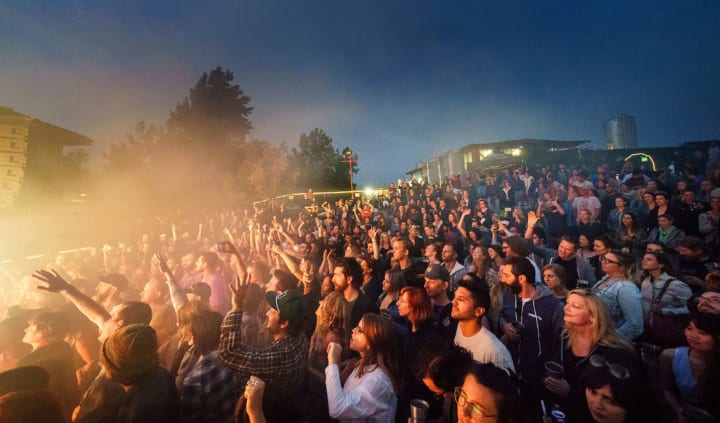 Lagunitas Brewing is next on our list of the best brewery music venues because of its amazing atmosphere. The perfect place to enjoy live music, their outdoor amphitheater is the main source of popularity within the beer garden's property. Plus, it's featured directly in the middle of everything.
Weekly, the brewery hosts live shows from June to October, and has done so for the past six-plus years. Some acts within those years have included Deer Tick, Delta Spirit, Mavis Staples, and The White Buffalo. A place that welcomes everyone, grab a beer and enjoy a night filled with friends, music, and food.
Surly Brewing, Minnesota
Surly Brewing is one of the best brewery music venues for people who love all things heavy metal. The brewery owns not only a beer hall, but event spaces that host concerts, events, private parties, sports events, tastings, and even wedding ceremonies.
With options to tour the spaces and plenty of events to go to, Surly is the source of entertainment to many Minneapolis residents and lots visitors and tourists each year. Some past events have included Edward Sharpe & The Magnetic Zeros and Dr. Dog.
Motorworks Brewing, Florida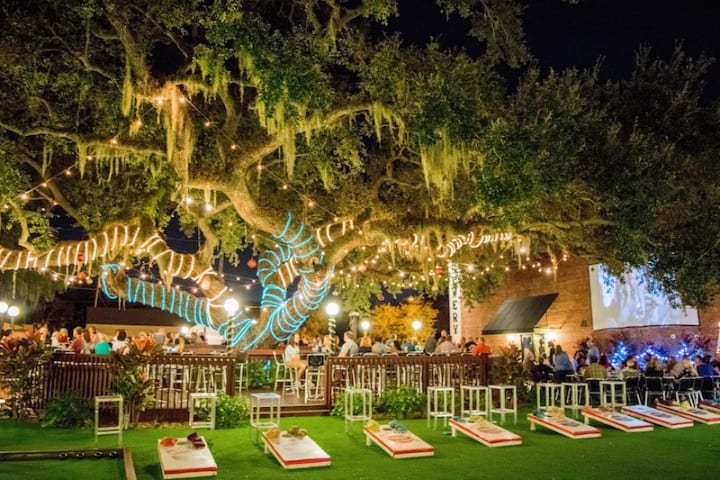 The largest beer garden in the state of Florda, Motorworks Brewing is a place you have to visit if you live anywhere near Bradenton, Florida. The location is a huge space with tons of televisions, plus an entire outdoor area that will take your breath away.
Once you step outside, you will be overwhelmed with the beauty of the trees that cast shade over the entire space, decorated with lights. The seating area is filled with tables and chairs, while the grass is the place to play games such as cornhole.
And of course, their variety of beers is one to drool over, setting the tone for the rest of your night filled with great music, dancing, and food.
Mayday Brewery, Tennessee
Next on our list of the best brewery music venues in America is Tennessee's Mayday Brewery. Featuring events each month of live music, costume themes, and special brew batches, Mayday has a night of the week for everyone.
To start, take the tour of the brewery, which includes a tasting of their four core beers, as well as a souvenir pint glass. Then, enjoy a night out on the town with music, food, and all the beer you can drink. The location is cozy and comfortable, perfect for an inviting and community feel. You won't regret spending a night with friends here.
Sierra Nevada Brewing Co., Nevada
The Sierra Nevada Brewing Co. was first established in 1979 by Paul Camusi and Ken Grossman, who were homebrewers at the time. One of the top breweries in the United States, Sierra Nevada Brewing Company's most popular year was 2010 where they produced almost 800,000 US bbl.
With some of the best beer in the country, be sure to take their tasting tour. Some of the brewery's events include live music, ranging from country to indie. With a concert almost every day, you're bound to hear some talent during any visit to the brewery. There's even a gift shop!
Founders Brewing Co., Michigan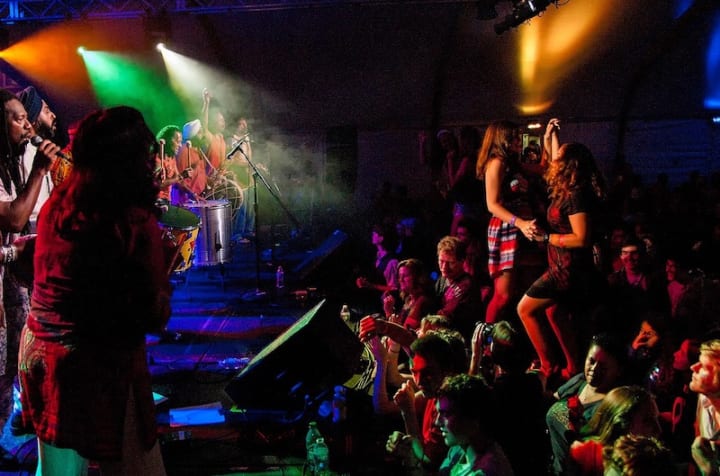 To complete our list of the best brewery music venues, we couldn't forget about the Founders Brewing Company of Michigan. Organized in 1996, the brewery has live music on Thursdays and Saturdays.
Featuring a stage, house PA and sound pool table, a real dart board, and shuffleboard as just some of their talent, the place is constantly filled with food, music, great beer, quality meals, and an attentive service. The perfect place to spend the entirety of your night, the location is beautiful and provides both outdoor and indoor seating for any weather.
travel
Passionate about writing, animals, makeup, movies, friends, family, learning, exercising, and laughing!