Bourbon County Brand Stout
Why This Brew Is a Black Friday Tradition for Beer Fans
Today, I have a treat for you all. This is a limited release stout that Goose Island releases every year on Black Friday. I was fortunate enough to live near a B & B that was releasing this rare brew. If this tells you something about the demand for this beer, the line was out the door, and this was not a small B & B. This place is the size of a warehouse and craft beer lovers were lined up out the door to buy this beer at $12.99 per bottle. I don't know about you, but it isn't every day that I buy a bottle of beer at that price. After all, I'm a freelance writer and not writing for the Times, so I'm not exactly raking it in. That being said, considering what little money I have, it was still worth the buy. This year, Goose Island released seven variants of their bourbon county stout and I was able to purchase four of those variants. Now, time to get down to the beer.
Bourbon County Stout
Even at first glance, this beer looked like something special. I poured into a standard size pint glass and it manifested as a deep ruby red with a one finger, off white head. The head had a red tinge to it. It smelled sweet, with hints of vanilla, apricot, and of course, just a little bit of bourbon. Now, finally, we have the taste. The taste is that of what an imperial stout should be. It tasted rich and sweet, with notes of rasberry, chocolate, and even a hint of tobacco. The alcohol comes through this just enough that it is not overpowering, but definitely present. The mouthfeel is quite honestly perfect. It is just thick enough to notice the consistency, without being too thick to the point of being syrupy. Overall, this is a thoroughly enjoyable beer that I will keep an eye out for next Black Friday.
Bourbon County Coffee Barleywine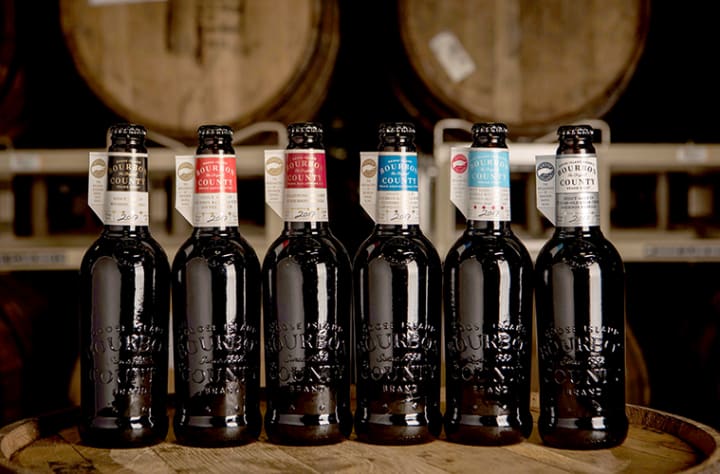 This is one of my favorite coffee stouts that I have encountered to date. This stout has many of the same notes as the original, but of course accentuated with coffee. This beer has a smell reminiscent of a morning coffee with vanilla lingering in the mix. It pours a dark black with an off white head that dissipates within a few moments. Now, for the taste, it is like the others, next to godliness. It is a perfect mix of coffee, malt, chocolate, and again the alcohol coming through on the back end. It is a satisfying brew best enjoyed ice cold, unlike the coffee flavor it represents.
Bourbon County Wheatwine
I have not delved much into the Wheatwine style until recently, but it is extremely unique. It is quite different from the other variants on the Bourbon County Lineup. It surprised me in both its simplicity and flavor. It is most extraordinary as it seems to me that it is a near perfect combination of both the barrel it was aged in and the flavor of the ingredients. To start, it pours a deep amber with a small off white head, which is a stark contrast to the other beers on the lineup. It tastes of wheat, vanilla, and caramel. Then, to finish, the taste of whiskey and the undeniable presence of the barrel it was aged in. This wheatwine is light in body and color, but still manages to be rich in flavor.
Bourbon County Midnight Orange
Personally, this may be my favorite beer in the lineup I have tried so far. Midnight orange is a stout that is impressive to say the least. This beer pours a pitch black with a one finger off white head. The flavor is rich, with the main notes being dark chocolate and orange. On the finish, you get hints of caramel and the alcohol coming through. The mouthfeel has a similar consistency to the original bourbon county stout. Overall, this is one I would buy a couple of next year and I plan to do so.
All in all, this lineup is definitely one I would search for come next black friday. If the hop gods are in your favor, there maybe a distributor carrying it near you. If you have a chance to buy, I would highly recommend doing so.
If you enjoyed this article, please support me by leaving a small tip below. It helps me to continue producing content for you to read.
Thank you for reading!