Best Songs About Drinking
There's nothing more comforting about your drinking habits than listening to the best songs about drinking while sipping on your favorite alcoholic beverage.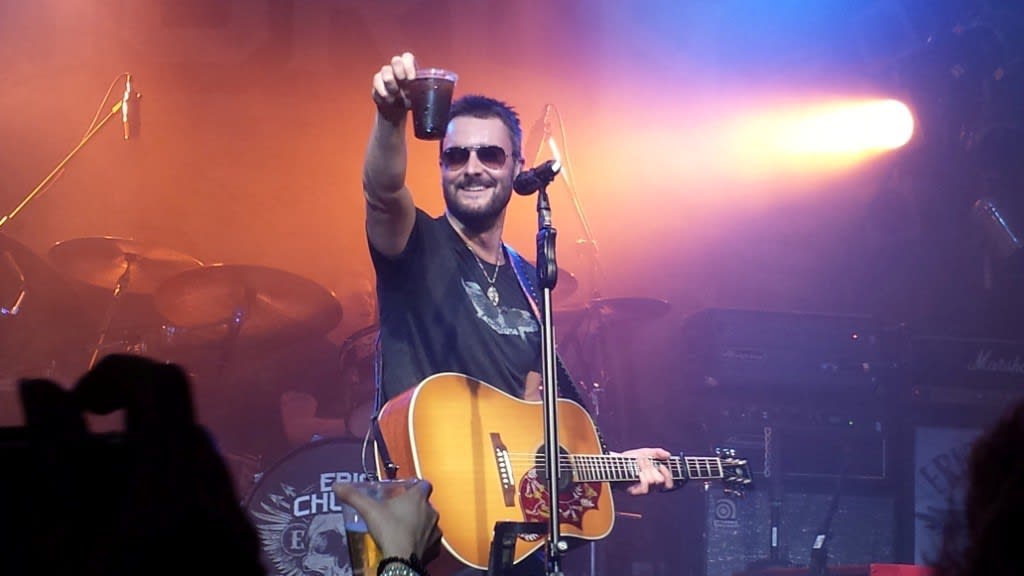 Eric Church raising his glass on stage from Whiskey RIff
Drinking is one of the world's favorite pastimes, for those who are of age. Enough so that musicians have been writing songs about drinking, getting drunk, and their favorite drinks for years now. These songs are not only hits on the charts, but are hits at parties, get-togethers, and bars to listen to while enjoying a nice refreshing drink. No matter what genre of music you listen to, there is a song about drinking to go along with any mood and reasoning one has to be drinking at that time. Let's hop right into it and take a look at the best songs about drinking.
From the moment you hear the intro to the song say "teen drinkin' is very bad...YO I GOT A FAKE ID DOE", you know that everyone who has heard the song before will begin dancing as they sip on their drinks. While rapping about drinking alcohol mixed with orange juice and being one of the drunkest people in the club, rapper J-Kwon wants everyone who is listening to the song to know that they should be drinking and getting, well, tipsy. If you could not tell by the title of the song or the first few lyrics, just wait until the chorus kicks in and everyone around you begins singing "errybody in the club gettin' tipsy". This song is an instant party starter and is still relevant even though it was released in 2004. Next time you want to turn your party up a notch, play this jam and you will see everybody getting tipsy.
This song could not be any more direct about participating in illegal activities, and that is exactly why everyone loves Snoop Dogg. The rapper Snoop Dogg has always had a very calm demeanor and loves kickin' back and getting messed up. The 1993 album Doggystyle was Snoop's first studio album, and he came out hot, writing about what he likes to do in his spare time. In "Gin and Juice" he raps about how he likes to drive down the street smoking marijuana and drinking exactly that, gin and juice. The song even starts off with the sound of liquor being poured into a glass because he wanted you to know exactly what he was talking about if you could not decipher that from his lyrics.
Although most country singers somehow incorporate drinking into their music, Eric Church has just a few songs dedicated to the subject. With hits like "Drink In My Hand", "Jack Daniels", "Hungover & Hard Up", and "Smoke a Little Smoke", there is no doubt in anyone's mind that Eric Church likes to have a drink or ten here and there. Church writes country rock songs that will accompany anyone listening to them with a nice cold beer or whiskey on a hot summer day. And if you are struggling in the morning from a long night of drinking, just give "Jack Daniels" a listen and you will either feel a little better or the need to grab a drink of the hair of the dog that bit you. And if you are just looking to have a good time then follow his lyrics and "drink a little drink, smoke a little smoke".
T-Pain is one of those artists who seems to be featured in more songs than he has released on his own. Many of these songs have to to with alcohol, including his 2007 hit "Buy U A Drank (Shawty Snappin')" featuring Yung Joc. This song is quite the helpful tip and confidence booster for a single male looking to take someone home with them, as he sings the lyrics like "I'ma buy you a drank, then I'ma take you home with me" and "we in the bed like (ooh ooh ooh, ooh ooh)". If you are trying to get lucky tonight, then maybe you should request this song because that is really all that this song is about, getting drunk and taking your "shawty" home for some late night activity.
From the English Reggae band UB40, this Bob Marley-esque breakup song has different take on songs about drinking with their very soft and mellow feel to "Red Red Wine". If you had no prior knowledge to who UB40 was, then you would have never guessed that it is a large group of Englishmen from their musical styling. "Red Red Wine" is actually quite the sad song, about still needing a woman that one has lost. When you have given her your all and tried your best but there is nothing left to do besides weep in your sorrows, this song might be for you. Most songs pertaining to alcohol are a bit more upbeat and party like, but not UB40s.
We can't forget this absolute classic, which has been featured multiple box office hit movies throughout the past few decades. Rupert Holmes released "Escape (The Pina Colada Song)" in 1979, just looking to get away (from his wife), drink some Pina Coladas, and relax. He wants this song to take your mind off of everything and just think about a great escape from your tiring life's realities. Well, Holmes did just that with this Caribbean sounding song, as it stayed on the top charts for two years. So if you like Pina Coladas and getting caught in the rain, take a listen to this song and simply escape from your day with one of the best songs about drinking.
Reader insights
Be the first to share your insights about this piece.
Add your insights