Are You Ready to Start Brewing Your Own Craft Beers at Home with the PicoBrew?
As far as pet projects go, brewing your own beer at home is a fun one.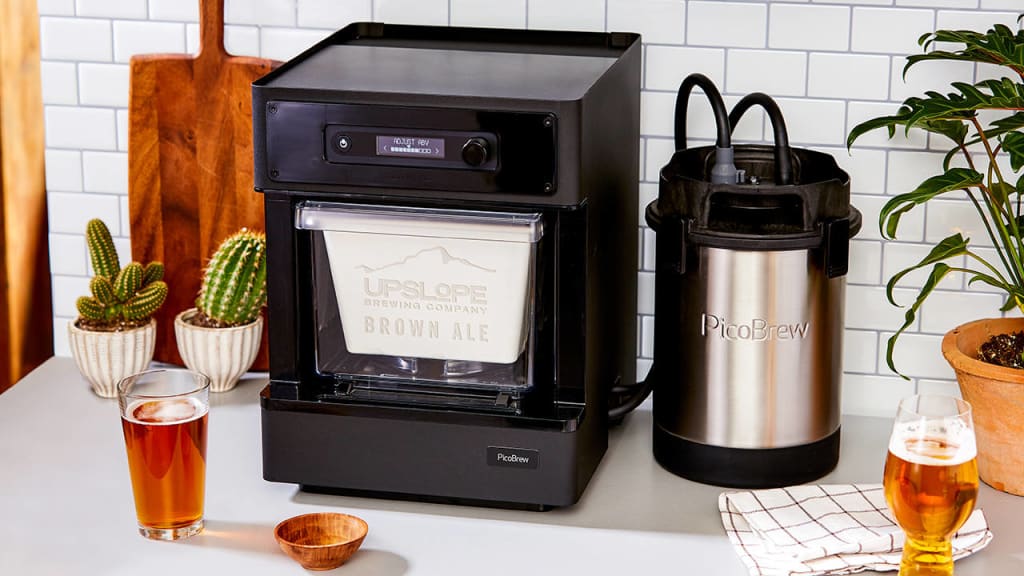 In the words of a darling former co-worker of mine, I "always have some weird, fun little project going."
Though she did say weird, the comment came from a well-meaning place. She wasn't wrong, either. Last year, I decided to make home brewing kombucha my little pet project.
After bringing an unholy amount of the healthy probiotic drink to the office to share with my coworkers, everyone started to realize I was a project person. The year before that, my project was cultivating an indoor spice garden for my cats. Yes, you read that right—not for me, but for my cats. Yeah.
With 2019 washing ashore, it's time for a new pet project. After brewing kombucha and jokingly calling all the kitchen cabinets I took over my kombuchery, I learned a few things about fermenting things. Beyond the basics, I also learned that warnings of explosions are very real, and if you get too confident, you will find your nine-foot high ceilings covered in tiny bits of watermelon.
Despite a few watermelon and blueberry related mishaps, I was pretty successful with brewing kombucha. Since kombucha already does have a very trace amount of alcohol in it, why not move on to another drink, with a bit more alcohol content?
That's right. You guessed it.
If your idea of home brewing is picturing an older fellow making moonshine in the middle of the Midwest, prepare to have your mind blown. You can actually brew beer right in your apartment. I picked up the PicoBrew Model C brewing kit and set to work. After each batch is completed, it can stay fresh for up to three months in the unopened keg, so you don't have to rush to enjoy your creation or wait for a special event to make a new craft beer.
As far as pricing goes, the PicoBrew is at a fairly reasonable, mid-range when it comes to home brewing systems. Full systems with similar equipment and features can soar as high as $800 or more, which makes the PicoBrew Model C doable at $399.99.
It's an investment, sure, but think about how much you spend going out to the bar to drink with your friends. Good craft beer always comes at a price, whether you go to the bar or to the liquor store and stock up. Instead of hitting the bar with your friends, invite them over to try your homemade craft beer. Some might be a little wary of home-brewed alcohol, but once they try it, you'll have them hooked.
Plus, it's actually pretty fun to have a unique pretense for inviting people over. We all have holiday parties, housewarming parties, and events like that, but have you ever actually been invited to a home brewing party? It's something different, and it's fun.
Since the brew time is only two hours, you could even have people come and choose what kind of beer they'd like to make. I had a get-together with several friends and coworkers, and we made two different batches while we played board games and ordered pizza.
The PicoBrew is convenient in every sense of the word.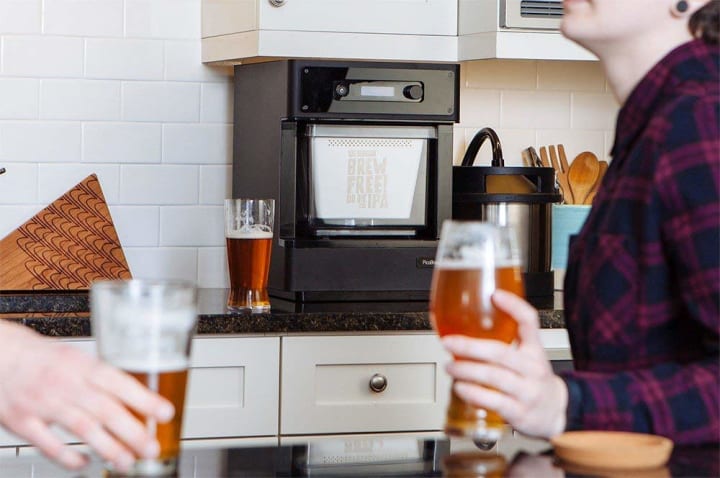 Best of all, the whole PicoBrew system can fit quite comfortably on your counter. It's not gigantic. You can delve into a fun, new hobby without having it completely take over your limited living space.
One thing that sets the PicoBrew apart as a more sophisticated brewing system is that the containers do all the work of keeping your brew out of the light. When I was making kombucha, I used simple, clean jars, which means I needed to section off entire cabinets to keep closed in order to keep the kombucha away from the light during the fermentation process.
It's nice to have the flexibility between putting the PicoBrew on my counter or in a cabinet. If you want to put it in a dark place, you can, but you don't have to. If you have more counter space than cabinet area, this is really helpful. It's a pretty fun appliance to have on display if you leave it out in the open; it definitely draws in questions from visitors since a home brewing system is not the most common kitchen device.
Though I confidently strolled into the unknown and started brewing kombucha with very basic equipment, I'm glad to be using a proper device to ferment beer. With its much higher alcohol content and more complicated fermentation process, it's good to have something strong and durable holding your beer.
If you try to brew beer the old-fashioned way, you're going to need an unholy amount of equipment; including pots, pans, cooling coils, hydrometers, and all sorts of other things you probably don't have space for. Even if space isn't an issue for you, it's a lot of work to make beer without a smart device to take care of the steps for you.
The PicoBrew system is a great gateway into the art of making your own beer since it gives you just the right amount of guidance to get started. You can get endlessly different flavors and types of beer with the Pico Paks, which are pre-portioned ingredient packets that give you the yeast and those key flavoring agents you need to make your beer unique. When you're new and not entirely sure where to start, these are fantastic.
Once you're comfortable enough, you can go totally freestyle and start choosing unique combinations of ingredients to fill and design your own Pico Paks.
If you're worried there might not be a flavor you like in the pre-made Pico Paks, despair not. There are over 180 breweries sharing recipes in the Pico marketplace, giving us more than enough to choose from. Whether you like strong IPAs or mild ciders, you'll find something you like.
I'm glad to have the pre-made Pico Paks to fall back on while I'm still learning. Though I've tried many, I'm not too huge of a fan of IPAs, so having a little extra guidance on combinations of grains, hops, and yeast is helpful.
The PicoBrew is insanely easy to use and it's not too hard to clean up after either. New appliances can sometimes make for difficult cleanup with all their different parts and components, but since the PicoBrew's equipment is streamlined to be effective, there aren't too many exposed nooks and crannies to worry about cleaning. As a fun plus, all of the PicoBrew systems actually have a built-in sous vide.
If you're a more experienced home-brewer, PicoBrew also has a Pro system that puts more control in the user's hands. I'm thoroughly enjoying trying different craft beers, especially with the record-breaking brew time of only two hours. There's some serious technology in the PicoBrew equipment, for having good quality beer made so swiftly is nearly unheard of.