11 Spicy Alcoholic Drinks to Set Your Mouth on Fire
Whether to welcome summer's warmth or ward off winter's bite, spicy alcoholic drinks are bound to make your night a little more exciting.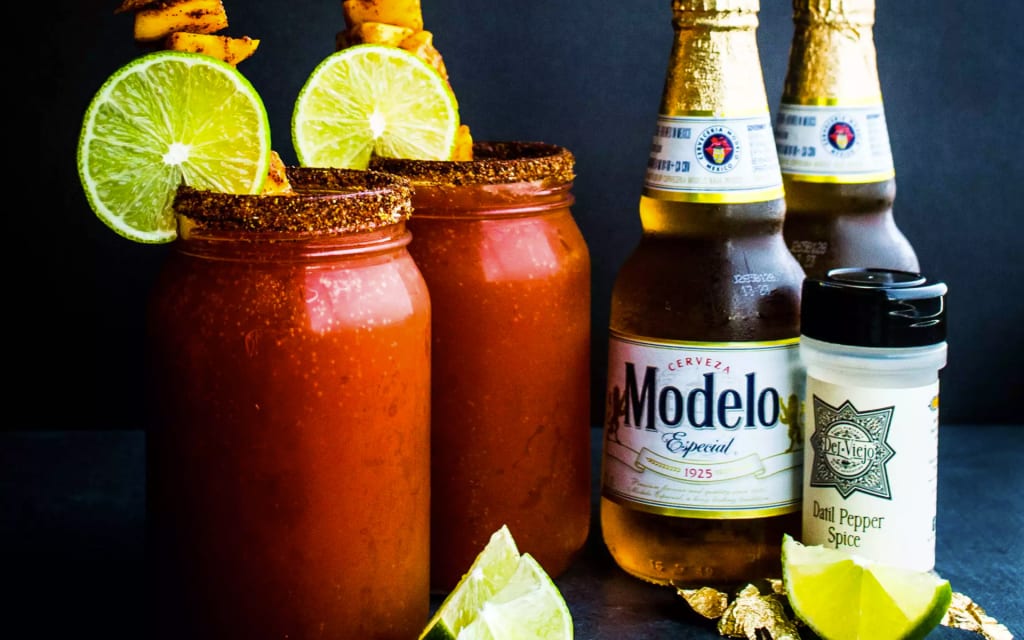 Alcoholic drinks are the ideal way to turn a dull evening into something exciting–and, so, if one wishes to spice up their life with a drink, why not make it a spicy alcoholic drink? Whether it's a cocktail or a store-bought bottle, there are numerous beverages infused with spice with which you can make a great night all the more perfect, or simply heat yourself up after a chilly evening outside.
Whether to welcome summer's warmth or ward off winter's bite, a spicy alcoholic beverage is just the thing to make your night a little–okay, a lot–more exciting.
This wonderful bottle comes complete with five different varieties of pepper infused in the vodka from the beginning. A mere whiff is enough to make your nose start running.
This is an ideal buy for anyone hoping to add a kick to their normal vodka drinks.
Whiskey Ember
Ingredients:
2 oz of whiskey
1/5 Royal Rose Three Chili Simple Syrup
Dashes of cherry bitters
Simply mix the ingredients together with ice in a lowball glass. Add a little ice. Enjoy your simple but delicious cocktail.
Jalapeno Margarita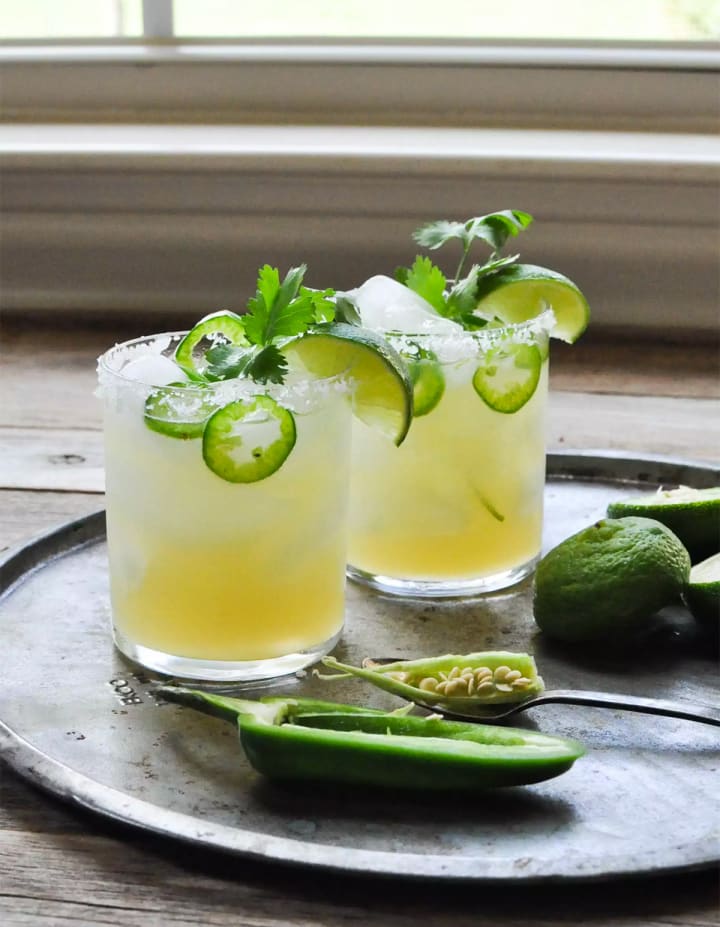 Ingredients:
Habanero-Infused Tequila (see above)
Canned Pineapple
Lime Juice
Lemon Juice
Pineapple Juice
After infusing the tequila, put some canned pineapple in the bottom of an ice shaker, fill it up to one fourth of the shaker's depth with ice, then mix in equal measures your lime juice, lemon juice, pineapple juice, and infused tequila. Then, shake. Hard.
If you prefer a pulpy drink, don't strain. Otherwise, strain into a frosted, cold cup.
Spicy Redhead Margarita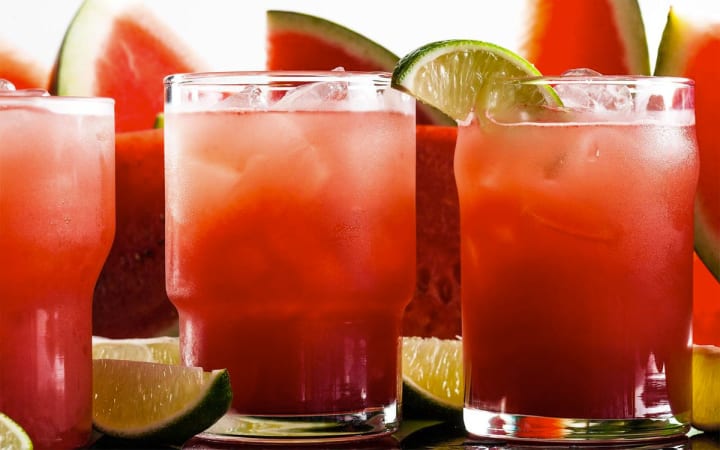 Ingredients:
1 oz Thai chili-infused tequila
1 oz Cointreau
1 fresh squeezed blood orange
1/2 fresh squeezed lime
1 slice of blood orange for garnish
Preparation for this one is simple. If you need to infuse the tequila, follow instructions for the habanero tequila infusion, only substitute habanero with Thai chili.
Once you have prepped your tequila infusion, mix all ingredients into a shaker with ice, and strain into a cup. Margarita glasses are preferred for this cocktail. Garnish with a slice of blood orange, and enjoy.
Jalapeno Peach Martini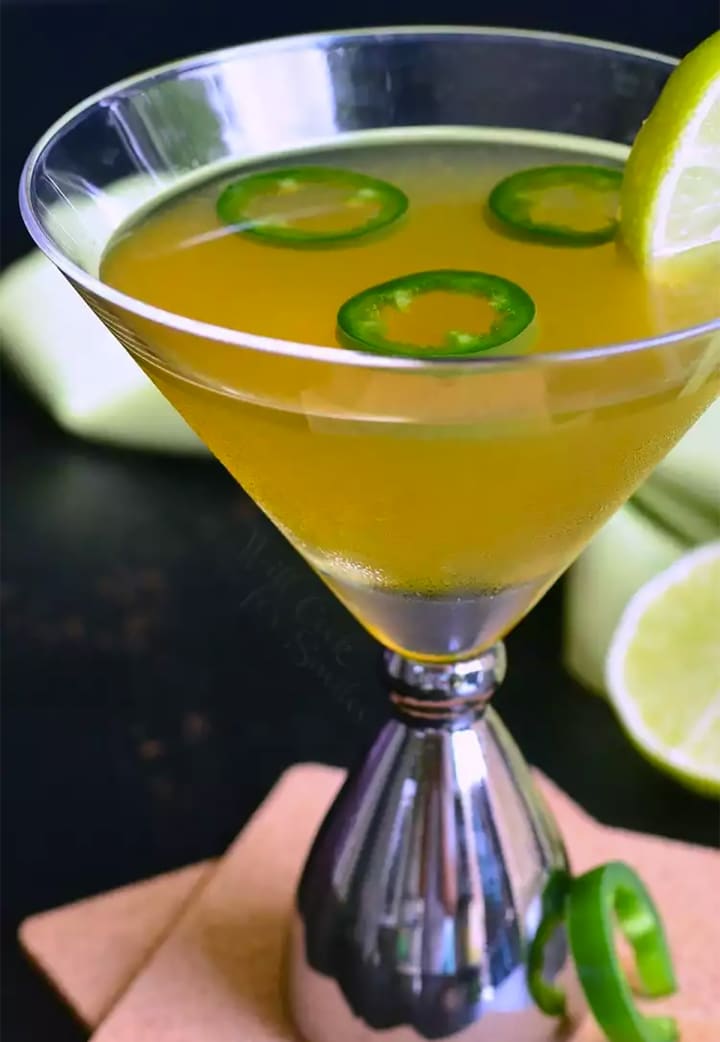 Ingredients:
2 oz Vodka
1 oz Dry Vermouth
2 oz Peach Nectar
6 slices fresh jalapeno
Preparation for this martini is simple. Mix all the drinks together into a shaker with ice. Shake for about ten seconds. Strain into a martini glass. Dump the jalapeno slices. Serve.
Habanero-Infused Tequila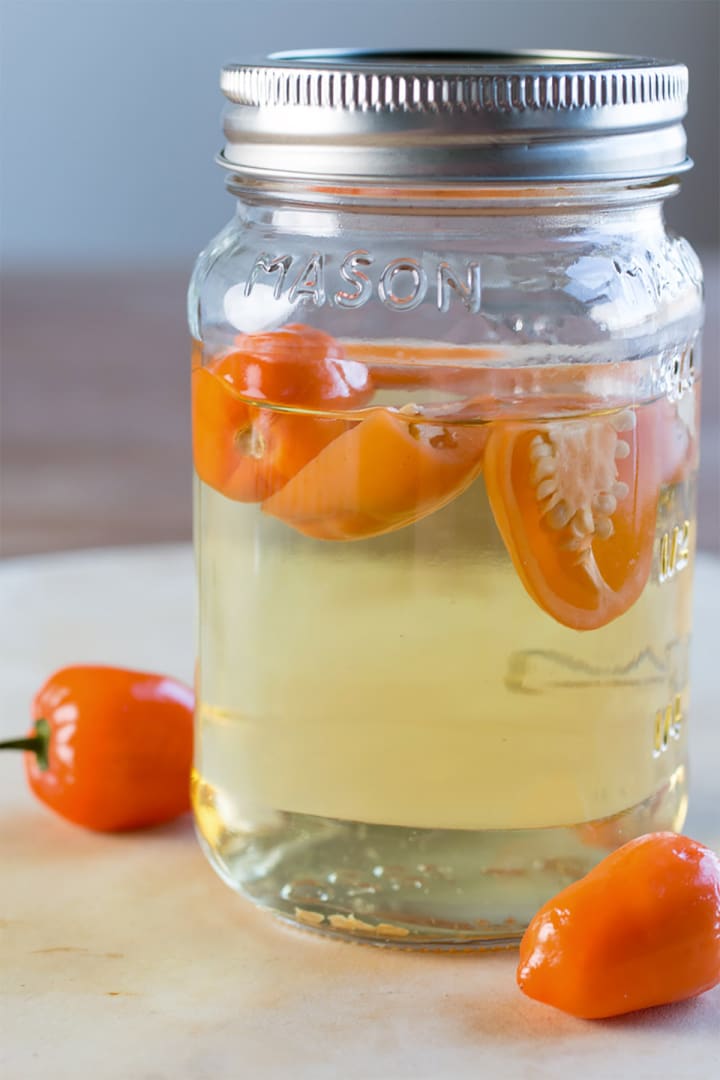 Ingredients:
Three habanero peppers
750 ml of agave tequila
Dice and slice the habanero, then mix into the tequila. Set aside for several hours so the peppers can infuse their spicy flavor into the tequila. At minimum, three hours. At most, twenty-four. Test until it reaches the preferred level of hotness. When done, strain the tequila from the peppers, put it into a bottle, and enjoy.
The Michelada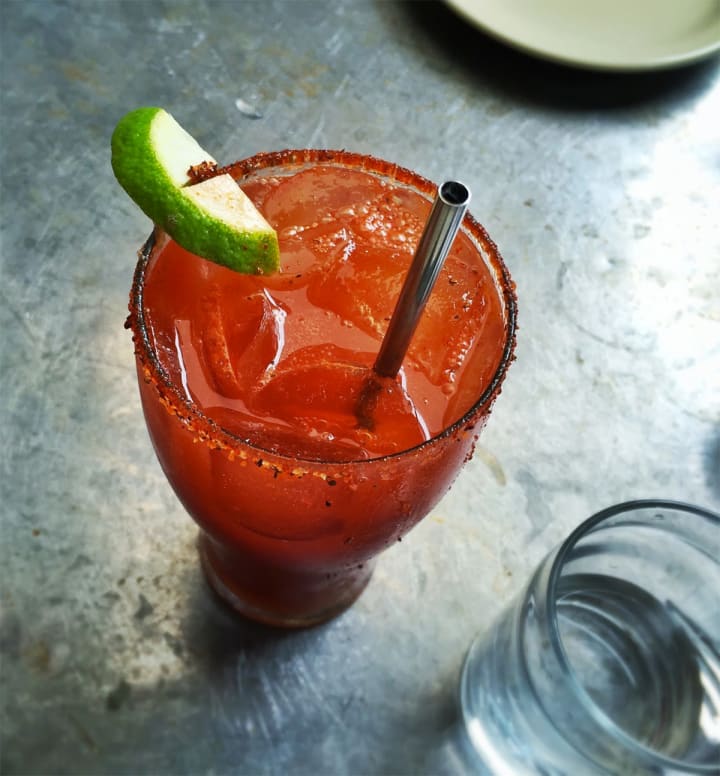 Ingredients
Mexican Beer
14 limes
2 tablespoons Worcestershire Sauce
2 tablespoons of soy sauce
2 tablespoons of hot sauce
3/4 cups of tomato juice
Salt and chili for cup rim
Cilantro for garnish
Mix the non-alcoholic liquid ingredients together, then pour into a pitcher. Refrigerate it for a little. Mix to your preferred ratio between beer and mixture.
You can add the salt and chili to the rim of the cup, using a cut lime and its juice to function as an adhesive. Simply rub the lime along the rim of the cup, then press it down on a plate dusted by salt and chili.
After that, mix the drink into a cup with ice, and add beer. Garnish, and enjoy.
Smokey Spicy Lemon Cocktail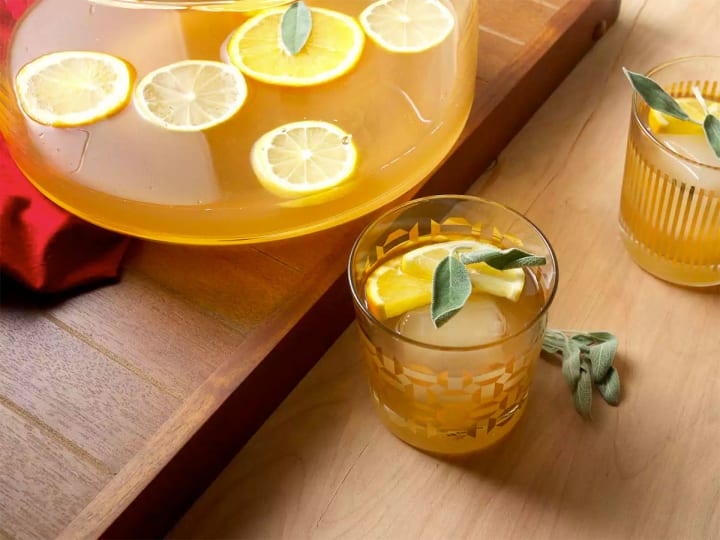 Ingredients
1.5 oz of vodka, tequila, or rum
1.5 oz of lemon juice
1 oz of chipotle honey simple syrup
Dried chili for garnish
To start, you need to brew the chipotle honey simple syrup. To produce it, mix 1 teaspoon of chipotle chili powder, 1/4 cup of honey and 1/4 cup of water. Simmer in a small pan, mixing regularly to keep it smooth. Once mixed, pour into a small container, and put it in the fridge for two weeks.
It takes a little while, but trust me, it is worth it.
Next, combine all the ingredients into a shaker with ice. Shake well. Over thirty seconds should be good. Once good, pour it in your ice-filled glass, garnish with dried chili, and serve.
Tropical Heat Mojito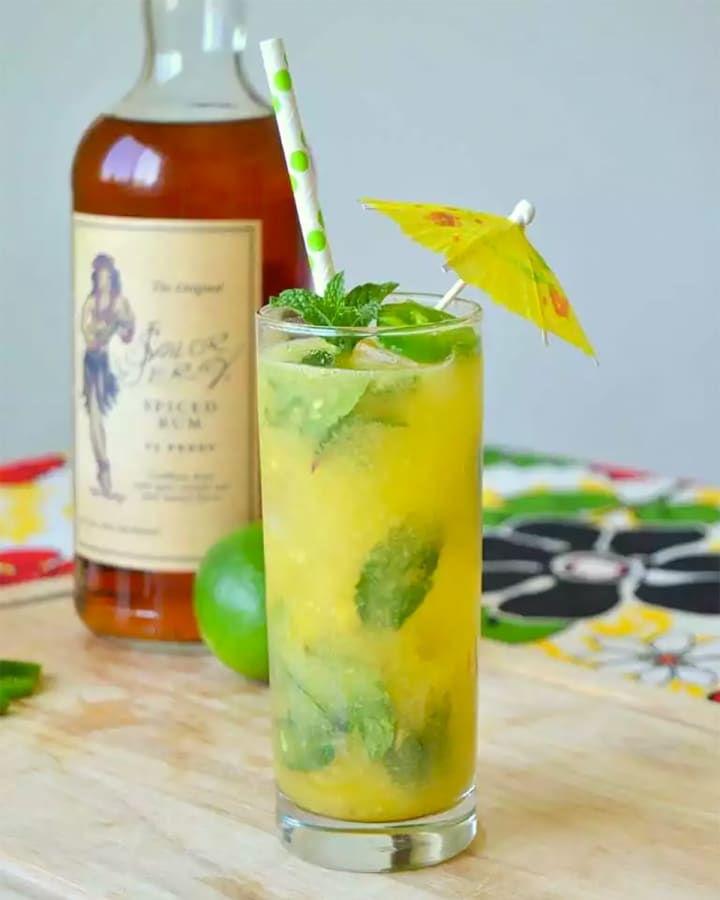 Ingredients:
1/2 mango, peeled and sliced
1 lime
Mint leaves
3 jalapeno slices (seeds included)
2 teaspoons of sugar
1 1/2 oz of Sailor Jerry's Rum
Sparkling water
Puree the mango slices in a food processor. Cut your lime into two pieces, and juice one of the halves into the pureed mango. Process the mix until its nice and smooth.
Juice the second half of the lime into a shaker, while mixing in your mint leaves, jalapeno, and sugar. Once you've let that sit a little, add in your mango and rum. Shake it up a little. Pour it straight into a glass with ice, while topping it off with some water. Stir it up, and serve.
Chocolate Tequila Cocktail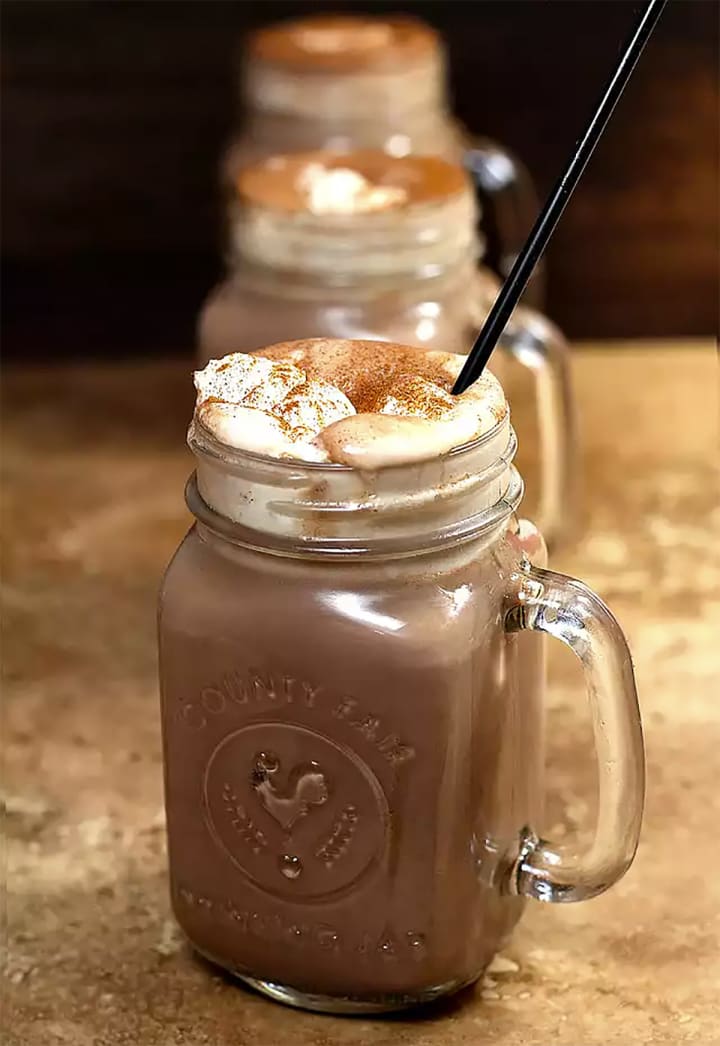 Ingredients:
One packet of hot chocolate mix
1/2 teaspoon of ground cinnamon
1/2 cup of boiling water
4 oz of Casa Noble Crystal Tequila
1 oz creme de cacao
1 oz vanilla liqueur
1 egg white
Cayenne for garnish
First, you will need to make some hot chocolate. Mix the chocolate mix, cinnamon, and boiling water together. Once mixed well, put it in a bowl in the freezer for about twenty minutes. You want the mixture to be completely and thoroughly chilled.
Once chilled, mix all the ingredients together in a shaker for about a minute or two. There is going to be a lot of stuff in this drink, so shake well. Add ice after shaking, and then shake it up for an additional fifteen seconds. Pour into glasses (preferably, two). Garnish. Serve.
Bloody Hell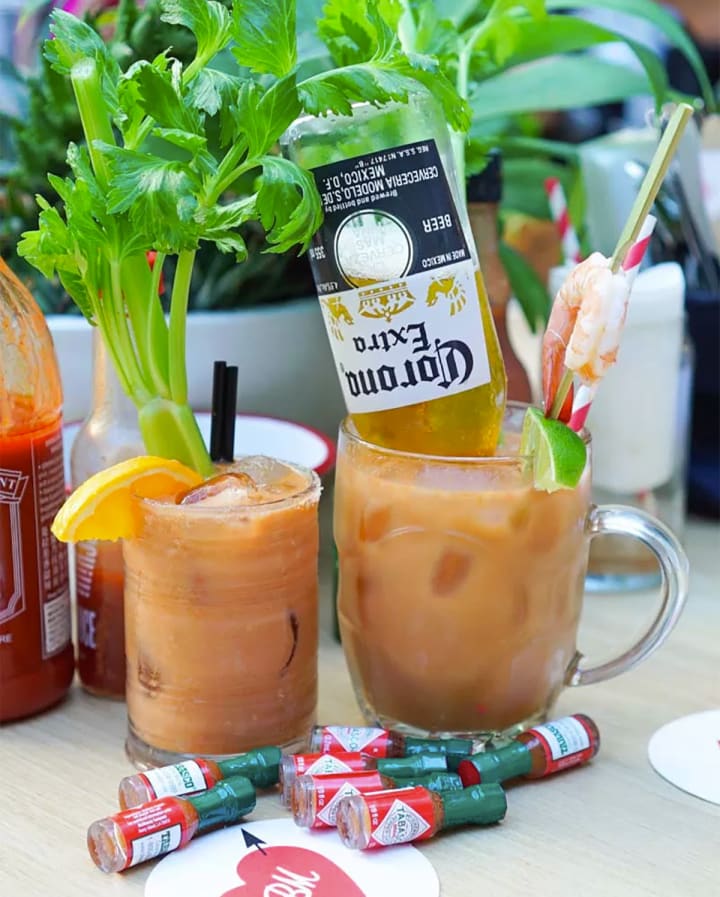 Ingredients:
2 oz blood orange juice
1 1/2 oz of bourbon
1 tablespoon Agave syrup
1 sliced jalapeno pepper
2 oz IPA beer
Mix everything but the beer into an ice filled shaker. Shake well for about thirty seconds to a minute. Strain into an ice-filled glass - preferably a highball. Once you have that finished, stir in your beer. Then, enjoy.