Songs of our Foremothers
The Lesbian Herstory Pride Playlist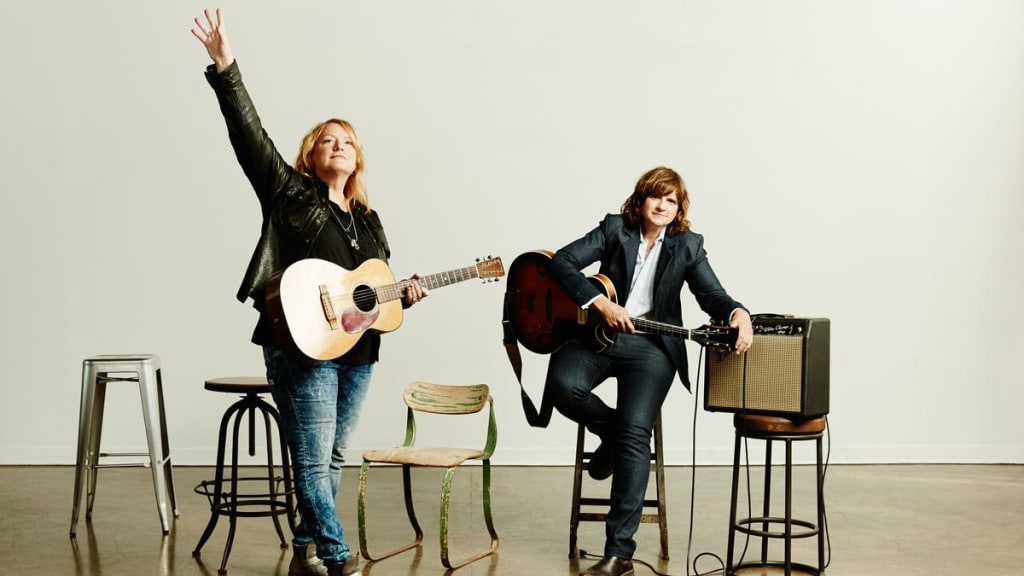 all hail Amy and Emily
The rise of women's liberation in the 1960s and 1970s was both a political and cultural movement that shaped everything from workplace politics to fashion. Music was no exception.
Women's Music emerged as one artistic response to the moment. With an emphasis on music, "by, for and about women," a soundtrack emerged, offering comfort, inspiration, strength and solidarity to the movement. The connections with the nascent lesbian movement were almost instantaneous and symbiotic.
Legendary lesbian musician Alix Dobkin said it like this:
Most commonly defined as "music by, for, & about women," the category of Women's Music has been entertaining and enlightening a vast network of Lesbians, our friends and supporters at concerts, festivals, conferences, gatherings and parties, on vinyl, tape, disc, and songbook since the early 1970s.
Lots of "LGBT music" lives in the glittery disco hits, the dance numbers that filled the bars and clubs where we have historically gathered. And it's true that many people will recognize the occasional Indigo Girls tune. But there's an entire quiet history, a canon of distinctly lesbian songs that I come back to every Pride.
Lesbian music's history is not a simple one; as the movement grew, it confronted deep and complex challenges. "Lesbian Music" was overwhelmingly white. Divisions over the inclusion of trans and nonbinary women took root and cracked the community in ways that still exist today. Separate women's spaces, such as the Michigan Womyn's Music Festival, established themselves, grew, and then imploded or faded. Indeed, many of the women in the generations who made this music don't recognize today's LGBTQIAAA "scene." They lament the loss of the smaller, more intimate communities that once marked our cities. They don't always see a place for themselves in today's queer world.
But they built a musical tradition over several decades that has lasting impact today.
These are the songs that nurtured me when I was coming out, the artists that paved the way. Their songs offered me hope, understanding, humor - and a deeply ingrained sense of pride.
I offer them here in their proper chronological order - see if you can figure out how these songs were in conversation with / inspired by one another.
#1
The Artist: Alix Dobkin
The Album: Lavender Jane Loves Women, 1973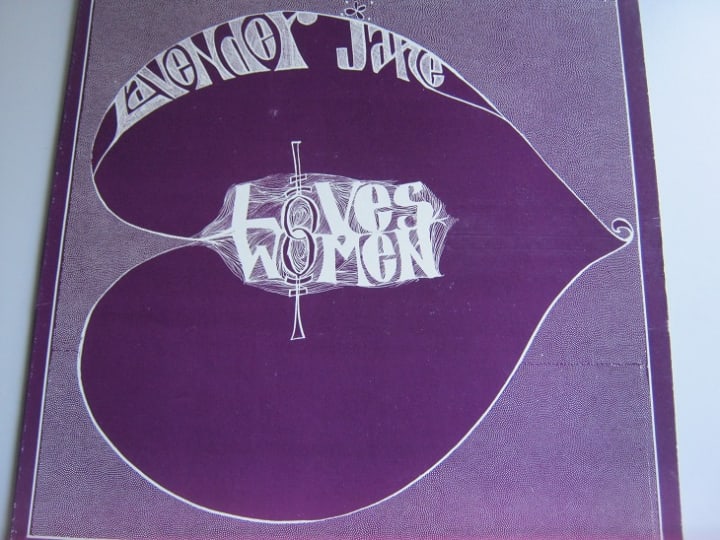 The Song: "Lesbian Power Authority"
Perhaps no name or album is more synonymous with the launch of lesbian music than Alix Dobkin. In 1973, with Kay Gardner and Marilyn Ries, she produced Lavender Jane Loves Women, "the very first album by, for and about Lesbians in the history of the world."
It's hard to overstate what a genuine revolution Lavender Jane Loves Women was. Today, the songs feel comforting and well-grooved, almost a little hokey. Lyrics like,
"I'm a woman's lover
I'm another woman's mom
I'm a woman's daughter, naturally
And if ever I need a friend
Upon a woman I'll depend
It's the Lesbian in me"
are, by today's standards, more than a little on-the-nose. At the time, they were quite literally unheard of. LJLW blasted open a door to a new world of lesbian music and lesbian POWER. Dobkin went on to a long and fruitful musical career, and recently passed away at the age of 80.
#2
The Artist: Cris Williamson
The Album: The Changer and the Changed, 1975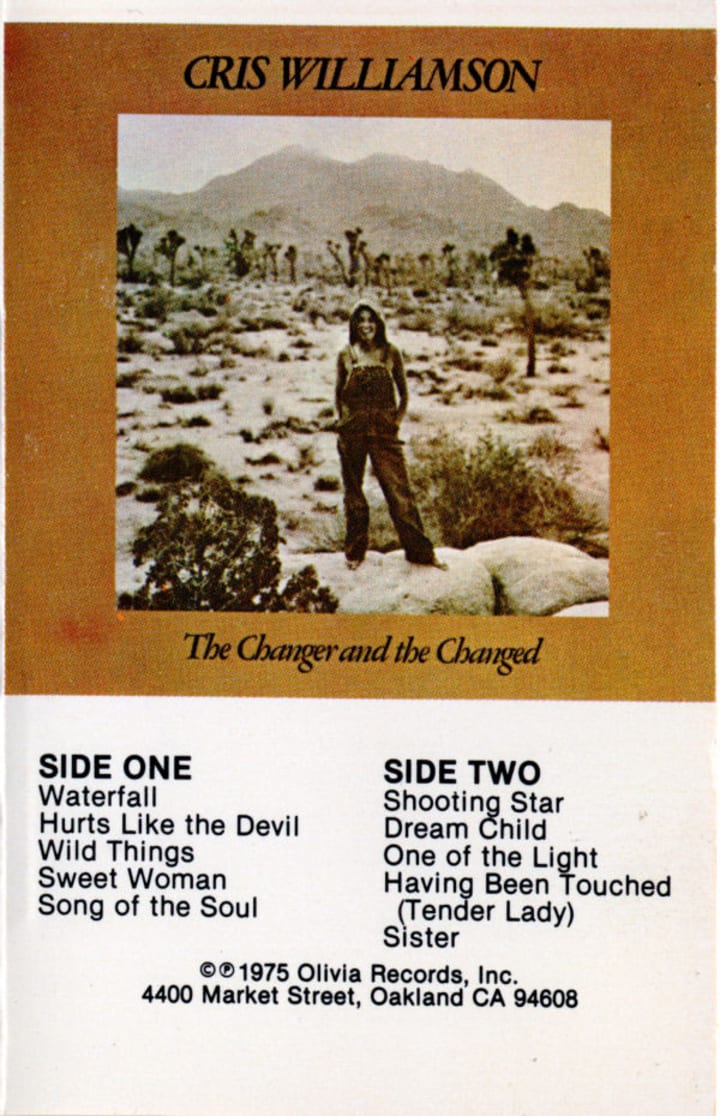 The Song: Waterfall
You can't talk about lesbian music without mentioning Olivia Records, the all-women record label that changed the women's music scene forever. Where Alix Dobkin popularized the women-with-guitars genre, Olivia leaned hard into high production values and a folk-pop sound that resonated across the movement. The first singer to be signed to the label was Cris Williamson, with her 1975 hit, "Waterfall," an anthem that had more subtlety to its lyrics than Dobkin's work, but nonetheless got its clear message across:
When you open up your life to the living
All things come spilling in on you
And you're flowing like a river
The Changer and the Changed
You've got to spill some over
Spill some over
Spill some over
Over all
#3
The Artist: Tracy Chapman
The Album: Tracy Chapman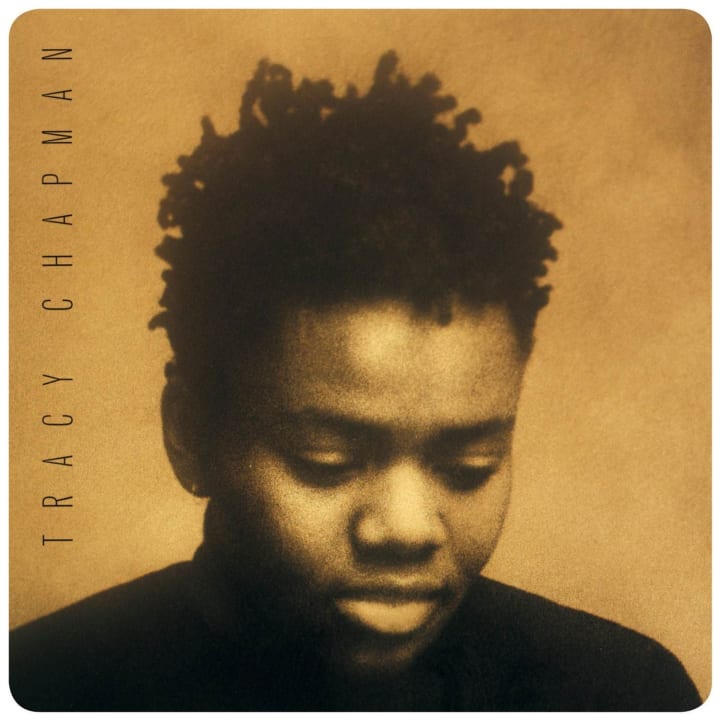 The Song: Fast Car, 1988
Okay, so. This is a bit of a tricky one because Tracy Chapman isn't offiiiiicially out of the closet. The best take on why Fast Car makes the list belongs to Irish Bendix's article:
Tracy Chapman has never went on record about being a lesbian, or bi, or queer, but her lovers have outed her (Alice Walker, among the most well-known), as have well-meaning LGBTQ organizations who celebrate her under the assumption she's both out and proud. But Chapman's stories are relegated to her songwriting; she rarely speaks to the press and when she does, she's noticeably reticent to speak about anything personal.

So how did "Fast Car" become such a huge facet of lesbian culture?

For one, it was the theme. The way Chapman sings about a genderless couple leaving town to find a home in a city nearby is something all queer people can relate to. We've always felt the need to relocate if we wanted to find other gay people―San Francisco, New York, Chicago. The nearest metropolis was deemed safer somehow, or at least provided more options for solidarity and community than, perhaps, Cleveland, Ohio where Chapman was raised.
#4
The Artist: Indigo Girls
The Album: Indigo Girls, 1989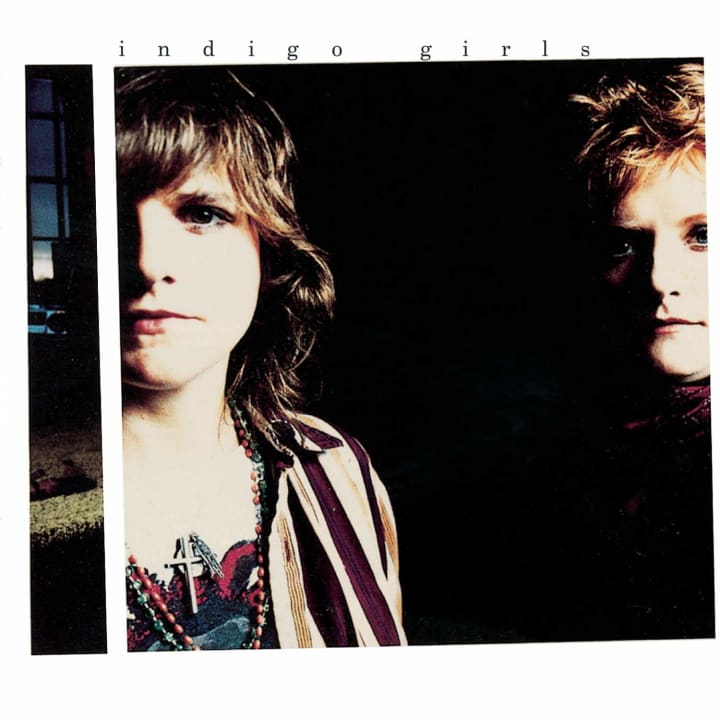 The Song: Closer to Fine
The Indigo Girls. Probably among the best-known groups on this list, if you're a US-based lesbian, you likely know at least a few of their songs by heart. The duo of Amy Ray and Emily Saliers offered us an example of a non-romantic (both have partners) duo based on collaboration (though they don't write songs together) and musical genius.
If Dobkin birthed the lesbians-with-guitars genre (and Joni Mitchell got adopted into it along the way) then Ray and Saliers made it iconic. Ray also founded Daemon Records in 1991, a label that still exists today.
If there's such a thing as a universal lesbian anthem, this one comes close. While it doesn't have the pointedness of Dobkin's work, or the 70s-pop-femme aesthetic of Cris Williamson, the Indigo Girls' "Closer to Fine" is so well known they've all but stopped singing it at concerts - they just play and let the audience carry it along, singing en masse at the top of their lungs. It's an oldie and a goodie for a reason - you can't play the opening chords without someone cheering for an old favorite or groaning at its decidedly-overplayed popularity.
#5
The Artists: Phranc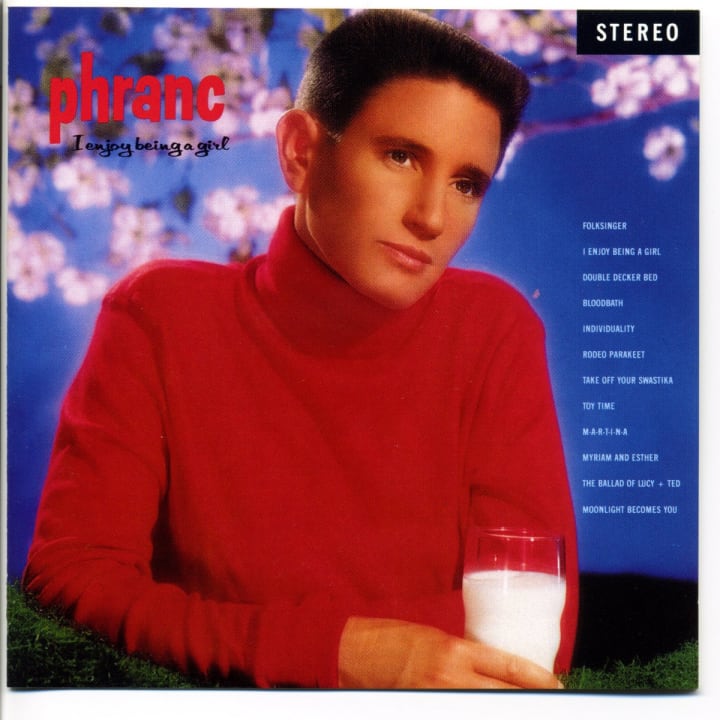 The Album: NA, fan-funded single
The Song: M-A-R-T-I-N-A
Right around the time the Indigo Girls were sailing up their rising star, a(nother) "All-American Jewish Lesbian Folksinger" (Dobkin was also Jewish) was coming through the ranks.
Unlike her forebears, Phranc came up in the punk scene of the 1970s, and brought from it an irreverent, cheeky approach to music and culture. In her punk days, Phranc:
...had a bleached blonde crewcut and wore male attire, creating an androgynous persona for her first band, Nervous Gender, which formed in 1978. The writer V/D wrote of her for the punk fanzine Slash, "On stage, Phranc looks like a 14-year-old runaway from a boys' reform school." The band was influential in the development of what later came to be known as 'electropunk'.
In the 1980s, Phranc's music melded into a more acoustic folk vibe, but her sense of humor stuck around with classics like this ode to women's tennis player (and longtime celebrated lesbian) Martina Navratilova.
Phranc was an important influence on the Queercore movement, being acknowledged as such by Team Dresch in their song for her, "Uncle Phranc." In the 1990s many queercore bands and musicians involved in queercore music began collaborating with her.
Oddly enough, the other thing Phranc is most known for is her long and storied career of selling Tupperware.
#6
The Artist: Alix Dobkin
The Album: Yahoo Australia, 1990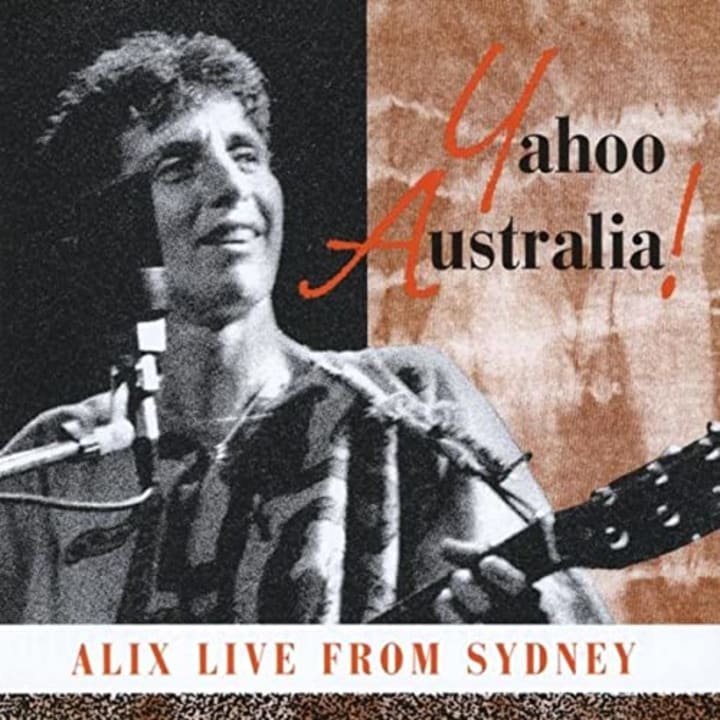 The Song: "Lesbian Code"
Alix Dobkin is too important to limit to one song, and this is one of the most joyous in her catalog. It's little more than a list of all the many ways in which lesbians covertly (or overtly) refer to one another, but in its time, it became part hymn, part battle cry. Writer Elliott BatTzedek says it best:
"Lesbian Code" always broke the room apart when she performed it. How can I tell you the power of this - knowing we had dyke sisters in other communities all around the globe, that Alix went there and knew them and brought our language to them and their language to us? We could gleefully sing OUR zip code over the zip code in the song, and sometimes Alix would stop the song and just start listing all the zip codes. ALL THE ZIP CODES cause we WERE everywhere.
#7
The Artist: k.d. lang
The Album: Ingénue, 1992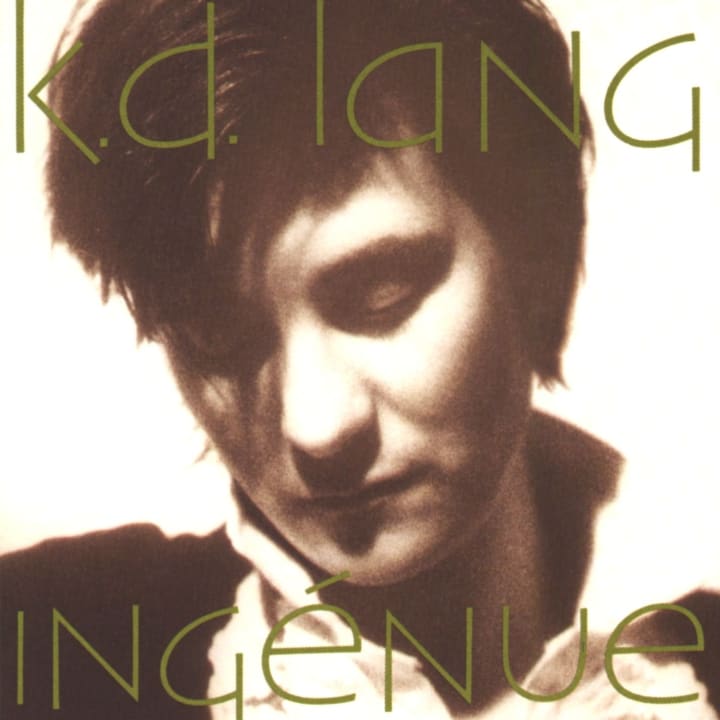 The Song: Constant Craving
k.d. lang comes out of the closet in 1992 and shocks...literally no one. But she does cement herself in the lesbian music canon by being so famously handsome that she's the go-to choice for straight women of a certain age who entertain bisexual notions.
Constant Craving isn't actually her best song - her best songs are her country covers, where her voice really shines. But this number definitely puts yearning into a croon you can carry for hours in your head.
#8
The Artist: Melissa Etheridge
The Album: Yes I Am, 1993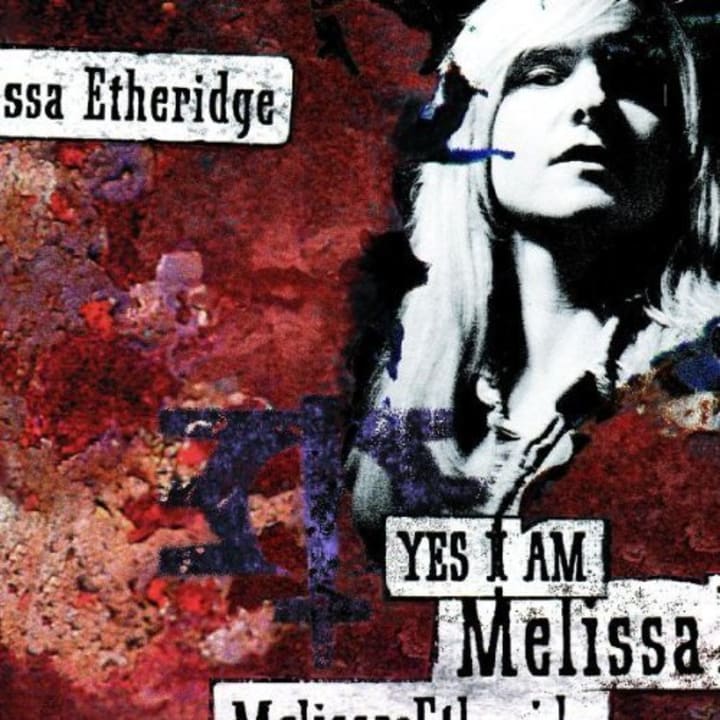 The Song: Come To My Window
Melissa Etheridge crept into the early 90s music scene and took off from the launch pad the Indigo Girls were building with their guitar-heavy soft-rock folk vibe. Etheridge took it up to eleven with a solid rock sound and almost-growling vocals that smoldered as much as they soared.
With a catalog of eminently singable, soulful pieces, Etheridge rode the growing audience for women's music, serving as a bridge between the folkier lesbians and the punkier ones (many of whom found their home in queer-friendly-but-straight-led Riot Grrl.)
"Come to My Window" is only one of a slew of iconic songs that were wholly embraced by early 1990s lesbians, who were thrilled to see one of their own (even if she wasn't out for awhile) climbing the charts.
#9
The Artist: Melissa Ferrick
The Album: Freedom, 2000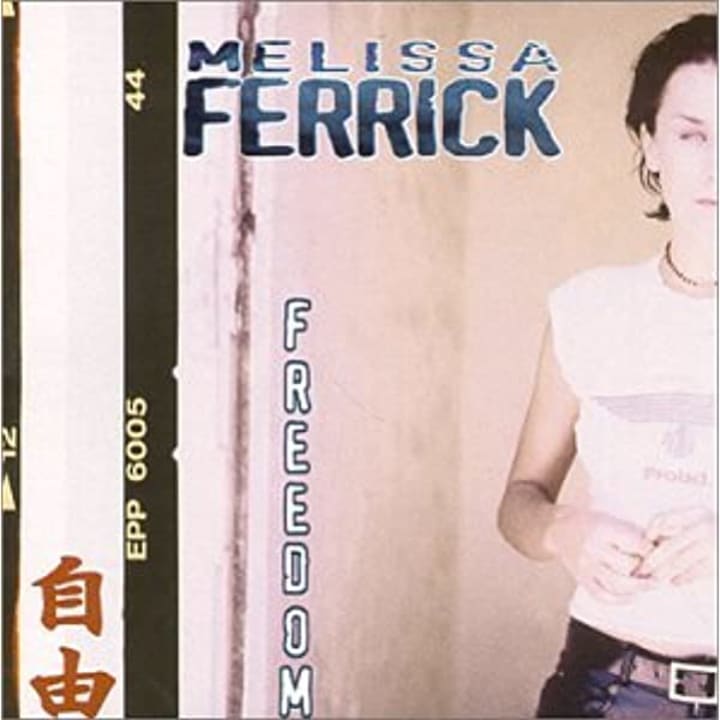 The Song: Drive
In a nod to the "two lesbian musicians named Melissa," Melissa Ferrick once did a fantastic parody of a Melissa Etheredge song but we're not here for that. No, we're here for the song that accompanied so many many college makeout sessions (if you were in college between 2000-2012 - what's up, fellow Millennial queers!)
Drive did something that few of its forebears did. It wasn't covert, subtle, coy, or chaste. Drive is downright dirty - not just in its lyrics, but in the steady, throbbing beat that makes it such a sex-soundtrack cliche. (Ferrick herself has said she's struggled to find someone to date who HASN'T gotten laid to Drive at least once.)
I'll admit it. I'm definitely in that club.
Drive is a cliché. A hot cliché.
But more importantly, Drive's naked embrace (see what I did there?) of queer desire brings something new to the cultural table at the turn of the millennium. It snatches "girl-on-girl" straight from the jaws of the patriarchal male gaze and puts it firmly back where it belongs - in women's bodies. Their mouths. Their arched backs and bent-back heads and...you see where I'm going with this.
*
As we go through this besparkled rainbow Pride month, turn your attention to some history - I don't just mean memes about how Pride was a riot! (though it totally was.) Look beyond the streets and into the homes, cassette players, boom boxes and mp3 players of lesbians throughout the last 40 years - and let their music show you a different kind of Pride.

Dane BH
By day, I'm a cooking teacher, foster parent, cog in the nonprofit machine, and poet. By night, I'm a creature of the internet. My soul is that of a grumpy cat who'd rather be sleeping.
www.danepoetry.com
See all posts by Dane BH →