In the Sprit of Full Disclosure
A fashionable transformation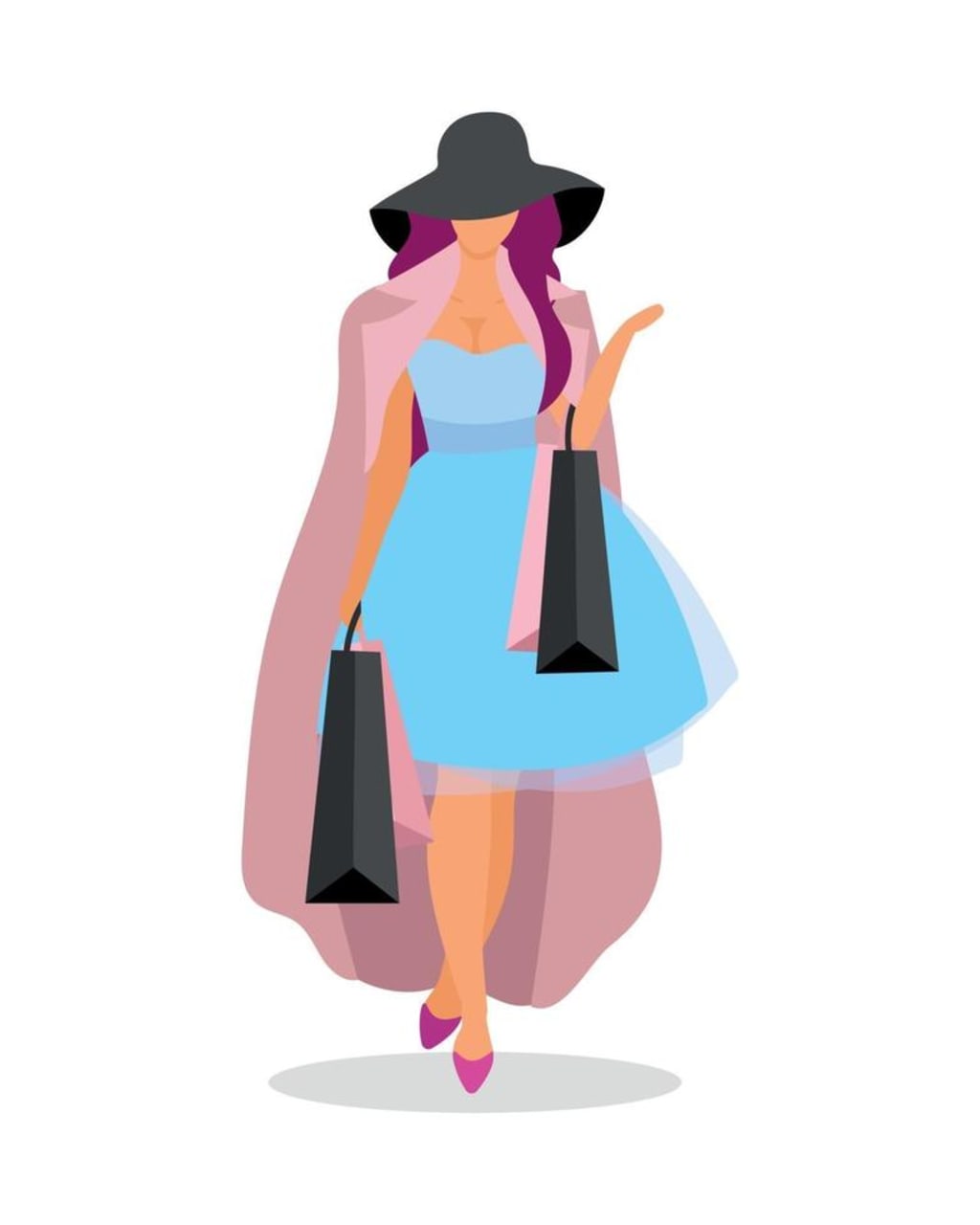 In the Spirit of Full Disclosure…
Part 1
Derrick Sinclair
Have you ever had one of those days where everything went sideways from your plan and worked out even better than you thought possible? This is one of those days.
It's Saturday and like any other Saturday, that means a lazy morning followed by household chores and then a shopping adventure. The afternoon shopping trip is for clothes. I love clothes. Especially, well-designed and constructed women's clothes. Nothing is more enticing for me to buy than something that feels good, looks good on, and will be around for years without a style update required.
The only problem I have is, I am a man. A man with the usual responsibilities and required presentation that a man is expected to make. A businessman, a philanthropist, a business builder, a coach, and rich by anybody's standards. Money does make some parts of life much easier while being a total distraction to others.
I can, on a whim, be on a private jet in an hour headed to somewhere fun or in this case warm. Today I am getting away from the cold and heading to the nearest place over 80 degrees. Today, that is going to be Phoenix, Arizona. I am over the cold and need some sunshine and warm air. Phoenix is within a two-hour flight circle from Denver.
The first thing to go against the plan today is the jet. I co-op with another company, they have an exec who needs to go to Phoenix and wants to jet pool with me. I hate sharing my alone time but…today it works out for a free flight. They will pay for the ride even though I have the reservation, it's up to me if I want to share it. To get a free flight, why not.
The fellow pooler is a woman around 40 years old. She smells so good that you find joy in breathing the air near her. A positive in my book. We get to talking and something seems a bit different about her phrasing of sentences and how she sees life. They seem to be more like how a man would be looking at topics than a woman. I study her, and she catches me.
"Like what you see big boy? I'd say take a picture, but I don't want you to get any ideas!" said my fellow pooler, Jasmine O'Day. Multimillionaire and general entrepreneur to the stars.
"Oh sorry, I don't often pool with anyone, and you are pretty. I was admiring you."
"No, you weren't. You were studying me. Trying to see if all was in order."
"I, I …I was just looking I promise!"
"Look, I know you were trying to see if I was whom I present. Admit it. I get this all the time."
"I don't know what to say!"
"I'll save you the time, yes, I used to be a man…like you. Now I am doing my real self and am so happy and doing my life the way that I want to do it. You should look into making some changes."
"How can you tell? Is it something I do? Say or act?"
"No, by the way, I'm Jasmine. Jasmine O' Day."
"I'm Derrick Sinclair, I am happy to meet yo.!"
"What it is, is simple. You have all women's clothes on but if you didn't know the brands you would not suspect. The Lauren Jacket, YSL blouse, and your slacks are either BGB or Gucci. The leap I took was, who would do that other than someone like me."
"Busted, but you are so well put together how did you get the courage to make your transition?"
It's not a transition, it is a confirmation of what I am inside that I hid for all too long. You should try it. I think you would find it refreshing to wake up knowing you get to be you."
"Help me, on this flight we have nobody to judge, no jury of our peers, help me be the real me." Derick begged.
"Ok, why not, what do you have on board for clothes? Get them and let's see what we can put together to start the process. You see it's not about being able to quote, get away with it. It's being so authentic that you aren't getting away with anything, you just are."
Derick went to his suitcase in the rear storage area and brought out his haul of nice clothes. He spread them out on the couch and beckoned Jasmine to come to look.
"Nice clothes, I can tell you like the finer things in life."
"I shop once a week to find something that makes me happy, and I think I look good in it."
"Well, you've done a great job with the clothes. I don't see anything that can't be used to create an outfit that could go anywhere. I don't see any makeup!"
"No, I don't generally do the full-girl project. One it takes too long and two I suck at it!"
"Well let's address the makeup first. I have my travel kit and it's full of my usual colors. We should be able to put something together for you."
Jasmine retrieved her bags, and the travel makeup kit was one of the multi-tiered cases that open from the middle and have four layers of organization and storage for a complete makeup application, repair, or in this case – a share.
"The light in here isn't great but let's start small and do your eyes and a light foundation."
"The trick to doing your eyes is to see what you want first and layer up until you have the look you want. Rather than give you a hooker after-dark look, I am going to go for the girl next door at lunch."
"Feel what I am doing and don't look. We can go over the colors, but you need to learn the strokes and how it feels when you are doing it for yourself."
Derrick tipped back into the chair and went into a sensory state that let him feel all the subtle strokes, pressures, and feelings he had never felt before. He has applied makeup before, but it was more of a mess. He was getting his war paint applied and was learning every stroke as though he was blind.
"Ok, don't look yet. Let's go over the project. What you are trying to do with any makeup application is highlight the features, without creating too much color to make it unbelievable." she said as she put the finishing touches on her masterpiece.
"You make this almost a spiritual experience."
"It's in every way. You are taking what you have and adding to it to allow your reality to be seen by the world."
"Wow, that is deep. I just think of it as one of the steps to present feminine."
"That is a part of it, now look at the finished result."
"I can't believe that is me. I look so pretty. I never knew I could look like this!" he said with tears starting to build.
"Don't you dare cry off my work. Puppies being killed!" she said to snap him out of his revelation.
"Jasmine, do you think that you would have time to go out to dinner tonight? I would love to get all dressed up and have dinner with you."
"I could see that. Would you mind if we met at my hotel? I have a meeting there and it would be easier for me."
"I would love to meet you there."
"Ok let's get you all finished up. Your hair is long enough but the style is all wrong. I don't cut hair, but I can have a stylist ready for you when we land."
"I'm in your hands. What are you thinking for a style?"
"Something shortish and fresh. I know you need to go back into drab mode at some point, so I don't want you to be locked out of your life. I do want you to have a view of what it could be."
"You know me so well, how have we not met before."
"We have. I met you at a gallery opening in Taos a year ago. You were donating a bunch of money to help start a local artists' studio. All Dior, if I recall."
"Oh, my goodness, you were there how did I miss you? It wouldn't be something that I often do."
"I was still my former self. We met over cocktails, and you were interrupted by the press."
"That was you?"
"It was. See how far you can go if you set your mind to it."
"I can't believe that was you. You were an ordinary guy. Rich and I wanted you to donate, but nothing said girl that I can recall! Oh, vintage Bill Blass, by the way."
"How accurate you are. On the clothes, as well as my presentation. You have gone a different route. The clothes you wear are stylish and feminine if you know what to look for. I didn't have the luxury of indulging that side of me until I made my choice."
"So, tell me, how do you think I could make my life authentic without losing everything I have?"
"You can't, you take the risk of losing everything. Your friends, family, those weird relatives from the south that take potshots at you anyway, your childhood, your business, it's all on the line. The question is do you want to be happy? Do you value your direction in life more than you value the opinions of others? People who, if they were as valuable as you think, would clamber to your side in support of you becoming who you want to be. What I found is that you will have a percentage of totally lost people, money, contacts, business, and you will have some people you never knew would be on your side, and you will have some people who just don't take the time to even care. The risk is there my friend, the risk is there!"
"So how did you do your change?"
"I started just like you, dressing the way I felt best. One thing led to another, and I finally decided enough. I made the decision to go through with all of it the next morning, met with a team of doctors, shrinks, and counselors, and put it together. I can tell you the full details over dinner. It looks like we are starting to descend into Phoenix."
"Honestly, this morning I was looking to get out of the cold and find some sun. I had no idea that I would meet someone who could take me out of the cold and into a whole other lifestyle. I feel like I should do something for you. is there something that I can do to balance the scales?"
"YES, you can buy me a new outfit. Yep, that is my price for counseling today. A new couture outfit that I get to go to Paris to create!"
"Done. Can I go with you as the new me? I can think of no better way to celebrate."
"Hold on tiger. You don't know if you want this yet. Let's agree that we can go to Paris as two girls. I will agree with that, and I think that is a fair way to go forward. You have no idea what you want, yet. You only think you do."
"You're right, the fantasy is there but the reality of potentially losing everything…not up for that!"
"See that is why you have so much money, you use your head not your heart."
"Let's table this for now. I have a meeting as soon as I land, and I need to have my head in this ballgame, not on the Seine in Paris."
Part two – A Plan is Hatched
Reader insights
Be the first to share your insights about this piece.
Add your insights