Bayard Rustin -The Man That History Forgot
Gay, black, and unabashed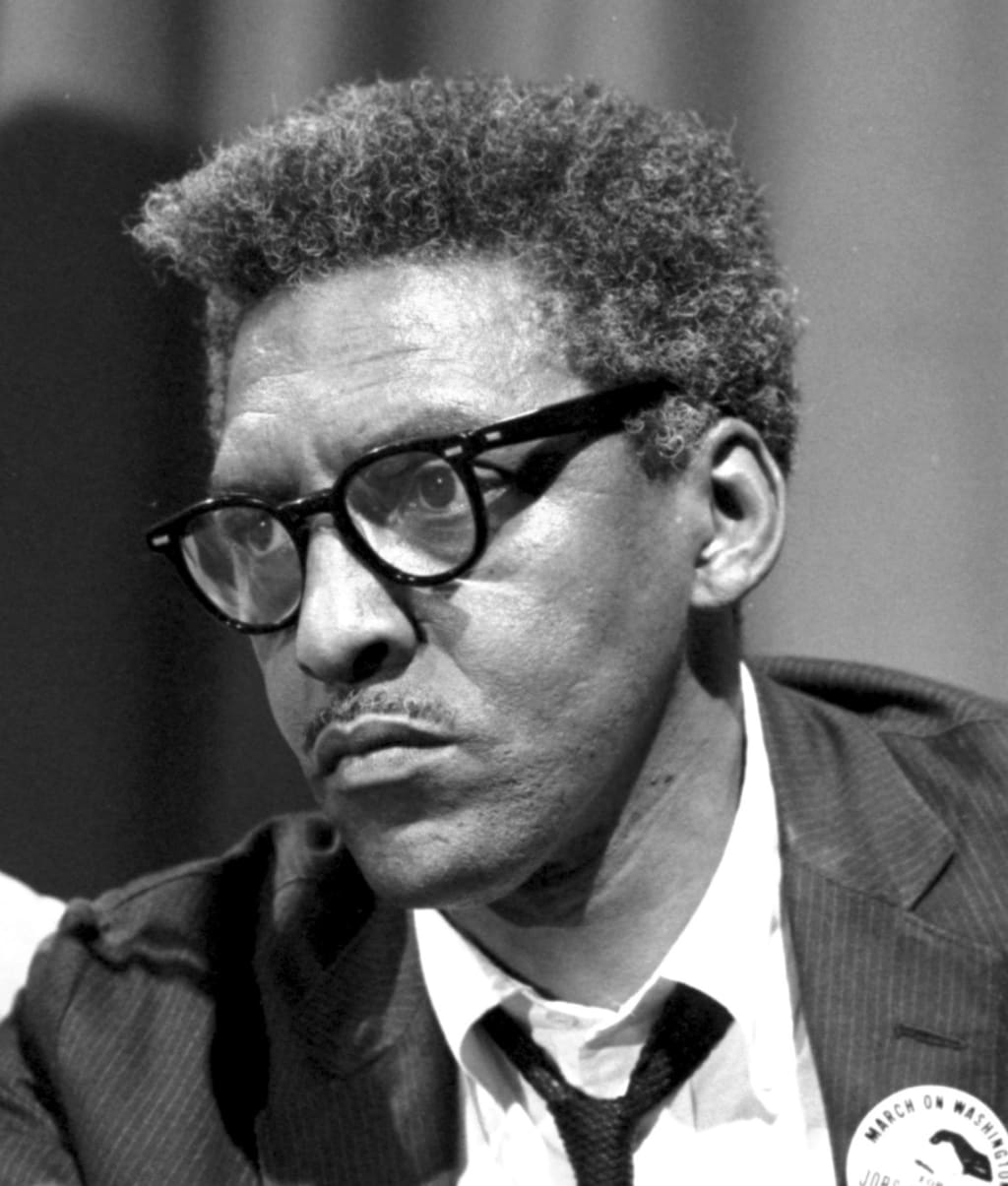 Image: Bayard Rustin at a news briefing on the March on Washington in the Statler Hotel (Public Domain)
He was the man that history forgot. 
Bayard Rustin, more than any other civil rights hero, lived and operated in the shadows, not because he was a secretly gay man but because he didn't try to disguise who he was.
He was a close adviser of Martin Luther King, Jr. and the mastermind behind the 1963 March on Washington. This March, which is now widely associated with Martin Luther King's "I Have a Dream" speech, helped pave the way for the passage of the 1964 Civil Rights Act.
Unfortunately, Rustin was a socialist and a gay man at a period when both were generally despised.
The early years
Bayard Rustin was one of 12 children raised by his grandparents in West Chester, Pennsylvania, on March 17, 1912. Rustin's lifelong commitment to nonviolence and activism began with his Quaker upbringing and the influence of his grandmother. Her involvement in the National Association for the Advancement of Colored People resulted in black community leaders such as W. E. B. Du Bois and Mary McLeod Bethune paying visits to the Rustin home during his childhood.
As a teenager, Rustin wrote poetry, played left tackle on the high school football team, and legend has it, staged an impromptu sit-in at a restaurant that would serve his white teammates but not him.
When Rustin told his grandmother that he preferred the company of young men to that of young girls, she simply said, "I suppose that's what you need to do."
The Activist 
Rustin credited his advocacy to his Quaker background and the concept of "a single human family" in which everyone is treated equally. Truly, Rustin's wide-ranging activism reflects his Quaker upbringing. 
From its inception, Rustin was a member of the Congress of Racial Equality (CORE), and he took part in CORE operations such as the 1947 Freedom Rides. He argued for a feminist movement that included women of all races and social classes. He also opposed the internment of Japanese Americans during WWII.
Bayard Rustin also spearheaded crusades against atomic weapons in France and anti-Semitism in West Germany and assisted numerous African countries in their campaigns for independence.
Rustin joined the Young Communist League (YCL) as a college student at City College of New York in the 1930s. He mainly became a member because of the league's progressive racial beliefs. However, with the outbreak of World War II, the YCL switched its emphasis away from civil rights activities in the USA to support the Soviet Union. As a consequence, Rustin left the organization in 1941.
After quitting the YCL, Rustin changed his focus to socialism and joined the Fellowship of Reconciliation (FOR) in 1941. At the time, Abraham Muste, the group's leader, pushed for peace, labor rights, and equality for all individuals - except gay people. As an openly gay man, Muste disapproved of Rustin's sexuality but could not persuade him to change.
Unfortunately, Rustin's time at FOR would end in scandal. He was sacked from his post as secretary for student and general affairs in 1953, after more than ten years and multiple arrests while working for FOR, when he was charged with "sex perversion." Rustin had been caught having sex with two white men in a parked car. He was sentenced to 50 days in prison and was classified as a sex offender.
FOR called for Rustin's resignation.
Rustin resigned and worked primarily behind the scenes to avoid jeopardizing issues he cared about over the next few years.
Thankfully, Rustin's time with FOR was not in vain. Rustin met his mentor, A. Philip Randolph and the two shared a joint interest in socialism. 
Dr. Martin Luther King Jr.  
At the suggestion of his mentor, A. Philip Randolph, Rustin flew to Alabama in 1956 to assist a 25-year-old Martin Luther King with the Montgomery Bus Boycott.
King had no prior organizing expertise and was inexperienced compared to this well-trained organizer. Rustin would use his contacts, experience, and organizational skills to mold King into the man we know today. Rustin would be his mentor, speechwriter, instructor, and nonviolence strategist, among other things.
While some questioned King's relationship with Rustin because of his homosexuality and prior Communist Party involvement, King acknowledged the value of Rustin's skills and dedication to the movement. In a March 1960 letter to a colleague, Edward Gottlieb, King wrote:
"We are thoroughly committed to the method of nonviolence in our struggle and we are convinced that Bayard's expertness and commitment in this area will be of inestimable value in our future efforts.
In late 1961, Bayard Rustin and A. Philip Randolph began planning a march on Washington. They wanted to bring attention to the economic inequalities and civil rights abuses against African Americans, Latinos, and other disenfranchised groups.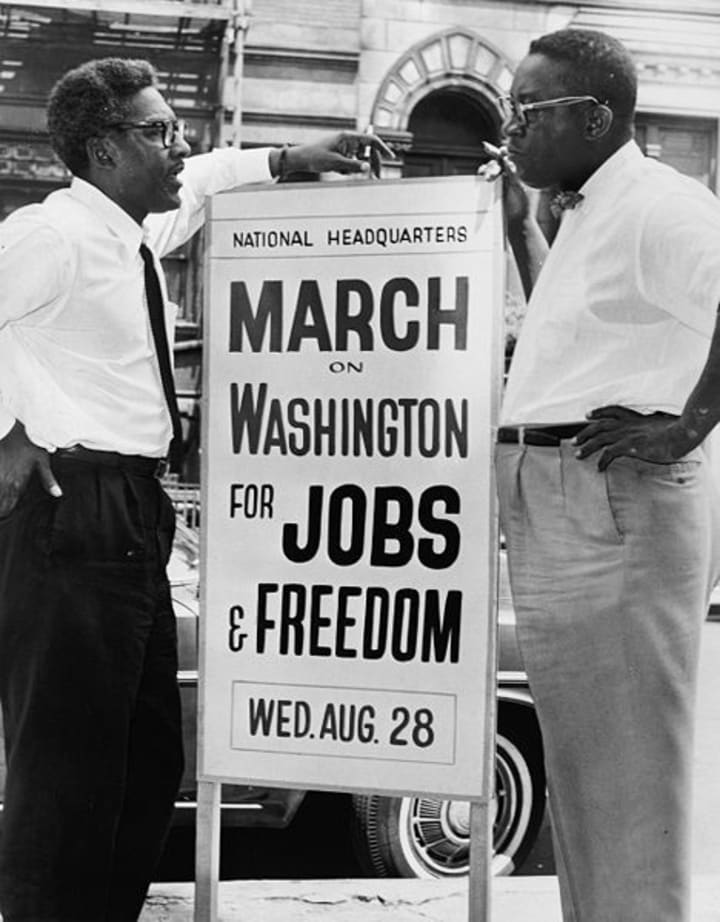 The 1963 March on Washington for Jobs and Freedom featured many notable speakers and performers, including John Lewis, Rabbi Joachim Prinz, Joan Baez, Bob Dylan, and Roy Wilkins. Martin Luther King, Jr., also spoke. He stood on the steps of the Lincoln memorial on a sweltering August afternoon and made what is now known as the "I Have A Dream" speech.
While King is now widely credited with organizing the march, Rustin and Randolph were the driving forces behind it. The March was instrumental in the passage of the Civil Rights Act of 1964. The Act made it illegal to segregate in public places and discriminate in the workplace. It also protected people based on race and prohibited discrimination based on religion, sex, and national origin.
Final years
Even though the March on Washington for Jobs and Freedom was one of Rustin's career highlights, Rustin knew more work was still to be done.
Rustin spent time in his apartment planning and organizing rallies and demonstrations while traveling across the United States advocating for equal rights.
Rustin met his partner Walter Naegle while walking the streets of New York City in 1977. Like a fairytale, Bayard Rustin and Walter Naegle met at a pedestrian crossing on 42nd Street and 7th Avenue. It was love at first sight for them.
"The day that I met Bayard I was actually on my way to Times Square. We were on the same corner waiting for the light to change. He had a wonderful shock of white hair. I guess he was of my parents' generation, but we looked at each other and lightning struck." -Walter Naegle 
Shortly after meeting, the two started dating, and Naegle moved into Rustin's apartment, where they lived together until Rustin's death on August 24, 1987. After his partner's death, Naegle stayed in the flat, preserving it virtually precisely as it was while Rustin was alive.
On November 20, 2013, the 50th anniversary of the March on Washington and Martin Luther King's famous "I Have a Dream" speech, then-President Barack Obama posthumously presented Rustin the Presidential Medal of Freedom. On behalf of Rustin, Naegle accepted the award.
Reader insights
Outstanding
Excellent work. Looking forward to reading more!
Top insights
Eye opening

Niche topic & fresh perspectives

Compelling and original writing

Creative use of language & vocab

Easy to read and follow

Well-structured & engaging content
Expert insights and opinions

Arguments were carefully researched and presented

Heartfelt and relatable

The story invoked strong personal emotions

On-point and relevant

Writing reflected the title & theme
Add your insights