Why Cannabis bath bombs are the next mild weed experience you will love!
Take your baths to the next level with a CBD bath bomb.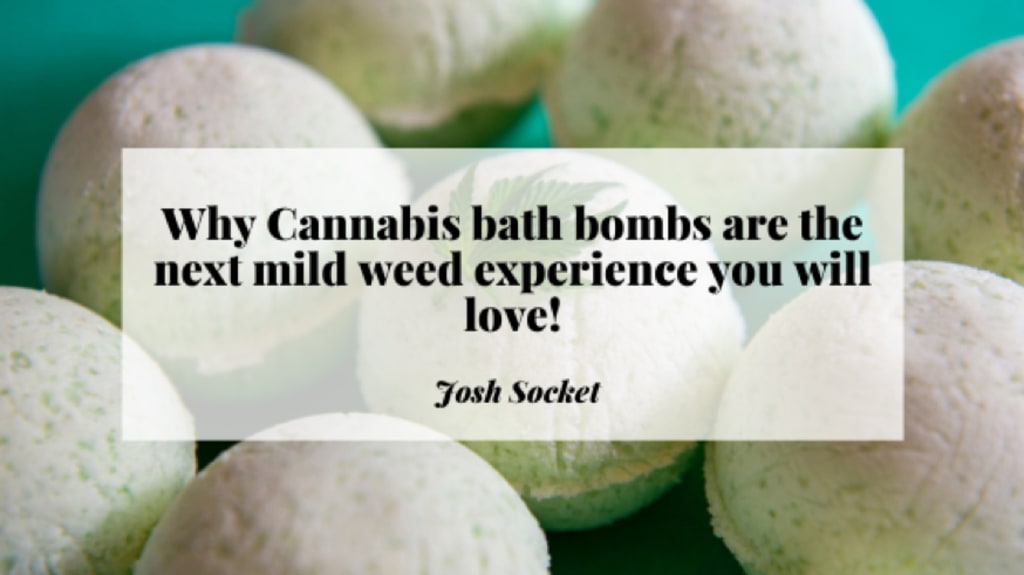 My headline's a bit deceptive. Cannabis bath bombs aren't new. They've occupied the US market for a while. They're part of a new trend of non-flower cannabis products to come out since state legalization. We're even seeing more new products now with Canadian legalization.
I don't take baths very often. I'm more of a shower person. But I can appreciate the relaxation and self-care process of taking a bath. Nice music, candles, soft lighting, cucumbers on your eyes. Maybe a glass of wine. And a bath bomb.
Although there are aromatherapy bath bombs and other products capable of relaxing you. Nothing can relax you like the natural effects of mild CBD. Not only are there the immediate relaxing effects of CBD, there are also long-term benefits.
CBD works as an anti-anxiety, anti-inflammatory, it can help the health of your heart and is being used to treat more and more issues.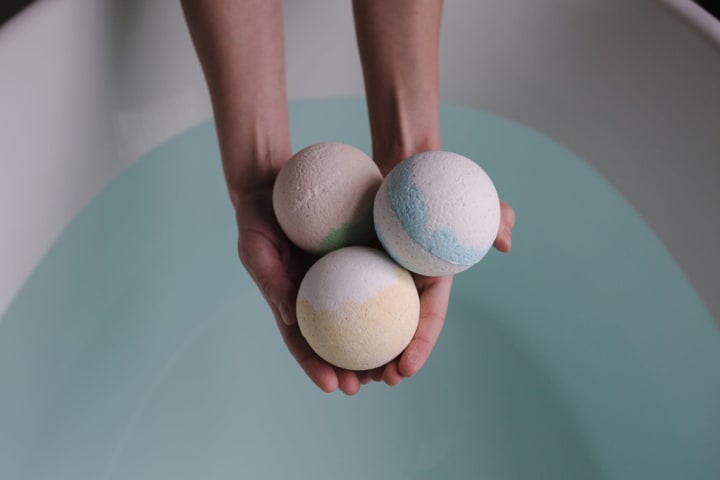 How Bath Bombs get CBD into your body.
When in the bath, CBD and THC through the bath bomb get into your bloodstream via your skin. Although it's not as efficient of a process as ingesting it or smoking it, it can be great for experiencing mild, relaxing effects from CBD and/or THC.
Absorption through the skin to the bloodstream is not the most direct means of experiencing cannabis. But that's the point of these bath bombs. The bath bombs coming out in the market are high-end wellness and self-care products, not get stoned off your face products. I respect both markets, and would never knock either, and I love the concept that both can arise within the cannabis market. Continuing to prove there's something for everyone.
Canadian Bath Bombs you should try.
There is a range of companies with bath bombs at varying price points and formulas. The nice thing about the Canadian market is even within the categories, there's still a nice variety and something for everyone.
Noon & Night – Lavender Fizz Bath Bomb
• <1 mg THC: 100 mg CBD
• $12.00 for 1
Noon & Night comes from Aleafia health. The last time I wrote about Aleafia health, their brand portfolio was different. I don't think Noon & Night, BLLRDR, and Divvy existed yet. Noon & Night is Aleafia's CBD wellness line.
My impression of Aleafia is that they're focused on the medical side of their business. They're committed to "innovative research" and they seem incredibly patient-focused. Meanwhile, they still appear to be building appealing recreational brands. Being patient-focused, and striving for "world-class cultivation" (their words), they're still going to produce a quality product.
Trying a Noon and Night bath bomb is the equivalent of trying a medical-grade, product. It's going to be a good quality product. You can't beat $12.00 for a cannabis bath bomb either.
Tidal – Bath Bomb Multipack
• 3 mg THC: 300 mg CBD
• 3 for $40
Tidal is another medical company. They're producing medical-grade products including Edibles, topicals, orals sprays, and flower. They base their products on "proven practical application". Flower doesn't appear to be the main part of their strategy. They only offer flower on the medical side of their business.
It's interesting to me how many companies are choosing to stay away from flower. It's not a bad decision, as much as I like the flower category, its much harder to participate in because it's so crowded. Its where so many licensed producers are trying to be. Meanwhile, there are opportunities in the health, wellness, and CBD markets. Non-smokables are getting bigger and bigger in cannabis. Tidal is smart to be competing in these markets because I think they have a quality product.
They're also the only company with bulk bath bombs. They break down to roughly $13 per bomb. For the regular bather, these are perfect.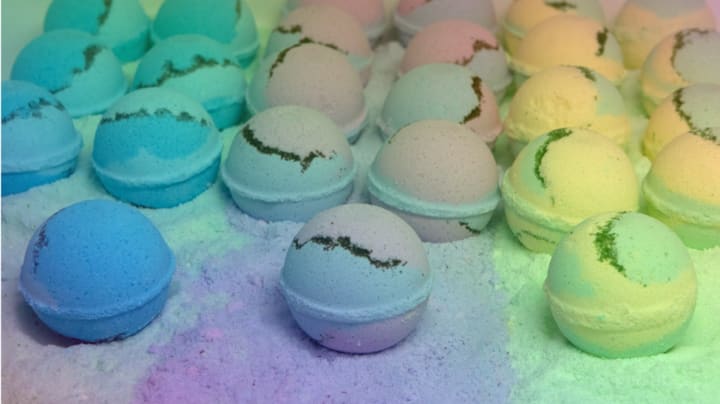 Stewart Farms – Bubba Kush
• 50 mg THC : 50 mg CBD
• 1 for $13.95
I can't believe Stewart Farms isn't in the flower market. They have three strains, Bubba Kush, Blue Dream and Trainwreck. Pretty standard, but what blows me away about this company is their cultivation process. They do the most, in order to turn their cannabis into bath bombs.
The grow their cannabis vertically, which isn't unique anymore. Vertical Cannabis does the same thing. They can grow more cannabis in a smaller controlled environment. What Stewart Farms does which blows me away is how they feed their plants. They have a 100% sustainable, environmentally friendly method for providing nutrients for their plants. They raise fish in adjacent rooms and feed them a proper diet. The nutrients for the cannabis come entirely from the fish. Crazy right? Fish poop.
Not only is a Stewart Farms bath bomb affordable, but its ethical and developed with an incredibly interesting process. Who would have thought a company like Stewart Farms wouldn't market their process for craft flower?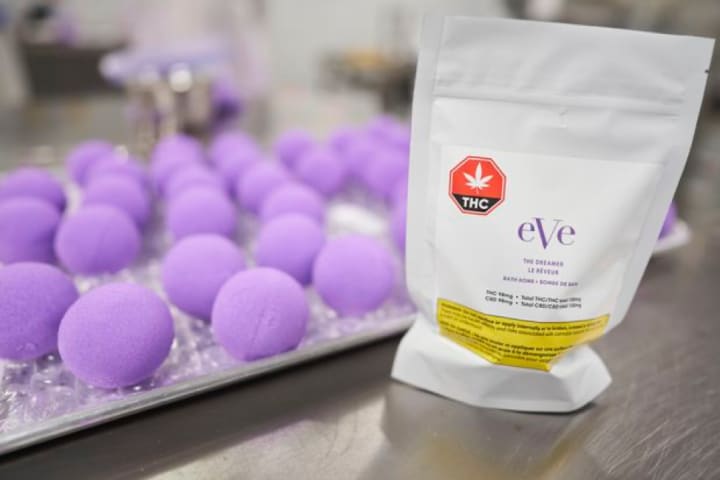 Eve & Co – The Lover
• 140 mg THC : 60 mg CBD
• 1 for $20.50
Eve & Co has a few bath bombs, all similarly priced. They range in CBD and THC formulas and all have names like The Boss, The Dreamer, The Optimist, and The Lover. They also have flower options in pre-rolls, small and bulk formats.
What's great about Eve & Co and is they are entirely female founded, operated and focused. They're driven to improve the female cannabis user's experience, at every stage for usership. They have great educational material on cannabis for people at every level.
I'll say this, flower is flower. It's for everyone. But I love the concept and insight of curating a product this way. I have tried their flower and I liked it. Although Eve & Co is female focused, it shouldn't hinder anyone from trying their flower or enjoying a bath. Seriously, some of you stink!
In Conclusion:
I talked about companies with vastly different product lines than they had 6 months ago. I've also talked about products from companies who aren't competing in the flower market. All it makes me think about is what the industry will look like in June of 2022. Who knows what brands will still exist, and what products will be around next year.
With a proper, legal cannabis market, there are opportunities like never before for new and exciting cannabis products to pop up and blow people away. I suspect we're going to see an increase in wellness and CBD products having that kind of effect on people. There will also be products we can't imagine now.
I want to hear from you:
Is there a cannabis product you're excited about that has nothing to do with flower?
Tell me about it!
And send your email to [email protected]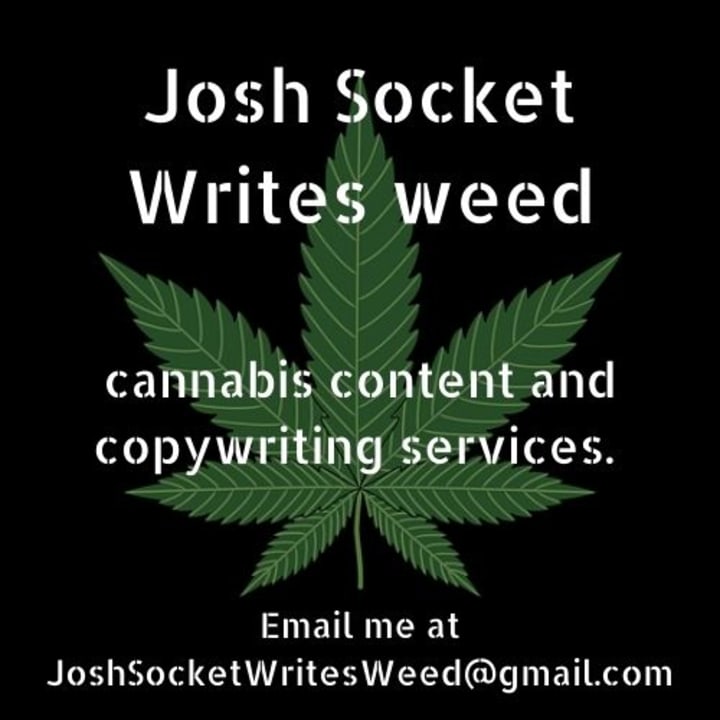 About the Creator
I'm a copywriter. My first thought was to create a library of cannabis information but I've decided to expand my writing.
I used to write for an agency that specialized in merchandising for influencers. Check it out.
Reader insights
Be the first to share your insights about this piece.
Add your insights