Trippy Tattoos Every Stoner Needs
Getting inked is a wonderful way to express what interests you and what has shaped you. Naturally, if you're a marijuana enthusiast, you need to check out these 15 trippy tattoos every stoner should have.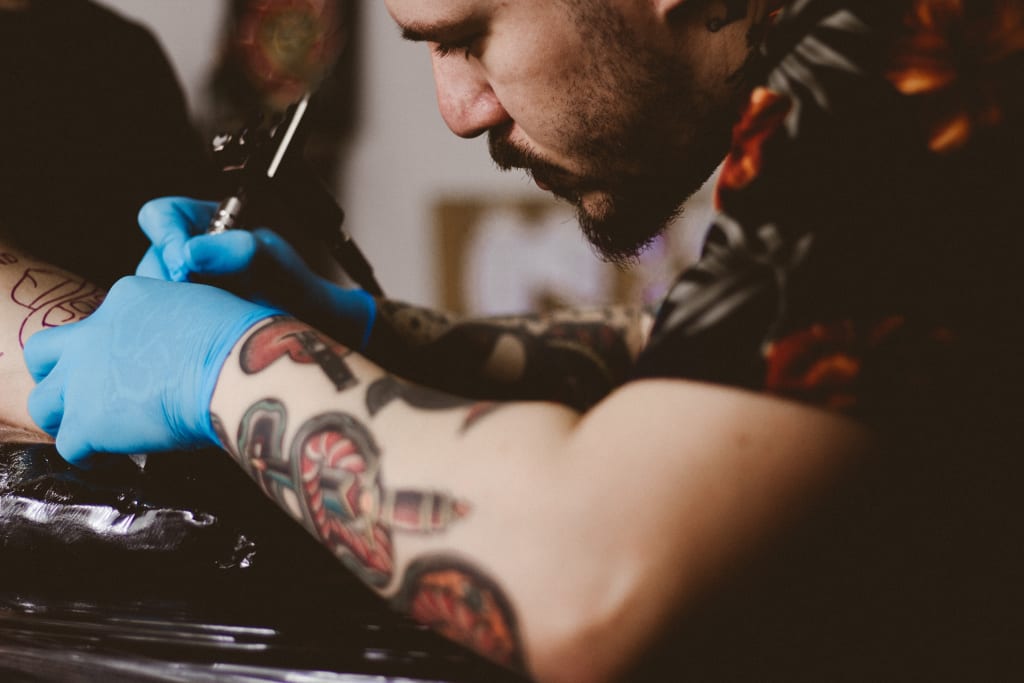 Photo by Allef Vinicius
Tattoos are becoming more accepted in mainstream culture every day. The old derision, "You're never going to get a job looking like that," is becoming outdated for a lot of professions.
However, a tattoo of a pot leaf on the back of your hand still probably won't get you on Wall Street. But if you live in a state where marijuana is now legal, or work a job that doesn't mind letting you take creative liberties, you have to check out these trippy tattoos every stoner needs.
Peace Sign Pot Leaf
This tattoo is one of the most popular stoner tattoos currently out there. Instead of just getting regular ol' weed leaf tattoos, ask your artist to bend the leaf so it looks like it's showing you the peace sign. That's what stoners are all about, right? Let the leaf speak to you.
Favorite Cartoon Characters Smoking Weed
No one stops loving cartoons just because they get older. Get your favorite cartoon character immortalized on your skin, and let them enjoy a little green. This is definitely one of those tattoos every stoner needs.
Prime candidates for this kind of tattoo would be characters from the quintessential shows to watch stoned; Shaggy from Scooby-Doo, Brian Griffin from Family Guy, or Roger from American Dad—since they're all potheads, anyway. There are also a weird amount of high Care Bear tattoos out there...
THC Molecule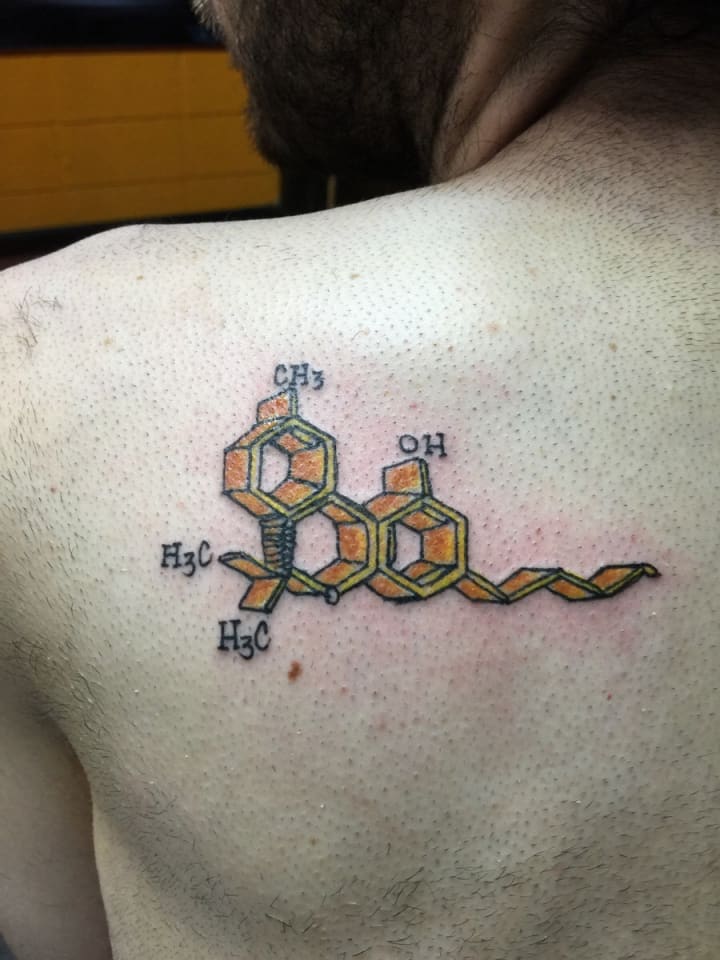 Take a more conceptual, scientific approach when you go to the shop to get your weed tattoo. The main chemical ingredient in weed that gets you high is THC. So why not ink a THC molecule onto your skin?
Make it a simple line tattoo or get creative with it. If you're not sure about how to make your THC molecule tattoo special, why don't you conjure up a few highdeas?
Joint Behind the Ear
Some of the best tattoos every stoner needs are the clever ones. In this case, placement is everything. Many smokers like to carry their joints behind their ears, so get a realistic tattoo that illustrates the same thing. Make it as small or as big as you want; either way, it'll always be there when you want to smoke weed.
Pot Leaf Smoking a J
It's time for a little marijuana Inception. Make your pot leaf tattoo come to life by giving it its own blunt to smoke! A high pot leaf is a happy pot leaf. This is a cute and hilarious marijuana tattoo that will likely trip you or your friends out the next time you smoke.
Bob Marley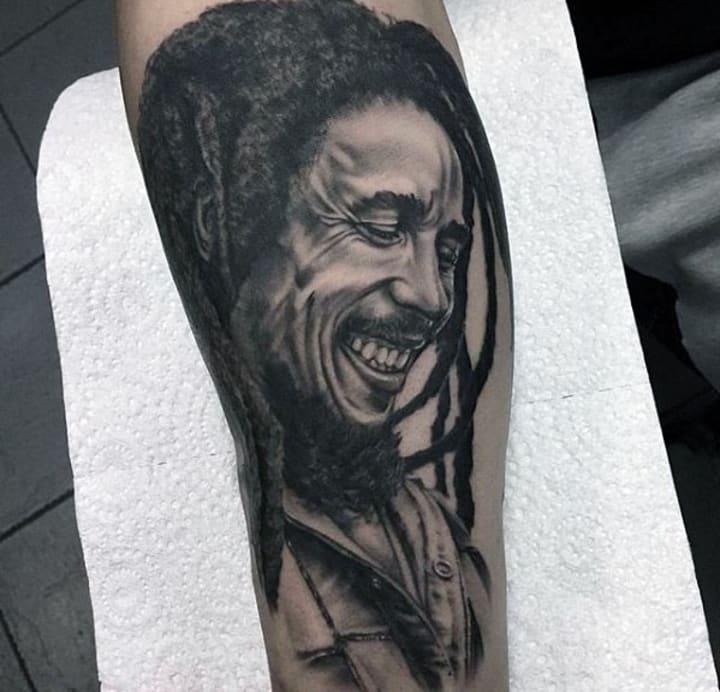 There are a few famous individuals who smoked weed—Bob Marley is one of them. Almost every stoner has a poster, a flag, or a photo print of him, somewhere in their room. Naturally, he's one of those tattoos every stoner needs.
Get your favorite marijuana icon tattooed on you and keep the inspiration alive forever. The cool thing about portrait tattoos, too, is that you can use whichever tattoo designs you want. Go black and grey realism or watercolor style, for example.
Psychedelic Designs
If you want a piece that's really trippy, enshrine a pot leaf or a bong in psychedelic patterns and colors. With psychedelic tattoos, you can get as crazy as you want. Don't hold back any ounce of creativity for this one! Boggle the mind, dude.
Gas Mask Bong
Gas mask bongs are freaky in general, so a tattoo of one would definitely fit the bill for trippy tattoos every stoner needs. Getting a tattoo like this could potentially hit two birds with one stone, too—if you like horror movies.
If you've ever seen the first Insidious movie, you'll know that one of the instruments the medium uses to communicate with spirits looks suspiciously like a gas mask bong...
Snoop Dogg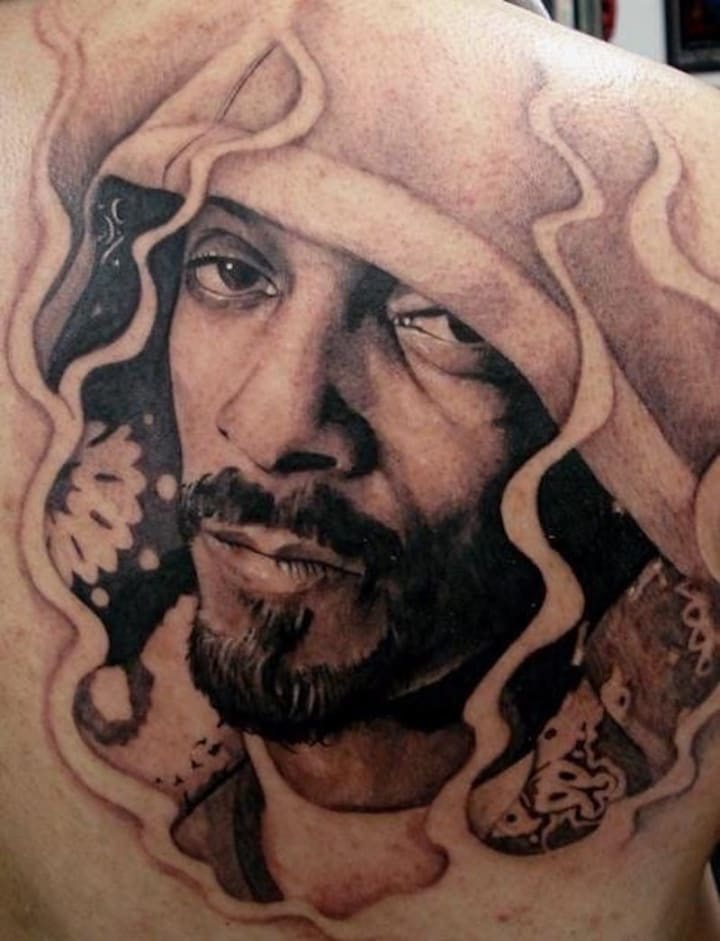 Snoop Dogg is basically a giant walking joint. He is arguably more famous for his love of marijuana than he is for his music. Pay homage to the champion of weed by getting a portrait of your idol smoking a J tattooed. Just make sure you get his braids right.
Marijuana Skull
Combine your love of gothic and hardcore with your penchant for smoking weed. The marijuana skull is a popular tattoo, and depending on how it's done, can be pretty trippy.
Again, this is another tattoo for which you should consider various tattoo designs. Color realism or new school tattoo style could work very well here. Regardless, it's one of those tattoos every stoner needs.
Thumb Joint
This is another clever version of the behind the ear tattoo. When you go to smoke a J, you typically hold it between your thumb and your forefinger. If you get a small joint tattooed on the bottom of your thumb, it will look like you're smoking one whenever you touch that finger to your lip. Be warned, though, that because of where this tattoo would be placed, there is the possibility for more fading than usual.
Rasta Colors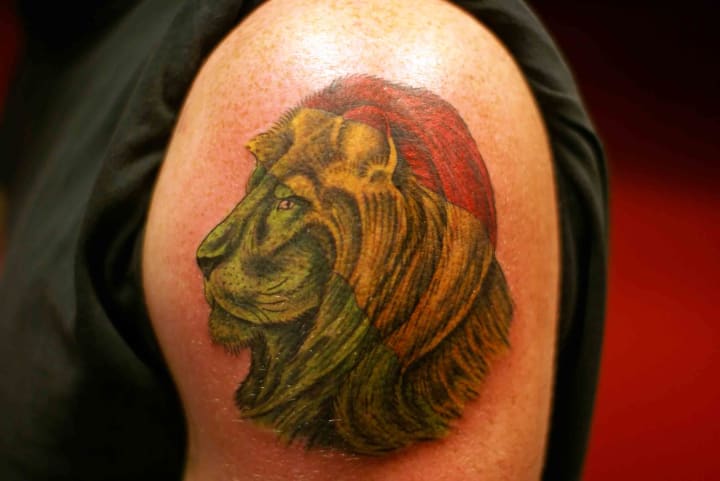 Where there is Bob Marley there are Rasta colors; so it's no wonder that stoners wave Rasta flags with pride. Whatever you get tattooed, if you use the Rasta colors of red, green, yellow, and sometimes black, you will be subtly displaying your appreciation of weed. Here's your chance to think outside the box!
John Lennon
Drugs, drugs, and more drugs. Aside from the musical aspect of his career with The Beatles, that was essentially his mantra. If you're a Beatles fan who also happens to love pot, then this would be the perfect tattoo idea for you. This is another example of the undeniable link between music tattoos and tattoos every stoner needs.
Smoking Portrait
If you don't have a particular person or figure in mind, you can always have your artist draw up his or her own character. Getting tattoos of the female face or figure are extremely common and desirable; so a portrait of a beautiful face amidst swirling smoke could be a great pick for you. Similarly, people also get not the whole face, but just a set of sultry lips with smoke coming out.
'Alice in Wonderland' Caterpillar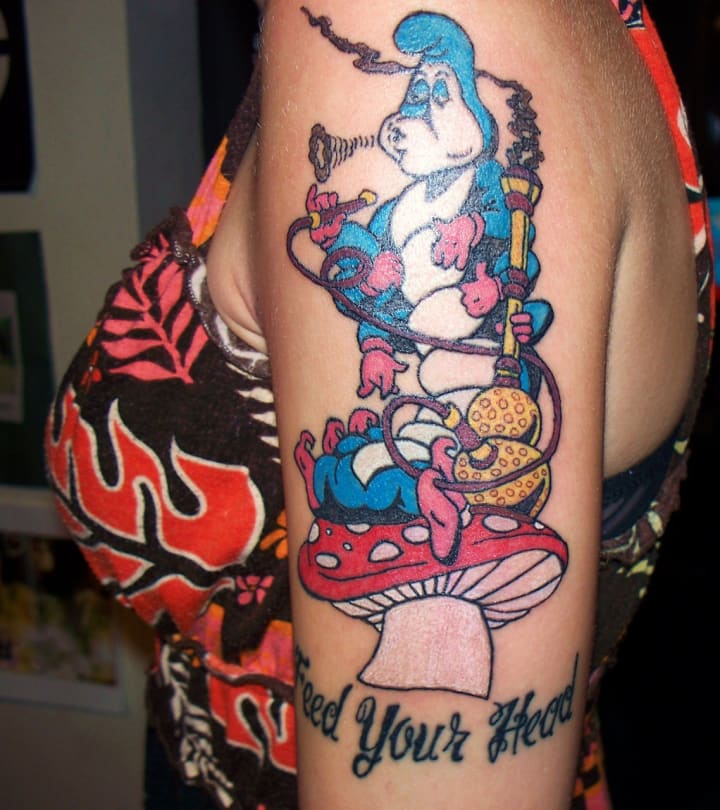 We know we mentioned getting your favorite cartoon character tattooed before, but the caterpillar from Alice in Wonderland is on a whole other level. The hookah-smoking creature who sits atop his mushroom in this fantastical world is an icon for all kinds of smokers.
If you're looking to get a trippy tattoo, look no further. This is absolutely one of the best tattoos every stoner needs.
art
A reformed alcoholic, Charlotte has finally learned to enjoy in moderation. She is a total wine lover who will go wherever the best product is. Wine festivals in New York? Vineyards in France? The simple home of an Italian matriarch? She'll sip the best of what the world has to offer and tell you all about it.
Receive stories by Charlotte Burgundy in

your feed