The Smoker's Aesthetic.
The Search for the Perfect Rolling Tray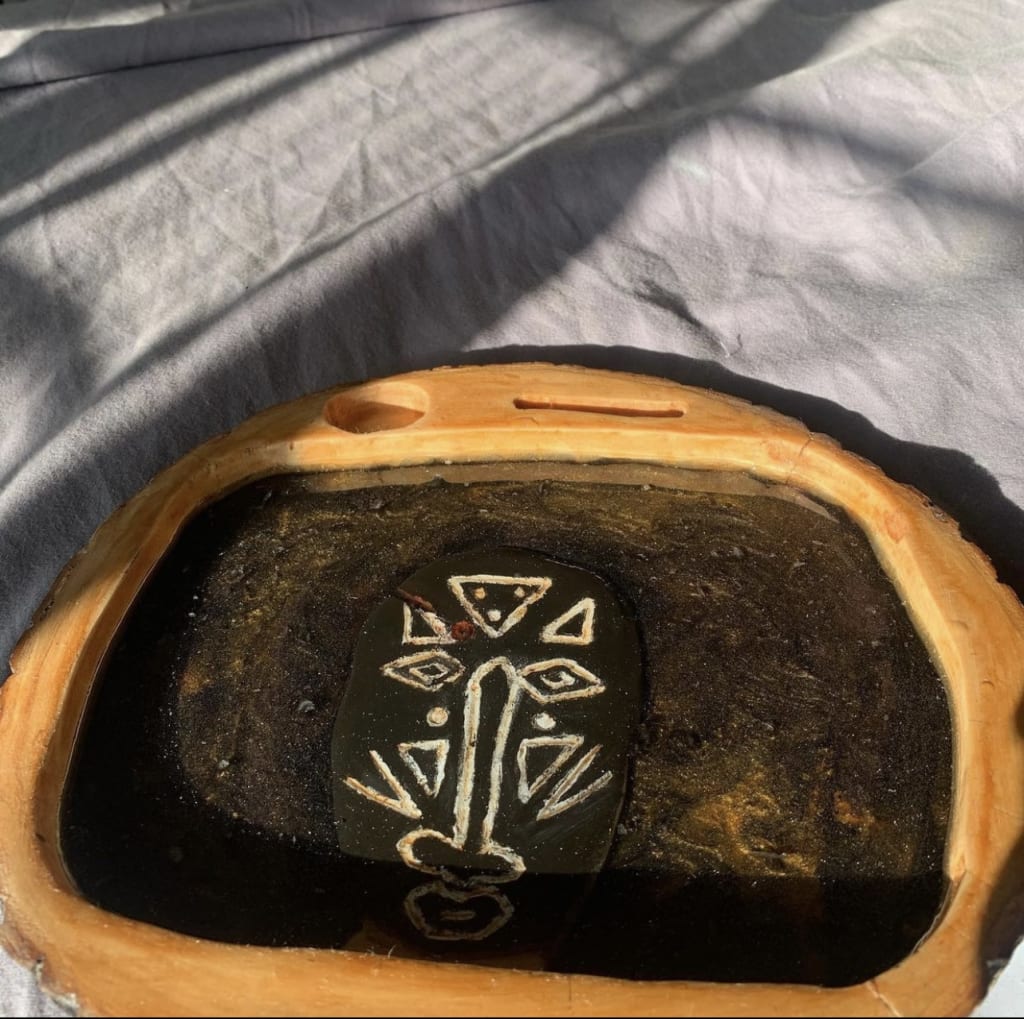 African Tribal Mask Rolling Tray.
Just like everyone else, 2020 was a tough year for me. I went from losing my job, to losing my girl, to almost losing my hair. Okay, I was going bald, but I was going to have to cut my locs and start the process over. I wasn't ready for the stress. And last but not least Covid-19.
With Covid taking over and shutting the world down, I found joy in experiencing my empty city. New York, the city that never sleeps, was shut all the way down. I loved it. I get to smoke my Mary Jane in public and not field weird because I was the king of the city (you can't tell me otherwise).
You may have figured by now that I, I am a pothead. I'm not ashamed of it. Just like every smoker that I know, we try to have something of our stash box that stands out. Whether it be a limited edition BIC lighter, a Pokémon grinder, or one of those dope light-up RAW Rolling Trays. We look for storytellers for when we've reached the clouds. We also look for what's going to stand out when asked to empty your pockets, because only 2 of those lighters were made, I have one and Rihanna has the other.
Just like that special edition lighter that wasn't really so special went missing, a lot of other stuff from my stash did. While I was on a shopping spree to replace all of the smokers necessities, I realized how much I hated rolling up on random objects in my house. I began my mission for the perfect rolling tray.
My mission was simple, find a tray this fits me. Easy right? Nope. I'm not as simple as I thought. I didn't want a cliche tray. A RAW tray, or a resin mold tray, or the trays that you see in EVERY smoke shop nationwide. I wanted a tray that felt like I could pass down to my kids (Granted my child is in their 30s with their own kids). I wanted something I knew for sure I could say "Yeah, I'm the only one that has this." Seeing how I couldn't find one to purchase, the new mission the make one had just begun.
Some time in 2018 I wanted to try my hand in wood carving. I always knew I wanted to carve an African tribal mask when I was really good at carving. I've been enrolled in YouTube University ever since. Over the years I've watched videos and mentally carved before bed every night, until I purchased my first dremel in 2020.
Yes just like you, Covid has forced me to do some things I've been procrastinating, or just didn't feel like I was good enough to do. I did know I wanted the perfect rolling tray and only I could make exactly what I was looking for. So I go shopping.
After 2 days (Didn't know any better techniques at the time) of sanding the center of the plank, I could start drawing my mask. Shortly after find a design I liked, it was time to carve. There's something about being able to be destructive, while creating something beautiful that I find so peaceful. After all of my destruction it was time to polish.
Filling the tray with resin was the most nerve racking thing I've ever had to do. Especially because I got too excited and broke the top portion of the tray. I had to use wood glue to try to keep the pieces together, and pray there wasn't a leak.
After 24 hours, and the resin completely healed, I finally had my own rolling tray. A rolling tray so exclusive it was specifically made for one person and never to be recreated. A tray that comes with a rolling paper holder and lighted holder/ashtray.
I made myself a tray that I will be proud to show off. A tray I can tell stories from. I made myself a tray no one can say they purchased from anywhere, because we both know they won't have receipts. After 3 days I was ready to show my tray off.