The Benefits of Using CBD Oil for Anxiety
Is CBD Oil Effective for Anxiety? What You Should Know Before Using It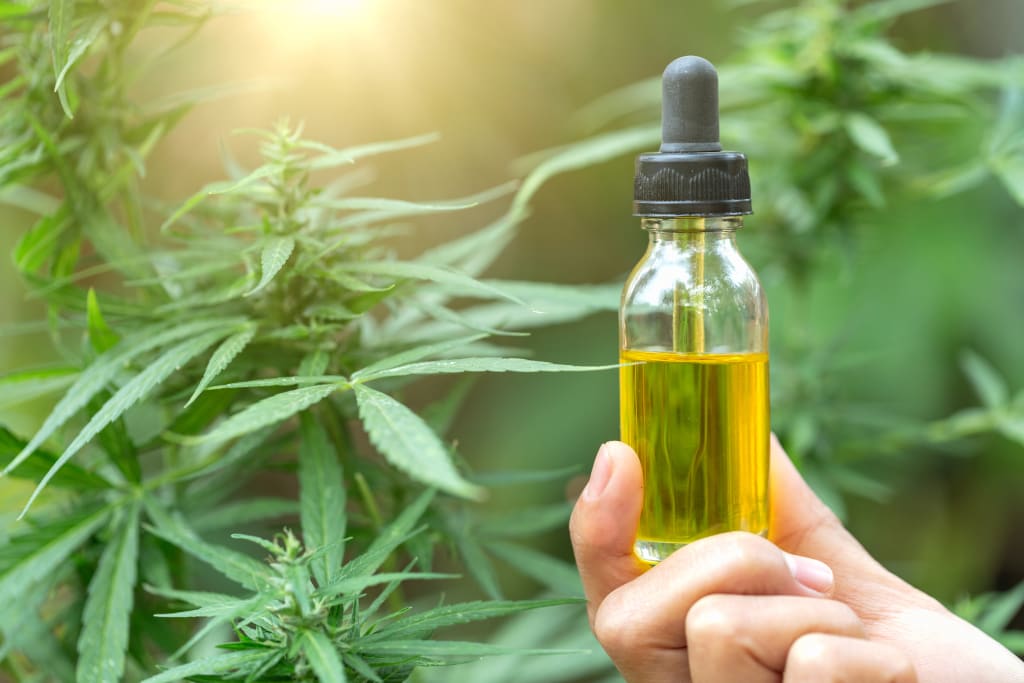 CBD oil for anxiety - it's like paying a visit to Mother Nature's pharmacy .
Using CBD oil for anxiety is a topic that undoubtedly deserves attention in today's world. Living in our society, in this time, often puts people in an elevated state of anxiety and depression.
Add to it the stress of day to day living, and you can be left with emotional pain, fear, and anxiety. During challenging times like these, more and more people are looking for natural remedies, including CBD oil.
Using CBD oil for anxiety is one of the most promising natural health and wellness remedies, and it has been shown to improve overall mood and well-being. In this article, we'll learn more about using it specifically for anxiety.
I'm happy to share that CBD oil is regarded as an effective natural remedy for anxiety, depression, ADHD, chronic pain, inflammation, sleep disorders, epilepsy, and more. "I wish I had known about it earlier!" That's what quite a few people have told me.
The problem was they simply weren't aware that it's regarded as a natural remedy for anxiety, depression, and other health issues.
What is CBD oil?
CBD oil is a natural, therapeutic compound made of cannabidiol. It can be taken in the form of an oil, applied to the skin, used in your food or added to drinks. It's considered to not be addictive, and it doesn't cause any dependency issues.
The type of CBD oil that is marketed to the general public will not get you high as it's usually hemp derived CBD oil which contains negligible amounts of THC (the compound that makes you feel "high").
So what exactly is CBD? CBD is an abbreviation for cannabidiol, and it's a compound that comes from the cannabis plant. Both hemp and marijuana plants are cannabis plants.
However, it's important to understand the difference between hemp and marijuana.
Hemp is a species of cannabis sativa. It is commonly grown for industrial uses. Hemp has high levels of CBD.
Marijuana is a species of cannabis sativa that has psychoactive properties, and it has low levels of CBD. It is commonly used by people who are looking for pain relief, to relax, or are trying to get high for recreational purposes.
Today, CBD is used to treat various ailments such as anxiety, depression, chronic pain, sleep disorders, and more. We'll get into the benefits of CBD in the sections below.
There is a lot of confusion about the difference between CBD and THC. It's important to note that marijuana and hemp both contain CBD and THC. Marijuana is rich in THC (way more than hemp), whereas hemp is loaded with CBD.
If your CBD comes from hemp, it typically will contain less than .3% THC. It won't produce the effects of getting high or feeling euphoric as there isn't enough THC in the product to feel intoxicated. It can certainly make you feel more relaxed and less anxious, but not high.
However, if your CBD comes from marijuana, the THC content can range considerably higher (often up to 5%), thus producing the classic high that we think of as the marijuana high. The high that is produced from this type of CBD largely depends on the THC to CBD ratio. More THC will result in a more intoxicating effect.
The THC content in hemp comes in at less than .3% which is a negligible amount of THC. The Federally accepted level of THC in hemp derived CBD products is .3%, making CDB oil made from hemp legal in all 50 states.
As of this writing, marijuana derived CBD products have varying degrees of legality in the United States, and this can get a bit complicated as it varies by state. This is largely due to the amount of THC in marijuana and it's resulting products.
Currently, Federal law states that CBD that has more than .3% THC is illegal, and is considered a Schedule I substance.
Remember, hemp derived CBD is legal at the Federal level and in all 50 states due to the low amount of THC. This makes hemp based CBD oil very accessible to the public.
It's important to note that state laws govern the legality on which kinds of marijuana based CBD products are legal and illegal. So you'll want to check the current laws in your state if you're interested in taking marijuana based CBD.
On a side note, it's amazing to me that we still have such a wide array of confusing, mind-numbing, inconsistent laws in this country that govern the use of cannabis and CBD. Even the FDA has approved a CBD-based drug for use as a treatment for some seizure disorders.
Some people believe that this hypocrisy is due to the power and influence of the pharmaceutical industry. The cannabis plant has been used medicinally for thousands of years, and even by a few of our founding leaders in the early days of the United States.
Many pharmaceutical medications that are available over-the-counter, can be downright harmful and some even have awful side effects. The scariest thing is that many of these medications can be addictive and habit forming. So why isn't the FDA trying to control these medications? Does the FDA care about the addictions and overdoses that these medications can cause?
In my opinion, it doesn't. They care about money, not the health and welfare of the American people. For the FDA, it's a lot easier to demonize a plant that has little to no side-effects, rather than to take on the pharmaceutical companies that line their pockets with cash and influence.
The truth is that the FDA is not out to protect the American people. They are out to protect the interests of big pharma who contributes millions of dollars to their organization.
But I am not here to bash the FDA. I'm here to share with you how CBD oil can benefit people who are living and struggling with anxiety.
Can CBD help with anxiety, stress, and depression?
The short answer is "yes!" It works by blocking the signals in the brain that cause anxiety and stress. The oil has been used to relieve pain, cancer, epilepsy symptoms, and anxiety.
CBD oil is a natural and effective way to help balance our body's natural endocannabinoid system and combat anxiety, stress, and depression. CBD oil contains powerful terpenes and flavonoids which work with our endocannabinoid system to promote emotional and physical well-being.
The human body also produces cannabinoids, known as endocannabinoids, in a bodily system known as the endocannabinoid system (or ECS). This system helps to maintain homeostasis, or balance, in the body. You can see how well matched our bodies are with naturally grown cannabis!
The endocannabinoid system is responsible for regulating many physiological functions, such as immune response, pain, appetite, and sleep. It is comprised of cannabinoid receptors, endocannabinoids (produced naturally in the body by humans and animals) and metabolic enzymes that break down endocannabinoids.
CBD is a natural part of the endocannabinoid system and is produced in the human body. Because CBD interacts with receptors in the endocannabinoid system, it can affect certain systems in the body and produce beneficial effects.
For instance, CBD is known to interact with serotonin receptors, which play a key role in regulating anxiety, as well as with the transient receptor potential (TRPV1), an important part of pain regulation. CBD stimulates TRPV1 receptors.
While there are some concerns regarding the long-term safety of CBD, these concerns are primarily based on the difficulty of regulating the dose of CBD. Small and large doses of CBD affect the body in different ways and require accurate dose measurement. Research shows that CBD is non-toxic in humans and animals.
Pros of using CBD
CBD oil is a natural, plant-derived substance that possesses a range of positive effects. It has been used to treat a variety of medical conditions including depression, insomnia, and epilepsy.
CBD can also be an effective treatment for anxiety since it has been clinically proven to reduce the feeling of anxiousness.
This is because CBD interacts with receptors in the brain that regulate fear and anxiety responses. CBD is also used to treat various symptoms of cancer including nausea, vomiting, and pain. It helps patients deal with the symptoms of pain, anxiety, and nausea during chemotherapy treatment.
The health benefits of CBD oil have been studied extensively. Some of the best CBD oils for anxiety and depression are: CBD Pure, Endoca, and Phytocannabinoid-Rich Hemp Oil.
Now that it can be bought in every state - hemp derived CBD oil has been used for a variety of health conditions including cancer treatment, anxiety, epilepsy, chronic depression, pain, and more. It may provide relief by calming the nerves or reducing inflammation. It works well in conjunction with traditional medical treatments.
It's also easy to locate and shop for as many of the products are available in online and locally
Cons of using CBD
The benefits of CBD oil are hard to deny. The most popular use is for anxiety, as CBD oil can be used as a natural alternative. However, there are some cons to using it, too.
For one, it's not FDA approved and many people are trying it without researching how it could affect them. For example, there is the chance that it could interact with other medications or treatments you're currently on, which might lead to an adverse reaction.
You should check with your doctor before taking any CBD products.
The industry is unregulated, which means that quality can vary from brand to brand. You need to consider where you're buying CBD oil, and that you are buying it from a reputable source.
As you can see, there is a lot to know about CBD, so it's good that you're doing your research!
What are the Benefits of Using CBD Oil for Anxiety?
As shared above, hemp based CBD oil is a non-psychoactive compound found in the cannabis plant. It's not addictive, so you can use it without fear of becoming dependent on it.
It's known to have many medicinal properties for anxiety sufferers, including restoring serotonin levels, and has been proven to help with depression, anxiety, PTSD, OCD, panic attacks, and stress.
It's also been known to stabilize moods and reduce the occurrences of panic attacks. In addition, it's a powerful anti-inflammatory that can help alleviate pain from injuries and other sources. It gets rid of the feelings of dread that come with anxiety and depression, while boosting serotonin levels in the body for a sense of well-being.
When CBD is called "full spectrum CBD", it means that the CBD has all the other cannabinoids found in the cannabis plant including CBG, CBN, and THCV, which work together in nature to produce a higher amount of CBD. In other words, it contains all the cannabinoids found in the plant, thus making it more potent.
It has been found to reduce the feelings of panic that often occur when one anticipates something like public speaking or flying. One study found that CBD actually decreases activity in the limbic regions of the brain which are associated with emotional processing, which means it can help reduce some of the things that cause us to feel anxious.
It has various benefits that it offers for those with anxiety, including reducing the length and severity of panic attacks, relaxing the muscles, reducing stress levels, and boosting moods. There are even some trials that show CBD oil can help to reduce symptoms of PTSD.
So you might be wondering "where can I buy CBD oil?"
You can easily purchase hemp based CBD oil online, and in offline local stores. I would suggest doing your research and buying from a trusted seller. Order a sample first before you buy a large quantity to ensure you are getting a good product.
A lot of companies are selling fake CBD oil, they order the hemp oil from China and make their own oil with additives or fillers. So make sure and do your research before purchasing.
If you're wondering how CBD oil is commonly taken, drops are usually placed sublingually, under the tongue. However, there are several other ways it can be taken including by spray (via mouth), transdermal patch, capsule, balm, in food and drink, and by vape pen.
The oil can be used to make edibles like brownies, chocolates, and gummies.
CBD vape pens are popular, and the CBD vape oil is a very potent and concentrated substance. It's possible to feel its effects on the body quite quickly. CBD vape oil is a type of CBD oil that's combined with another liquid which acts as a carrier to thin out the oil for the vape pens.
Conclusion
In conclusion, CBD oil is a natural remedy that can help decrease anxiety and, in some cases, help improve mental health. While it may not always work for everyone, there are many people who have success with CBD oil to better manage their anxiety levels.
It works extremely well in reducing the symptoms of anxiety, and it's a great natural alternative. It can truly be a natural and effective tool in your arsenal for combating anxiety.