Snoop Dogg and Martha Stewart
Lifestyle Gurus, Convicted Criminals, BFFs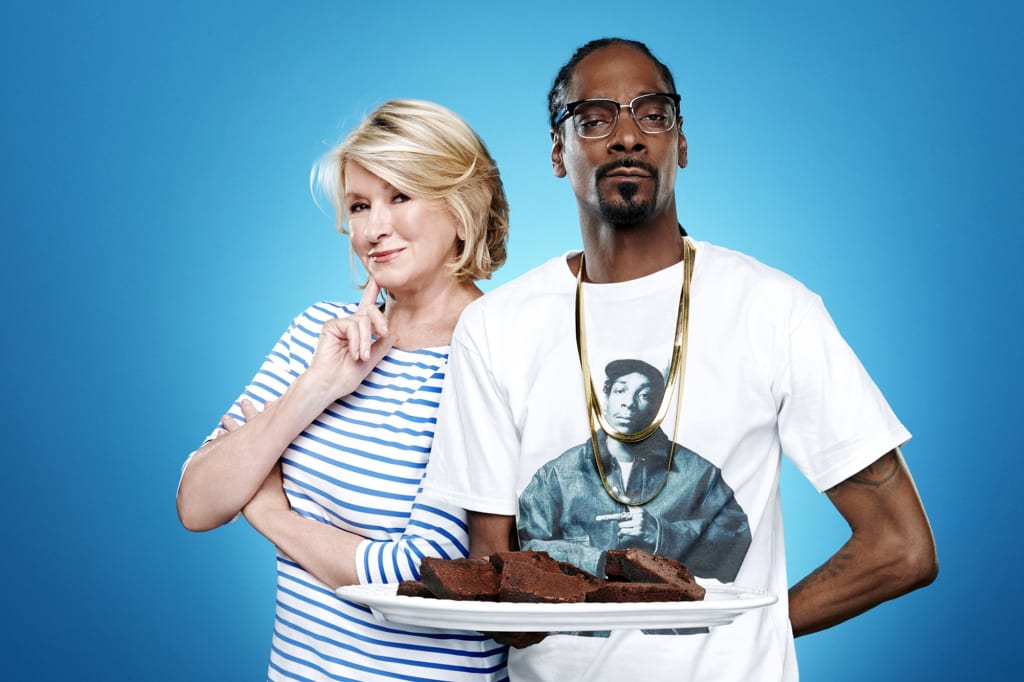 In the dog days of the summer of '41, Martha Kostyra was born into a middle class Jersey City family of Polish origins. She brushed with fame babysitting the children of several New York Yankees, including Yogi Berra and Mickey Mantle. At 15, she began modeling. At Barnard, she met Andrew Stewart who was studying law at Yale and whom she married in 1961.
Ten years later, Cordozar Calvin Broadus, Jr. was born in Long Beach, California. Playing the piano and singing in his local church, he began rapping in the sixth grade. One of his mixtapes found its way into Dr. Dre's mailbox, and the rest is history.
The universe works in mysterious ways. Who could have guessed that in the silver dusk of their respective careers, Snoop Dogg and Martha Stewart would become appear on television together, enter into business partnership, even become friends? These two have so much in common: they share a shrewd sense of business, they have modeled, and they both have been to jail. Martha and Snoop's Potluck Dinner Party marks just the tip of the iceberg. Chronicled below is the story of their friendship.
By most accounts, Snoop and Martha made each other's acquaintance on The Martha Stewart Show in the fall of 2008. They cooked mashed potatoes. At first, Snoop appeared dubious. He spoke softly and peered through his sunglasses at the table. He struggled to peel a potato. Soon, however, the magic of Martha's kitchen overwhelmed him. The two bantered about Snoop's unique dialect, and his upcoming Christmas album, featuring the track "Santa Claus Goes Straight to the Ghetto."
After pouring in several ounces of thick dairy products, Martha justified the richness of her potatoes: "Because you're skinny. You dance around all the time and run around." "I'm athletically built," Snoop responds before adding his own cognac into the mixer.
A seed had been planted. Snoop returned to Martha's show a year later to make "green" brownies. "Why are they green?" Stewart asks. "Green is environmental," Snoop responds. This episode would prove to be one of the highest rated in the show's run. These two get each other.
The years rolled by. The Martha Stewart Show turned into Martha. Stewart partnered with the Hallmark Channel. She appeared on Law and Order: SVU. Snoop laid low. He entered a cocoon and, after declaring his support for Ron Paul in the 2012 election, emerged as Snoop Lion. It didn't last long.
In an AMA on Reddit in 2014, Martha wrote: "I wish I was closer friends with Snoop Dogg."

The fire was rekindled. The two appeared together onstage once again for the roast of Justin Bieber, hosted by Kevin Hart. "I taught Snoop the most important part of business is diversification," said Stewart before joking about Snoop producing a porno. Everyone on stage is like, 'Oh Martha, you're crazy.' But what if? What if Martha and Snoop had been hanging tight for some time? What if Martha had obtained some insider knowledge that she let slip in her seemingly boozy state? What if these two joined forces … in porn?
For their next rendez-vous, the two teemed up to play on $100,000 Pyramid. Stewart called forth seven out of seven correct answers on the first round, which was cannabis themed. For the second, Snoop displayed an uncanny knowledge of home décor.
Now, their very own cooking show, Martha and Snoop's Potluck Party, is premiering on Monday, November 7th. Based on the trailer, the show seems to be mostly about Snoop getting high, Martha getting tipsy, making delicious food, and feeding it to high profile guests like Wiz Khalifa, Seth Rogen, and Rick Ross. "We filmed 10 episodes in five days with two days of preparation," Stewart told ET Canada with dollar signs practically visible in both her left and right eyes.
But this friendship defies profit margins. "[It's] a natural fit," Stewart told Architectural Digest about her pal Snoop. "We both put priorities on family and have been through long careers in our respective fields. While those fields may be vastly different, we have a lifetime of stories and experiences to share with each other. Snoop is smart, talented, driven, a bright businessman, funny, handsome and a caring friend. I respect him immensely."
About the Creator
Copyeditor and freelance journalist. Born a Sagittarius, making him "fun-loving, spirited, and energetic," according to Astrolabe.com.
Reader insights
Be the first to share your insights about this piece.
Add your insights