Medical Marijuana Strains for Common Conditions
Cannabis has many therapeutic properties. Which medical marijuana strains are best to treat your specific condition?
In recent years, new legislation has allowed vast, fast growth of medical marijuana strains throughout the country. Currently, over half of the United States has legalized medicinal cannabis in varying degrees. If your state has recently gotten the green light and approved medical marijuana, you may be feeling both excited and overwhelmed. After all, there are hundreds of varieties of medical marijuana strains—how do you know which one is best for your individual ailments? Read on to find the best medical marijuana strains for the most common conditions.
Cannatonic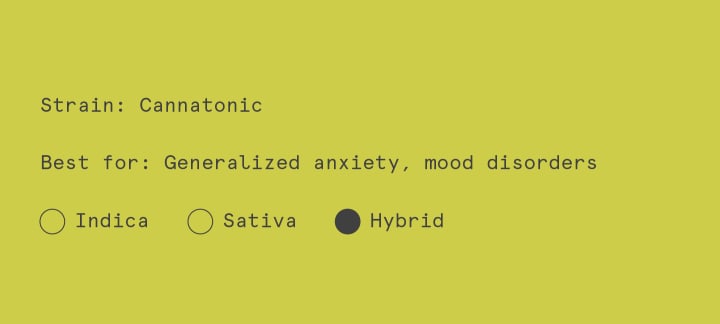 Type: HybridBest for: Generalized anxiety and other mood disorders
Cannatonic is a hybrid strain that is indica-dominant. It's notably low in THC (rarely above 6 percent), yet retains relatively high CBD content (ranging from 6 percent to 17 percent). Strains with large levels of CBD are known to have anti-anxiety properties without the psychoactive effects of feeling too stoned. Cannatonic is one of the premier medical marijuana strains that soothe the user into a relaxed state. This powerful strain can be used reliably to treat symptoms caused by stress and mood disorders, as well as other conditions like migraines and muscle spasms. Patients who use Cannatonic can expect to feel euphoria as their worry and pain melts away. Warm, numbing sensations are common effects felt by those who use Cannatonic. This pleasant phenotype is typically found to taste earthy with notes of pine and citrus. Its recommended use is either early in the day—before you go about your daily activities—or late in the evening after you've come home from a long day and need to unwind.
Remedy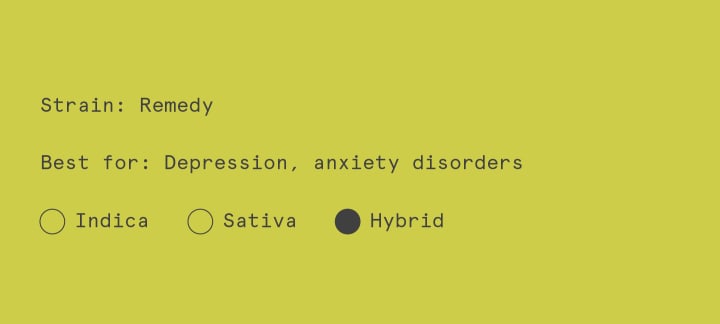 Type: HybridBest for: Depression, anxiety disorders
Remedy is another hybrid in which indica is most prevalent and was created by crossing the aforementioned strain Cannatonic with Afghan Skunk. This medicinal strain packs some very satisfying CBD content—levels can go as high as 15 percent. Conversely, THC traces in this variety of marijuana are less than 1 percent. The less THC there is, the mellower a user's experience will be. If you're prone to worrying or bouts of depression, Remedy is an exquisite strain that battles such mental maladies. Patients attest that its namesake accurately describes the strain's purpose. Remedy takes the edge off your mood without creating any pronounced head or body effects. This strain simply lets you relax without any jarring sensations. You may also find relief by using Remedy if you experience inflammation, seizures, and other general pain.
Granddaddy Purple
Type: IndicaBest for: Insomnia and sleep disorders
This sleepy strain is a reliable go-to at marijuana dispensaries due to its many medicinal traits. The classic herb is noted for its immense calming qualities. Granddaddy Purple has a THC content of 17 to 23 percent and a CBD content of 7 percent. Its effects deliver a mixture of cerebral euphoria and physical relief. You can expect to feel a floating, cathartic sensation as waves of relaxation wash over you. There's a reason why this medical marijuana strain is widely used to help insomnia and other sleep disorders. Effects can cause you to feel lethargic, drowsy, and slow-moving. However, Granddaddy Purple not only helps you fall asleep easily, but it also benefits those who suffer from chronic pain, anxiety, and appetite loss. Additionally, many enjoy Granddaddy Purple for its larger-than-life buds and its distinct fruity flavors of berry and grape.
Harlequin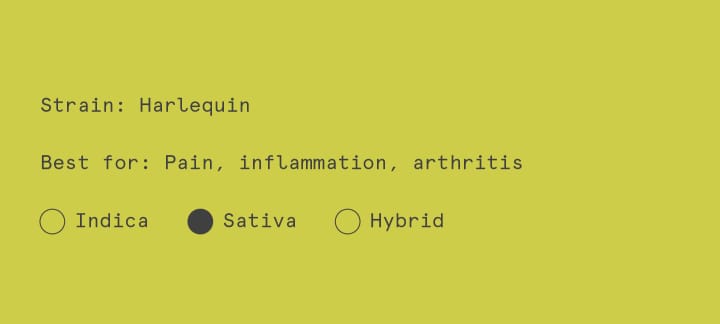 Type: SativaBest for: Pain, inflammation, arthritis
Harlequin is one of the most effective strains used for pain treatment. It's profoundly popular in the medical marijuana community for its exceptional versatility. Although THC-dominant strains are not a first choice for patients seeking pain treatment since they tend to be more cerebrally focused, Harlequin's high CBD levels make for an exception. CBD levels range from 8 to 16 percent, while its low THC content hangs between 4 and 7 percent. Strains with high levels of CBD are non-psychoactive. The CBD content evens out THC's tendencies for paranoia while heightening the strain's painkilling properties. What makes this bud an excellent medicinal strain is the fact that its high promotes a euphoric clear-headedness. The uplifting effects of Harlequin enhance awareness while relieving pain without causing you to feel heavily intoxicated. This medical marijuana strain is ideal for those requiring daytime treatment or who are more likely to wake-and-bake. It's also widely used by those who suffer from fatigue, gastrointestinal problems, arthritis, and other inflammatory ailments. Harlequin oil is especially beneficial when it's used topically for muscle spasms.
Purple Arrow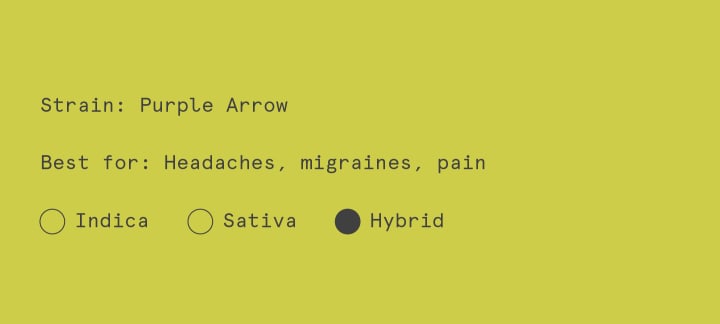 Type: HybridBest for: Headaches, migraines, pain
Purple Arrow is a strain that knows what it's doing. This indica-dominant hybrid is known to expertly knock out pain. It's well rounded due to its moderate THC levels, ranging from 13 to 17 percent and causes a euphoric and heady high. You will enjoy this strain because it allows you to be high functioning without the sedation that glues you to the couch. Effects also can cause you to feel mellow while taking tension off your mind. It's an ideal medical marijuana strain for headache and migraines sufferers because it eases pressure in your head. Feeling stressed? Have cramps? Purple Arrow will do the trick. This Jack-of-all-trades is notably effective in alleviating a wide range of health concerns from anxiety and depression to nausea and abdominal pain. Besides its many medicinal traits, patients also find that Purple Arrow is extremely delicious. Its flavor profile is dappled with delicious sweet citrusy flavors and hints of honey upon exhale. Some say it tastes so good, it lets you forget all your troubles.
Weed has a seemingly endless amount of positive medicinal properties. There are so many medical marijuana strains that can help anyone suffering from painful medical conditions. Cannabis offers relief, happiness, and peace to those who desire a way to naturally treat their conditions. The expansive medical marijuana strains enable patients to go on with their lives while managing pain in an effective and healing way.
Reader insights
Be the first to share your insights about this piece.
Add your insights