Into the life of an Italian in Cambodia.
Appreciate the freedom and splendor of Southeast Asian style
Valentina, an Italian architect, fell in love with the land during a trip to Cambodia in 2008 and felt a freedom she had never felt before. In the following years, she followed the NGO's footsteps several times in Cambodia, helping to build local schools and hospitals in her professional capacity as an architect. When she returned to Italy, her heart was still in the same place and she finally found a job in the tourism industry in Siem Reap, Cambodia, even if it was not her profession, she was determined to move to Siem Reap, Cambodia, in 2012.
Moving to Siem Reap to find herself again, away from the stressful city life in Rome, Valentina loves the natural greenery and the ancient temples that are so close to Siem Reap that she loves to go deep into the land on her bicycle. When she first arrived, she chose to stay in the city center but had to find another place because of the crowds and lack of privacy. She later found her current home, a traditional Cambodian house, which she transformed by making the first floor her personal living space and the two upstairs bedrooms and the separate room in the courtyard a guest house, building her own house while working for the tourist industry. Just last week, she completed the renovation of a new apartment. She lives here and shares the extra apartment with world travelers in a breakfast & bed style.
She named her house Villa Media, where the Med (Mediterranean Sea) is Valentina's hometown, and Asia (Asia), where her heart belongs, is her future home. Valentina lives here with her musician partner Steve and their three cats. Next time you're in Siem Reap, it would be exciting to visit her Villa Media, and if you're lucky, you might have the chance to experience a different kind of Cambodian life with a saxophone playing and a taste of authentic Italian cooking in the sun.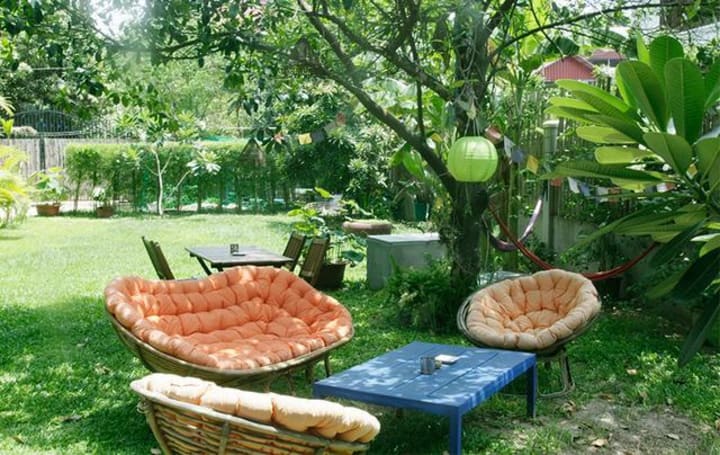 Valentina's house is located in Siem Reap, Cambodia. It is a 40-year-old house of 191 square meters, with a layout of 4 rooms, 4 bathrooms, 1 living room, 2 kitchens, 1 dining room, and 1 courtyard.
The interior and exterior design of the house is mainly related to their current stage of life, using local style home furnishings as they enter the country. Valentina likes to mix and match simple and fancy things together.
Valentina's design is inspired by color. The color scheme is to choose the color of the curtains, fabrics, and then lamp bases to make a match. Also, she likes white and blue, a very Greek color scheme, and used these elements outside the hallway of the living room on the second floor. In addition, they also set different themes for each room, from a warm vintage theme room to a colorful Indian theme room.
The furniture in the space was designed by the women themselves, and local materials and craftsmen were brought in to make it. For example, the closet door of the Indian-themed room is made of a ready-made Cambodian wooden window insert, and the bedside lamp is made of local handicrafts. When she used to live in Italy, she would choose furniture from Italian designers, but now she has forgotten all the names of those brands. Now she designs her own, incorporating local materials from Cambodia. Almost everything was designed by me, and one of the more significant changes to the house was to move the staircase from inside to outside to separate the private space from the guest space. There was no living room on the first floor, so a bedroom was created and a garden was created outdoors.
Valentina believes that the most important thing in space is light. If there is no light, there is no way to live in it. Living in a Cambodian wooden house is very romantic, but often when the sun goes down, the room becomes very dark. When I first saw this house, it was because it was very bright and had a lot of windows.
In Cambodia, you are free, free of mind, free of pressure. In the past when she lived in Rome, Valentina had a lot of pressure on her mind because the big cities are very competitive, here it is a very simple, small community, very simple what you need to live, just a short work time, you can live here and have a lot of free time.
Valentina decided to move from Italy to Cambodia in search of a new life. But travel and life are different. Valentina cried the first night she moved here because she was not quite used to it. It's true that when you think about a person who comes to live in the East from a country so far away from the West, with which you are not familiar with the place, you are a bit worried and scared. Now she is used to slowing down and feeling everything in Cambodia, which makes Valentina thankful for what life brings her every moment.