Did you know smoking organic weed can actually help the earth?
A report on what it takes for cannabis to be organic.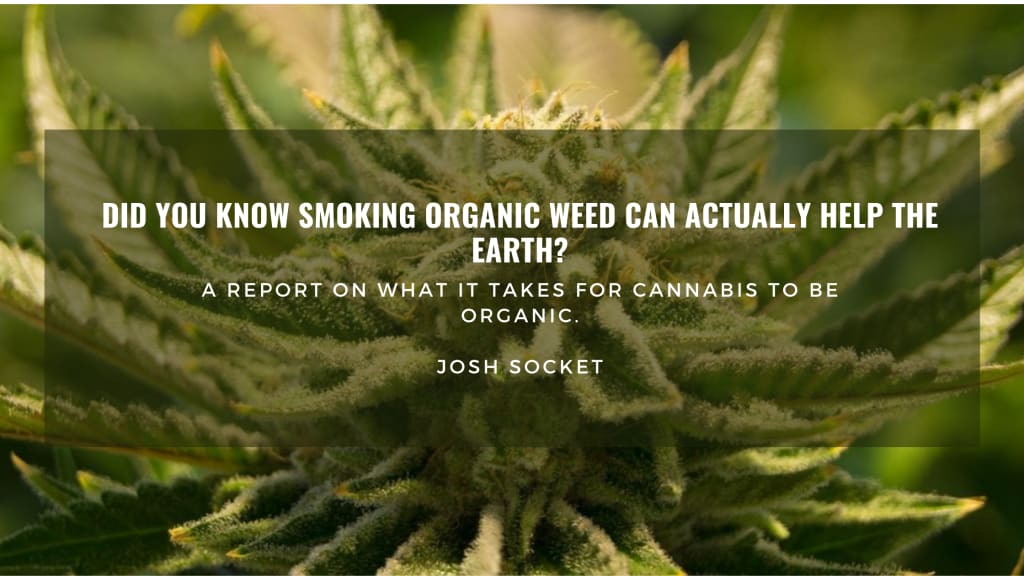 Natural is balogna, but organic is real.
There's no such thing as a true natural product. If a company claims their product is natural, it's horse manure. Natural is a marketing trick, there's not a single way to verify if something is natural. There's no governing body, no standards or regulations. It's bologna. From now on, when you see a product advertised as natural, remember "natural is bologna".
Meanwhile, organic is real. If you advertise as organic, you have to be certified as organic. And not only are organic products good for you, but they're great for the environment and the farmers who grow our products! Organic agricultural practises actually work to prevent climate change and promotes reuse. Remember I wrote about 48North a while back? I didn't explain how or what organic is.
In this article, I will answer these questions:
• How can weed be organic?
• How can organic weed help the environment?
• How can organic weed help farmers?
• How can organic weed help me?
• What organic weed products should I try?
I'll also tell you about The Green Organic Dutchman and what they're specifically doing to help the planet.

What is Organic?
For a food product (or a cannabis product) to be classified as organic by an organization such as Pro-Cert, an organization needs to be meet Pro-Cert's regulations upon initial inspection and then upon each inspection afterwards.
Pro-certs regulations involve:
• Purity of ingredients
• Approved organic ingredients
• Production without pesticides or genetic agents
• Meeting organic packaging requirements
Cannabis products are an outcome of the cultivator's inputs. Meaning, what a licensed producer puts into a grow dictates the final product. These inputs include:
• Soil
• Compost
• Nutrients
• Water
• Climate
• Lighting
• Pest prevention
Separately, to be organic certified as well as compliant with Health Canada's cannabis regulations, it can be expensive. There is also many more steps required to maintain regulatory standards for both bodies. Maintaining compliance for two federally governed bodies is a major task. It boils down to the ingredients. You have to consider:
• Organic soils.
• Organic manure (crap from a cow that's been eating organic food)
• Preventing pests in a way that doesn't hurt the environment.
It can get expensive. Organic products are more expensive for consumers than non-organic products. The higher price is because the materials are equally expensive for the farmers. The word organic doesn't denote expensive, the additional work and materials do. For example, using organic manure adds nitrogen to the soil for the plants, it's also expensive. Plants need nitrogen and organic compliance requires organic ingredients.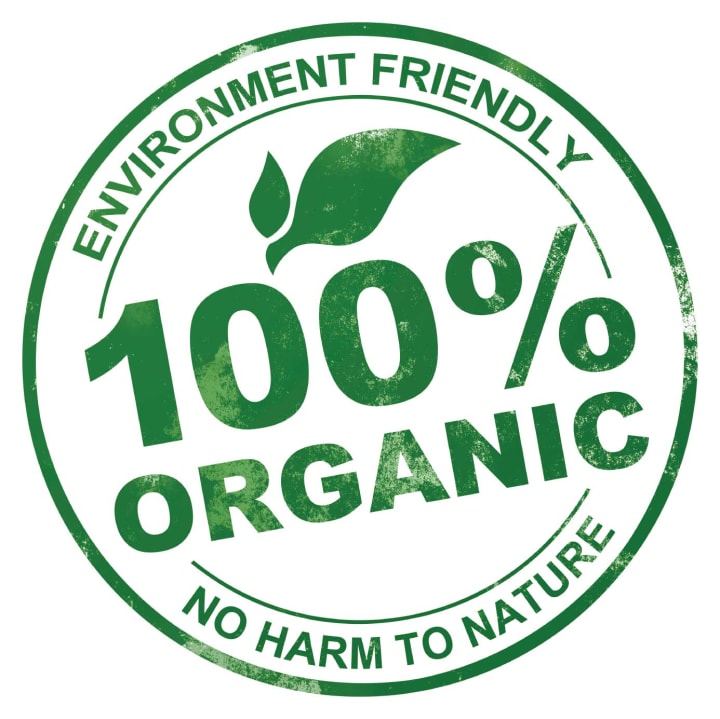 Organic Products help everyone:
Using organic growing practises is beneficial for the environment, end-users and farmers. These processes and practises are designed by people who are actively trying to better the earth. I can appreciate why a company isn't allowed to just claim their product is organic. Organic is a process, but it's also a series of good intentions designed to better the world around it.
Benefits for farmers and the environment:
Organic growing practises for food and cannabis products are climate-friendly. Organic farming methods store high levels of carbon in the soil, which prevents the carbon from going into the atmosphere. Carbon being released into the atmosphere is a major contributor to climate change. It also preserves the soil, making the soil more fertile with each harvest, which reduces waste.
Traditional soils tire with use and eventually cannot be re-used. Reusing an organic soil, which grows more fertile, reduces the need for new soil.
Not using synthetic fertilizers, pesticides, and herbicides also reduces pollution from fertilizer and pesticide runoff. In many cases with non-organic processes, runoff will go into the water and pollute it. Organic practises prevent the use of harmful elements that could the pollute the earth. It also reduces the farmer's exposure to harmful chemicals because the organic substitutes are much safer.
The benefits of organic cannabis on end-users:
Cannabis has been known to pull toxins right from the soil. People actually use it to decontaminate their soil. Which means, if you use cannabis grown in non-organic soil (usually illegal weed), there is a small potential for contamination. If that soil is contaminated, you could be susceptible to heavy metals and radioactive ingredients. Not anything you want in your body.
Buying organic products guarantee you're getting the safest and cleanest product possible cannabis or food products.

The Green Organic Dutchman:
So, I've told you what organic weed is and why should smoke organic weed. Now I'm going to tell you who you should be smoking. There are a handful of companies with an organic certification, my favorite is The Green Organic Dutchman.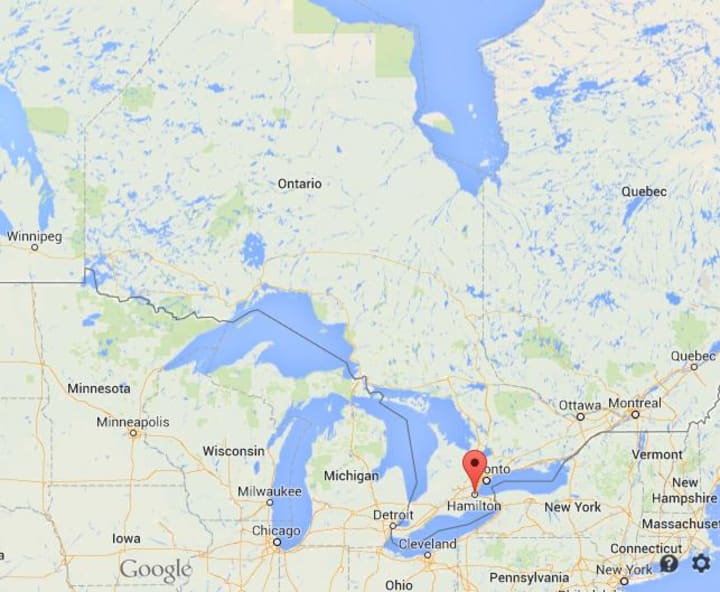 What TGOD does to better the world around them:
The Green Organic Dutchman (TGOD) is committed to community, sustainability and their organic growing process. TGOD regularly donates to the local Hamilton food share programs to feed the hungry. They also have 2 acres of vegetables as well as chickens and goats. The food they donate is food they've grown themselves.
They are also organic certified by Pro-cert, so I don't have to tell you what they contribute to the environment. I'm just going to tell you how they're going about improving the environment. There isn't one solitary way to grow organic. People choose their methods based on the needs of the plant, the environment they're in and the costs for their equipment. The costs can vary based on location and access to specific organic products.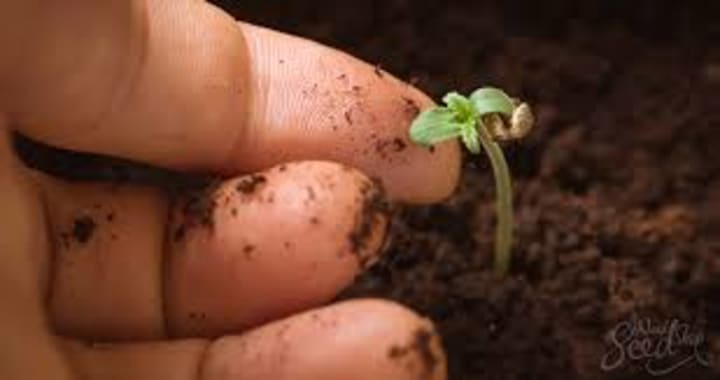 Organic Living Soil:
TGOD uses organic living soil in their production. The use of organic living soil happens naturally when humans are not involved in the process. Now, you can buy organic living soil and replicate the process. Soil has a microbial system and the health of that system directly dictates the health of the soil. Of course, unhealthy soil means an unhealthy plant.
Organic living soil to me is their main differentiator. It's what they're doing differently that helps them stand out and provide a quality product. The living soil starts with worms for some, for other's another living organism. The organism takes care of the plant and provide it with nutrients. When you feed the plant, you're also feeding the organism living in the soil.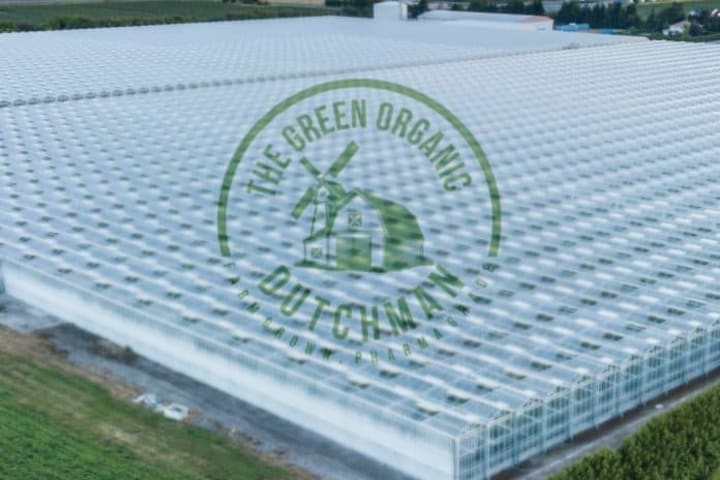 The Green Organic Dutchman, in depth:
Combine organic living soil with a low-cost hybrid greenhouse in Ancaster and you have TGOD's line-up of cannabis products. TGOD is capable of producing 17 thousand kgs annually. Which works out to over 38 thousand lbs. Or 617 thousand ounces, which works out to 17 million grams.
You can buy their products in these formats:
• Pre-rolls
• Whole flower
• 510 vape cartridges
• Cannabis oil (medical market)
• THC, CBD, and Balanced powders
• Tea
• Hash (TBA)
TGOD's brands include:
• The Green Organic Dutchman
• Ripple
• Ness
Without waiting any further, here are the ten products I'm recommending to you at this time:
1. Organic Fire: (whole flower)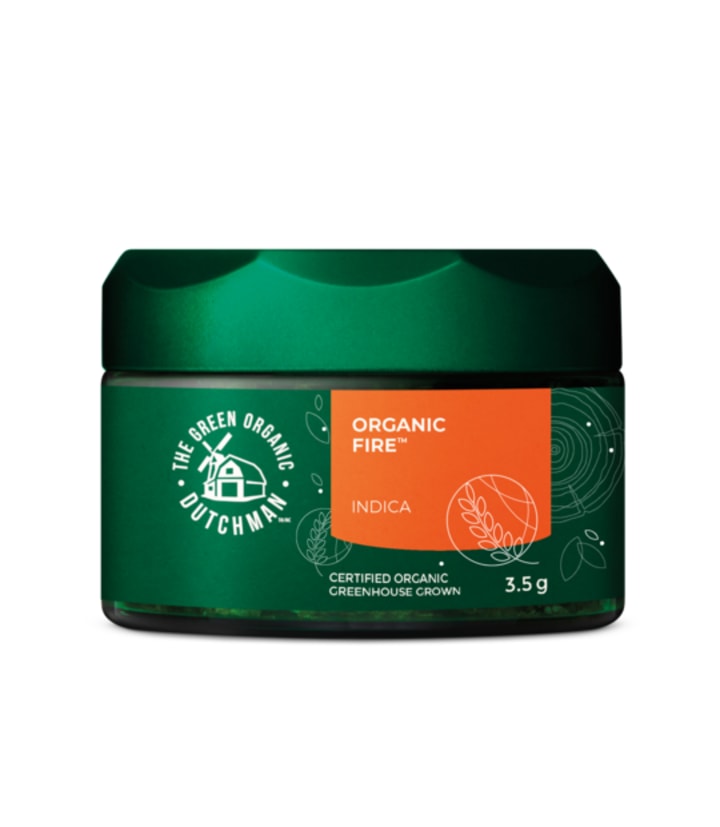 Organic Fire is a strong Indica. Strong enough to knock you on your ass. With a THC range of 19-25%, you won't be disappointed. You also won't be disappointed by the smell and taste of this bud. It's rich with alpha-humulene, beta-caryophyllene, limonene and linalool. You'll love the fruity aromas and the rich taste of this bud. What's not to love?
You can buy 3.5 grams of Organic Fire for roughly $39.99.
2. Organic Skunk Haze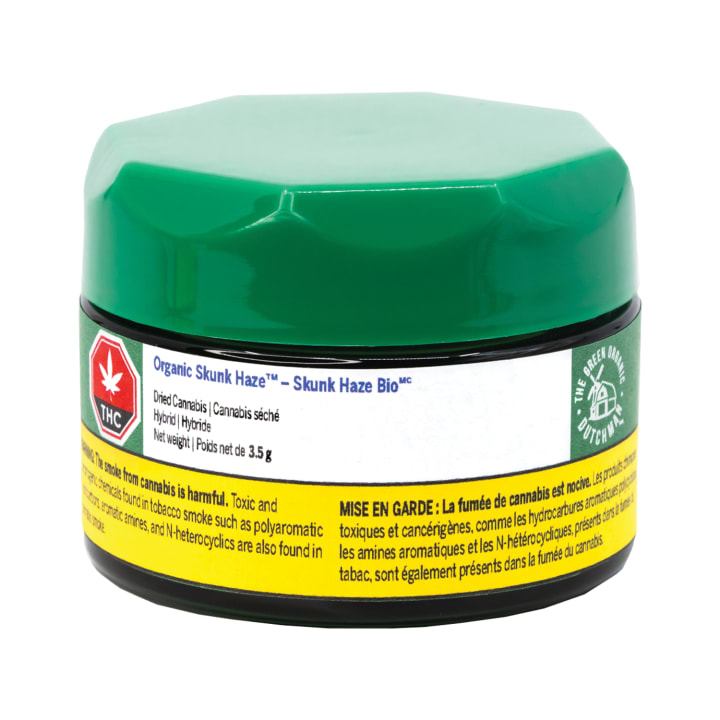 Organic Skunk Haze is not very potent, but it's not meant to be. Its former name was Harmony Organic. It's a balanced hybrid with higher levels of CBD and lowers levels of THC. This balanced flower is meant for the wellness-oriented crowd. For those who want some effects from the THC, but is much more concerned with the benefits of CBD.
Organic Skunk Haze is rich with alpha-bisabolol, beta-ocimene, terpinolene, and trans-caryophyllene. Expect citrus aromas, and a little hint of skunk. You can buy 3.5 grams for $37.95.
3. Rotterdam Indica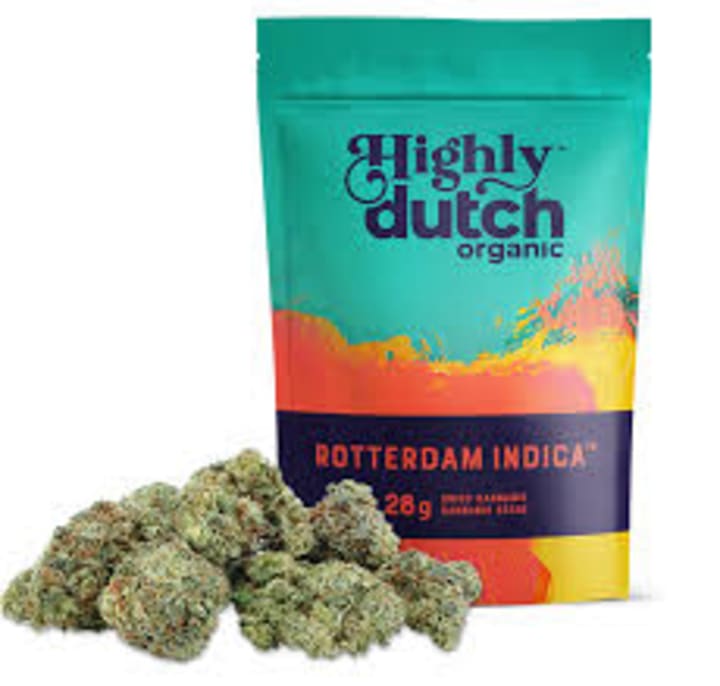 Highly Dutch Rotterdam Indica is currently the only whole flower product available in bulk packages. Although there is a planned Rotterdam Sativa. Rotterdam Indica is a moderately strong Indica with a THC range of 16-21%.
Rotterdam Indica is rich with alpha-pinene, beta-myrcene, beta-ocimene, guaiol and trans-caryophyllene. It's an organic blend, so it's not strain-specific. You can still expect hints of pine, floral notes, and a touch of something earthy.
As a bulk buy, it's a great deal on organic weed.
You can buy Rotterdam Indica in:
• 3.5 gram packs – $29.95
• 15 gram packs - $99.95
• 28 gram packs - $199.95
4. Unite Organic (510 Thread cartridge)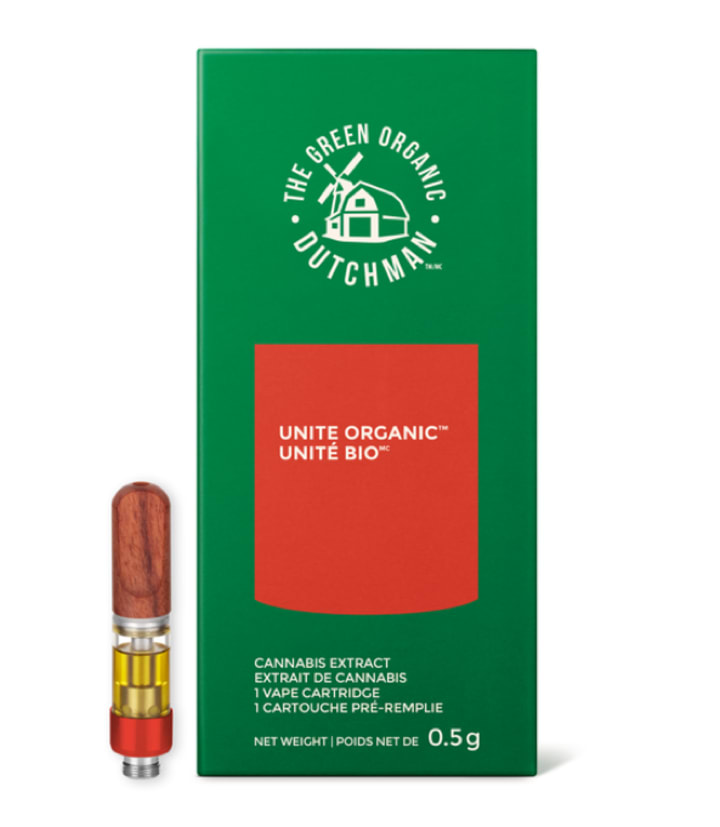 Unite Organic is a full-spectrum distillate oil, meaning it's not only had its THC content extracted from plant matter, it's also had its terpenes extracted for consumption. I love terpenes, I think they're the true future of the plant. I've said it many times. The benefits people stand to gain from terpenes is enormous. We're only starting to understand how valuable terpenes are. Terpenes also interact with cannabinoids like THC and CBD to create the entourage affect. Not the HBO sitcom.
Unite Organic has a THC range of 79-80% and is a strong Indica.
Unite Organic has been extracted from the TGOD strain LA Confidential. LA Confidential and Unite Organic are both rich in alpha-pinene, Beta-caryophyllene, beta-myrcene, delta-limonene and ocimene. There isn't much of a smell because it is a 510 cartridge and they typically don't smell too much. There is a taste and Unite Organic is flavorful. You'll notice hints of lime, some pine and even potentially an earthy note or two.
You can buy a Unite Organic 510 thread cartridge for $49.95.
5. Unite Organic Pre-Rolls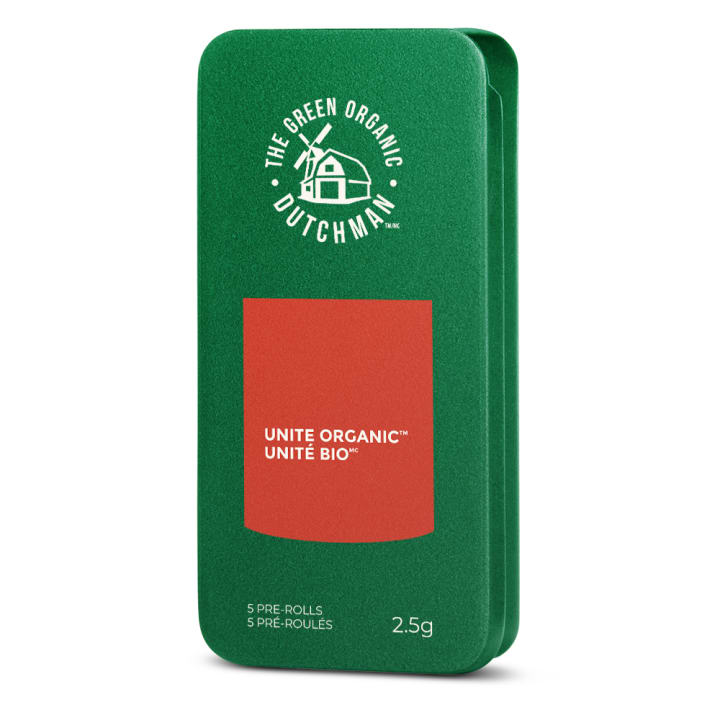 Unite Organic Pre-rolls come from the same flower as Unite Organic in the 510 thread cartridge. It's still an Indica, there will be differences though. Vape products have more concentrated levels of THC and CBD. Meaning, vape products have the potential to be more potent. The terpene content will also be similar, the levels may be higher in a full spectrum vape product, but the same terpenes will be found in both products.
The THC content for Unite Organic Pre-Rolls works out to roughly 19-25% for pre-rolls. Which will hit get you right in the sweet spot. You can buy a 5 pack of Unite Organic Pre-rolls for $38.00.
6. Dissolvable THC Powder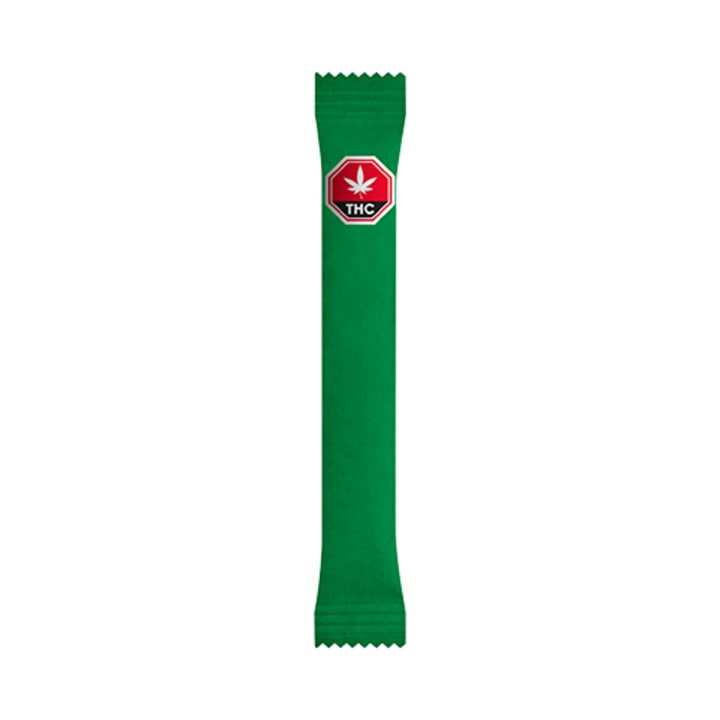 I love these. It's a great idea for people looking to experience the effects of THC in a low-dose, controlled setting that doesn't involve taking anything into your lungs. These kind of remind of Crystal Light packets for turning your water into lemonade. Now you can turn your water (or whatever you're drinking) into weed. Soon you'll be able to walk on wine.
These dissolvable packets come in singles for THC products. It's great for someone looking to try THC for the first time or someone looking to use it discreetly. I can imagine many people have ideas about what to do with THC powder in their weed. A dissolvable THC pack is $5.95 per unit.
7. Dissolvable Balanced Powder (4 Pack)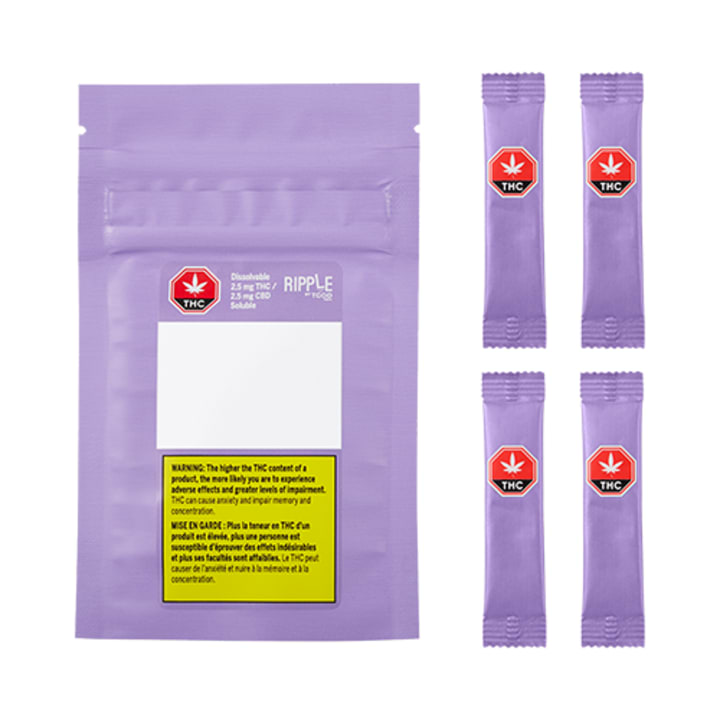 The Ripple line also has CBD and balanced options as well as THC. Don't expect to find a terpene profile for any of the powders. The powders are pure cannabinoids (THC and CBD). The benefit of these are similar to that of the benefits of the THC powder. The only real big difference is the experience. A Balanced or CBD formula won't get you stoned and you get to experience the effects of a non-psychoactive wellness product like CBD.
Balanced and CBD powders can be bought in 4 packs for $16.60.
8. Happy Hibiscus Mate Whole Leaf Tea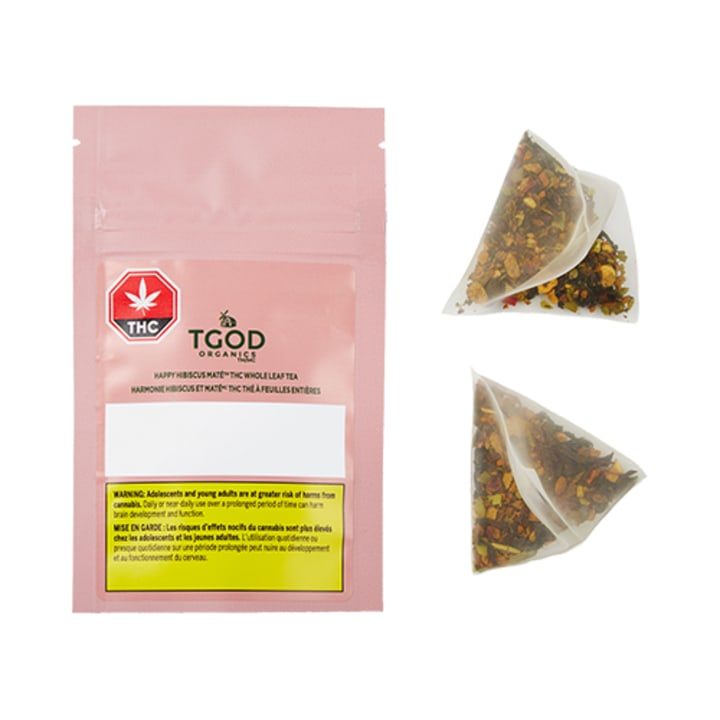 Cannabis tea is an amazing concept. I've put THC oil in Tea but to me it's not the same. The first time I tried a weed tea, it was Haven St.'s 450 Drift tea. I enjoyed it and decided I would keep an eye out for more cannabis teas. There's a growing number of teas in the market in various THC, CBD and Balanced formats. Keep an eye out for my tea recommendation. It's coming soon. No promises on when.
I find adding oil to a tea ruins the flavour of the tea, but when the tea itself is a cannabis product, the flavor is much better. Just beware, cannabis teas have a similar onset to edibles and can take up to 2 hours to take effect in your system. This tea is no exception and can be strong for some. It has a THC content of 10 mg.
It starts with the ingredients. Happy Hibiscus Mate Whole Leaf Tea is rich with:
• Yerba mate
• Tart hibiscus
• Sweet cacao
• Orange peels
• Bright turmeric
• Ginger
• (And of course, pot)
If you're a tea drinker, I recommend this to you. You can pick up 3 tea bags for $14.70.
9. Highly Dutch Afghan Black Hash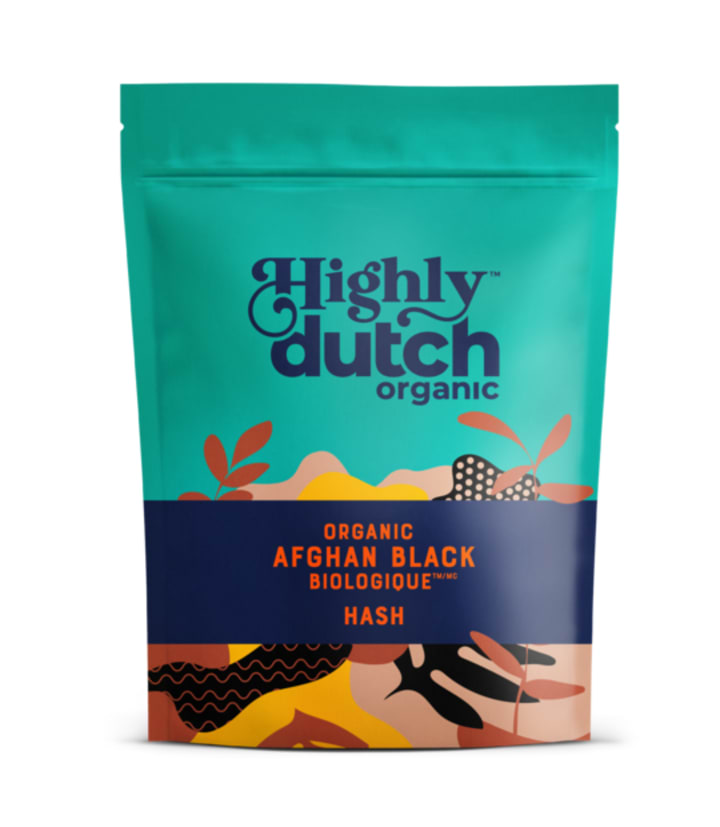 I've always had a thing for nostalgia. The way things used to be done. I came up in a time when people favored weed over hash. I used cannabis for three of four years before I ever saw hash in person.The first time I tried hash was on the roof of a hostel in Jerusalem. I don't remember it being anything special. Since then, I've come to appreciate hash.
Highly Dutch Afghan Black isn't on the market yet, but its coming. I'm looking forward to it. There isn't much information on the TGOD website about it yet, but what it does say is exciting. A 2-gram package of hash will be $37.00. The THC content is supposed be about 30% and there's no talk of the terpene content yet. Although the website does describe it as spicy. Usually when there's spice involved; it comes from a variation of Caryophyllene.
When I see it, I'll buy it. You should probably do the same. Maybe someone from TGOD will see this and send me some. (A boy can dream, right?)
10. Mint Sour -Ness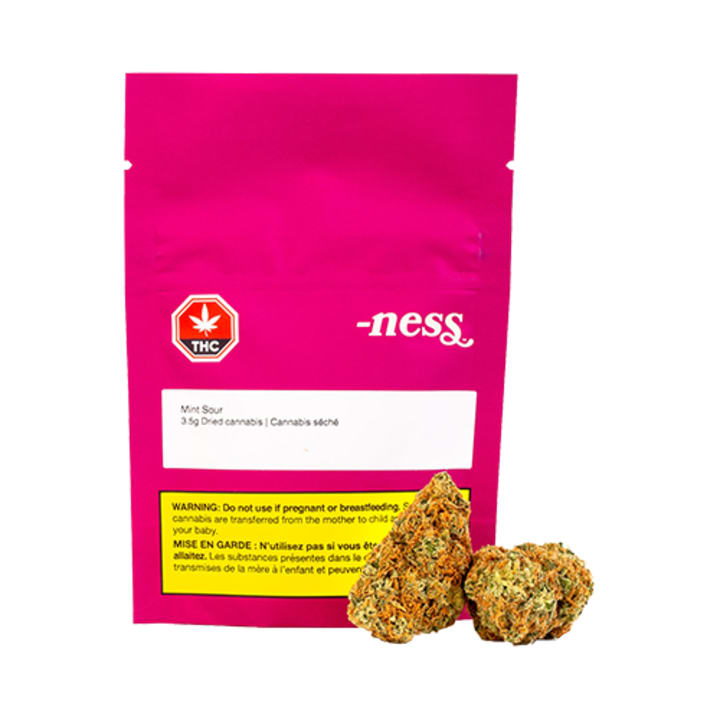 I haven't written about a single Sativa yet. I even wrote about multiple variations of the same Indica. Sativa lovers I don't want you to think I forgot about you. -Ness is another TGOD brand. I like to think they had to cut the Happi part out for legal reasons.
This is a colorful Sativa and it's also strong. With a THC content of 20-25%, it's good and strong. Perfect for getting a 2500-word blog post written wink wink. It's also rich with limonene, caryophyllene and terpinolene. It may be sour, it may be minty, but if those are your flavors, I would try it if I were you.
3.5 grams of Mint Sour can be purchased for $44.95.

What you get from The Green Organic Dutchman
Regenerative farming practises, a variety of formats and a wholesome message about helping your community. Aside from good-quality organic bud, that's what you get from TGOD. I can't imagine a better get from a company. In my opinion, with so many cannabis companies out there, not only do you need to stand out, but you also need to be able to lead. Leaders in the industry will go farther than followers. Standing out is good, but you can still stand out in the wrong way.
The Green Organic Dutchman is a leader in organic cannabis. Hopefully more companies will start to adopt their practises and their outlook on impacting patients, the environment and the community. I will be trying their Afghan Black Hash when it comes out and I will also be paying attention to their line as it continues to expand. I suspect the Highly Dutch line will continue to expand in the new year.
I want to hear from you!
If you've bought, smoked or even thought about organic weed, let me know!
If there's a brand you want me to talk about, let me know!
If you think I'm an idiot, let me know!
And if you made it this far, please don't forget to leave a tip!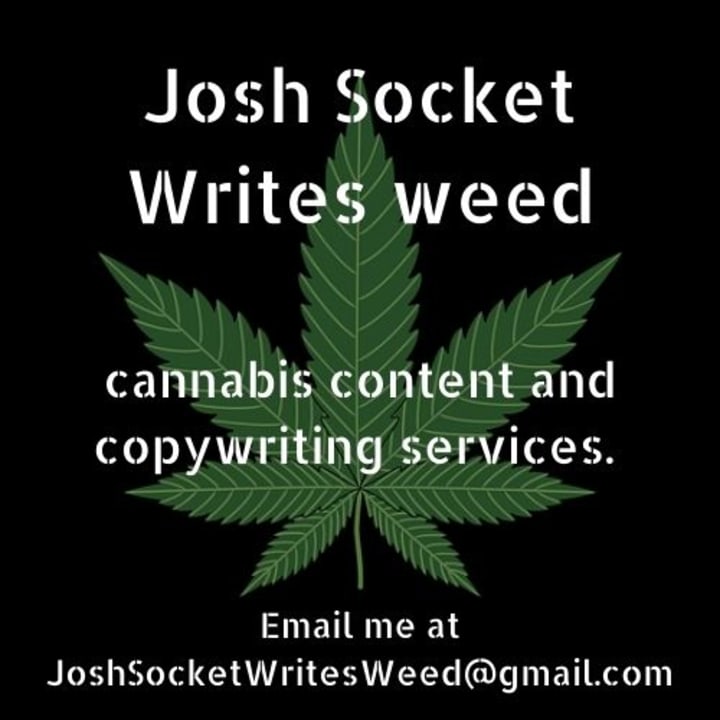 About the Creator
I'm a copywriter. My first thought was to create a library of cannabis information but I've decided to expand my writing.
I used to write for an agency that specialized in merchandising for influencers. Check it out.
Reader insights
Be the first to share your insights about this piece.
Add your insights